30 Stunning Hairstyles For Women Of All Ages Who Wear Glasses
Glasses have always been a style statement.
When I was younger, I wanted to wear glasses, so I could look sophisticated (whether I needed them or not didn't matter). I knew it would change the way I look by framing my face and streamlining my hairstyle. We all know that a hairstyle coupled with the right pair of glasses can make you look supercalifragilisticexpialidocious! So, without further ado, here are 30 killer hairstyles that look great on women with glasses.
30 Best Hairstyles For Women With Glasses
1. Messy Pixie
Short messy hairstyles are the biggest craze right now. Opt for this stunning messy pixie that requires practically no maintenance. Now, you don't have to fret about spending way too much time in front of the mirror!
2. Low Side Ponytail
A low ponytail might just be what you're looking for! Tying your hair back will accentuate your glasses, especially if you have an oval face. But add some flavor to the look by flipping the ponytail to one side.
3. A-Line Bob
The A-line bob and pair of glasses go hand in hand. There are many anime characters that rock this look too. It makes your jawline look slender, so it's perfect for women with wide cheeks.
4. Silky Shag
A silk shag works wonders for anyone with a thin face. No matter what the shape of your glasses, this hairstyle is sure to complement it. Make sure the layers of your shag are not outright spiky, though. Keep them soft to accentuate your features.
5. Baby Bangs
If you have an oval face and wear glasses, this is the hairstyle for you! Oval faces can pull off baby bangs like no other face shape. They look incredible and accentuate your glasses as well as your forehead.
6. Sunny Ombre
Summer is around the corner, and a great way to bring it in is with a warm ombre! A warm ombre takes the focus off your glasses and brings it to your jawline and cheekbones.
7. Overgrown Pixie
Is your pixie growing out? Well, let it be! A grown out pixie can look incredible when paired with glasses. It also frames your face beautifully. Accessorize it with a simple headband, and you are ready to rock your look!
8. Messy Low Buns
The low bun has always been classy. But if you want to take it up a notch, tie your hair in two messy low buns – one on each side of your head. This is a great hairstyle for girls in high school and college.
9. Slight Pouf
Adding a slight pouf to your hairstyles can make your glasses appear smaller. It also adds height to your face and makes your hair look thicker. The easiest way to create a pouf is to tie your hair in a half top knot and gently pulling up the hair at the top of your head.
10. Messy Parting
A messy parting is a simple way to add some style to your look and look fancy even when you are running late. It gives off an effortlessly chic vibe without looking like you didn't put in any effort at all.
11. Grown Out Hair
Grown-out hair can be a serious hair trend. If you have had one go-to haircut all your life, growing it out is a great way to bring it to life without taking too much of a risk.
12. Side-Swept Hair
Side-swept hair and glasses make for a stunning pair. If you have to attend a formal event, opt for this look. It will make you look sophisticated and stunning. Try a deep sweep to make the most out of this look.
13. Balayage
A balayage can give a new lease of life to your locks. It also takes the focus away from your glasses. Part your hair on the side that you usually don't to add texture and height to it.
14. Long Afro
Big glasses and big hair make for great companions. They make your face look slimmer, and your hair look thicker. A long afro is, thus, a really great way to showcase your locks and glasses.
15. Simple Lob
A simple lob goes a long way in framing your face when you are wearing your glasses. Its length also does not make your glasses stand out too much. If you are a low maintenance type of girl, you need to try out this look.
16. High Ponytail
If you have fine hair, wearing glasses can be an issue as they tend to grab all the focus. Tying your hair in a high ponytail is a great way to bring the focus to your facial features like your cheekbones, mouth, and jawline.
17. Unraveled Curls
Are your curls unraveling and looking messy (not in a cute way)? Apply some mousse and gently comb down the top. This will get rid of the frizz and work well with your spectacles. Your kinky locks will keep the focus on your hair and facial features without dismissing your glasses entirely.
18. Curly Ends
Adding curls to the ends of your locks adds volume to your hair. Opt for big curls as they slim down your jawline. You can use velcro rollers to achieve this look without damaging your locks.
19. Mild Straight Layers
Straight hair looks lovely with glasses. Add some dimension to your straight locks by getting them cut in some subtle layers. If you have cool-toned blonde hair, opt for lighter or darker cool-toned blonde highlights. This will add depth to your locks and make them look thicker.
20. Glamourous Pixie
This glamorous hairstyle is a great way to handle greasy bangs without shampooing your locks every day. Part your hair on the opposite side as your natural parting to add height to your locks.
21. Silky Lob
Silky hair is everything! It shines and makes your hair look incredible. Pair it with a lob if you wear glasses. This way, you can flaunt those spectacles as well!
22. Deep Side Lift
A side lift can be all you need to add a stylish vibe to your nerdy look. It lifts your hair, giving volume to flat hair. Part your hair on the side you normally wouldn't to give it more lift.
23. Wavy Lob
Summer is around the corner, and who wouldn't like a pleasant reminder of the sea? Get this wavy lob to keep you cool and chill! The waves add volume to your hair, which goes well with your glasses.
24. Classic Bob
The classic bob is an oldie but a goodie! It is beloved all over the world. It is also one of the best hairstyles to sport with glasses. Since it is a low maintenance cut, you don't have to spend too much styling it either.
25. Deep Side-Swept Bangs
Side-swept bangs work incredibly well at covering a large forehead. They also make wide cheeks look slimmer and draw attention to your jawline. This is why they work so well with glasses.
26. Big Curls
Big curls take the focus away from your glasses. If you feel awkward wearing your glasses to a formal event, just style your hair in big curls and put on some makeup. Trust me, no one will be looking at your glasses then.
27. Middle Parting
The middle parting looks great on square, rectangular, and oval faces. If you have a symmetrical face, a middle parting will frame it perfectly. So try it out!
28. Mom Bun
The mom bun created a craze a while back that is still raging strong. It is messy, takes less than two minutes to achieve, and goes really well with glasses. So, if you have a long day at work ahead of you, rock this look!
29. Flicked-Out Ends
Remember the flicked-out shag haircut that almost every young woman sported in the '90s? This flicked-out cut is the modernized version of it. Its layers are soft and flowy while its ends are finely cut. The side-swept bangs add a chic touch to this look.
30. Lob With Bangs
A lob with bangs frames your face perfectly. Its shoulder-length draws focus to your jawline and neck. The blunt bangs here add an edgy vibe to this look.
When I used to wear glasses, I always opted for deep side-swept bangs. They look good with all outfits and frame your face beautifully. What's your go-to hairstyle to sport with your glasses? Comment below to let us know!
The following two tabs change content below.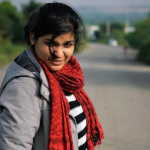 Latest posts by Anjali Sayee (see all)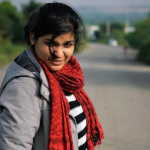 Anjali Sayee
Anjali Sayee is a writer and an introvert. From studying Aeronautical Engineering and wanting to design her own airplane to writing articles on hairstyles, she has been on quite a journey. She believes that hair is one of the key factors that define a woman's personality. To quote her, "What's the first thing they do in the movies to show a personality change? Change the hair – because it has a life of its own." She's here to help you find the hairstyle you need. This bookworm is a self-professed Wholocker, a talented drummer, and an amateur photographer.