32 Stunning Hairstyles For Women Of All Ages Who Wear Glasses
Take these ideas to your next chop because you can't let your glasses veil your beauty.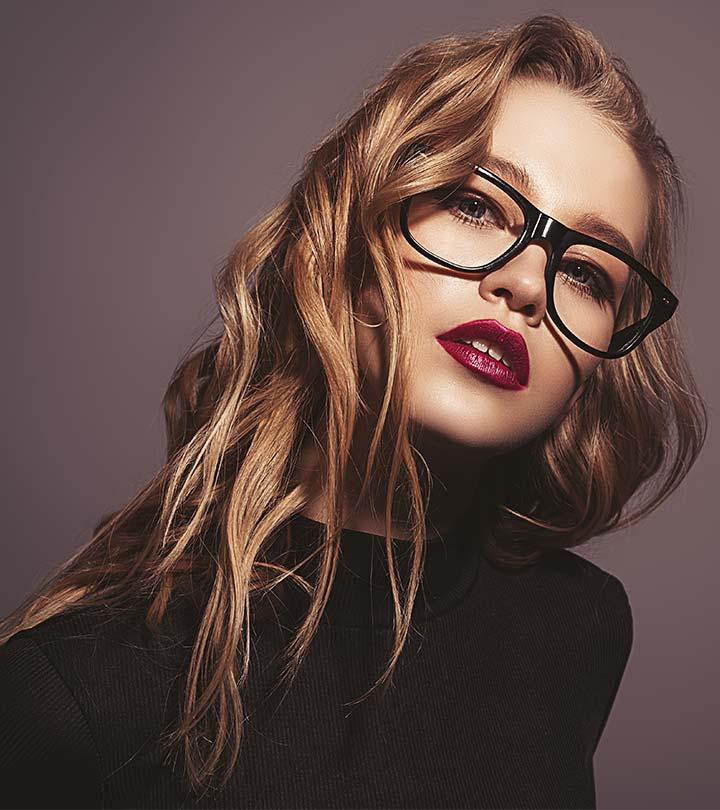 You may have noticed that your favorite messy bun looks so much better with your glasses on. Some hairstyles are accentuated when coupled with the right pair of eyeglasses. Check out these hairstyles for women with glasses to make you look more stylishly sophisticated.
Your hairstyle, teamed with the right glasses, can frame your face better and highlight all your features and eye color. No matter your age, there is a hairstyle listed for you! Keep scrolling and check out these 32 uber cool hairstyles you can try out with your favorite spectacles!

Before You Get Started
Both messy and sleek hairstyles look great with glasses when styled correctly.
Your hairstyles should have enough movement in order to prevent your hair from sticking to your glasses and disturbing your vision.
Blow dry your bangs to keep them in place and prevent their interference with your eyes and specs.
Accentuate your messy hairstyles by wearing perky frames.
32 Best Hairstyles For Women With Glasses
1. Curly Half Updo
Love your long natural curls? Opt for a half-do to add some style to your everyday look. It is the best way to keep your curly hair open yet stylish. The best part, the hairdo will make you look effortlessly chic and sophisticated without putting in too much effort.
2. Mohawk
Edgy, bold, and fierce – if these are the terms you use to describe your style, the mohawk is for you. This haircut gels amazingly with glasses and is super simple to manage. So, take a plunge and get this hairdo to show off your one-of-a-kind and daring personality.
3. Messy Pixie
Short messy hairstyles are the biggest fashion craze right now. Opt for this stunning messy pixie that requires practically no maintenance. Now, you don't have to fret about spending way too much time in front of the mirror!
4. Low Side Ponytail
A low ponytail might just be what you're looking for! Tying your hair back will accentuate your glasses, especially if you have an oval face. But add some flavor to the look by flipping the ponytail to one side.
5. A-Line Bob
The A-line bob and pair of glasses go hand in hand. There are many anime characters that rock this look too. It makes your jawline look slender, so it's perfect for women with wide cheeks.


Quick Tip
Angled eyewear frames look elegant with an A-line bob. You may go for cat eye frames to create dimension. If you have bangs, you may also wear square-rimmed glasses.
6. Silky Shag
A silk shag works wonders for anyone with a thin face. No matter what the shape of your glasses, this hairstyle is sure to complement it. Make sure the layers of your shag are not outright spiky, though. Keep them soft to accentuate your features.
7. Baby Bangs
If you have an oval face and wear glasses, this is the hairstyle for you! Oval faces can pull off baby bangs like no other face shape. They look incredible and accentuate your glasses as well as your forehead.
8. Sunny Ombre
Summer is around the corner, and a great way to bring it in is with a warm ombre! A warm ombre takes the focus off your glasses and brings it to your jawline and cheekbones.
9. Overgrown Pixie
Is your pixie growing out? Well, let it be! A grown out pixie can look incredible when paired with glasses. It also frames your face beautifully. Accessorize it with a simple headband, and you are ready to rock your look!
10. Messy Low Buns
The low bun has always been classy. But if you want to take it up a notch, tie your hair in two messy low buns – one on each side of your head. This is a great hairstyle for girls in high school and college.
11. Slight Pouf
Adding a slight pouf to your hairstyles can make your glasses appear smaller. It also adds height to your face and makes your hair look thicker. The easiest way to create a pouf is to tie your hair in a half top knot and gently pulling up the hair at the top of your head.
12. Messy Parting
A messy parting is a simple way to add some style to your look and look fancy even when you are running late. It gives off an effortlessly chic vibe without looking like you didn't put in any effort at all. Licensed cosmetologist Danielle Wilkinson Brucklacher recommends this messy parting for a special reason! She says, "This can also hide a demarcation line if you are late for your color retouch appointment."
13. Grown Out Hair
Grown-out hair can be a serious hair trend. If you have had one go-to haircut all your life, growing it out is a great way to bring it to life without taking too much of a risk.
14. Side-Swept Hair
Side-swept hair and glasses make for a stunning pair. If you have to attend a formal event, opt for this look. It will make you look sophisticated and stunning. Try a deep sweep to make the most out of this look.
15. Balayage
A balayage can give a new lease of life to your locks and boost your confidence level. It also takes the focus away from your glasses. Part your hair on the side that you usually don't to add texture and height to it.
16. Long Afro
Big glasses and big hair make for great companions. They make your face look slimmer, and your hair look thicker. A long afro is, thus, a really great way to showcase your locks and glasses.
17. Simple Lob
A simple lob goes a long way in framing your face when you are wearing your glasses. Its length also does not make your glasses stand out too much. If you are a low maintenance type of girl, you need to try out this look.
18. High Ponytail
If you have fine hair, wearing glasses can be an issue as they tend to grab all the focus. Tying your hair in a high ponytail is a great way to bring the focus to your facial features like your cheekbones, mouth, and jawline.
19. Unraveled Curls
Are your curls unraveling and looking messy (not in a cute way)? Apply some mousse and gently comb down the top. This will get rid of the frizz and work well with your spectacles. Your kinky locks will keep the focus on your hair and facial features without dismissing your glasses entirely.
20. Curly Ends
Adding curls to the ends of your locks adds volume to your hair. Opt for big curls as they slim down your jawline. You can use velcro rollers to achieve this look without damaging your locks.
21. Mild Straight Layers
Straight hair looks lovely with glasses. Add some dimension to your straight locks by getting them cut in some subtle layers. If you have cool-toned blonde hair, opt for lighter or darker cool-toned blonde highlights. This will add depth to your locks and make them look thicker.
22. Glamourous Pixie
This glamorous hairstyle is a great way to handle greasy bangs without shampooing your locks every day. Part your hair on the opposite side as your natural parting to add height to your locks. Add to the beauty of this look with funky accessories.


Quick Tip
Full rim, round spectacles perfectly match a messy, short pixie haircut. However, you may also wear cat eye frames with a long and textured pixie cut.
23. Silky Lob
Silky hair is everything! It shines and makes your hair look incredible. Pair it with a lob if you wear glasses. This way, you can flaunt those spectacles as well!
24. Deep Side Lift
A side lift can be all you need to add a stylish vibe to your nerdy look. It lifts your hair, giving volume to flat hair. Part your hair on the side you normally wouldn't to give it more lift.
25. Wavy Lob
Summer is around the corner, and who wouldn't like a pleasant reminder of the sea? Get this wavy lob to keep you cool and chill! The waves add volume to your hair, which goes well with your glasses.
26. Classic Bob
The classic bob is an oldie but a goodie! It is beloved all over the world. It is also one of the best hairstyles to sport with glasses. Since it is a low maintenance cut, you don't have to spend too much styling it either.
27. Deep Side-Swept Bangs
Side-swept bangs work incredibly well at covering a large forehead. They also make wide cheeks look slimmer and draw attention to your jawline. This is why they work so well with glasses.
28. Big Curls
Big curls take the focus away from your glasses. If you feel awkward wearing your glasses to a formal event, just style your hair in big curls and put on some makeup. Trust me, no one will be looking at your glasses then.
29. Middle Parting
The middle parting looks great on square, rectangular, and oval faces. If you have a symmetrical face, a middle parting will frame it perfectly. So try it out!
30. Mom Bun
The mom bun created a craze a while back that is still raging strong. It is messy, takes less than two minutes to achieve, and goes really well with glasses. So, if you have a long day at work ahead of you, rock this look!
31. Flicked-Out Ends
Remember the flicked-out shag haircut that almost every young woman sported in the '90s? This flicked-out cut is the modernized version of it. Its layers are soft and flowy while its ends are finely cut. The slight side parting adds a chic touch to this look.
32. Lob With Bangs
A lob with bangs frames your face perfectly. Its shoulder-length draws focus to your jawline and neck. The blunt bangs here add an edgy vibe to this look.
Infographic: Hairstyles For Women With Glasses
Whether you want to draw attention away from your glasses or make them the statement piece of your look, there are a plethora of hairstyles you can choose from. These hairstyles will help accentuate your features and make you feel more comfortable and confident with your glasses.
Check out the infographic below to know the top hairstyles to pair with your glasses for your next showstopping look!


There are many hairstyles for women with glasses. With the right glasses and a suitable hairstyle, you can enhance your features and look stylish. Messy pixie, low side ponytail, A-line bob, silky shag, baby bangs, sunny ombre, overgrown pixie, messy low buns, slight pouf, messy parting, grown out hair, side-swept hair, balayage, long afro, and mild straight layers are a few hairstyles that are a perfect suit for women with glasses. These hairstyles are the best way to flaunt your hair. Choose any of the hairstyles mentioned above that best suits your hair needs.
Frequently Asked Questions
What is the best hairstyle for over 50 with glasses?
Women over 50 with glasses can try an elegant short bob or medium-length hair with long layers.
What is the best hairstyle for over 60 with glasses?
Women over 60 with glasses can try a layered bob, a sleek ponytail, or a pixie cut with a fringe.
How can I use hair color to complement or contrast with glasses?
If you have black hair, metallic shades, such as black, gold, or silver look good. Choose light pink, blue, or red frames for blonde hair, whereas avoid pastels and go for turquoise, black, or blue frames if you have brown hair. Blue, green, or red frames go really well with gray hair, while red hair pairs well with copper or tortoiseshell frames.
How can I maintain healthy hair when wearing glasses, particularly around the ears and temples?
Wearing tight glasses reduces the blood flow, which decreases hair growth. Some may even be allergic to the frame material, which can lead to hair thinning. You can either go for a short haircut with less volume at the ears or try to keep your hair loosely tied in a ponytail or a bun in a casual setting. Loosening up your glass frames a little won't cause any harm.
How can I use accessories such as headbands or barrettes to style hair with glasses?
Try wearing fabric headbands that are thick, wide, and light so that you don't end up hurting the back of your ears. You can wear barrettes at the back of your head or at the front to keep the hair out of your face.
Key Takeaways
A chic hairstyle paired with the right pair of glasses can frame your face beautifully.
An A-line bob can make your jawline look slender if you wear glasses.
Baby bangs haircut looks incredible on an oval face and accentuate your glasses and forehead.
A middle parting looks great on square, rectangular, and oval faces.

Get creative and find the perfect look for you! Check out this video for super easy and cute hairstyles for women with glasses.

The following two tabs change content below.