35 Lovely Hairstyles For Women Over 70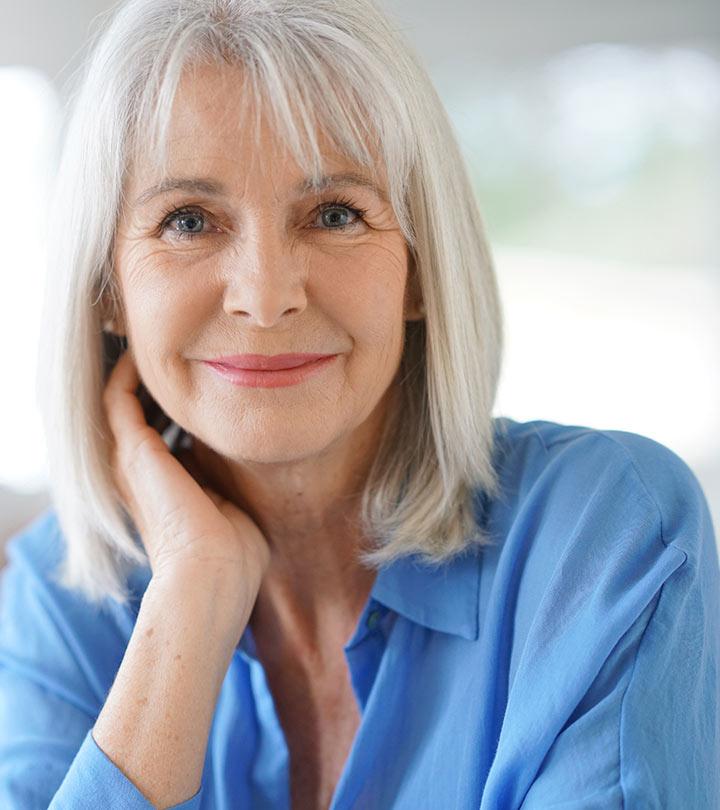 With age comes experience – and also hair issues.
As you grow older, so does your hair. Your hair will start thinning and decrease in volume. If you have long hair, it will become unmanageable. You will also need to brace yourself for hair loss. Moreover, your hair color begins to fade and turn gray. There's one solution for all these problems: keep your hair short and simple. And, embrace your silver hair, ladies! There's no woman more beautiful than one who ages gracefully.
Celebs are the best people to take style inspiration from. Here are 35 graceful hairstyles sported by veteran actresses that will help you style your locks and keep you looking as fabulous as ever.
35 Lovely Hairstyle For Women Over 70
1. Classic Bob
Maggie Smith looks gorgeous sporting this simple yet classy hairstyle. I love how she embraces her gray hair. This is a classic bob with a side parting. The curved-in ends make her hair look lush and bouncy.
2. Wind-Swept Bob
Professor McGonagall is here to show us the way once again! Short hair, like this bob, can look stunning even when it is wind-swept and messy. It looks even better if you have thick hair.
3. Simple Baby Bangs
No one wants to spend too much time styling their bangs. So, what can you do? Try baby bangs! They are super easy to maintain and look great with any haircut.
4. Parted Bangs
When you wake up in the morning, you'll notice that your hair naturally falls to one side. This is your natural parting. Consider getting bangs that part naturally as they can accentuate your face shape. If your hair gets greasy, part your hair on the opposite side to make it look voluminous.
5. Short Bob With Golden Blond Highlights
As you age, your skin becomes paler. Opt for softer colors over bright and contrasting colors. Golden highlights blend well with silver fox hair. Get them done on a simple bob, which is one of the simplest yet gorgeous hairstyles of all time.
6. Layered Classic Bob
Getting some layers cut into your classic bob helps frame your face. If you have wide cheeks, the layers will cover their width and draw attention to your jawline. If you have a round face, make sure your bob ends below your chin as it will add more definition to your jawline.
7. The Shag Haircut
This hairstyle really should be renamed "the Jane Fonda." The shag is one of the most versatile hairstyles of all time. Its flicked-out ends give your face a slimmer appearance. They also add a youthful flair to your look.
8. Soft Mohawk
You might be old, but do you still love to rock 'n roll? Then, opt for this softer version of the edgy mohawk! Dame Judi Dench does as she pleases, and the same goes for her hairstyles. Embrace your inner Madame Dench with this short pixie mohawk.
9. Blowout Bob
You can achieve this stunning hairstyle with a round brush and a blow dryer. Yes, it's that simple! Place the round brush over the ends of your hair and roll it outwards while blow drying your hair. This blowout is great to be sported on a red carpet!
10. Feathered Bangs
While bangs are generally high maintenance, feathered bangs are quite the opposite. They are used to accentuate a hairstyle. They're cut to fall naturally and don't really require any styling.
11. Toned Down Shag
This hairstyle is the longer and more subtle version of the classic shag hairstyle. It needs very little time to style. Brush your hair as you would and let the long layers do the talking.
12. Classic Pixie
The classic pixie is a favorite among older women. It's simple to style and requires little to no maintenance. Besides, it is one of the chicest hairstyles of all time. Get this hairstyle, and you'll never regret it!
13. Flicked-Out Sides
One of the easiest ways to style your hair is to flick the ends outward. Make sure only the sides are flicked out, and down the ends. This contrast draws attention to your facial features and adds texture to your tresses.
14. Long Sideburns Pixie
If you have the pixie haircut, grow it out a little. The long sideburns can frame your face beautifully. Don't be afraid to try graceful colors like auburn, blonde, and gray as they add a youthful vibe to your look.
15. Classic Betty White
Betty White is one woman who has aged gracefully. Even in her nineties, she is one of the best comedy actors right now. Blow dry your hair with a round brush to achieve her classic bob look.
16. The Half Updo
Who here remembers I Dream Of Jeanie? On that show, Barbara Eden had great style. So, it would be a good idea to take style inspiration from her. This half updo sported by her is an extremely classic hairdo. Blow dry your bangs with a round brush to finish off the look.
17. The Headband Look
Most women over 70 don't like their hair falling on their face. A simple way to solve this problem is to wear a hairband. It looks cute and does the job effortlessly. It is also a very versatile accessory as you can play around with its color and style.
18. Frizzy Hair
Frizz becomes your friend when you age. It makes your hair look thicker and adds texture to it. If you like messy hairstyles, let your frizzy hair loose in all its glory. You won't be sorry. You can even spritz on some sea salt spray to amp up your look.
19. Chin-Length Bob
While most actresses over 70 opt for really short hairstyles, you can follow the footsteps of Kim Novak and get a chin-length bob if you like your hair a tad longer. Style it in some soft curls using velcro rollers.
20. Long Bangs
Grow out your bangs. Yes, you read that right. Long bangs add dimension to your hair and draw attention away from the fine lines and wrinkles on your face. Pair them with a bob that ends near your jawline. It will make your face look slimmer.
21. Poufy Hair
Ellen Burstyn makes poufy hair look very glamorous. Brush your hair outwards on all sides and comb it close to your scalp at the back of your head. This hairstyle will slim down your face and accentuate your jawline.
22. Blunt Lob
Whoever said that older women don't have style have clearly not seen Barbra Streisand. If you like keeping your hair long, opt for this blunt lob that comes up to your shoulder. Since all your hair is cut at one length, it is easy to maintain and style.
23. Blunt Bangs
Who says you can't age with grace and attitude? This short pixie haircut paired with blunt bangs is proof that you can look mature and bold at the same time. Embrace your gray hair and flaunt it all you want!
24. The Low Ponytail
Embrace your graying hair with the classic low ponytail. It's one of those timeless hairstyles that never fail to look good. It's really easy to perfect too. Carry an elastic band wherever you go, and when your hair gets too tiresome, tie it up in a low ponytail.
25. The Side Swoop
This is a classic Hollywood look that is coming back in style. The swoop is achieved with the help of a round brush. Pair any hairstyle with the swoop, and it'll look retro-perfect!
26. Brushed Back Hair
Apply some mousse to your hair and brush it backward. The mousse will keep your hair in place for quite some time. This hairstyle flaunts your face shape in all its glory.
27. Big Hair
Joan Plowright makes big hair look brilliant! She looks like a genius with a crazy idea. It's amazing. This hairstyle will make your hair look thicker. Brush your hair upwards and set it in place with tons of hairspray.
28. Straight Hair
Younger women are all about adding texture to their hair. As you age, it's all about maintenance with style. Embrace your straight locks, and work with hairstyles that flaunt your hair texture as it is.
29. Natural Curls
Embrace your natural curls. Wash your hair and let your curls shine. The key to having great curls is to use a curl defining cream. It's what all the kids are using nowadays.
30. Neatly Combed Bob
Julie Andrews always looks classy. It's no wonder she shines in roles of a queen or a quaint nanny. Apply some mousse to your hairbrush and comb your hair with it. Part your hair on one side. The mousse will keep your hair in place throughout the day.
31. Slight Wavy Ends
As you age, your hair becomes thinner. That is not something any woman, no matter what her age, will want. To combat thin hair, style it in some relaxed waves at the end with the help of rollers or curlers.
32. Brushed-Up Bangs
Brush your hair back neatly with the help of a comb and some mousse. Set the bangs in place in a side parting. This simple hairstyle is perfect for those formal family get-togethers.
33. Big Waves
Waves can add texture and volume to your hair. Style your hair in big waves with the help of rollers. The big waves give your hair a fuller look, which, in turn, slims down your face.
34. Light Bangs
Feather-light bangs are all you need to spice up and revamp your regular hairstyle. They add definition to your face by covering your forehead. They also add a quirky and youthful vibe to your look.
35. Side-Swept Bangs
Side-swept bangs look good with all hairstyles. They also frame your face beautifully. They draw attention to your eyes and cheekbones. These bangs are also great for covering up a large forehead. Side-swept bangs also balance any facial asymmetry.
Style doesn't have to be only for the young! I hope you take inspiration from these hairstyles and change your hair look. Let us know about your experience in the comments section below!
The following two tabs change content below.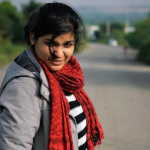 Latest posts by Anjali Sayee (see all)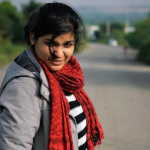 Anjali Sayee
Anjali Sayee is a writer and an introvert. From studying Aeronautical Engineering and wanting to design her own airplane to writing articles on hairstyles, she has been on quite a journey. She believes that hair is one of the key factors that define a woman's personality. To quote her, "What's the first thing they do in the movies to show a personality change? Change the hair – because it has a life of its own." She's here to help you find the hairstyle you need. This bookworm is a self-professed Wholocker, a talented drummer, and an amateur photographer.