25 Hairstyling Hacks Every Girl should Know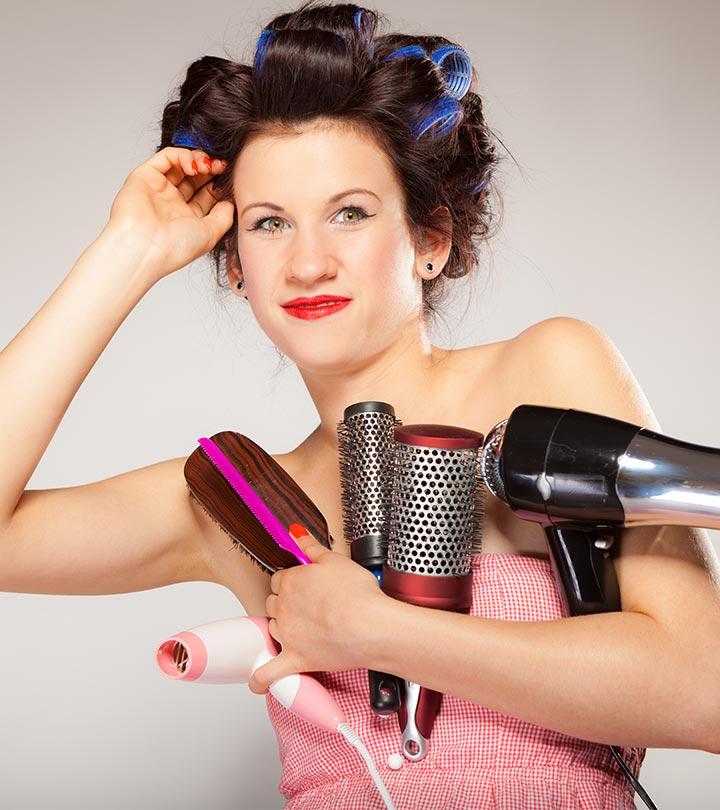 Many a times you do come across situations wherein you get the least minimal time to get ready. Isn't it? Then hair would be probably the last thing that comes to your minds once you are dressed up. In such cases, easy hairstyles is what you should know that can take less time. Here you have amazing hairstyling hacks that can help in those busy days to make your hair look presentable.
25 Amazing Hairstyle Hacks For You
Are you already late for the party or the early morning meeting? Trust these 25 hair hacks to help you out…
1. The Fast Curling Style
If you need a fast way to curl your hair, then you can use a curling iron. Go to the middle of the hair length and always start the process of curling from there.This way you can have a set of curls that will last you much longer.
The above pics give you the quick tips: For the directions click here
[ Read: How to Get Curly Hair Overnight ]
2. How well do you know your brushes and combs? Do you have a good set of brush? A thorough weekly cleaning will is hygienic and will do good to your hair.
To know everything about cleaning –For the directions Click here.
3. The picture below shows you the method to ease out your curls with the help of a flat iron.
This will help your hair rolled out in a beach way.
4. Learn About Your Brushes
5. Get some fake bangs and craft them into your ponytail.
For directions click here.
6. The flat iron has a modified use as it   flattens the hair and makes them neat, but also sweeps the side bangs in the right direction.
Do you want a complete description of the procedure? Click the tutorial for full directions.
[ Read: Layered Hairstyles For Curly Hair ]
7. Make your pony tail fuller by making two pony tails and bringing them together:
8. When you use the no heat band method overnight, then it gives a nice refreshing curl to your hair in the morning.
And also gives you a good night's rest.
9. If your hair is slippery, do a turn with the bobby pin, which will not allow it to slip.
10. Bobby Pins can be used for nice graphic designs
11. The following are a set of rolling technique you will find useful.
Image: Source
12. It is time to go bohemian and get the lovely locks.
Use iron and straighten your hair. Get complete tutorial
13. Try a different style. You can use bobby pins to pin the wavy part of your hair.
14. You can get a voluminous pony tail with the help of a claw clip.
For Tutorials here.
15. Use a large barreled curling iron and create a blowout and then curl the hair at the end.
16. Aluminum foil can only rescue you if you have very straight hair . The foil and the iron cab create curls which will last for a long time.
Get the full tutorial here.
17. Set your hair with a cool blast of air.
Use a Hair Dryer and alternate between heat and cool – and it will help you to settle down and it will help your hair.
18. If you have a short haircut body , flattening your hair with an iron will do.
Get more details here.
[ Read: Techniques to Get Wavy Long Hair ]
19. Iron your braids with a hair iron to create quick waves.
20. When you attempt a sleek hair do , use a hair spray and run your hair through it.
21. When you are planning to get short hair with curls, simply twist the lock of hair and roll your hair with a flat iron.
22. Section your hair into small curly groups. This makes it neat and helps the curls to fall out naturally.
Image: Source
23. Spray a brand new toothbrush with a hair spray to tackle all the hair that flies here and there.
Image: Source
24. A big no no to daily a hairwash– just wash the bangs.
Make it simple. Pull your Hair back and let your hair lie down and wash your hair.
Watch the video tutorial here.
25.Scrunch your hair with a beach spray or a gel and use a diffuser.
It is the fastest method to get simple waves without iron or curlers.
Wasn't it simple yet pretty? These are 25 hairstyle hacks every girl should know and can be done within a few minutes! Try it and feel free to share your feedback with us in the comment section.
Recommended Articles
The following two tabs change content below.