Top 10 Halloween Tattoo Designs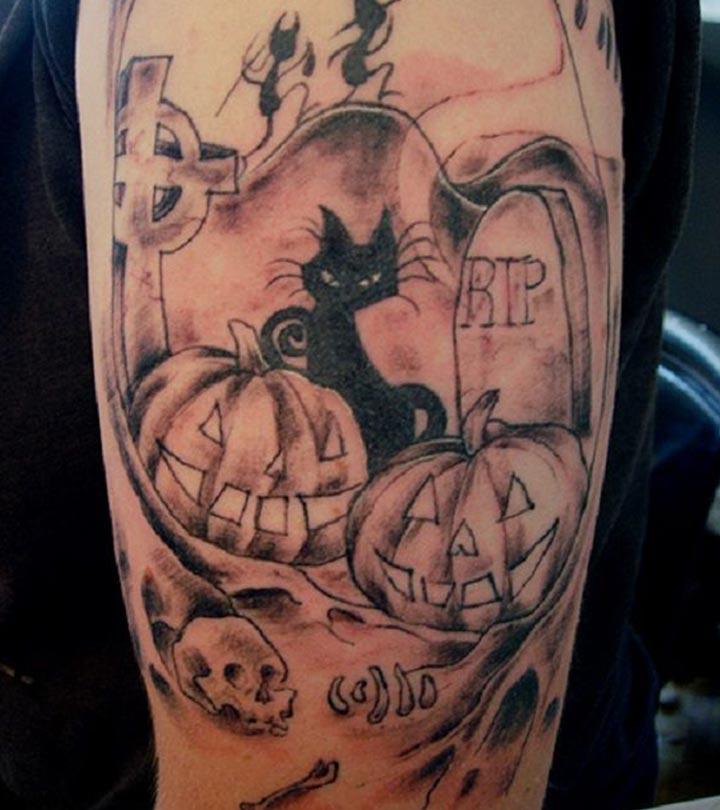 Halloween or All Hallows Eve is an annual celebration observed in a number of countries on the night of October 31ST. This interesting celebration is an excuse to indulge in popular myths such as ghost, vampires, werewolves and anything to do with the paranormal. With a huge influence on popular culture and art, Halloween has also left its mark on body art with Halloween tattoos forming a whole separate genre of tattoo art. These tattoos inspired by Halloween are a treasure trove of ideas for your next Halloween parties.
Top Ten Halloween Tattoo Designs:
1. Halloween Night Tattoo:
This piece of art is definitely the handiwork of an expert, look out for the use of color, the shading and outlining. This tattoo effectively depicts a Halloween night, the macabre bright orange pumpkins, the full moon behind a dead gnarled tree and the bats flying around all add to the authenticity of true Halloween art.
2. Halloween Back Tattoo:
This Halloween back tattoo stands out for its artistry and the brilliant shading effects. Scarecrows, a haunted house, a full moon night and carved pumpkins, this tattoo is indeed true to the Halloween spirit.
3. "Every Day Is Halloween" Tattoo:
If you want to embrace your dark side 365 days a year this "every day is Halloween" tattoo is the perfect way to express yourself. A skull, bats and spiders, this tattoo has it all which can effectively match your larger than life Halloween spirit.
4. Halloween Arm Tattoo:
This brilliant tattoo effectively depicts certain motifs that are significant to Halloween parties. Cats, a graveyard and carved pumpkins are all popular designs for Halloween tattoos, greeting cards, costumes and decorations. If this tattoo looks like a scene from a Steven King movie to you, well that's the intention.
5. "Till Death Do Us Party" Tattoo:
This tattoo stands out for the use of brilliant colors, intricate shading and brilliant conceptualization. Go down and have a look at the slogan which states "till death do us party" and you will instantly know that this is the ideal tattoo for your Halloween night out at the club or the Halloween theme party you plan to host at home.
[Read:The Best Of Peacock Tattoos]
6. Halloween Night in Black:
Using the same concept of a typical macabre Halloween night, this tattoo depends totally on black ink and brilliant shading to depict carved pumpkins, a graveyard, a gnarled old tree and a brilliant full moon.
7. Black Cat Halloween Tattoo:
A potent symbol of Halloween, a black cat is a symbol of darkness and is known to have closely linked to the spirits of the dead in popular Halloween legends. This tattoo artist uses two basic colors of black and orange to effectively depict a cat. Watch out for the eyes that look like burning flames in the dark.
8. Halloween Tattoo for the Feet:
This innovative tattoo artist uses common Halloween motifs such as bats and carved pumpkins and adds a twist to it by tattooing them on the feet. Uniquely placed, these tattoos are bound to attract a lot of attention. However, this is mostly just an idea for you to be able to conceptualize designs that you can have tattooed onto unique places on your body.
[Read:Designs For Tattoo on Foot]
9. Psychedelic Halloween Tattoo:
This unique piece of art stands out for its use of psychedelic colors in sharp contrast with plain black and white shading. Truly a work of art, check out the scary monsters at the bottom.
10. Halloween Bat and Pumpkin Tattoo:
This tattoo stands out for the fact that it depicts the Halloween bat as a cute adorable creature clinging on to a standard pumpkin. This supports the fact that what bats are for real, nocturnal blind creatures that feed on fruits and insects and have never tasted blood unlike popular Halloween legends. If you desire to take the fright out of Halloween this tattoo is the perfect one to flaunt for the party.
So choose any of these top ten Halloween tattoos designs that are sure to make you stand out on the Halloween night Please don't forget to drop in your comments below. Stay stylish, stay gorgeous.
Tattoos last for a lifetime, so get associated to a community and shape your tattoo idea for the best influence.
Image source: 1 , 2 , 3 , 4 , 5 , 6 , 7 , 8 , 9 , 10
The following two tabs change content below.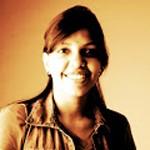 Latest posts by Shruti Goenka (see all)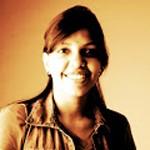 Shruti Goenka
Hi I am very passionate about makeup, fashion and health related topics, I always had a soft corner for makeup and beauty. I believe makeup has the power to enhance features and can turn flaws into strengths. Makeup keeps me busy and yet it gives me the opportunity to follow my passion.