The 13 Best Handheld Massagers Of 2022 To Help Relax Your Muscles
Soothe aching muscles with battery-operated massagers that improve blood circulation.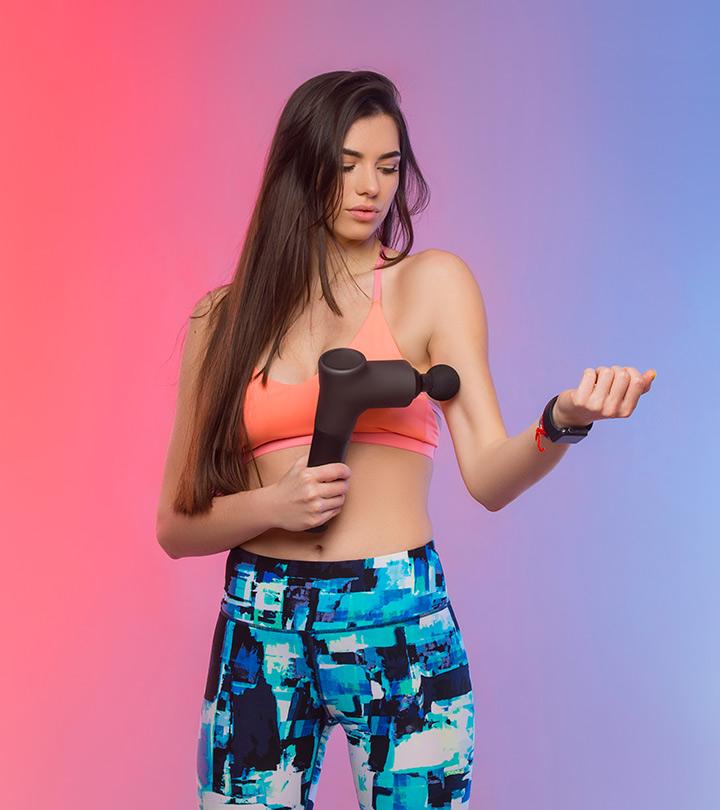 Muscle stiffness is most commonly seen in many individuals who have a continuous hectic schedule. Unfortunately, it is not always possible to reach out to a spa or visit a masseuse to eliminate the stiffness. This is where the best handheld massager comes to the rescue. The massager helps soothe the aching muscles, improve blood circulation, stimulate the system, detoxify, and reduce stress. Handheld massagers are portable devices that can fit in your traveling bag or gym bag as well. You can use the battery-operated handheld massager post-workout. This equipment improves healthy circulation throughout the body and provides good sleep. The handheld massager also helps recover from soft tissue injuries better and improves flexibility. In addition, you can also get glowing skin.
However, there are many small-sized massagers available in the market. But to get the best benefits, you must ensure that it is lightweight and can be washed/cleaned as and when required. It must also have different kneading techniques and vibrations. In this article, you will find a list of the 13 best handheld massagers that will make your stressed muscles relaxed.
The 13 Best Handheld Massagers In 2022
RENPHO's handheld massage device is equipped with a powerful motor and is made with high-quality ABS plastic material for an ergonomic design. Its long-lasting built-in lithium ion battery allows you to get muscle relief for long periods of time. As there are 5 detachable heads and 5 intensity modes, you can easily customize your experience for pain relief in sore muscles or just to simply relax before bed. Use the round head for a general massage, 1-point head for trigger points, 3-intensive head for a soft massage on a large area, 3-point head for a general yet soft feel, and the curved head to loosen knots in arms and legs. With 3,600 pulses per minute that can last up to 20 minutes, you can turn to this cordless handheld massager when you feel like you need a deep tissue massage after a long day or a sports session. Here's an honest video review of this product.
Pros
Motor allows 3,600 pulses per minute
5 detachable massager heads
Can be used for deep tissue massage
Cordless and portable
Rechargeable battery lasts upto 140 minutes
Can be used on arms, legs, and back
Cons
Some might find it heavy.
This professional handheld massager by HoMedics won't hurt your arms simply by holding it as it is quite lightweight. As it comes with an ergonomic rubber handle, you can grip and handle it with ease. For the ultimate soothing feel, this out-of-the-world handheld body massager applies heat along with pressure to give you optimum relief from pain. You can activate the heat setting for sudden cramps or to keep warm during cold nights. With dual pivoting heads that pulse up to 3,100 times per minute, the 4 speed settings help you navigate between a soft or an intense percussion massage experience. The HoMedics handheld massager also makes for a great gift to your parents or anyone with an active lifestyle. Check out this honest review of this product by a youtuber.
Pros
Ergonomic rubber handle for easy grip
Lightweight and portable
Heat function soothes muscles
Has soft and firm attachments
4 adjustable speed settings
Dual pivoting heads pulse 3,100 times per minute
Cons
Some may find the loud vibration sound uncomfortable.
With a highly efficient turbocharged motor, SIKXTOA's Wand Massager provides muscle relief with powerful yet quiet vibrations. This mini handheld massager is lightweight and can be carried for travel or stashed in your gym bag for a quick massage session after exercising. With 20 vibration modes and 8 varying speeds, you can truly sit back and loosen up knots due to muscle soreness. For flexibility, you can rotate the head to 270° to access hard-to-reach spots. As the cordless handheld vibrating massager is made of medical silicone that is waterproof, you've got to get your hands on it!
Pros
Made of medical and skin-friendly silicone
20 intensity levels and 8 speed levels
Quiet vibrations
Comes with a travel pouch
Lightweight and portable
Waterproof and easy to clean
Cons
Battery life might be short.
Your ticket to relief from knotted muscles and spasms lies in this handheld back massager by Mighty Bliss. It is powerful enough to stimulate blood flow and heal post-workout soreness. With 3,700 pulses, the percussion motor works like a charm and its light weight allows for portability. As it is powered by lithium-ion batteries, the cordless massager charges quickly with a long battery life. With 6 different massage heads, it allows you to target a general large area or pick a spot for some deep tissue action. Do your body a favor and treat it with one of the most effective handheld massagers by Mighty Bliss. Check out the tutorial and review of this massager in this video.
Pros
Increases blood circulation
3,700 pulses per minute
Lightweight and portable
Long battery life
6 massage heads
Allows for deep tissue massage
Cons
The vibration sounds might be loud.
When you're in the mood for some spot massage, try out the HoMedics Quatro Mini Handheld Massager With Grip. It is super easy to use as you only have to place your thumb on the power button with a grip on the handle as the massage nodes vibrate for muscle relief. Simply place it on your lower back, neck, or shoulders to open up tight knots and you can control the intensity by exerting pressure. Powered by 2 AAA batteries and made with durable plastic, this is the best handheld back massager for on-the-go usage owing to its small size.
Pros
Battery-operated
Lightweight and portable
Made of durable plastic
Easy to use
4 massage nodes
Allows for easy and strong grip
Cons
May only be suitable for light massage
With Cholas' Professional Massage Gun, you can easily kill all the pain in tight muscles and joints for a relaxed and rejuvenated feel. It comes with 10 detachable massage heads to dive deep into the tissues and prevent inflammation. Even though the motor is powerful and high-quality, it is low-noise to help you recover comfortably. The best handheld massager for knots, an LCD touch screen allows you to select from the 30 vibration speeds and the lithium-ion rechargeable batteries last up to 6 hours.
Pros
LCD screen display
30 adjustable vibration speeds
10 detachable massage heads
Lasts up to 6 hours
Allows for deep tissue massage
Low-noise
Cons
Some may find it too heavy.
If backache is a frequent woe of yours or someone close to you, we suggest investing in handheld back massagers like this one by VIKTOR JURGEN. This double-head electric massager comes with 3 detachable heads and can also be used on tense areas in the neck, shoulders, and legs. With a powerful copper motor that pulses up to 3,350 times every minute, you can also customize the speed and intensity setting as per your liking. The percussion massage pillow is as good as a personal masseuse as it gives much-needed blood circulation. And as the deep tissue handheld massager has a strong rubber grip, it won't keep slipping from your hands while you focus on getting that relaxation.
Pros
3,350 pulses per minute
Strong rubber grip
Enhances blood circulation
Deep tissue massage
Customizable speed and intensity
3 detachable heads
Cons
Some may find the vibrations rather weak for their liking.
The only stress-busting device you'll ever need is your personal handheld massager which comes with you anywhere and everywhere. Hangsun's massage device has a powerful percussion power allowing 3,500 pulses every minute, yet it is super easy to carry around. Just plug it in and use it on those sore muscles— we're sure it'll hit the sweet spot! With 3 interchangeable nodes, you can switch between full body and pressure point massage. You can customize the speeds according to your liking while the ergonomic handle gives comfort with movement. A 98-inch long power cord means you can enjoy a deep massage experience on your favorite couch.
Pros
3,500 pulses per minute
Lightweight
3 interchangeable nodes
General and deep tissue massage
Long power cord
Dual-head percussion
Cons
The sound might be too loud for some.
With 6 different massage heads, MOICO will pull you in for a satisfying massage experience. One of the top handheld massagers, this one comes with 10 speeds and 12 vibration modes so you can switch between gentle and intense depending on how tiring your day was. As the motor pulses 3,200 times every minute, you can bid farewell to sore muscles and be on your way to faster recovery. After you've fully charged the batteries, you have the liberty of pain relief for up to 2 hours. And with an ergonomically designed long handle, this handheld electric massager goes to hard-to-reach areas with ease. Without being noisy, you can use this device to give yourself a massage while watching some TV or catching up with your school friends. Even if you fall asleep using this massager, it has an auto shut-off feature that activates after 15 minutes to ensure your safety.
Pros
10 speed settings and 12 vibration levels
3,200 pulses per minute
Battery lasts up to 2 hours
Long handle gives ease of use
Low noise
Auto shut-off feature
Cons
Battery may get over-heated over time.
NURSAL's electric handheld massager comes with 5 detachable nodes which go over muscles for general or deep tissue relief. Made with top-quality ABS plastic, it also has a strong motor and you can increase or decrease its speed with the press of a button. The percussion tip reduces inflammation and swelling along with relieving muscle fatigue. The long anti-slip handle makes it easy to reach tough spots so you can use NURSAL's handheld percussion massager on yourself or a loved one.
Pros
5 detachable nodes
Can be used for general or deep tissue massage
Easy speed settings
Helps reduce swelling and inflammation
Long anti-slip handle
Promotes blood circulation
Cons
Some may find the massager a bit bulky.
Cancel that appointment with your personal masseuse because Acvioo has got you covered with its most powerful handheld massager. It provides up to 5,500 percussions every minute and can be switched between 10 vibration modes. No matter where your tight muscles lie, just allow this lightweight handheld massager to get the job done. Made with high-quality silicone, the material is skin-friendly and the small size of this massager is very convenient to carry whenever you're going out of town.
Pros
Portable and lightweight
Waterproof
Skin-friendly material
10 vibration modes
5,500 pulses every minute
Odorless
Cons
Might not have a long battery life
That 'hurts-so-good' pain is totally accessible with Beurer's MG16 Mini Massager which might look cute but is super effective in releasing muscle pains. It vibrates gently for a soft massage and is ideal for a midday pick-me-up at work. The 3 nodes allow for a pressure point massage and with the comfortable handgrip, you can have a hassle-free pain relief session. Use it on your arms, legs, back, neck, or shoulders and loosen up tight knots. With a compact size, keep this massager with you on the road and it's as good as any travel buddy!
Pros
Lightweight
Portable
Soft and gentle vibrations
Pressure point massage
Comfortable grip
Comes with 3 AAA batteries
Comes with LED lights
Cons
Might not be ideal for those looking for serious pain relief
With the ability to provide up to 2,500 pulses per minute, KINGSWELL's Slaiya massager also has a 360° adjustable central axis. The high-frequency rotation speed coupled with the deep tissue massage function makes this a great product to tone up cellulite. You can use the Handheld Electric Deep Massager all over your body to release muscle fatigue and give a refreshed feel. When massaged with some essential oils, this device also lends the skin a soft and smooth texture. It also features a mesh cover to prevent your hair from getting tangled along with brushing away dead skin cells.
Pros
2,500 pulses per minute
High-frequency speed
3 vibration settings
Firms and tightens skin
Mesh cover to prevent hair pulling
Removes dead skin cells
Cons
Some may find the mesh cover a bit harsh.
Now that we've gone over some of the best handheld massagers out there, let's take a look at how you can select the right one for your needs.
How To Choose The Right Handheld Massager
This completely depends upon your needs, but you may want to choose from massagers that work for a few areas of the body or can be used anywhere. Some just knead skin on the surface but others offer deep tissue relief. But if a massager is more powerful, it might also be heavier and pricier owing to more mechanical parts. If it is some simple relaxation that you're looking for, then vibration or non-mechanical devices are lighter and won't put too much of a load on your arms.
This isn't a common feature, although some handheld massagers offer heated massages. The coupling of heat with pressure is very effective in relieving period cramps or sore muscles. Heat therapy and a heated massage feature in devices is also known to improve blood circulation along with minimizing tension which gives you a soothing feel.
Some handheld massagers need to be plugged in with the help of a power cord and this might be a hassle as wires can get tangled easily. You also might not always be able to find a power source, so in those instances you can opt for longer cords or battery-operated massagers. The latter kind only requires you to replace batteries once their life is up, or you can charge the battery and use the device for a couple of hours. Battery-operated handheld massagers are cordless and this makes them portable when you want to travel. Small handheld massagers are also portable but might not be as powerful.
Some percussion massagers come with various heads that can be interchanged for a general body or deep tissue massage. This is helpful if you are an active person or someone who deals with muscle aches on the regular. Switching between various surfaces and textures can provide relief and as these machines also come with varying speed and vibration settings, so you can choose what is comfortable for you.
After you've picked up your handheld massager, it's time to learn how to use it to release tight and sore muscles!
How To Use A Handheld Massager
Step 1: To enhance the soothing sensation of a massage, a warm bath or shower beforehand is ideal. However, you can also skip this step.
Step 2: Turn your percussive massager on and set it at an intensity that you are comfortable with.
Step 3: If you're into heavy lifting, you can start with your pectoral muscles or the chest area. Slowly run the massager horizontally and take a few deep breaths.
Step 4: Using the handheld neck massager, go over the back of your neck from left to right a few times or until you feel pain-free. Neck muscles are important in turning the head so you want to release as much tension here as possible.
Step 5: For shoulder stiffness or tight shoulders, run the device on both your shoulders, making sure to go over the arm sockets. This area must be cared for if you have a habit of sitting in bad posture or a hunched position.
Step 6: To tone and strengthen your abdomen, you can also run the massager over your stomach area. This helps relieve stress, tension, cramps, and spasms.
Step 7: Our lower backs are always suffering due to sedentary lifestyles, so give yourself a deep tissue massage or have a loved one do it for you. If you keep this up on the regular, you can make way for flexible and strong muscles.
Step 8: You can run the massager along your arms and down to your wrist. This is especially helpful if you spend a lot of time writing, using keyboards, or a mouse.
Step 9: Our legs are equally important because they literally carry us around all day. For those of you that are into strenuous cardio like running, jogging, cycling, or your job involves staying up on your feet, a leg and foot massage is the way to go.
Benefits Of Handheld Massagers
As handheld massagers come with different attachments, they can be used for muscle relief on different parts of the body such as the neck, shoulders, back, legs, and arms. This helps loosen tight muscles and speeds up the body's recovery after intense physical exercise or at the end of a long day.
Massaging the body helps allow better blood flow and this stimulates the lymphatic system which in turn removes toxins. Vibration therapy gives you a healthier immune system by improving joint strength and flexibility.
As blood circulation increases, your skin also appears healthy and more toned overall. This is because regular facial massage improves the skin's elasticity and reduces wrinkles for a youthful appearance.
Handheld massagers are a great tool for stress relief. This is because when you are stressed, your muscles tense up and vice versa. Giving yourself a firm massage in these situations can feel satisfying, also giving you better and deeper sleep.
As it isn't always affordable or practical to get a professional massage whenever you suffer from muscle fatigue, handheld massagers are a great portable alternative. You can just stash one in your bag when you travel or go to the gym.
Why Trust StyleCraze?
Shreya Vishwanathan is an expert in reviewing health, fitness, and home products. She loves to try out and review various tools and devices that keep us fit and add convenience to our home. For this article, she read hundreds of online reviews to curate a list of the best handheld massagers. She selected the devices keeping factors like durability and portability in mind. These ergonomically designed massaging devices will help you get rid of tight and sore muscles.
Frequently Asked Questions
Are handheld massagers healthy?
Handheld massagers can help loosen up muscles and speed up recovery time. Additionally, they allow better blood circulation which strengthens the immune system, leading to better overall health.
Are handheld massagers safe for use during pregnancy?
It might be a good idea to speak to your doctor before using a handheld massager while pregnant. However, you can do so with less intensive settings and while avoiding the lower body area.
Does a handheld massager help with cellulite?
A vibrating handheld massager can definitely help tone and improve the appearance of skin but it doesn't completely get rid of cellulite.
How does massage help sore muscles?
Massaging helps relax your muscle tissue and this can in turn reduce cramps and spasms. Compressed or 'tight' muscles can also be loosened up with a percussion handheld massager, which allows for better blood flow and pain relief.
Does massage release toxins and help with cellulite?
Yes, massaging the skin can help get rid of toxins as blood flows better and this way, you can also tone the skin for an improved overall appearance.
Are vibrating hand massagers good for you?
Yes, they help strengthen muscles and keep them fit, as long as you use them properly.
How often should you use a hand massager?
Use a hand massager daily for 5-6 minutes with not more than 30-seconds spent on each muscle group.
Where should you not use a massage gun?
Avoid using massage guns on musculoskeletal injuries that are healing. Also avoid sensitive areas like the spine, kidneys, the first rib, etc.