Top 10 Hawaiian Tattoo Designs
The sun, the beach and the sea are just a few of the popular attributes of Hawaii. However, this cluster of islands is also popular for another thing – their thriving age old tradition of tattoo art. Hawaiian tattoo art can be traced back to Polynesian tribal and cultural practices of ancient times which make it a treasure trove of tribal motifs and designs. These top ten Hawaiian tattoos are not only aesthetically captivating but also provide an in depth look into Hawaiian culture.
Top Ten Hawaiian Tattoos:
1. Hawaiian Portrait Tattoo: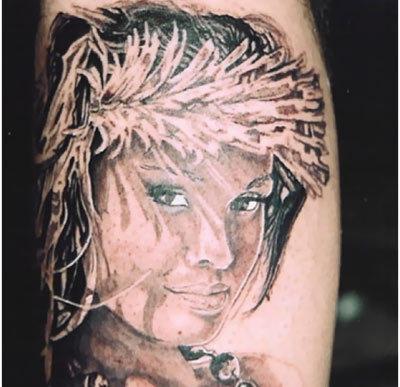 This Hawaiian portrait tattoo of a hula girl or traditional Hawaiian dancer stands out for its fine shading work that gives it a realistic and photographic quality. This tattoo is apparently a mirror image of the Hawaiian culture and way of life. Make a note of the traditional Hawaiian headgear and beads around the neck. These fine details give it a sense of authenticity in keeping with the Hawaiian theme.
2. "Ohana" Hawaiian Tattoo: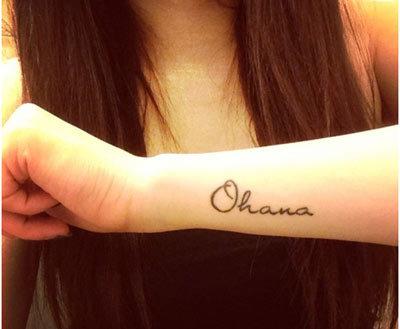 Ohana in Hawaiian means family and this tattoo is an effective way of paying tribute to your loved ones. It is also a fine example of how you could use inspiring and significant Hawaiian words for inspirational and tribute tattoos.
3. Hawaiian Map Tattoo:
This tattoo simply depicts a cluster of Hawaiian Islands. If you have been to the Hawaiian state in the U.S and wish to have your love for this popular holiday destination inked on your body, this is the perfect tattoo for you.
[ Read: Italian Tattoos ]
4. Hawaiian Honu Tattoo: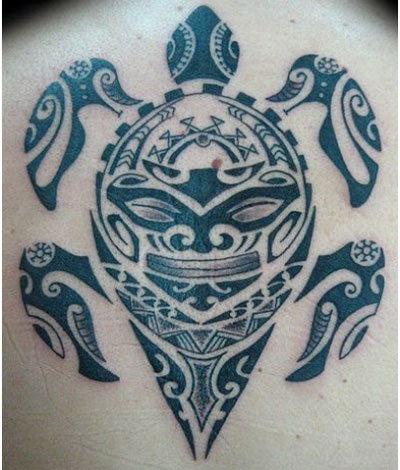 The Hawaiian Honu, or turtle, is a popular motif in Hawaiian arts. In the Hawaiian culture, this tattoo is a tribute to the symbolic importance of turtles. For Hawaiians, turtles symbolize longevity, safety and spiritual energy, all of which make it a potential source of inspiration.
5. Hawaiian Shark Tattoo: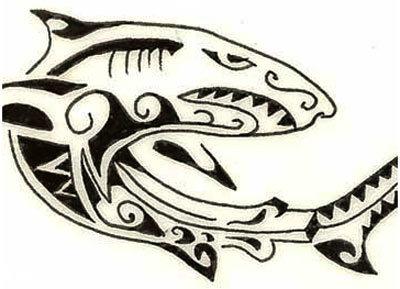 Most Hawaiian motifs for tattoos are borrowed from aquatic life which is only natural, considering their proximity to the sea. This shark tattoo is a fine example of Hawaiian tribal art incorporated into contemporary tattoos. Bold and black, it is best replicated as depicted here.
[ Read: Tattoos ]
6. Hawaiian Lono Tiki Tattoo: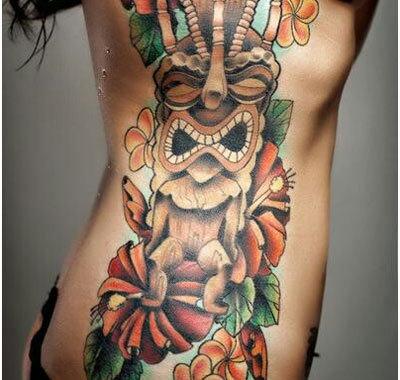 Tiki is the term used to refer to depictions of tribal deities in the Hawaiian language, whilst Lono is the deity associated with music, fertility and peace. This Lono Tiki tattoo is the perfect specimen of authentic Hawaiian art that traces its roots back to Polynesian tribes. It has plenty of aesthetic, cultural and even inspirational value.
7. Hawaiian Hibiscus:
Hibiscus is the state flower of Hawaii, so it's only natural that this beautiful flower would find its way into Hawaiian art. For Hawaiians, hibiscus symbolizes delicate beauty, and wearing a hibiscus flower behind one's ear signifies that a person is engaged for marriage soon. Keeping in mind the significance of the hibiscus flowers in Hawaiian tradition, it's only imperative that we include this Hawaiian hibiscus tattoo to our list.
8. Hawaiian Gecko:
Geckos, or lizards, are an integral part of Hawaiian/Polynesian art. For Hawaiians, geckos are a good luck charm, and killing one is thought to bring about misfortune which is perhaps the reason why gecko motifs have been a part of Hawaiian tattoo art since ancient times. This Hawaiian Gecko tattoo is a brilliant example of Hawaiian tribal art.
[ Read: Tongue Tattoo ]
9. Hawaiian Hula Girl:
This contemporary depiction of a Hawaiian Hula Girl is apparently created on the lines of current comic book art trends. This colorful Hawaiian tattoo is indeed an apt way of flaunting your love for the sun and sand in Hawaii.
10. Hawaiian Tribal Dragon:
Dragons are mythological creatures that have had a huge impact on tattoo art for centuries. This dragon tattoo is a fine example of Hawaiian tribal art using the dragon motif. Dragons symbolize raw power in most cultures including that of Hawaii.
[ Read: Shamrock Tattoo Designs ]
Hope all these Hawaiian tattoo designs enlivened your minds. So, if you choose to inscribe any of these tattoos on your body, which one will you choose. Share your thoughts in your comments.

The following two tabs change content below.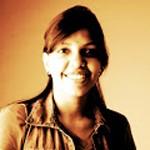 Latest posts by Shruti Goenka (see all)