25 Meaningful Hawaiian Tattoo Designs To Try In 2023
Express yourself with these intricate tattoos inspired by nature and the Hawaiian tribes.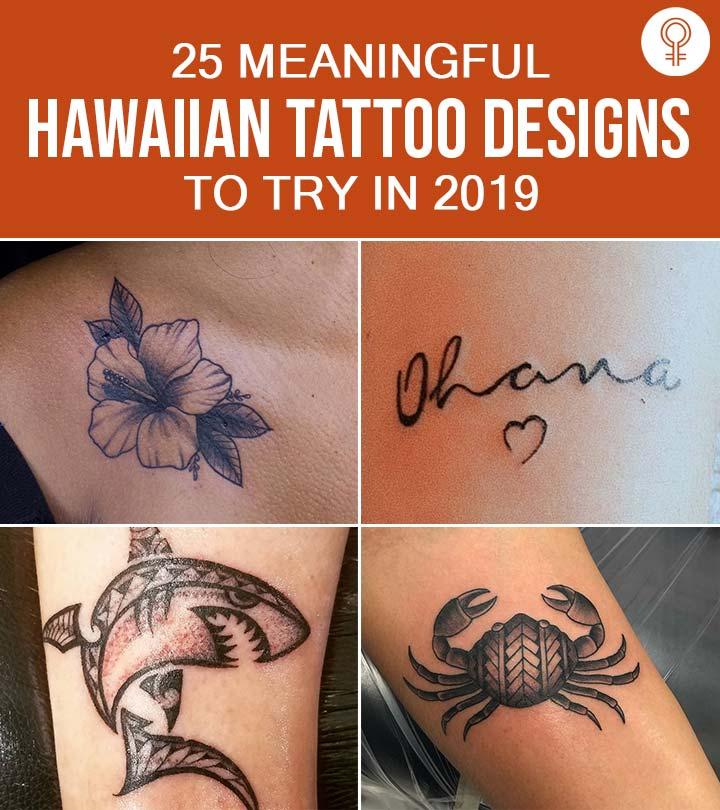 If you want nature-inspired tattoos that are expansive yet dainty, you can go for Hawaiian tattoo designs. These designs are perfect for showcasing your identity and personality. In ancient times, almost all Hawaiian people had tattoos on their bodies, representing their rank and status in society. Hawaii along with other Polynesian island cultures in the Pacific ocean like Maori, Samoan, Marquesan, and Tahitian have a rich ink and tattoo tradition. These tattoos consisted of geometric patterns and were made in black hues to mark an individual's heritage, martyrdom, religion, and the like.
With the passage of time, Western culture began to impact these designs and the tattoos' significance, and now they include dolphins, crabs, lizards, palm trees, tropical flowers, surf, and other elements of the region. They are also more colorful now. So, if you are interested in these nature-inspired and tribal tattoos, check out our list of some Hawaiian designs. Keep scrolling!
The History Of Hawaiian Tattoos
Hawaiians referred to the art of tattoos as 'kakau.' Both men and women in Hawaii would get body art done to mark specific moments in their life or beliefs.
Pahupahu was a form of body art done specifically by male warriors, where they covered one half of their body entirely with tattoos. Such tattoos would make the Hawaiian warriors stand apart from the others. Outcasts and slaves would also be permanently marked with tattoos on their faces.
Hawaiian tattoos were done with needles made out of the beaks and claws of birds. They were also often made out of sharp barbs that existed on the sides of the tails of certain fish, such as Palani, Kala, and Pualu. Sometimes, even the bones were split to form needles to create such body art.
Certain Hawaiian plants produced a highly acidic juice, which was used as ink to create a temporary tattoo, marking the death of a loved one, which would last anywhere between six months to a year. For creating permanent tattoos, an intense black ink would be made of the burned soot of the kukui nut.
Amazing Hawaiian Tattoo Designs For Women
1. Ancient Hawaiian Tattoo
Ancient Hawaiian tattoos are completely black and feature bold designs in geometric patterns, like triangles and swirls. These designs are great if you like large, statement pieces of art on your body.
2. Hawaiian Hibiscus Tattoo
Hibiscus is the regional flower of Hawaii and is a usually preferred design by women because it adds a touch of femininity. You can get a hibiscus tattoo on your shoulder, chest, or even the leg.
3. Hawaiian Tribal Tattoos
Hawaiian tribal tattoos are similar to ancient Hawaiian tattoos, but they feature more swirly patterns and have intricate detailing, contrary to the bold patterns of traditional Hawaiian tattoos.
4. Hawaiian Floral Tattoo
This gorgeous floral piece of art shows the perfect beach landscape paired along with the classic Hawaiian hibiscus flower tattoo. A hint of Hawaiian wanderlust!
5. Small Hawaiian Tattoo
Traditional Hawaiian tattoos are huge and bold, but you can also get such small and artistic tattoos done if you are not a fan of big ones. We recommend getting one on your hands or near the ankles.
6. Hawaiian Sleeve Tattoo
Who said that only men could rock sleeve tattoos? This 3/4th Hawaiian tribal sleeve tattoo is beautifully done. You can tell the tattoo artist knows how to make tribal tattoos stand out as a form of modern body art.
7. The Hula Dancer Tattoo
The hula dance is a popular Polynesian folk dance that is loved by Hawaiians. We cannot think of a better ode to the Hawaiian culture than this gorgeous, colorful hula dancer tattoo.
8. The Hawaiian God (Lono) Tattoo
Lono is the Hawaiian deity of music and peace. This tattoo of Lono is an amazing representation of the Hawaiian culture of worshipping and tribal life.
9. The Hawaiian Animal Tattoo
The Polynesians and Hawaiians loved inking native flora and fauna on their body. This small yet aesthetic tattoo of a snake is perfect for those who love wildlife.
10. The Ohana Tattoo
Ohana means 'family' in the Hawaiian language. Numerous people get this word inked to show their love towards their family and pay tribute to them in the form of body art.


Quick Tip
You can add flowers and infinity symbols and use a cursive font to make your ohana tattoo unique.
11. Hawaiian Band Tattoos
Tribal Hawaiian tattoos look wonderful as armbands or leg bands on women. This band tattoo has a black tribal design that looks great on the calf.
12. Black Ink Hawaiian Tattoo
If you want to go for the original Hawaiian style tattoo, stick to an all-black tribal design like the one above for the classic Polynesian aesthetics.
13. Crab Tattoo
Crab tattoos are very popular in Hawaiian culture as the state boasts of coastal shorelines where crabs are found in abundance. This geometric crab pattern looks extremely pleasing and is a symbol of sea adventures.
14. Floral Hawaiian Tattoo
This floral tattoo looks extremely elegant and can be sported on the ankle, forearm, neck, or the upper back.
15. Swirly Hawaiian Tattoo
Hawaiian tattoos have a lot of triangles and geometric shapes, and that is why this swirly tattoo design stand out from the rest. The design depicts the ocean waves in an intricate pattern.
16. Hawaiian Map Tattoo
If you love Hawaii and want a tattoo to pay tribute to its rich heritage, get the outline of the Hawaiian islands inked on your hand.
17. The Stunning Honu Tattoo
Honu refers to the Hawaiian green turtle that represents unity, faith, good luck, and wisdom. Get a tattoo of this turtle for good fortune.


Quick Tip
You can add flowers or geometric designs to the sea turtle to add more detail and intricacy to your tattoo.
18. The Fiery Shark
Sharks are considered powerful and sacred creatures in the Hawaiian culture. They also symbolize protection to the wearer.
19. The Hawaiian Gecko (Lizard) Tattoo
Gecko or lizard tattoos are an integral part of Hawaiian tattoo art and symbolize good fortune, mobility, and flexibility.
20. The Ferocious Hawaiian Dragon Tattoo
Dragon tattoos are quite popular in tattoo art and are an equally significant part of Hawaiian tribal tattoos. In the Hawaiian culture, the dragon represents a major source of life.
21. The Gorgeous Orchids Tattoo
Orchids symbolize love, luxury, beauty, and strength. This simple floral design looks both classy and elegant.
22. Tribal Hawaiian Back Tattoo
Hawaiian tribal tattoos look great on the back. This particular design has very delicate swirls and flows through the back naturally.
Read more: Libra Tattoo Designs
23. Tribal Leg Tattoo
This Hawaiian tattoo has tribal Polynesian swirl patterns and looks wonderful while being bold yet traditional.
24. Hawaiian Back Shoulder Tattoo
A Polynesian shoulder tattoo with a mix of ancient and modern elements looks wonderful. The flower at the front makes it look feminine yet bold.
25. Hawaiian Tribal Behind The Ear Tattoo
This tiny yet attractive tribal neck tattoo starts behind the ears and goes all the way up to the middle of the nape. The intricate and colorful design make it stand apart from the rest.
If you notice carefully, a lot of Hawaiian or Polynesian tattoos have a trope that is apparent in all the designs. Want to know the meaning behind those tattoo symbols? Read on to know more about Hawaiian symbols and meanings.
The Meanings Behind Hawaiian Tattoo Symbols
Geckos: Geckos play an important role in Hawaiian culture. These lizards were considered sacred and the reincarnation of ancestral spirits.
Sharks: Sharks represent protection, guidance, strength, and ferociousness. The triangular patterns in Hawaiian tattoo designs often represent shark teeth.
Tiki: Tiki refers to the depiction of various Hawaiian deities, each representing particular values of life. There are various deities, like Lono, Kane, Namaka, Papa, etc., that show up in tribal tattoo designs.
Shells: In ancient times, shells were used as a form of currency. They are also symbols of prosperity and abundance in Polynesian culture.
Sea Turtles: The green sea turtles of Honu are important creatures. Honu designs are used in tattoos to symbolize long life and fertility. They also represent the idea of united families.
Orchids: Orchids are colorful and exotic flowers that are native to the island of Hawaii. People with a free-spirited nature go for orchid tattoos as they represent beauty, luxury, and love.
Anthurium: Anthurium is a red flower that symbolizes hospitality, kindness, and friendship. This popular flower design is often seen in Hawaiian flower tattoos.
Hibiscus: As it is the state flower, hibiscus often makes an appearance in traditional Hawaiian tattoos. It symbolizes beauty and also summer (when it blooms).
Hula Dancers: Hula is the traditional folk dance in Hawaii, and Hula dancers are a part of Hawaii's rich cultural heritage. They are seen with hibiscus flowers around their neck and a floral wreath on their head.
Leis: Leis is floral garland or wreath worn by the Hawaiians. It symbolizes affection, honor, and friendship among two individuals.
Volcanoes: Volcanoes with lava coming out are a symbol of the local deity, Pele, who is known as the goddess of fire and volcano and the creator of the Hawaiian islands.
Infographic: 6 Hawaiian Tattoo Designs That Are Like Statement Pieces On Your Body
Hawaiian tattoo designs can be bold or minimalistic. But the most popular ones are the statement pieces that are commonly inked by natives. These large tattoos incorporate essential elements from Hawaiian culture and represent the significance of ancient and tribal designs.
Check out infographic for a shortlist of the 6 most eye-catching Hawaiian tattoos for different parts of the body.



Hawaiian tattoo designs are cool, dainty, yet expansive. They are mostly nature-inspired tattoos with geometric patterns depicting heritage, religion, and martyrdom. However, there are new designs included depicting the elements of the region. You can get a Hawaiian tattoo anywhere on your body. The list mentioned above includes a wide range of bold, colorful, delicate, and monochrome designs.
However, before you get inked, be aware of the aftercare tips you need to follow to protect your skin from infections and prevent the tattoos from fading. It is always best to research and find a good tattoo artist before inking yourself to avoid further complications.
Frequently Asked Questions
What do triangles mean in Hawaiian tattoos?
A single triangle in Hawaiin tattoos represents shark teeth. Stacked triangles represent a spear that signifies both life and death.
Is it illegal to get a tattoo behind your ear in Hawaii?
Yes. Getting a tattoo behind your ear or on the eyelid in Hawaii is illegal unless a licensed physician supervises.
What is the legal age to get a tattoo in Hawaii?
The legal age to get a tattoo in Hawaii without parental consent is 18.

Get ready to be inspired by these incredible tattoos! From traditional designs to modern interpretations, this video showcases the beauty of these stunning works of art.

The following two tabs change content below.