SPONSORED
Head And Shoulders Neem Anti-Dandruff Shampoo Review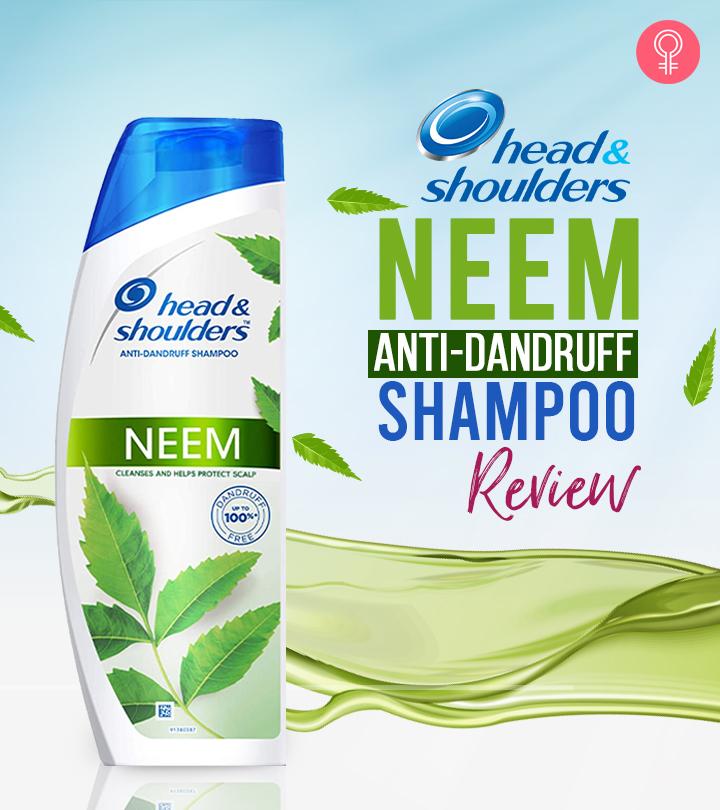 Dandruff is a pesky condition. The constant itching and flaking can be quite embarrassing. I felt the same way too! Any change in season – especially during winters and the rainy season with its humidity – makes my hair and scalp feel super dry and itchy all the time. But switching to the Head & Shoulders Neem Anti-Dandruff Shampoo has made a big difference. My hair and scalp now feel clean and healthy. It has given me confidence, and now, I can flaunt my radiant, dandruff-free hair for the world to see!
This shampoo helps tackle hair problems by deep cleaning your hair from the roots to the tips without stripping away its natural oils and making it dry. My scalp was extremely itchy, and my hair was falling out because of this. That's when I came across the Head & Shoulders Neem Anti-Dandruff Shampoo that fights off dandruff like a pro! No more scratching my scalp! And the best part is, my hair fall has reduced considerably. After washing your hair with this shampoo, it feels fresh and squeaky clean. It also leaves behind a pleasant fragrance. My hair is now shiny, feels smooth, and has no frizz.
Description
The Head & Shoulders Neem Anti-Dandruff Shampoo is infused with the goodness of neem, which has antibacterial properties that prevent itchiness and infections on the scalp. It is specially formulated with zinc pyrithione, which has shown proven results in fighting against dandruff and cleanses your scalp effectively.
It has long-lasting effects, nourishes your hair from deep within, and strengthens the roots. It washes away the dandruff-causing germs and prevents them from coming back. The formula has a good consistency – neither too thick nor runny – which makes the application convenient. It works up a rich lather with just a small quantity, thus cleansing and nourishing your hair effectively. The shampoo is white with a mild, non-flowery scent. It has a mint green color with a refreshing lime fragrance.
The Head and Shoulders Neem Anti Dandruff Shampoo can be used by both men and women. It gives you squeaky clean hair and scalp right from the first wash. It is recommended to use this shampoo up to 3 times a week for best results.
Features
Power of neem and other deep-cleansing ingredients that fight itchiness and dandruff
100% dandruff-free hair
Itchiness and visible flakes reduce with regular application
A gentle formula that lathers well, covering all areas of the scalp and hair
Works from the first wash and locks in moisture to give you luscious locks
Clinically and dermatologically tested by experts
Gentle on colored and chemically treated hair
Formula created with cutting edge technology that ensures a better showering experience
Pros
Paraben-free
Affordable
Long-lasting fragrance
Cruelty-free
Perfect for daily use
Makes the hair soft and manageable
Cons
I can now color and style my hair just the way I want without worrying that the shampoo will cause the color to fade. The formula forms a protective coating that keeps my hair and scalp protected from external factors like pollution, dust, sun rays, chemicals, and heat from styling tools. This prevents damage, hair fall, breakage, and split ends from forming.
The H&S neem shampoo review is it clears out any excess residue of styling products and buildup of sebum that blocks the hair follicles. It also loosens tough knots that cause hair breakage and helps you easily detangle your tresses with a comb or brush. The mild fragrance lingers on your hair long after you rinse out the shampoo.
The Final Word
Not many anti-dandruff shampoos can take care of your dandruff woes and give you frizz-free, smooth, and shiny hair at the same time! This category of shampoos in the market generally leaves your hair stripped of its natural nutrients and oils. But the Head and Shoulders Neem Shampoo Review is it cleanses and nourishes your hair while treating dandruff. With each wash, the texture and feel of your hair improve, and you just can't resist touching it!
The following two tabs change content below.