Lemon Balm: What Does Research Say About Its Benefits, Side Effects, And Dosage?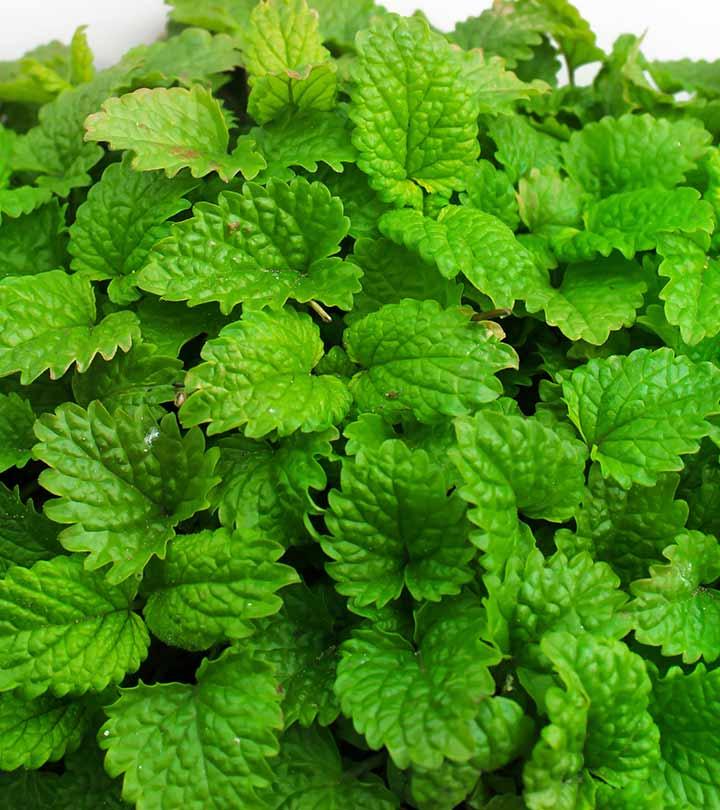 Lemon balm belongs to the mint family. This herb is native to Europe, West Asia, and North Africa. Studies show it can help relieve stress and boost mental health in several other ways (1).
It tastes refreshing and citrusy with a hint of lemon and is often used for culinary purposes. Research has revealed the many other ways lemon balm can promote your health. In this post, we will discuss potential benefits, dosage, and side effects of lemon balm.
What Are The Potential Health Benefits Of Lemon Balm?
Lemon balm is primarily known to relieve stress and anxiety and boost cognitive health. It can also help treat insomnia, thanks to its calming effects. Some research states that it may help lower blood glucose levels.
1. May Help Relieve Stress And Anxiety
Studies on lemon balm show that it can boost mood in individuals. This was found true with most food products containing lemon balm as the primary ingredient (1).
In mice studies, the administration of lemon balm extracts reduced the levels of stress and anxiety. These were also found to boost cognitive performance in humans (2). However, more research is needed to understand the mechanism of regulation.
In another study, lemon balm could ameliorate negative moods and also increase self-ratings of calmness (3). The potential of lemon balm in mitigating the effects of stress needs further investigation.
Certain rat studies show that lemon balm may aid depression treatment (4). However, the efficacy of the herb in this regard was based on administration length and gender. More research is warranted before we can conclude if lemon balm could be useful in treating depression in humans.
Taking lemon balm in a capsule form (300 mg) twice a day may help relieve stress or anxiety (3).
2. May Boost Cognitive Function
The administration of lemon balm was suggested to improve cognitive performance. Studies show an increased sense of calmness and improved memory performance in individuals who were administered lemon balm extracts (5).
Lemon balm was also found to have an influence on long-term memory. In rat studies, the administration of the herb had positively impacted their long-term memory. This property could be attributed to the synergistic effects between the various compounds of lemon balm, including caffeic acid (6).
The extracts of lemon balm were also found to have potential in the treatment of Alzheimer's. Individuals with Alzheimer's experienced significant benefits in cognition after 16 weeks of treatment with lempon extracts (7). These results need further investigation.
You may take lemon balm in capsule form (300 mg) thrice a day for results. However, research is unclear on the dosage, so please consult your doctor.
3. May Aid Diabetes Treatment
Lemon balm may exhibit glycemic control, as per studies. It contains flavonoids and flavonols that may help lower blood sugar levels. In addition, the herb may also combat inflammation and high cholesterol, which are two serious effects of diabetes (9).
In another study, the administration of lemon balm extracts was found to prevent and simultaneously treat type 2 diabetes and associated disorders (like high cholesterol) (10).
However, more research is warranted in this regard. Please consult your doctor before using lemon balm for managing diabetes symptoms.
4. May Treat Insomnia
Studies show that lemon balm and valerian combinations can have beneficial effects on adults with insomnia and other sleep disorders. The herb could improve the condition without causing any form of daytime sedation or rebound phenomena (8).
Lemon balm can also assist in reducing the symptoms of sleep disorders during menopause (11).
A combination of lemon balm and Nepeta menthoides Boiss. & Buhse was found to improve insomnia associated with depression. It achieves this by inducing a self-related sense of calmness in the individual.
Lemon balm also works by inhibiting the function of GABA transaminase, which is an enzyme that degrades the activity of GABA neurotransmitter (12). GABA neurotransmitter regulates anxiety in humans.
A lemon balm and valerian preparation was found to be effective in the treatment of dyssomnia and restlessness in children (13).
This combination can help treat insomnia and other related sleep disorders (13). Please consult your doctor regarding the dosage.
5. May Help Treat Cold Sores
Lemon balm may have inhibitory effects on the Herpes simplex virus, which is the major cause of cold sores. This effect can be attributed to the antiviral properties of lemon balm (14). More clinical trials are needed on this medicinal plant.
Similar effects were observed with lemon balm essential oil. Its ability to penetrate the skin layers may make it a suitable treatment for cold sores (15).
Lemon balm also has antihistamine effects and may be helpful in treating insect bites as well (16).
You can apply a lemon balm cream to the sores, at least 4 times daily for 5 days (17). Ensure you do a patch test first before applying the cream. You can buy the cream at your nearest pharmacy or online.
6. May Help Relieve Nausea
It is believed that lemon balm was used historically to treat nausea. However, there is lack of evidence in modern research (18).
Please check with your doctor before using lemon balm for relieving nausea.
7. May Promote Digestive Health
The tea prepared from the leaves of the lemon balm herb may ease digestive disturbances (19).
Other research also states that lemon balm can help treat indigestion associated with flatulence and nervous tension (20).
You may use lemon balm powder to aid digestive health. Mixing it with your smoothie should help. Please check with your doctor regarding the dosage.
8. May Lower Blood Pressure Levels
There is limited research available to support this.
One rat study states that intake of lemon balm may have a mild protective effect on arrhythmias, which is a condition where the heart beats with an irregular rhythm. This condition may be related to elevated blood pressure levels (21). However, further studies are needed to determine the mechanisms and dosage of lemon balm extract that can have these antiarrhythmic effects.
9. May Relieve Headache
Lemon balm has been traditionally used to treat stress-induced headache. Its essential oil also has use in the treatment of headaches (22).
In some countries, the tea made from lemon balm leaves is used as a treatment for migraine (23).
The exact mechanism of lemon balm in treating headaches is yet to be completely researched. You may consume lemon balm tea to relieve headaches (we will discuss its preparation in a later section in this post).
10. May Relieve Toothache
Lemon balm has been traditionally used to relieve toothaches (24). However, more research is warranted in this regard.
11. May Promote Menstrual Health
Studies show that lemon balm can reduce the severity of the symptoms of menstruation. The anti-inflammatory properties of the herb play a role in relieving pain and cramps commonly associated with menstruation (25).
In another study conducted on high school girl students, lemon balm capsules were found to be effective in reducing PMS symptoms (26). However, the application of this medication requires further investigation.
While a few of the benefits of lemon balm have been proven, a few others warrant further research. This doesn't have to stop you from relishing the goodness of the herb, though.
The simplest way to enjoy the herb is through its tea.
How To Prepare Lemon Balm Tea
What You Need
1 tablespoon of dry lemon balm leaves (Buy them here)
10 ounces of water
Honey (optional)
Directions
Add the leaves to a tea strainer and place it over a teacup.
Boil the water.
Pour the boiled water into the teacup and allow the leaves to steep for about 10 minutes.
Sweeten the tea with honey, if desired.
You can drink the tea once or twice a day. But hold on, this tea (or even the herb) may not be for everyone.
What Are The Side Effects Of Lemon Balm?
May Interfere With Thyroid Function
Studies show that lemon balm may interfere with thyroid function. The herb may act as a thyroid disruptor (27). Hence, those with thyroid issues (including hypothyroidism) must keep away from lemon balm.
May Interfere With Medications
Lemon balm may interfere with medications for glaucoma or diabetes.
It may increase intraocular pressure and, hence, must be used with caution while taking medications for glaucoma (28).
As lemon balm has a calming effect, it should not be taken along with alcohol or other sedatives (28).
For the ideal dosage of lemon balm, do consult a doctor. But the following values must give you some idea (28).
Fluid extract – 60 drops a day
Tincture – 2 ml to 6ml, thrice a day
Leaf powder – 8 grams to 10 grams
Tea – 1 cup of 1.5 grams to 4.5 grams, multiple times a day (as needed)
Does Lemon Balm Interact With Any Drugs Or Herbs?
Lemon balm may interact with different classes of drugs, including barbiturates, sedatives, nicotine and scopolamine, and SSRIs (29).
Lemon balm may also interact with other herbs, including ashwagandha root, calamus, calendula, capsicum, catnip, cough grass, German chamomile, gotu kola, St, John's wort, stinging nettle, valerian, and wild lettuce (28).
Conclusion
The major use of lemon balm is in possibly boosting mental health. Certain other potential benefits warrant further research. However, you can include lemon balm in your diet after consulting your healthcare provider.
Also, be wary of the interactions lemon balm can have with certain medications.
How do you plan to include lemon balm in your routine? Do share with us by leaving a comment in the box below.
Frequently Asked Questions
Does lemon balm help you lose weight?
Lemon balm is often used in weight loss formulations, given its ability to reduce stress (30). However, there is no direct research stating the efficacy of lemon balm in reducing weight.
Is it safe to take lemon balm every day?
Yes. But be wary of the possible side effects.
Can you freeze fresh lemon balm?
Lemon balm is best used when fresh. But you can store the leaves for a few days in the freezer. Chop the leaves and combine them with fresh water in an ice cube tray.
Can you eat lemon balm leaves raw?
Yes. You can add the raw leaves directly to salads or to other already-cooked recipes.
30 sources
Stylecraze has strict sourcing guidelines and relies on peer-reviewed studies, academic research institutions, and medical associations. We avoid using tertiary references. You can learn more about how we ensure our content is accurate and current by reading our
editorial policy
.
Recommended Articles:
The following two tabs change content below.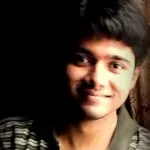 Latest posts by Ravi Teja Tadimalla (see all)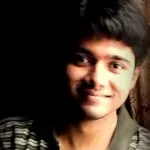 Ravi Teja Tadimalla
Ravi Teja Tadimalla is an editor and a published author. He graduated from SRM University, Chennai, and has been in the digital media field for over six years. He has a Professional Certificate in Food, Nutrition & Research from Wageningen University. He considers himself a sculptor born to chip away at content and reveal its dormant splendor. He started his career as a research writer, primarily focusing on health and wellness, and has over 250 articles to his credit. Ravi believes in the great possibilities of abundant health with natural foods and organic supplements. Reading and theater are his other interests.