13 Health Benefits & Nutrition Values Of Bignay
Get your skin and health back on track with Bignay's powerful natural antioxidants.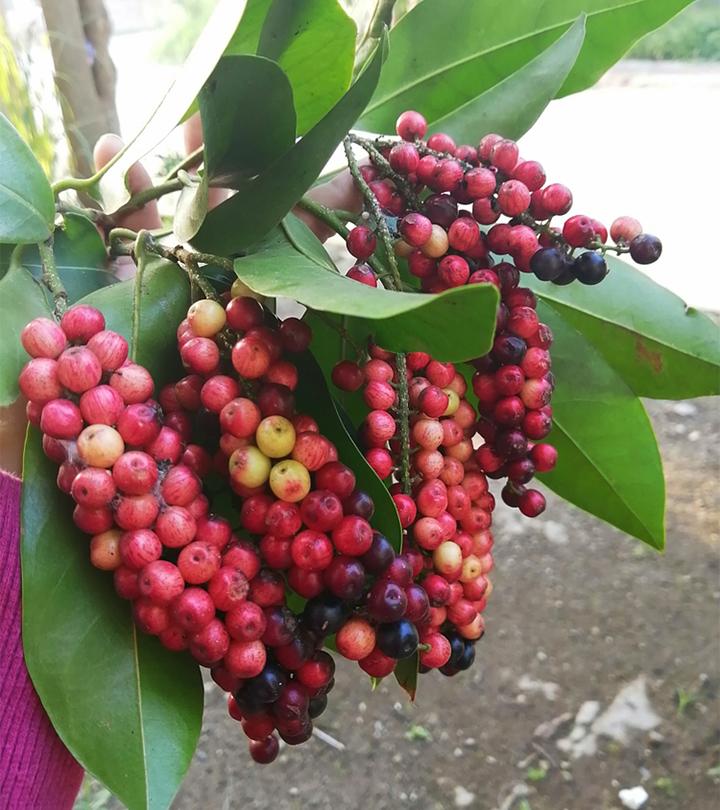 Bignay, also known as Queensland cherry, is a nutrient-loaded fruit found in Malaysia and Singapore. This red-hued fruit is usually the size of a gooseberry. Bignay benefits are slowly gaining popularity among many health enthusiasts. Even the leaves of this plant offer an array of health benefits.
As per health experts, the Bignay tea, which is made from the bark of this tree, has many positive effects on health. The tea can aid in weight loss, promote heart health, and lower cholesterol levels.

Know Your Ingredient: Bignay
What Is It?
A red-hued fruit also known as Queensland cherry commonly found in Malaysia and Singapore.
What Are Its Benefits?
Helps regulate blood pressure, aids weight management, boosts immunity, and improves metabolism and gut health.
Who Can Use It?
Those with kidney- or gut-related issues can benefit from it.
How Often?
2-3 times a week.
Caution
Avoid it if you are pregnant.
Read further to know more about the other health benefits of the Bignay fruit. Continue reading.
Health Benefits of Bignay Fruit
1. Natural Source Of Antioxidants
The natural anti-oxidative properties of this fruit, due to the presence of catechins, enable it to fight against the free radicals present in the human body (1), (2). The excessive presence of these radicals can result in premature onset of wrinkles, fine lines, and even cause cancer (3). The absence of antioxidants can result in the above-mentioned conditions. You can now keep all these skin and health issues at bay by consuming Bignay, as a whole fruit or in tea.
Bignay also contains mangiferin, a polyphenol antioxidant that prevents oxidation of LDL cholesterol and reduces the risk of cardiovascular disease (4).
The graph displays the bignay fruit extracts' capacity to scavenge free radicals using the DPPH and ABTS techniques. The concentration of bignay fruit extracts is represented on the x-axis while the percentage of radical-scavenging activity is represented on the y-axis. As the percentage of activity rises with increasing extract concentration, the findings suggest that the radical-scavenging activity of bignay fruit extracts is dose-dependent.
Radical Scavenging Activity Of Bignay Fruit With DPPH And ABTS Methods.
Source: Radical scavenging activity of bignay fruit with DPPH and ABTS methods.
2. Used In The Treatment Of Syphilis
Syphilis is an infection transmitted sexually. Studies conducted on this plant have revealed that the leaves of this tree, when boiled, have the potential to treat Syphilis (5).
As per the CDC report, in 2016, 88,042 new cases of syphilis were recorded, with 27,814 being primary and secondary syphilis. The bulk of syphilis cases were found among gay and bisexual people. Men aged 20 to 29 years had the greatest rates of primary and secondary syphilis. In 2019, the global incidence of active syphilis among sex workers was 10.8%.
3. May Treat Urinary Tract Infections
Bignay is known to offer relief from infections that affect the urinary tract. However, limited scientific evidence is available to prove this claim.

Trivia
The name "Bignay" is thought to have been inspired by the name of the country of Brunei or Borneo.
4. Keeps Your Blood Pressure Levels Under Control
Bignay, in the form of fruit and leaves, has the potential to keep the levels of blood pressure under control. Thus, it could be consumed by people suffering from hypertension to thwart off various hypertension-induced cardiovascular issues (6).
5. Natural Antidote For Snake Bites
The matured leaves of bignay have been used in alternative medicines by Asian physicians to treat snake bites.
6. Helps You Lose Weight
Bignay tea is known to possess appetite-suppressing properties (7). Thus, drinking a cup of this tea half an hour before each meal can help you lose weight in a better way.
7. Natural Remedy For Constipation
Bignay fruit when consumed in large quantities is known to render a laxative effect. Hence, it can be used, in a restricted way, to offer relief to those who are suffering from constipation (8).
8. May Do Good For Your Colon
Bignay tea is a well-known natural colon cleanser. Therefore, you can make use of this tea to eliminate unwanted toxins from your body. The natural detoxifying properties of the tea can help you lose weight while helping you look younger. It is also known to improve digestion and thus, beneficial for your colon. However, limited data is available to prove these claims.
9. Good For The Liver
According to a study conducted by mice, bignay fruit extracts can help to keep your liver healthier (9). However, more human studies are needed to understand this benefit of bignay.
10. Good For Healthier Immune System
Bignay tea is known to pep up your metabolisms levels (10). The better the metabolism levels, the lower the infections will be. Thus, Bignay benefits to boost the power of your immune system.
11. May Help Fight Inflammation Associated With Arthritis
The mangiferin in Bignay has anti-inflammatory properties. It may help fight the inflammation associated with rheumatoid arthritis and reduce the risk of joint destruction (11).
12. May Prevent Premature Aging
Bignay may help prevent premature aging due to its rich antioxidant content. It is packed with antioxidants like flavonoids, polyphenols, and vitamin C and contains high amounts of anthocyanin that may help neutralize free radicals and protect the skin and body from oxidative stress (1), (12). Therefore, bignay may be an effective solution to prevent skin degeneration and other signs of aging like wrinkles and fine lines.
13. May Improve Hair Growth
The antioxidants present in bignay may prevent oxidative damage and maintain the protective outer layer of the skin on the scalp (13). Therefore, using it may help prevent hair loss and improve the scalp's condition, thereby promoting hair growth. However, more research is required to prove this benefit of bignay.
How To Use Bignay?
You can use the fruit to make brandy, vine, and vinegar. A natural flavoring agent, it is used popularly for making juices and jams. The berries can also be consumed raw, while the leaves can be used in salads.


Quick Tip
The fruit pulp is used to make delicacies like cakes and ice cream.
Side Effects Of Bignay
The fruits and leaves of this plant are edible but stay away from the roots as they are poisonous. Pregnant women should stay away from these berries as Bignay is known to cause abortion. However, there is not enough scientific evidence to prove these claims.
Bignay Nutrition Facts
The food value given is for per 100 grams of the fruit.
| | |
| --- | --- |
| Moisture | 91.11-94.80 g |
| Protein | 0.75 g |
| Ash | 0.57-0.78 g |
| Calcium | 0.12 mg |
| Phosphorus | 0.04 mg |
| Iron | 0.001 mg |
| Thiamine | 0.031 mg |
| Riboflavin | 0.072 mg |
| Niacin | 0.53 mg |
Infographic: 5 Amazing Benefits Of Bignay
Bignay is popular in its hometown of Southeast Asia and Australia, but its diverse nutritional profile makes it a worthwhile addition to your grocery list. Several common health problems can be addressed through it, some of which may also affect you.
Check out the infographic below to learn more about our roundup of the top health benefits that bignay offers to you.



Bignays are small red fruits native to Southeast Asia that are packed with antioxidants, vitamins, such as vitamin C and B, and minerals. Bignay's benefits include better immunity, improved metabolism, cancer prevention, and reduced blood pressure levels. They also are natural colon cleansers and may relieve constipation and help ease digestive problems. Anecdotal evidence also suggests that vitamins in the fruit may help boost hair health, increase energy, improve eyesight, and promote longevity. You can consume bignays in various ways; in vinegar, in jams and juices, in salads, or even raw. However, bignays are anecdotally reported to cause miscarriage. Thus, pregnant women should avoid them and consult their doctor.
Frequently Asked Questions
Is bignay good for kidneys?
Yes, bignay herbal tea may help improve a few kidney disorders (14). However, most herbal teas used for therapeutic treatments may have high lead content. Though bignay contains lead in permissible amounts, excess intake for prolonged periods may cause health complications. Therefore, consult your doctor before including bignay tea in your daily routine.
Is bignay good for diabetes?
Maybe. Animal research suggests that bignay crude extracts may help lower blood sugar levels (15). However, more human studies are required to prove its efficacy.
What does bignay taste like?
Bignay tastes a bit acidic when raw and slightly sweet when ripe.
Is bignay a herbal medicine?
Yes, being loaded with vitamins, minerals, and phytochemicals, bignay is considered a herbal medicine. It may help treat gastrointestinal problems like constipation and improve metabolism.
Is bignay the same as cranberry?
No, bignay is a tropical fruit in the form of a small berry with a sweet and tart flavor. Cranberry, on the other hand, has a sharp and sour taste when eaten raw.
What family does bignay belong to?
Bignay belongs to the family of Phyllanthaceae, the same family as the Indian gooseberry, and is native to Southeast Asia and Australia.
Is bignay a currant?
Yes, the currant tree is popularly known as bignay. The fruit is also considered the cousin of the black currant tree.
Key Takeaways
Bignay, a tropical fruit high in antioxidants, offers an array of potential health benefits including reduced appetite necessary for weight loss.
It may prevent the oxidation of LDL cholesterol and reduce the risk of cardiovascular disease as it has mangiferin, a polyphenol antioxidant.
This fruit may help prevent constipation as it has dietary fiber.
Women who are expecting are advised to stay away from Bignay as they are known to cause abortion.
Learn to relax and detoxify with this all-natural foot soak. Enjoy the soothing effects of natural ingredients like Epsom salt and essential oils in this video. Watch Now!
Sources
Articles on StyleCraze are backed by verified information from peer-reviewed and academic research papers, reputed organizations, research institutions, and medical associations to ensure accuracy and relevance. Read our editorial policy to learn more.
The following two tabs change content below.