6 Amazing Health Benefits Of Chili Oil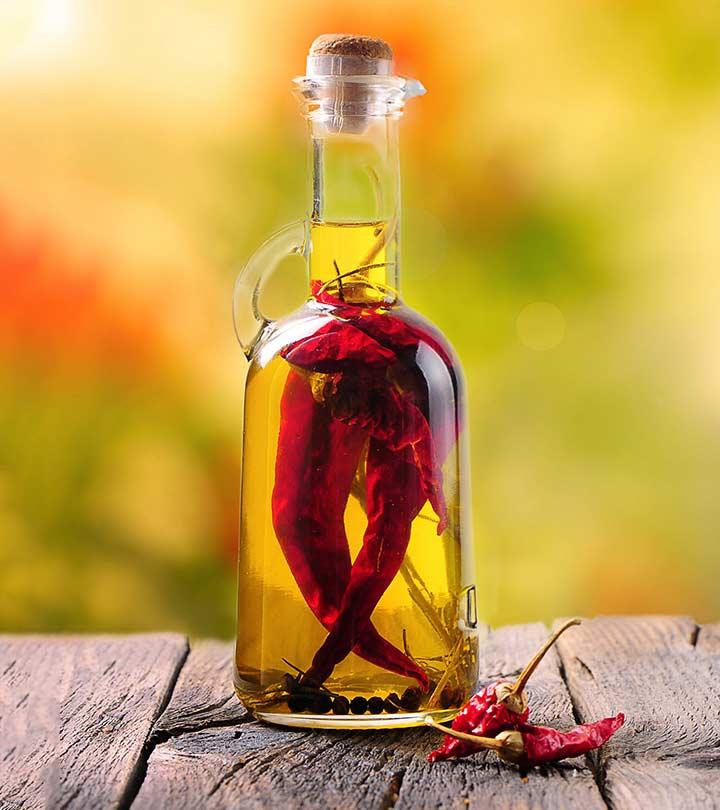 Have you ever heard of one oil that can both be used as a sauce for your dishes and as a base to cook something delicious? Well, it is chili oil we are talking about.
Health Benefits Of Chili Oil
This oil also comes with a host of benefits and uses. Would you like to know what they are? Read on!
1. Source Of Protein
Every 100 grams of chili pepper contains one gram of protein. When you eat more protein, you automatically protect your body from loss of muscle mass, decreased immunity, poor respiratory system and even death (1). Protein also helps in carrying oxygen to the blood. It builds muscles, cartilage and regulates the nervous system.
2. Vitamin D Benefits
Chili oil is full of nutrients, vitamins and minerals. It contains Vitamin D that protects you against Alzheimer's disease, bone weakening, and cancer attacks. (2) Other rich sources of Vitamin D are milk, soy, fish, egg yolks, etc.
3. Vitamins A, E, And K
Chili oil also contains Vitamins A, E, and K that provide your body with a large number of benefits. It helps in maintaining good bone health. They contain antioxidants that play a major role in tooth development, immune system, cell division and reproduction (3). Vitamin K helps in the reduction of blood clotting as well.
4. Iron Benefits
Chili oil contains iron too. Eating iron filled foods prevents several illnesses such as glossitis (4). It also helps you feel relaxed. Iron is one of the major nutrients that prevent you from feeling tired and exhausted. In fact, iron deficiency leads to anemia, cough, and dialysis.
[ Read: Benefits Of Iron ]
5. Good For The Heart
Another benefit of chili oil is its ability to take great care of the cardiovascular system. It contains beneficial compounds such as Capsanthin in small quantities, which raise the HDL cholesterol levels and keep your heart healthy.
6. Vitamin C Benefits
Chili oil also contains Vitamin C, which protects you from strokes, coronary heart diseases and other cardiovascular diseases (5) . Vitamin C may also shorten the duration of a cold or the effect of a recent cold treatment. Other sources of Vitamin C are oranges, lemon, and grapefruit.
[ Read: Benefits of Vitamin C ]
How To Make Chili Oil At Home?
The procedure to prepare homemade chili oil is quite simple. Following is what you should do:
The first thing you need to do is choose your base oil. Now this is entirely dependent on you. You can try peanut oil, almond oil or even sesame oil. Take the base oil and gently pour into the pan.
Slice chili peppers according to length. Take out the seeds too.
Fry chili peppers in oil next for 8 minutes. Then pour them directly into the oil.
Let the oil cool.
Cover the jar using a lid.
Noodles Using Sesame Chili Oil
Sometimes food is not just about taste, but also about the wonderful fragrance it imparts. It also is about the medicinal and nutritional benefits that come along with it. Sauces that contain sesame paste are a great source of fatty acids and benefit your health immensely. Ground peanuts mostly found in China give you energy for the day and supply your body with essential nutrients. This recipe can be cooked using dried wheat noodles. Add some eggs, buckwheat and rice for extra taste.
Ingredients:

300 grams of dried wheat noodles
1 teaspoon of sesame oil
1 teaspoon of grounded peanuts
2 spring onions finely chopped
[ Read: Health Benefits Of Onion Seed Oil ]
Sauce Ingredients:

3 teaspoons of fresh sesame paste
165 ml of water
3 teaspoons of black soy sauce
One teaspoon of sugar
One teaspoon of vinegar
2 teaspoons of red chili oil
Half a teaspoon of Sichuan peppercorn powder
Steps:

In order to prepare the sauce, mix the sesame paste in a bowl at first and then pour water in it. Whisk slowly. Add some soy sauce, sugar and Sichuan peppercorn powder. Blend well using vinegar.
Bring another pot of water and let it boil for a minute. Add the dried noodles and cook according to the directions given.
Drain the noodles next, rinse in cold water, drain and place it in a large bowl. Add another spoon of sesame oil and continue mixing.
Next, you have to add sauce to the noodles and sprinkle with ground nuts and chopped spring onions.
Serve the dish at the table and distribute equally into the bowls.
Now that all about the chili oil benefits, what are you waiting for? Have you used chili oil before? Let us know your experiences by commenting in the box below.
Recommended Articles:
The following two tabs change content below.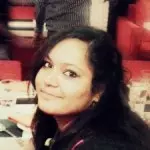 The one with a constant energy that can leave you awed, Tanya can jump around and talk for the whole day. If not found writing away the desired articles, she can easily be spotted glued to the youtube, eyes wide, spazzing over the perfection of her favorite singer. Functioning without music (Bollywood, Hollywood, Spanish, German, Korean, Chinese, Japanese, Thai and what not- Because music is music), and a big cup of tea is an impossibility for her. Ever heard of a totally weird soul that could go frenzy over the smell of a book, especially if it's a Dan Brown or Lee Child? Yep! That would be her.