6 Amazing Health Benefits Of Chili Oil
This spicy condiment is not only a tasty addition to your dishes but also a healthy option.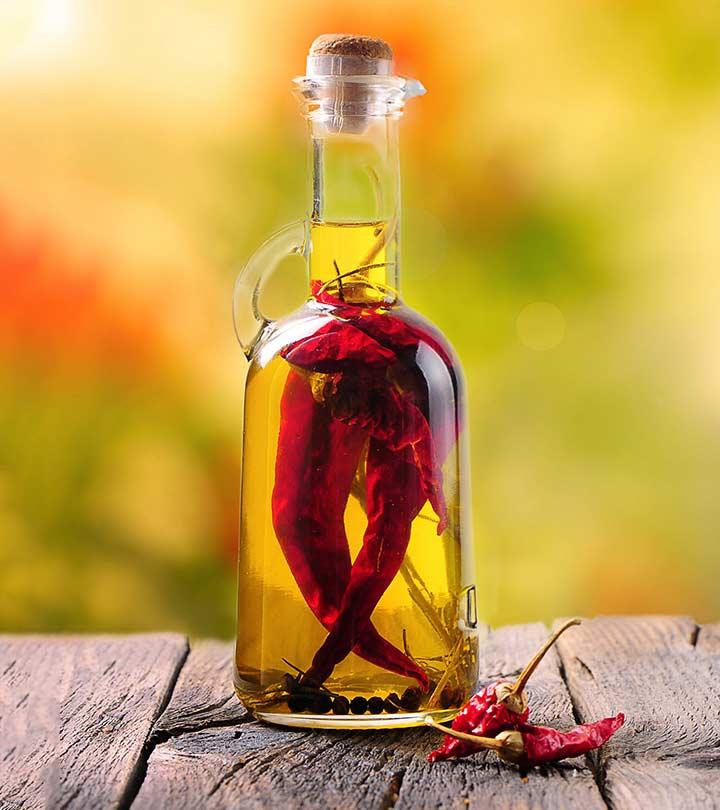 The many benefits of chili oil have recently caught the attention of health enthusiasts. Extracted from the Salvia hispanica L plant, chili oil is a powerhouse of essential vitamins, minerals, and healthy fats. Although popularly used as an anti-aging remedy in skincare, chili oil is used in several dishes across global kitchens for its nutty flavor. In this article, we will take a look at the benefits of chili oil and a simple recipe you can try at home!
Health Benefits Of Chili Oil
This oil also comes with a host of benefits and uses. Would you like to know what they are? Read on!
1. Source Of Protein
Every 100 grams of chili pepper contain around one gram of protein (1). When you eat more protein, you automatically protect your body from loss of muscle mass, decreased immunity, and poor respiratory system (2).
2. Vitamin D Benefits
While chili oil is rich in nutrients, some believe it contains vitamin D too. However, research shows that chili does not contain Vitamin D (1).
Vitamin D may help protect against Alzheimer's disease and bone disease and may reduce cancer risk. You may also get your vitamin D from milk, tuna fish, and egg yolks (3).
3. Vitamins A, E, And K
Chili oil also contains Vitamins A, E, and K (1). Vitamin K helps make various proteins needed for blood clotting and good bone health (4). These vitamins have antioxidant properties that play a major role in building the immune system (5).
4. Iron Benefits
Chili oil contains a good amount of iron (1). Eating iron-filled foods may prevent several illnesses such as glossitis. It also helps you feel relaxed. Iron is one of the major nutrients that prevent you from feeling tired and exhausted. In fact, iron deficiency can lead to anemia (6).
5. Good For The Heart
Another benefit of chili oil is its ability to take great care of the cardiovascular system. It contains beneficial compounds like capsanthin in small quantities (7), which may raise HDL cholesterol levels and keep your heart healthy.
6. Vitamin C Benefits
Chili oil also contains Vitamin C (1), which may protect you from cardiovascular diseases (8). Vitamin C may also shorten the duration of a cold or the effect of recent cold treatment (8). Other sources of Vitamin C are oranges and grapefruit (8). Chili oil also helps improve immunity by fighting against infections.
How To Make Chili Oil At Home?
The procedure to prepare homemade chili oil is quite simple. Following is what you should do:
The first thing you need to do is choose your base oil. Now, this is entirely dependent on you. You can try peanut oil, almond oil, or even sesame oil. Take the base oil and gently pour it into the pan.
Slice chili peppers according to length. Take out the seeds too.
Fry chili peppers in oil next for 8 minutes. Then pour them directly into the oil.
Let the oil cool.
Cover the jar using a lid.
Stylecraze Says
You can store chili oil for as long as six months, but the quality decreases over time. It is recommended to use it within a few months to reap maximum health benefits.
Noodles Using Sesame Chili Oil
Sometimes food is not just about taste, but also about the wonderful fragrance it imparts. It also is about the medicinal and nutritional benefits that come along with it. Sauces that contain sesame paste are a great source of fatty acids and benefit your health immensely. Ground peanuts give you energy for the day and supply your body with essential nutrients. This recipe can be cooked using dried wheat noodles. Add some eggs, buckwheat, and rice for extra taste.
Ingredients:

300 grams of dried wheat noodles
1 teaspoon of sesame oil
1 teaspoon of grounded peanuts
2 spring onions finely chopped
Sauce Ingredients:

3 teaspoons of fresh sesame paste
165 ml of water
3 teaspoons of black soy sauce
One teaspoon of sugar
One teaspoon of vinegar
2 teaspoons of red chili oil
Half a teaspoon of Sichuan peppercorn powder
Steps:

To prepare the sauce, mix the sesame paste in a bowl at first and then pour water into it. Whisk slowly. Add some soy sauce, sugar, and Sichuan peppercorn powder. Blend well using vinegar.
Bring another pot of water and let it boil for a minute. Add the dried noodles and cook according to the directions given.
Drain the noodles next, rinse in cold water, drain and place them in a large bowl. Add another spoon of sesame oil and continue mixing.
Next, you have to add sauce to the noodles and sprinkle with ground nuts and chopped spring onions.
Serve the dish at the table and distribute it equally into the bowls.
Stylecraze Says
You can reduce the spice level of chili oil by adding the juice of half lime, two tablespoons of wine, pineapple, or tomato juice to neutralize the pH level of chili oil.
Chili oil benefits extend beyond just being a great spice. It is packed with many vitamins, minerals, and beneficial natural plant compounds. This essential oil has many beneficial properties. It promotes blood circulation and boosts cardiovascular health. Its protein content may help boost immunity and muscle mass. This oil contains vitamin K, which aids in wound healing and promotes bone health. The vitamin C in chili oil is a potent antioxidant that promotes skin and overall body health. However, overuse may have unpleasant side effects. If you experience any adverse effects, limit its use and seek medical advice.
Frequently Asked Questions
Can chili oil help you lose weight?
Yes, chili oil can help with weight loss. The capsaicin it contains suppresses appetite and decreases food intake. This, when coupled with regular exercise, may help with weight loss.
Does chili make you poop?
Yes, chili makes you poop. Its capsaicin stimulates the gastrointestinal system.
Does chili lower blood pressure?
Chilli may lower blood pressure because of its capsaicin content. It relaxes blood vessels and may lower blood pressure.
Sources
Articles on StyleCraze are backed by verified information from peer-reviewed and academic research papers, reputed organizations, research institutions, and medical associations to ensure accuracy and relevance. Read our editorial policy to learn more.