10 Amazing Health Benefits Of Malted Milk/Malted Milk Powder
Good for infants and adults alike, discover what malted milk has in store for you.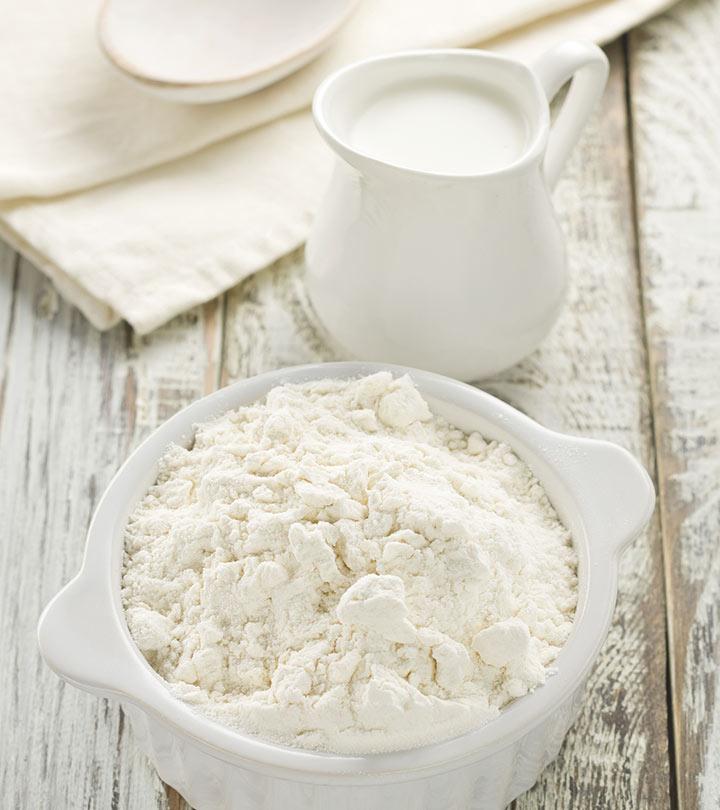 Malted milk benefits your health in more ways than you know. So, what is malted milk and how is it made? Made from a combination of malted barley, milk powder, and wheat flour, malted milk aids in quick recovery from illnesses and helps in inducing sleep and relaxation. High in calcium, vitamin D, and several essential nutrients, malted milk is an excellent source of nutrition for pregnant women (1). In this article, we will explore the several benefits of malted milk and why it would be a healthy addition to your diet.

Know Your Ingredient: Malted Milk
What Is It?
A health supplement made from malted barley, milk powder, and wheat flour.
What Are Its Benefits?
It may help regain strength and provides the required nutrients to the body and its riboflavin content may help maintain good skin and eye health.
Who Can Consume It?
Anyone, from children, and pregnant women, to the elderly, can consume malted milk.
How Often?
Malted milk can be consumed daily in moderation.
Caution
Those who wish to lose weight must avoid taking this supplement.
Malted Milk – A Brief
Malted milk was developed as a nutritional supplement for infants, and although it has been found that it is unsuitable for them, it has a high nutritional value that adults can benefit from.
This type of milk, made from whole milk powder, wheat flour, and malted barley, is a sweetener that helps in enhancing the flavor of foods like milkshakes, candy, ice cream, and baked goods. It can also be consumed as a delicious beverage packed with loads of goodness.


Trivia
Malted barley is different from regular barley. Malted barley is barley that has been soaked in water for 4-5 days and allowed to sprout, a process that makes it rich in
fermentable
i
X
The ability of something to undergo chemical changes to produce bubbles or heat, or turn the sugars in it into alcohol.
sugars. Malted barley is most well-known for its use in making beers.
Benefits of Malted Milk
1. May Help In Recovering From Illness
For patients recovering from an illness, malted milk is an excellent way to regain strength as it gives the body important nutrients (1). The fact that it is easy to digest makes it the ideal food for people who are recovering from illness. In fact, malted milk finds its way into the diet book of patients suffering from gastroparesisi  XA disorder that interferes with your stomach muscles' ability to move on their own normally (motility). .
2. Provides The Right Dose Of Protein
Malted milk provides protein needed by the body for healthy growth and development. A 100 g serving of malted milk powder gives 10 g of protein (2). This essential nutrient is much-needed by your body as it helps in building and repairing tissue, cells, and muscles.
3. May Help Build Bones
Malted milk is a fortifiedi  XSomething that protects or prepares other cells, tissues, or substances against a foreign attack, as in case of blood fortifiers. source of vitamin D and provides 326 IU of vitamin D in an 8-ounce serving, which is paramount for bone health (3). It also contains minerals that are important for the maintenance of bone strength and health. It provides your body with calcium and phosphorus, which help in the building of bones (1).
4. Provides Energy
Malted milk powder is rich in vitamin C, iron, niacin, and riboflavin (1). These vitamins help in metabolizing carbs, protein, and fat, and provide your body with energy throughout the day. However, Mary Sabat, MS, RD, LD, notes, "Malted milk does not necessarily boost energy. It does contain some nutrients that can provide energy, such as carbohydrates, protein, and B vitamins. However, the amount of these nutrients is not enough to provide a significant energy boost. Malted milk is more likely to provide sustained energy over a longer period of time, given its slow digestion and absorption rate."
5. May Improve Skin And Vision Health
Riboflavin, which is also known as vitamin B-2, is an important nutrient the body requires. It helps in improving and maintaining good skin and vision health. Malted milk powder is a good source of vitamin B-2 (1).
6. May Help In Transporting Nutrients
Malted milk contains potassium in small amounts (1). Potassium plays an important role in the communication between muscles and nerves. It also helps in transporting nutrients into the different cells of the body, as well as removing waste from the body.
7. May Help In Thyroid Hormone Production
Malt milk producers claim that their milk powder contains selenium. This is an important nutrient required for the production of thyroid hormones. It also plays a role in reproduction. It is a powerful antioxidant that protects your body against infection. However, very limited research is available to support this claim.
8. Good For Blood
Malted milk powder has a high amount of iron (1). This mineral is essential to keep the body's blood system functioning properly at all times. It is because of its iron content that malted milk drink works excellently as a blood fortifier.
9. Good For Pregnant Women
Due to its nutrient-rich composition, malted milk is an excellent choice of beverage for pregnant women (1). The fact that it is so easy to digest also makes it a great drink for expectant mothers.

Did You Know?
Malted milk was first invented in the year 1873 by William Horlick, a food manufacturer from Britain. He, along with his brother, also founded the popular brand of nutritional supplement that would sell malted milk under the name 'Horlicks'.
10. May Help People With Insomnia
Although there is no conclusive evidence that malted milk promotes sound sleep, it does help insomniacsi  XRefers to people suffering from insomnia, that is, a condition where one loses the ability to fall asleep. in another way. This milk can keep the stomach full for a longer period. This may, in turn, help them get a good night's sleep, especially for the elders.
Due to its high fat, calorie, and sugar content, you need to remember to limit your intake of malted milk powder. You should make malted milk an occasional treat instead of adding it to your daily diet. This way you get the nutrients that it provides without increasing the risk of weight gain and heart disease.
Infographic: Top Health Benefits Of Malted Milk
Malted milk was created for infants, but it has been found that consumption of this milk is not suitable for them. Also, the high nutritional value of malted milk offers many health benefits for adults. While we have listed many benefits of this milk in the article, you must be aware of a few important benefits of malted milk. Check out the infographic below to learn about the top health benefits of malted milk.



Malted milk is a delicious and nutritious beverage. It is replete with many vitamins, minerals, and beneficial compounds. The benefits of malted milk range from improving digestion and boosting energy levels to promoting circulation and wellness. It may also help improve vision, bone strength and skin health as well as boost immunity. It is good for building mass and helps in thyroid hormone production. Malted milk is highly recommended for children, pregnant women, and the elderly. However, it is not recommended to consume it in excess. Its high fat and sugar content can cause health issues. Consult your doctor if you experience any adverse effects.
Frequently Asked Questions
What is the difference between a milkshake and malted milk?
Malted milk is a combination of barley malt extract, evaporated whole milk, and sugar, while milkshakes are made from a combination of milk, ice cream, and other flavorings. Sabat adds, "Malted milk is usually served cold and is thicker than a milkshake and is often used as an ingredient in other desserts. It is also a popular drink to enjoy on its own and can be served hot or cold." People may choose to drink malted milk for its taste, as a healthier alternative to milkshakes or as a way to get added energy and nutrition.
What does malted milk taste like?
Malted milk has a delicately nutty flavor with a natural sweetness.
What is the difference between malted milk and milk?
Milk naturally contains sugar, whereas malted milk has lots of added sugar.
Can malted milk be used as a meal replacement?
No. While malted milk contains whole milk powder, wheat flour, and malted barley, it lacks sufficient amounts of dietary fiber, healthy fats, and many essential vitamins and minerals. Thus, it may supplement your diet but cannot act as a meal replacement.
What are the nutritional values of malted milk?
About 100g of malted milk provides 66 kcal energy and has 3.19 g protein, 2.05 g fats, 8.64 g carbohydrates, and 7.81 g sugar. It also contains some amounts of calcium, potassium, phosphorus, and sodium (4).
Is malted milk safe for lactose-intolerant individuals?
Possibly not. Whole milk powder contains lactose as a main protein component. Thus, depending on the severity of lactose intolerance, malted milk should be consumed in moderation or avoided.
Key Takeaways
Malted milk can improve vision and skin health due to its high vitamin B-2 content.
The milk is also high in iron content, which makes it a strong blood fortifier.
Malted milk carries high amounts of vitamin D and other minerals that can support bone strength and health.
It contains high quantities of fat, sugar and calorie. Therefore, avoid malted milk when you are on a diet or wish to lose weight.
Discover the potential of consuming milk and malt for weight gain in this informative video. Explore their benefits and learn about the role milk can play in ulcer management.
Sources
Articles on StyleCraze are backed by verified information from peer-reviewed and academic research papers, reputed organizations, research institutions, and medical associations to ensure accuracy and relevance. Read our editorial policy to learn more.
The following two tabs change content below.