9 Amazing Health Benefits Of Mozzarella Cheese
There is more to this sinfully delicious ingredient than we give it credit for!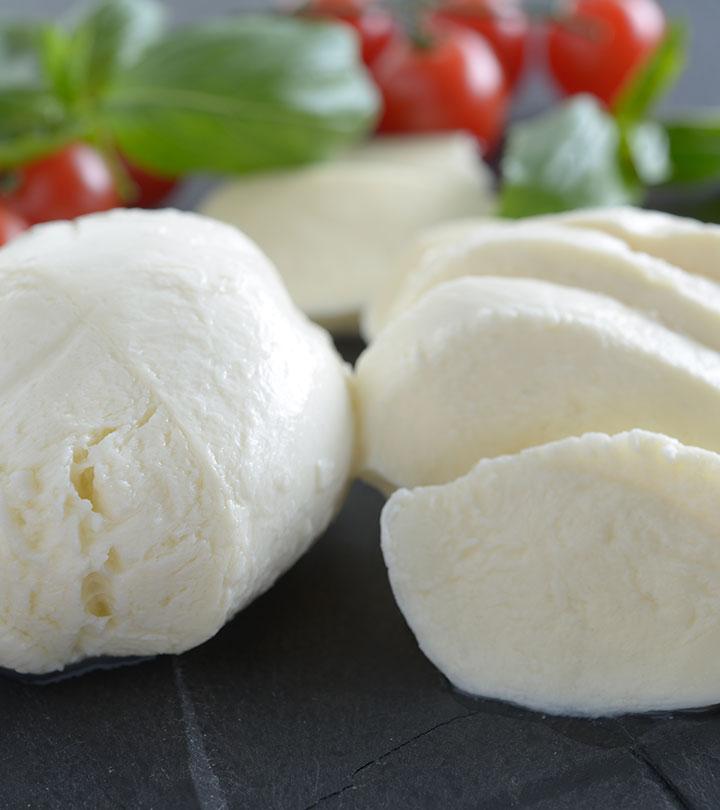 Cheese has a bad reputation for being unhealthy and rich in fat. But you may not be aware that mozzarella cheese benefits are way more. So, is mozzarella cheese healthy? A low-carb option, low in calories, and rich in essential nutrients, mozzarella cheese may improve digestion, aid in weight loss, and improve the texture of your skin. This delicious, soft cheese is known for its versatility and satiety and can be the perfect addition to your beautiful summer salad or crunchy pizza. In this article, we take a look at the reason why mozzarella cheese would make an excellent addition to your diet.

Know Your Ingredient: Mozzarella Cheese
What Is It?
A soft, white cheese with a high moisture content and full of nutrients.
What Are Its Benefits?
It strengthens bones and muscles, aids weight loss, and improves skin, hair, and nail health.
Who Can Consume It?
All except those who are lactose intolerant.
How Often?
Up to 42 g every day.
Caution
Those who are lactose intolerant should not consume it.
Nuances Of Mozzarella Cheese
This great-tasting staple is loved for its amazingly luxurious flavor and smooth and soft texture that melts so easily. It is made by mixing cow or buffalo milk with rennet, an enzyme. It is turned into curd and then heating and stretching makes it reach a bouncy consistency. Processed mozzarella cheese is available in variants like part-skim milk and whole milk. This cheese variant is best known for its use on pizzas. It is sold in shreds, sticks and slices.
Rahul Panchal, a blogger, shared his love for the fresh and milky flavor of mozzarella cheese, despite his distaste for fresh milk. He adds in one of his blog posts, "While most of us appreciate mozzarella in its melted form, I also absolutely adore delicious bocconcini, little balls of fresh mozzarella tossed together in a simple salad with summer heirloom tomatoes, fresh basil leaves, and [a] light vinaigrette of sticky, sweet balsamic vinegar, and fruity extra virgin olive oil… (i)."

Trivia
The word 'mozzarella' is derived from '
mozzatura
i
X
The process of chopping a vegetable or any other object, or trying to remove parts of an object, commonly used in cheese making.
,' a word from the Neapolitan dialect spoken in Campania, which means "cutting something by hand."

Trivia
Mozzarella cheese was first made in southern Italy near Naples. It is claimed that it was first made when cheese curds accidentally fell into hot water in a cheese factory near Naples.
Health Benefits Of Mozzarella Cheese
Made from milk, Mozzarella cheese is just more than its taste and calories. Other than calcium, this cheese variant offers a variety of health benefits. Read our guide to see how your favorite cheese rates on the nutrition meter.
1. Source Of Biotin
Mozzarella cheese is a fine source of Biotin also called Vitamin B7. Since this nutrient is water soluble, the body does not store it. Eating this cheese variant can thus satisfy your immediate nutritional needs. Pregnant women can eat cheese to cope with possible biotin deficiency (1). This vitamin also stops nails from turning brittle. Studies have shown biotin can also lower blood glucose levels in diabetic people. It also helps in promoting the health of the hair, skin, and nails.
2. Source Of Riboflavin
It is a good idea to eat mozzarella cheese as it is rich in Vitamin B2 or riboflavini  XVitamin B complex that is yellow and present in many foods, including milk, liver, eggs, and green vegetables. . Part of the vitamin B complex family, it needs to be taken daily as it helps the body fight various ailments and conditions like migraine attacks and anemia (2). It also has proven antioxidant properties.
3. Source Of Niacin
The dairy product also contains vitamin B3 or Niacin, which plays a pivotal role in turning fat into suitable energy in the human body (3). Besides, Niacin helps control cholesterol, prevents the onset of ailments like diabetes and arthritis.
4. Source Of Protein
One of the best benefits of mozzarella cheese is that it is a powerhouse of protein. If you want a source of protein, mozzarella cheese makes a good choice. Eating this cheese keeps you energetic and boosts muscle strength.
5. Replete With Fat Soluble Vitamins
Mozzarella cheese also contains important fat-soluble vitamins like D, E and A (4). These vitamins are required for calcium absorption, bone health and cell membrane protection.
6. Helps Make Bones Stronger
The cheese variant contains a high amount of Calcium-a key mineral that is required for optimum bone and teeth health. One ounce of mozzarella cheese has 183 milligrams of calcium. Thus, it may help protect tooth enamel and maintain bone structure (5). Besides, it plays a pivotal role in safeguarding heart muscles and reduces risk of colon cancer. It may also support weight management.
7. Good Source Of Phosphorus
Mozzarella cheese has a fair amount of phosphorus, which helps the human body absorb calcium from foods. It is also required for optimum digestion and proper functioning of the kidneys. The mineral helps fight muscle fatigue and facilitates brain functioning.
8. Replete With Zinc
Zinc is a vital mineral present in Mozzarella cheese (6). Zinc helps battle skin problems and increases white blood cell count. It also helps the prostate gland function well and aids in shedding excess weight.
9. Source Of Potassium
Potassium is another key mineral that is found in this cheese (6). Potassium helps battle the adverse effects caused by sodium consumption in humans. Potassium also aids in lowering blood pressure and rectifying abysmal heart rhythms.
Incorporating mozzarella cheese into your diet can be simple. The following recipe would be a good starting point.
Mozzarella Cheese Recipe
Mozzarella Cheese Sticks
Ingredients
10 to 12 Mozzarella cheese sticks
1 cup of all-purpose flour
2 eggs, beaten
1 cup of breadcrumbs
1 teaspoon of Italian seasoning
½ teaspoon of garlic powder
Salt and pepper, to taste
Oil, as needed
Marinara sauce
Instructions
Cut the mozzarella cheese sticks so that they are 1-inch thick.
Take three bowls. Add the flour in a bowl, the beaten eggs in another, and a mixture of breadcrumbs, Italian seasoning, garlic powder, salt, and pepper in the third.
Dip each cheese stick first into the flour and then into the beaten eggs. You can finally coat them with the breadcrumb mixture.
Heat oil in a frying pan over medium heat. Fry the cheese sticks until golden brown and crispy.
Remove the sticks from the pan and place them on paper towels to drain out the excess oil.
Serve hot with marinara sauce.
A Word Of Caution
Without doubt, mozzarella cheese tastes great but at the same time it is replete with vital nutrients. But the bad news is it contains high amounts of saturated fat which can be a concern for cardiovascular health and weight issues. It is advisable to take this dairy product in moderation and go for low-fat variants.
Infographic: 10 Reasons To Add Mozzarella Cheese To Your Diet
Several studies have shown that consuming moderate amounts of mozzarella cheese is beneficial. It contains calcium, phosphorus, zinc, minerals, vitamins, biotin, protein, and potassium, all of which are essential nutrients in any diet. Check out the infographic below to learn how mozzarella cheese may support your overall health.



The benefits of mozzarella cheese can be attributed to its minerals, vitamins, fats, and other nutrients. This cheese is soft, delicious, creamy, and stretchy – and is used in a wide variety of dishes. It may help promote heart health, improve bone strength, and boost healthy weight gain. It may also help boost immunity, energy levels, and dental health. It is good for your cognitive functioning and can help you build muscle mass and reduce muscle fatigue. However, excess intake may cause cardiovascular issues or unwanted weight gain. Practice moderation and consult your doctor if you experience any adverse reactions.
Frequently Asked Questions
Can I eat mozzarella before bed?
Yes, it is safe to eat mozzarella cheese before bed. It is said to improve sleep quality and help you sleep longer.
Is mozzarella cheese high in fat?
No, mozzarella cheese is comparatively low in fat than other types of cheese. Hence, it is considered a healthy substitute for other cheeses.
Is it good to eat mozzarella every day?
No, it is not good to eat mozzarella every day as it is high in calories. While it is rich in nutrients, a cup of shredded whole-milk mozzarella cheese contains 335 kcal (7). If you eat it every day, ensure to have it in moderation.
Is mozzarella healthier than paneer?
No, mozzarella is not healthier than paneer. Though both are derived from cow's milk, 100g of mozzarella cheese has 299 kcal (7), while 100g of cottage cheese has 98 kcal (8). Further, mozzarella also contains high amounts of saturated fat and cholesterol compared to paneer.
Is mozzarella cheese a good choice for people who are lactose intolerant or have other dairy allergies or sensitivities?
No, mozzarella cheese is not a good choice for people who are lactose intolerant or have other dairy allergies or sensitivities, as it is made from cow or buffalo milk that contains lactose. However, anecdotal evidence suggests that some people with lactose intolerance may tolerate hard cheeses like mozzarella, which are low in lactose. However, there are no relevant studies to support this claim.
Key Takeaways
Mozzarella cheese is high in phosphorus, which helps increase bone strength and supports muscle growth.
This cheese is also rich in potassium, which helps lower blood pressure.
Mozzarella contains zinc that helps increase white blood cell count, improves prostate gland function, and supports the immune system.
It is, however, high in saturated fats, which makes it an unhealthy choice of cheese for those with heart diseases.
Mozzarella cheese is packed with several beneficial nutrients and health benefits. Check out the video to understand why you should add this creamy and delicious dairy product to your diet.
Personal Experience: Source
i. I love mozzarella cheese
https://cookingfever.wordpress.com/2012/02/15/i-love-mozzarella-cheese/
The following two tabs change content below.