10 Amazing Health Benefits Of Wasabi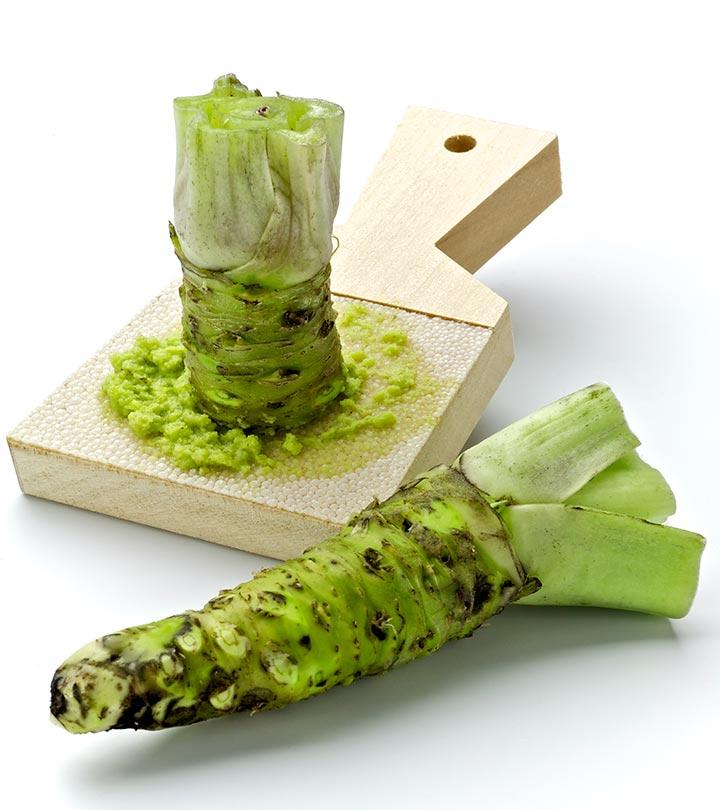 Are you looking for a vegetable that helps keep your heart healthy? Wondering if there is any ingredient that can flush out toxins from your system as well? Then wasabi is what you should include in your diet.
Wasabi comes with a host of benefits. Would you like to know what they are? Keep reading!
Health Benefits Of Wasabi
1. Helps You Lose Weight
Trying to lose weight this year? Try wasabi. It is a delicious low-calorie food that is often cooked with peas. Served as a snack most of the time, wasabi is suitable for all those looking forward to losing weight. It is a better substitute compared to other high-calorie snacks and contains nutrients to nourish your body.
[ Read: Health Benefits Of Seaweed ]
2. Digestive Health
Wasabi also takes great care of your digestive system. It fights all harmful toxins and cleanses your intestine. It is rich in fibre that prevents constipation, gas problems, bloating, belching, etc.
3. Heart Health
One of the most amazing health benefits of wasabi is its ability to improve your heart health. It reduces the chances of heart attacks by preventing the aggregation of platelets. Wasabi prevents the platelets from sticking together, which can be very harmful if turns out so.
4. Prevents Cancer And Boosts Immunity
Wasabi has a close association with vegetables like broccoli and cabbage that contain chemicals for boosting liver health. The chemicals successfully neutralize toxic substances that lead to cancer after a period. According to studies, wasabi is good for boosting immunity and controlling cancerous effects (1).
5. Natural Sanitizer
Wasabi can also be used as a natural sanitizer. Surprised? Yes! Wasabi fights pylori bacteria that prevent infection.
6. Fights Arthritis
Wasabi comes with anti-inflammatory properties that offer you relief from aching joints. The isothiocyanates available in wasabi make you less prone to bowel diseases and asthma.
7. Makes You Younger
Wasabi contains sulfinyl that fights aging and helps you achieve flawless and glowing skin tone. Sulfinyl is a powerful antioxidant that lowers reactive oxygen in the body. Not just that, wasabi helps in fighting cancer and reduces the process of decay.
8. Blood Circulation
Wasabi can also help you improve blood circulation. It prevents the clumping of blood clots and prevents strokes. Its circulatory benefits help in keeping your skin soft and clear.
9. Fights Cold And Allergies
Swallowing wasabi can help you prevent cold and allergies. It fights bacteria and flu causing pathogens that tend to infect the respiratory tract.
10. Prevents Food Poisoning
Wasabi can prevent food poisoning by neutralizing all mould spores (2). Experts have always recommended us to add a touch of wasabi in order to prevent food from getting spoilt.
How To Select Wasabi
Wasabi powders and paste are quite popular in most markets and grocery stores in the US. Sometimes, they are not made of real wasabi. Often the product that is sold is of very poor quality.
Common wasabi powder contains mustard powder, cornstarch and artificial coloring. Since wasabi plants are very peculiar when it comes to needs, real wasabi costs a lot more than horseradish. So, when you are selecting wasabi, please make sure you pick only those that have fresh, clean and unshrivelled roots. You should also follow this guideline while picking up greens.
How To Store
To store wasabi roots, you need to wrap them in a towel that is preferably damp. Refrigerate only when it is not being used. Trim properly and remove all spots. Wasabi usually lasts for 30 days approximately. Wasabi leaves should be kept inside the fridge as soon as possible.
How To Use Wasabi While Cooking
If you want to use wasabi while cooking, here is the simplest method you should try!
Select the freshest wasabi rhizome. The roots should be unwrinkled.
Now remove the leaves with the help of a knife.
Prepare the wasabi now by trimming off all the bumps and marks. It should be clean.
Get hold of a fine grater to remove the amount of wasabi you would actually like to use.
Gather the grated wasabi. Form and press it into a ball.
Let it rest for ten minutes before serving. This will add more flavor.
[ Read: Health Benefits Of Marrow Vegetable ]
How To Make Fresh Wasabi Paste
Wasabi paste is as easy to prepare as grated wasabi. Follow the directions carefully before applying.
Mix equal amounts of wasabi powder and water.
Stir the mixture until it has been thoroughly combined.
You can keep the paste fresh by placing it inside a container.
Blend by letting it sit for 15 minutes.
This will enhance the flavor.
Have you tried wasabi before? Were you aware of wasabi benefits? Let us know your ideas and opinions in the comment box below.
Recommended Articles:
The following two tabs change content below.