Hibiscus Benefits For Skin: How To Use And Side Effects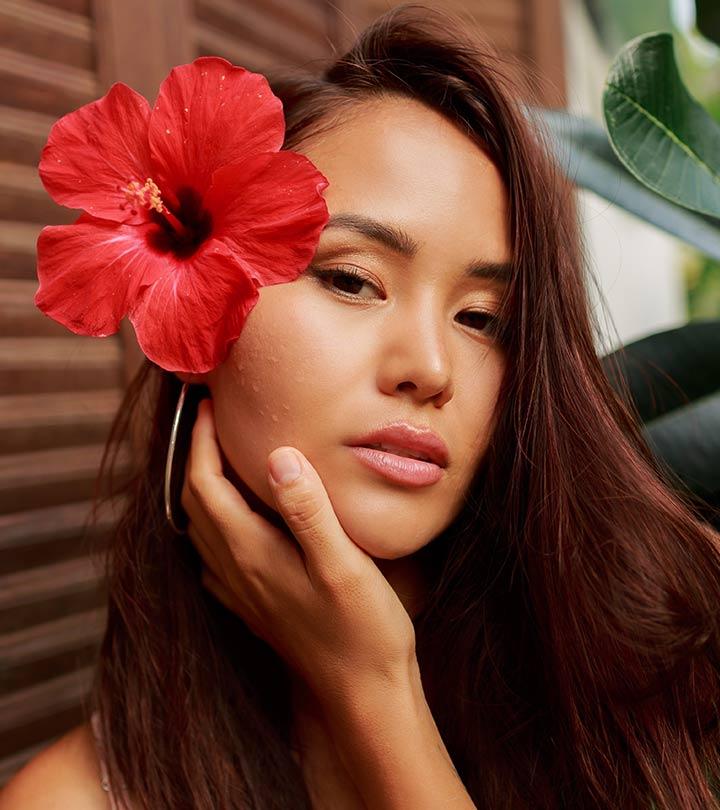 Some believe hibiscus is a purely ornamental plant. In Indian medicinal folklore, the hibiscus flower has been widely used to treat various diseases (1). The hibiscus plant possesses antioxidant, antimicrobial, antidiabetic, antiulcer, hepatoprotective, antifertility, antigenotoxic, and anti-inflammatory properties (1). It is also rich in essential proteins, fats, flavonoids, acids, minerals, and vitamins – and could play an important role in skin care (2).
If you wish to integrate this powerful ingredient into your daily skin care routine, you have come to the right place. Here, we will outline the benefits of hibiscus backed by scientific research. We also will discuss how you can use it right to achieve that enviable skin glow.
Top 4 Benefits Of Hibiscus For Glowing Skin
1. Acts As A Natural Antioxidant
Hibiscus extract acts as a natural antioxidant. It can maintain collagen production and decrease melanin synthesis that happens due to overexposure to UVB radiation (3). In simpler words, it can delay the signs of aging otherwise caused due to exposure to UV rays and excess pollution.
2. May Aid In Wound Healing
Hibiscus may enhance the skin's healing potential by accelerating the wound healing process. It also stimulates skin regeneration and hydration. It achieves this by promoting the spread of keratinocytes (the major cell type of the epidermis) (4).
3. May Help Tighten The Skin
The antioxidant- and vitamin C-rich hibiscus may boost healthy collagen production levels and make the skin firmer. This property can help those with hyperpigmentation. Hibiscus is also rich in a compound called myricetin that may slow down collagen degradation (5). Some believe that hibiscus may be a natural alternative to botox treatment. You can apply a mixture of hibiscus powder and avocado oil to your skin to restore skin elasticity and reverse the signs of premature aging.
4. May Ease Skin Inflammation
Hibiscus contains antioxidants called anthocyanins that lend the flower its pinkish-red hue. They also are responsible for its anti-inflammatory properties (6). They may help reduce oxidative stress and associated skin inflammation.
These are the few important benefits of hibiscus for skin care. However, more research is needed to understand if the flower has any other skin benefits.
How can you use hibiscus for better skin health? We have listed below a few important DIY recipes that can help.
How Do You Use Hibiscus For Skin Lightening?
DIY Recipe 1: Hibiscus For Acne
This hibiscus face mask helps treat acne and tones your skin. It also may help cleanse and exfoliate your skin. However, skip the lemon juice if you have sensitive skin.
Ingredients
Hibiscus powder – 2 teaspoons
Aloe vera gel or yogurt – 1 tablespoon (you may also take ½ a tablespoon of each)
Lemon juice – 1 teaspoon
Method
Step 1: Mix the aloe vera gel or yogurt with the hibiscus powder.
Step 2: Add a few drops of lemon juice (if you do not have sensitive skin).
Step 3: Mix to form a thick paste.
Step 4: Apply to your face and neck and leave it on for about 30 minutes.
You can apply this face mask every day for a month to reduce acne and rejuvenate your skin from within.
DIY Recipe 2: Hibiscus For Moisturizing Your Skin
Ingredients
Dried hibiscus petal powder made from 20 to 30 petals
Olive or almond oil – 2 tablespoons
Few pieces of saffron strands
Aloe vera gel – 1 tablespoon
Muslin cloth
Method
Step 1: Add the olive or almond oil to the dried hibiscus petals
Step 2: Grind the mixture.
Step 3: Place the mixture in the microwave for about 2 to 3 minutes.
Step 4: Transfer the mixture to a piece of muslin cloth and squeeze the oil into a small bowl.
Step 5: Add a few strands of saffron and aloe vera gel to the oil and mix well till you get a smooth paste. Your DIY hibiscus moisturizer is ready.
DIY Recipe 3: Hibiscus Water For Your Skin
Hibiscus water can exfoliate your skin, draw out toxins and excess oils, and smoothen skin.
Ingredients
Hibiscus flower powder – 1 teaspoon
Multani mitti (fuller's earth) – 1 teaspoon
Rosewater – 1 ½ tablespoons
Method
Step 1: Mix the fuller's earth, rose water, and hibiscus powder to create a thick paste.
Step 2: Apply the paste all over the face.
Step 3: Let it sit for about 20 minutes before you wipe it off with a damp cotton ball.
DIY Recipe 4: Hibiscus Scrub For Skin
As mentioned earlier, hibiscus can act as a natural exfoliator. Try this softening and hydrating scrub to remove dead skin cells and prevent acne breakouts.
Ingredients
Sugar granules – 1 teaspoon
Honey – 1 teaspoon
Hibiscus powder – 1 teaspoon
Method
Step 1: Mix the granular sugar, honey, and hibiscus powder.
Step 2: Gently apply the scrub to damp skin while you are in the shower.
Step 3: Massage in circular motions for about 5 minutes and rinse with cool water.
DIY Recipe 5: Hibiscus Lip Balm
The hibiscus lip balm can remove the d#ead skin cells and make your lips look plump and pink.
Ingredients
Hibiscus flower – 6 to 8 petals
Coconut oil – 1 teaspoon
Method
Step 1: Crush the 6 to 8 petals of the hibiscus flower to get a fine powder.
Step 2: Add a teaspoon of coconut oil to it.
Step 3: Apply the mixture to your lips as and when required.
DIY Recipe 6: Hibiscus Tea
Nothing enriches your mind and body as a hibiscus tea after a long day. Taking the tea may also promote skin health from within.
Ingredients
Dried hibiscus flowers – ½ a cup
Water – 8 cups
Honey – ¼ cup
Fresh lime juice – 3 tablespoons
Method
Step 1: Add the dried hibiscus flowers and water to a large pot and bring to a boil.
Step 2: Once the water starts boiling, switch off the flame and cover the vessel.
Note: You can add other herbs of your choice – including basil, lemongrass, lemon zest, mint, etc.
Step 3: Let the tea steep for about 15 to 20 minutes.
Step 4: Mix in the honey and lime juice until they dissolve completely.
Step 5: Strain the tea.
Step 6: Consume it warm or chilled.
Including hibiscus in your skin care routine is quite simple. However, anecdotal evidence suggests that it may also cause side effects. Be wary about them before using the flower.
Side Effects Of Hibiscus
Hibiscus tea is considered safe when taken orally up to 720 mL daily for about 6 weeks.
Exceeding the prescribed amount may cause stomach upset, gas, and constipation.
Do not consume hibiscus tea if you are pregnant or are breastfeeding. Its safety in this regard is not known.
Consuming hibiscus may affect your blood sugar levels. Hence, avoid its intake at least two weeks before and after surgery.
Hibiscus may also cause skin allergies in some. Conduct a patch test to check for any allergies.
Takeaway
Hibiscus may offer important skin benefits. It may reduce premature signs of skin aging, offer natural exfoliation, and boost skin glow. You may consume it as tea or apply it topically in the form of face masks, lip or body scrubs, and moisturizers.
However, be wary of its adverse effects too. Do a patch test before using it on your skin. You may use it every day if you experience no adverse reactions. Regular use can keep your skin radiant and glowing.
Expert's Answers For Readers' Questions
Is it safe to drink hibiscus tea every day?
Yes, you can consume hibiscus tea every day, albeit in moderate amounts. Excess intake may cause stomach upset, gas, or constipation.
What color hibiscus is good for the skin?
Red-colored hibiscus flowers are thought to offer maximum skin benefits. However, research is limited in this regard.
Sources
Articles on StyleCraze are backed by verified information from peer-reviewed and academic research papers, reputed organizations, research institutions, and medical associations to ensure accuracy and relevance. Read our editorial policy to learn more.
Recommended Articles
The following two tabs change content below.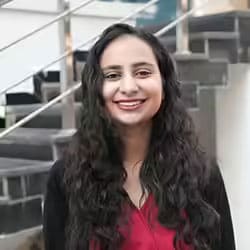 Arshiya Syeda is an editor and certified counselor. Ever the lover of the written word, she served on the editorial boards of her school and college newsletters. Writing articles on hairstyles, hair care, and nutrition helped her combine her love for reading, writing, and research. As an editor, she helps her team members deliver polished and meticulously researched content. Arshiya is fluent in English, Urdu, and Hindi and aims to become a multilinguist by learning German and teaching herself American Sign Language (ASL).