10 Highlights And Lowlights Styling Ideas For Light Brown Hair
Ever scrolled through your Instagram feed and wondered why your hair doesn't look as awesome as the hair you see on all those fashion bloggers? Well, let me tell you why. Nine times out of ten, it's probably because they have highlights or lowlights in their hair. These two hair coloring techniques add oodles of gorgeous dimension to your hair that your single-toned natural color just doesn't have.
While highlights are streaks of hair that are at least two shades lighter than your natural base color, lowlights are streaks that are a couple of shades darker. While highlights are more geared towards providing dimension and movement, the goal of lowlights is to add depth and volume to your hair.  However, both these styles aim to do the same thing – make your hair look more multi-dimensional.
So, what can you do? What can you do to make your hair look as beautiful as all those celebrities' and Instagram models'? You highlight or lowlight your hair! (Duh.) But you really don't need to drop a pretty dime to get that awesome hair look you're going for because you can achieve it right at home! Don't believe me? Then, just keep on reading…
How To Highlight Your Hair At Home
What You Need
Hair brush
Towel
Gloves
Tint brush/small toothbrush
Bowl
Hair bleach
Aluminum foil
Toner
Purple shampoo
Conditioner
What To Do
Start off by brushing out all the knots and tangles from your hair.
Drape a towel around your shoulders to protect your clothes from getting stained and put on your gloves.
Mix your bleach in the bowl using your tint brush (follow the instructions given on the box).
Mentally map out where you want your highlights to go before you start bleaching your hair.
One by one, pick up the sections of hair you want to highlight (don't pick up sections of hair that are wider than an inch) and coat them with bleach from about half an inch below the root to the tip using your tint brush.
If you feel that your tint brush is not doing a good job of coating your hair with bleach from all sides, you can opt for a small toothbrush to get the job done.
Cover your bleached sections of hair with strips of aluminum foil to separate them from the rest of the hair and to help the bleach develop faster.
After 15 minutes, remove the bleach from a small section of hair to check how much it has lightened. If it has reached your desired shade, wash it all off from the rest of your hair. If not, reapply bleach to that section of hair and leave it on for another 15 minutes before checking again. Don't leave bleach on for more than 45 minutes as it can seriously damage your hair.
Once your streaks have lightened to your desired shade, wash it off with water.
Follow the instructions given in the toning solution box to apply toner to your hair. This will get rid of the brassiness (orange tone) from your bleached sections and help blend your highlights more seamlessly into your hair.
Wash off the toner after the duration of time indicated on the box.
Shampoo your hair with purple shampoo and condition it to restore the moisture back to your hair.
5 Highlights Ideas For Light Brown Hair
1. Honey Blonde Highlights
Give your sandy brown hair a gorgeous sunkissed look with these honey blonde highlights. These light hued highlights add a sense of airy brightness to your brown base color to create a gorgeous dual toned hair look. Style this color job in a loose low bun to complete your boho look.
2. Smokey Brown Balayage Highlights
Create a fusion of warm and cool tones with these balayage highlights that's the stuff dreams are made of. Warm caramel highlights blend with cool blonde highlights at the edges of chocolate brown hair to create a gorgeous smokey hair look. Style this color look straight to make the most of the movement and dimension created by these beautiful shades.
3. Copper And Blonde Highlights
Just because you have brown hair does not mean you can only go for blonde highlights. Let your hair down and go crazy with some bright copper highlights edged with a soft blonde shade at the tips. Go for some dented curls when styling this hair look to showcase the dynamic beauty of these fiery highlights.
4. Dark Blonde Highlights
Having deep coffee brown hair would make people envy you anyway. But highlight them with a dark blonde hue and you'll have that sexy, mysterious look down pat. A dark blonde shade is also the perfect way to add some oomph to your hair look without going over-the-top. Style this look in some loose waves to complete that casually chic style statement.
5. Maple Brown Highlights
If subtlety is your goal whenever you style yourself, then brown highlights on brown hair is the ultimate way to go about that. Yep, you heard me right. Complement your light chocolate brown hair with some rich maple toned highlights just a shade or two lighter than your base to create this gorgeously understated hair look.
HOW TO LOWLIGHT YOUR HAIR AT HOME
What You Need
Hair brush
Towel
Vaseline
Sectioning clips
Bowl
Tint brush
Hair dye of your choice (since you have light brown hair, a dark brown dye should work well to lowlight your hair)
Aluminum foil
Color safe shampoo (specifically made for dyed hair)
Conditioner (should be included in the hair dye box)
What To Do
Brush your hair to remove all the knots and tangles from it.
Drape a towel around your neck and apply Vaseline all along your hairline, at the nape of your neck, and on your ears to prevent your clothes and skin from getting stained.
Since lowlights are done on the undersection of your hair, roll up and section away the top section of your hair.
Follow the instructions given on the dye box to mix your hair dye in the bowl with your tint brush.
Now, one by one, pick out the sections of hair that you want to lowlight and apply dye to them with a tint brush from about 1/2 an inch below the roots right till the tips.
Cover all your dyed sections with aluminum foil.
Leave the dye on for the time indicated in the instructions given on the box.
Wash off the dye with cool water until the water runs clear. Do not shampoo.
Condition your hair with the conditioner included in the hair dye kit.
Use color safe shampoo and conditioner to wash your hair after 48 hours.
5 Lowlights Ideas For Light Brown Hair
1. Chocolate Brown Lowlights
When your natural hair color teeters between light brown and blonde, it lends you a great opportunity to play around with lowlights. Some chocolate brown lowlights would work perfectly to add some depth to your light brown tresses. Style your hair in a half up style to showcase your lowlights in all their glory.
2. Subtle Dark Brown Lowlights
A good lowlights style should blend seamlessly into your natural hair color. Though you can't clearly see the dark brown lowlights in this look, the peek you get from under her mahogany tresses is enough to add tons of volume and depth to her hair.
3. Warm Brown Lowlights
Tired of your same old boring brown hair? Add some beautiful warmth to your single toned brown hair with the help of deep brown lowlights that create some dimension in your hair without screaming for attention. Curl your hair up to blend the lowlights with your natural hair color and add movement to your hair.
4. Auburn And Mahogany Lowlights
When it comes to lowlights, you can experiment with some interesting hues to create a totally unique hair look. Auburn and mahogany brown lowlights can work wonders to infuse life into dull mousy brown hair. And if you're looking to go in for a major hair transformation, get your hair styled in a straight angled bob to create a badass hair look.
5. Lowlights And Highlights Fusion
Confused about going in for lowlights or highlights? Well, you can go for both! Blending lowlights and highlights makes for the ultimate multidimensional hair look that no other color job can compete with. So, go for some ashy blonde highlights and mocha brown lowlights on your light brown hair to create that magical hair look of your dreams.
Well, there you have it, ladies! Our rundown of the best highlights and lowlights styling ideas for light brown hair. Do comment below to let us know which look you fell head over heels in love with!

The following two tabs change content below.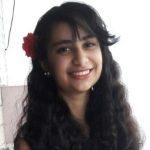 Latest posts by Arshiya Syeda (see all)