30+ Fun And Creative Hobbies For Women Of All Ages
So many ways to channel your creativity while having fun and developing new skills Hobbies that make you happy and offer a sense of accomplishment are a blessing. However, it is not easy to find that one hobby that helps you bring out your creativity. This article helps explore fun hobbies for women that spark creativity. It lists several activities that women of different age groups like, and all you have to do is pick the hobbies that best suit your taste and skillset. So, let us get started.
Hobbies For Women In Their 20s
1. Scrapbooking
Scrapbooking is a way of preserving memories. A lot of women in their teenage years and 20s enjoy this hobby. You can procure cutouts of various things, sort them according to themes, and paste them into a scrapbook. The most creative part is how you decorate the book. Use painting colors, oil pastels, decorative 3D material, recycled paper, and anything else that you want. The sky is the limit.
2. Makeup
What can be a better hobby than something based on self-love! The world of makeup is vast, and you can experiment with something as basic as an eyeliner or go on to create a whole makeup look. Learning to apply various makeup products can boost your confidence, and it is also a skill that might save your salon money in the future.
3. Calligraphy
Calligraphy is an artwork or method of writing that can help you create some elaborate and beautiful fonts. If you think your poor handwriting will be a hurdle in learning calligraphy, do not worry as it does not affect the art. Whip out those calligraphy pens and get writing!
4. Bullet Journaling
Maintaining daily chores, managing schedules, organizing your thoughts, penning down emotions, and much more — bullet journaling is a hobby that benefits you in myriad ways. It is also a good tool for introspection. What more! It is budget-friendly and completely customizable.

Quick Tip

You may start journaling in a new diary or even get a journal that already contains prompts to make you open up.

5. Gaming
Games are a part of every individual's childhood. All of us have enjoyed different games, online or offline, at various stages of our lives. We can agree that the 20s is a period where people move from childish behaviors to mature ones. However, you do not need to shun all behaviors. Games can be a good outlet for your excess energy and also, in some cases, provide focus and discipline.
6. Vlogging
Vlogging is a form of blogging that has recently gained a lot of popularity among the young generation. It is a way of sharing information by creating video blogs. Many people have also invested professionally into it and are making good money. It can be a good hobby and also serve as an efficient way to capture memories.
7. Puzzles
Solving different types of puzzles need lots of mental ability. They help jog your mind and build skills like logical reasoning and problem-solving. They can be an exciting hobby if you love a good challenge.
Hobbies for women in their 30s are more productive and have a deeper impact on their health and wellness. Head to the next section for some activities that you can incorporate into your life as a hobby.
Hobbies For Women In Their 30s
1. Yoga
Yoga is a traditional form of workout that offers a plethora of physical and mental health benefits. From improving strength, balance, and flexibility to helping with pain and stress relief, yoga is an activity you can invest your time and efforts in without any doubt.
2. Meditation
For a good life, mental peace is crucial. And meditation is one of the best ways that helps relieve mental stress and make you feel relaxed. With regular practice, you will see a decided improvement in your mood and mental peace.
3. Blogging
Everyone has some special and unique talent, knowledge, or experience. With blogging, you can share such things or fun facts with others. Blogging is not all about writing and publishing; it will also help you get recognition.
4. Reading
Reading different types of books and novels is a good way to spend free time. Some people prefer reading books over watching videos or anything else. You can also give reading a shot.
5. Jewelry Making
We all know about the relationship between women and jewelry. A majority of us are obsessed with jewelry and love to have multiple items in the wardrobe. So, why not make it a hobby? Create your unique designs and flaunt them at the next big event.

Quick Tip

You may also create a social media page to showcase the items you have made or even use the platform to start a small-scale jewelry business.

6. Dancing
Dance can be a great fitness training method as well as a stress-busting activity. It also helps one feel happy in life and reduces the risk of multiple lifestyle-related diseases. Put on your dancing shoes and get grooving!
7. Photography
Photography is a great way to preserve some memories. It is an art that affords immortality and helps you find beauty in the world. Nothing can beat the happiness of getting that perfectly-timed shot.
8. Singing
Music is the medicine for the soul. Learning to sing or humming your favorite song can offer relaxation to your mind and comfort to your soul. When you can't find the right way to express your feelings, a beautiful song can be your messenger.
Women in the 40s can take their hobbies to another level of sophistication, as they have achieved a certain level of stability in their lives. Read on to know what kind of activities can be an ideal match for you.
Hobbies For Women In Their 40s
1. Playing An Instrument
Music is a universal language, and you can develop an interest in it at any point in your life. You can utilize your free time by learning to play some instruments, such as piano or violin.
2. Traveling
Traveling is not just about visiting various places but also exploring them and connecting with them. You can travel to different corners of the world and learn about types of cultures, languages, and much more.
3. Running
Regular running helps burn unwanted fat and maintain a good physique. It reduces the risk of having some health-related problems as well. Also, the endorphins released during the run can instantly uplift your mood and give you a sense of accomplishment.
4. Knitting
Knitting yourself or your loved ones a pair of gloves, sweaters, and hats for winters can be a rewarding exercise. Not only does it help pass time productively, but it is also a meditative process that increases your sense of well-being.
5. Birding
Many people find peace and relaxation in bird voices. They love to search for birds and watch them chirp. Bird watching develops an appreciation for nature in you and helps you stay in the moment.
6. Board Games
Usually played in a group, board games are all about sharing a laugh and destressing in the process. They bring people closer, strengthens relationships, and creates a lot of happiness. Board games also remind one to be patient and persevere.
7. Write A Book
By the 40s, you become a storehouse of experience, knowledge, and lessons from life, with numerous good and bad moments. So why not pen them down and let people benefit from your words of wisdom? Revisiting your memories can also help you gain a fresh perspective on many things.
During the 50s, everyone wants to spend some time in peace and do things that remind them of how wonderful life is. It also impacts your choice of activities. Below are some hobbies that women can try in their 50s.
Hobbies For Women In Their 50s
1. Volunteering
Volunteering can be a great way to share your kindness and help others through socialization and social work. It also gives a sense of purpose to your life.
2. Gardening
When it comes to connecting with nature, you can't overlook gardening. It has lots of benefits, such as breathing fresh air, having inner peace, and learning more about nature.
3. Collections
Gathering some unique items that interest you can also be developed into a hobby. Some things you can consider for your collection are comics, currencies, antiques, watches, clothes, etc that were once in fashion.
4. Watch Documentaries
The world has seen numerous legends and iconic personalities. Watching their documentaries can be a fun hobby to know what made these great people legends.
5. Listen To Music
Music calms your senses and gives inner peace. It is also a hobby where you don't need to make any effort or break a sweat.
6. Golf
Playing golf provides an opportunity to challenge yourself and forge new friendships. It is also a good exercise.
7. Pet Love
Pets save us from loneliness and depression by providing companionship. Spending time with them, caring about them, feeding them, and going on a walk with them provides an opportunity to exercise.
8. Visiting Museums
A museum is a perfect place if you are interested in history and want an opportunity to see historical things recovered by archaeologists or the heritage of royal families.
Some people have a creative bent of mind and revel most in artistry hobbies. Head to the next section to know what kind of activities you can pursue as a hobby.
Fun & Creative Hobbies For Women
1. Painting
There are multiple ways to paint; it is not restricted to brushes. Acrylic, pencil oil, watercolor, charcoal, and more — take your pick.
2. Sketching
Sketching is one of the finest ways to drive thoughts into physical form and can serve as a great way to spend free time.
3. Art & Craft
The world of crafting is as vast as paintings. You can choose the one that appeals to you and get creating. Some DIY options are flower crafts, leatherwork, needlework, pottery, origami, and carpentry.
4. Miniature
Miniatures are small in size and scale works in intricate detail. If art is your calling, you can create your own miniature artwork and build a good collection.
5. Home Decoration
Furniture, wall paint, upholstery, art pieces, and what not — home decor is a hobby that has the power to change your world. Literally!
Cooking is therapeutic for people who love it. So, if you enjoy food and like experimenting, cooking-related hobbies can be just the thing for you. Read on to know in what all ways you can explore this skill.
1. Cooking
Reading several cookbooks and learning about various cuisines can be a fulfilling task, especially because there's always delicious food at the end. Through food, you also get to learn about the culture of various places.
2. Baking
If baked goods have your heart, then why shy away from this tremendously rewarding hobby? There are many different food items you can bake, such as cake, muffins, cookies, pies, and much more.
3. Homemade Chocolates
Making chocolate at home is not at all difficult. On the other hand, we all love these nutty or cream-filled confections. So, there is not any excuse that you can give for not adopting this hobby.
Infographic: Benefits Of Bullet Journaling
As long as you are interested in something, it is never the wrong time to give it a try and make a hobby out of it. Bullet journaling is a hobby we recommend to people across ages and industries. It is a productive form of journaling that improves your organizational skills and helps you keep track of your goals.
Check out the infographic below to know what other benefits bullet journaling has.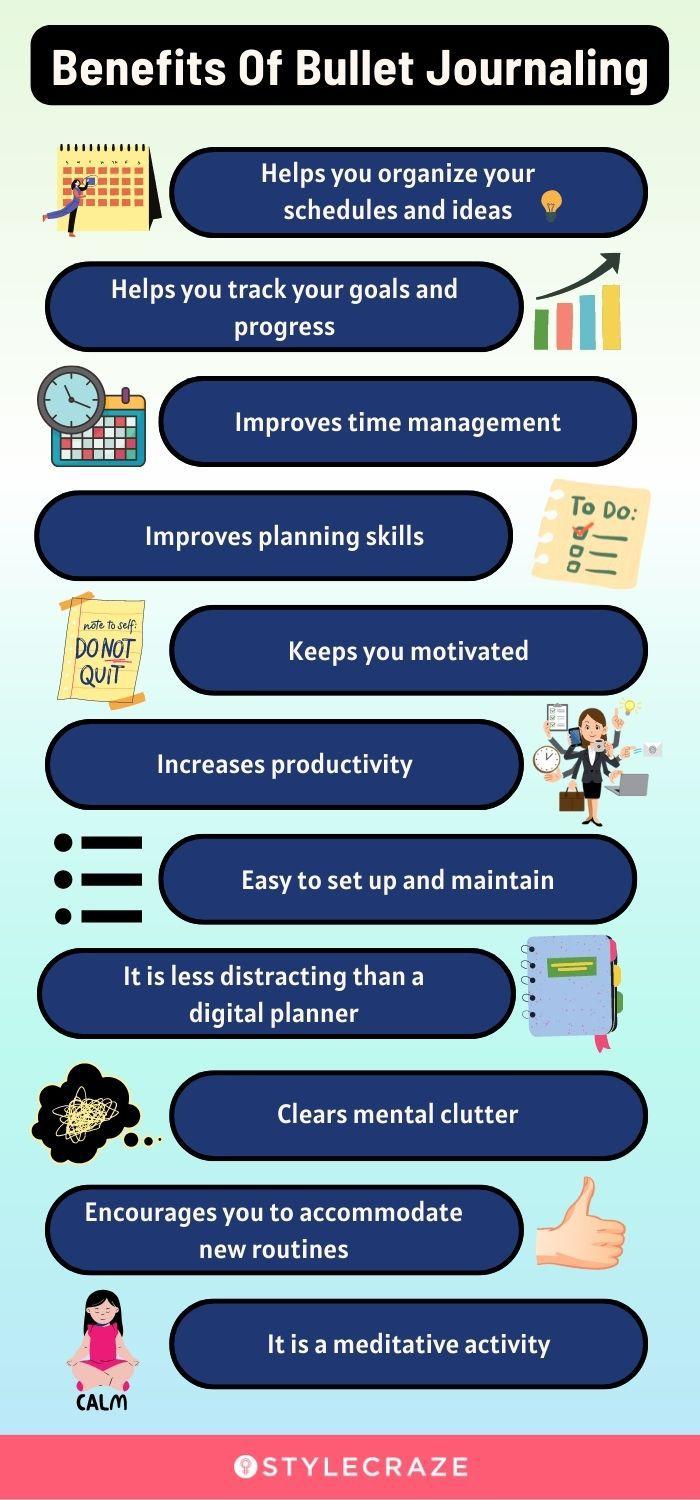 A good pastime would reflect your talents and interests and be something you can do for a long time and get better at. The best hobbies for women need to be creative and playful and can include anything that brings them joy, like journaling, cartography, yoga, reading, vlogging, birding, knitting, playing an instrument, and singing and dancing. It is never too late to begin a hobby and dedicate your time and effort to it. So, go ahead and try something new today, and don't be afraid to fail because the only way to know if something is right for you is to give it a shot.
Frequently Asked Questions
What are some unique hobbies?
Some unique hobbies that one can try these days are attending open mics, reviewing new cafes, trying different adventure sports/activities, or fostering pets.
What hobbies can I start at home?
Vlogging, gardening, baking, makeup, yoga, meditation, reading, or solving jigsaw puzzles are all hobbies you can take up conveniently at home.
How do I find my hobby or passion?
If you have been leading a monotonous life for the longest time, the easiest way to find something you might enjoy as a hobby, would be to reflect back on your childhood. Make a list of the things you enjoyed doing as a child – chances are those things still give you joy. If not, the only way to find a new hobby is to open-mindedly try different activities until you find one that speaks to you.
What is an inexpensive hobby?
Scrapbooking, yoga, meditation, blogging, running, or knitting are all inexpensive hobbies. You will find relevant materials in the market easily and at minimal cost. You can then sit at a comfortable spot at home and just lose yourself for hours in the joys of these activities.
What hobbies can I do in the evening?
Reading, running, cooking, watching documentaries, and attending live performances are all hobbies that you can indulge in during the evenings.
What hobbies can you do sitting down?
Some hobbies that would require zero physical effort and you can enjoy while sitting in one place are journaling, watching new shows, baking, solving crossword puzzles, reading, and meditating.
Key Takeaways
Hobbies give you a sense of achievement while letting you have a fun, happy time.
While you can explore any hobby as and when you feel like it, there are a few age-appropriate hobbies that may excite you more at a given age.
Music, traveling, journaling, volunteering- women may choose to enjoy one or many hobbies as per their liking, time, and bandwidth.

Discover six exciting hobbies to make your life more interesting and improve yourself! From cooking to gardening, find the perfect hobby in the video below.

The following two tabs change content below.