13 Best Home Gym Flooring Mats Of 2020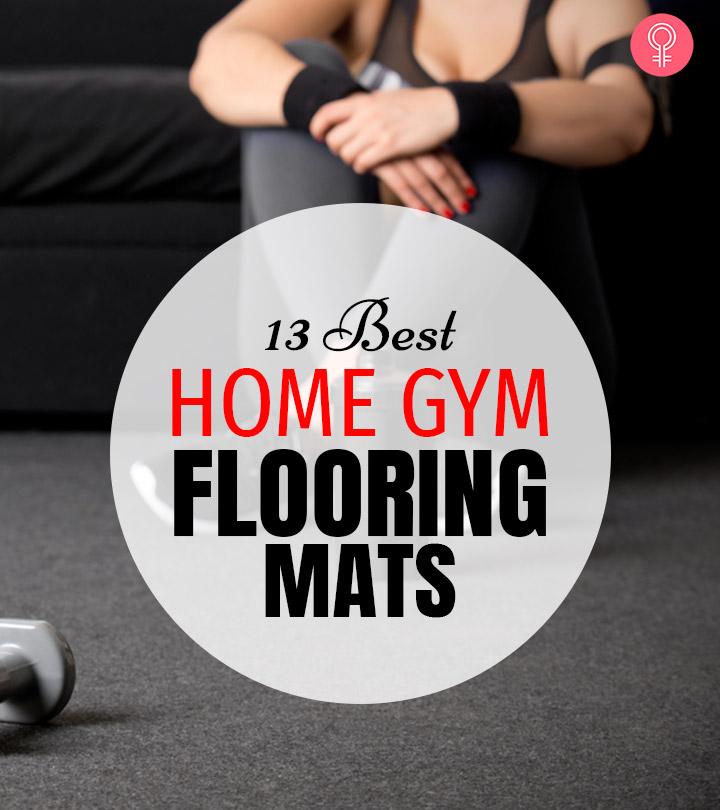 Setting up a private gym is not a necessity. But it has certain advantages. Naturally, when we embark on setting up a home gym, we focus on the heavy gym equipment and gear. But we often ignore the gym flooring or the gym mats.
A proper gym flooring has various benefits, one of them being that it protects the floor in your home from the heavy equipment. Here, we have listed the 13 best home gym flooring mat options. Scroll down!
13 Best Home Gym Flooring Mats
The BalanceFrom Puzzle Exercise Mat works for exercise, gymnastics, and home gym. Its interlocking EVA foal tiles offer a protective flooring. It is a double-sided non-slip surface with excellent non-slip traction and cushion.
A high-density EVA foam material (with ¾th extra thickness) provides a soft cushion for the spine, hips, knees, and elbows and helps prevent injuries. The interlocking system of the EVA foam locks the mat together, giving a sturdy effect. It ensures the mat does not fall apart while practicing heavy exercises.
The exceptional resilience of the flooring allows one to keep balance during workouts. The Moisture Resistant Technology makes the mat super easy to wash (either with soap or water).
Pros
Lightweight EVA foam
Thick EVA foam to prevent injuries
Interlocking mat
Easy to assemble
Moisture Resistant Technology makes washing easier
Available in 3 colors
Cons
Deformed squares
Poor color quality
The ProsourceFit Puzzle Exercise Mat consists of interlocking EVA foam tiles. These are easy to assemble, giving a non-skid, protective workout floor.
The dense foam provides a thick surface to withstand the weight of heavy equipment. It serves as an ideal surface for push-ups, sit-ups, setting a bench (for bench presses), foam rolling, and stretching. You can also practice yoga or pilates. The thick flooring also protects the floor from stationary bikes, dumbbells, kettlebells, and other workout equipment.
It is a high-density water-resistant foam that is easy to wash and offers a comfortable cushion for knees, spine, hands, wrists, and elbows. The textured, non-skip mat prevents slippage during workouts. If you need a high design workout floor that is also light on your pocket, this flooring option could be the one.
Pros
Lightweight
Durable
Non-skid texture
Noise-resistant
Easy to wash
Easy to assemble
Available in 3 colors
Cons
Tumbl Trak has been producing high-quality flooring for gymnastics over the past 30 years. It is made of durable 18-ounce vinyl as well as industry-standard crosslink polyethylene foam that provide optimal support. Each mat has a hook and velcro to connect with multiple mats and create a larger tumbling surface.
The Tumbl Trak Gymnastics Folding Tumbling Panel Mat is perfect for gymnastics, cheerleading, dance, martial arts, special needs, yoga, Pilates, exercise and much more! It also is ideal for use in a home gym. The compact folding system makes it easy to fold, stack into a minimal space, and very easy to carry while in traveling.
The vinyl gym flooring can withstand maximum tearing, wearing and peeling. It is long-lasting and facilitates safe, comfortable, and professional training.
Pros
High-quality crosslinked foam
Durable
Easy to fold and store
Easy to wash
Velcro ends to connect with other longer mats
Cons
Strong vinyl odor
Expensive
If you need a large, luxurious surface along with comfort and support, the Premium Large Yoga Mat Cum Gym Flooring by Gorilla Mats is the best choice. You just have to unstrap and unroll it to transform any room in your house, garage, or basement into your home studio or gym.
It is crafted from top quality, non-toxic, professional-grade materials. The 8 mm thick and 7✕5 feet long high-density, double-thick cushion protects your joints, knees, and the floor with ultra-comfortable, firm, and shock-absorbing padding. The circular pattern at the bottom grips the mat perfectly on the ground and prevents it from sliding around. This maintains your balance and posture.
This specially designed mat comes with a 100% microfiber towel to absorb your sweat and gives maximum benefit in no time. Two velcro straps along the mat help in easy folding. The mat can be stored in a small space.
Pros
Extra thick and comfortable
Extra grip at the bottom
Large enough to practice various postures
Comes with a lifetime warranty
Includes carry bag and storage straps
Available in 3 colors
Cons
Sticky surface
Delicate fabric
Not suitable for HIIT workouts
If you are looking for a home-based cardio and fitness workout flooring mat, this one could be the right fit. Its 8 x 6 feet dimensions give you the right space for your plyometrics, MMA conditioning, aerobics, cardio, and strength training sessions.
This flooring mat allows you to use both sides for specific conditions and workouts. The shiny side can be used for a workout that involves exercises with your shoes on. The foam side is more suitable for yoga and stretching.
The flooring mat is built using materials free of BPA, phthalates, formaldehyde, harmful colorants, and pesticides.
While the shiny side is made of 100% polyester with vinyl coating, the foam side is built using high-quality foam. Cleaning the mat is fairly easy. Use a soft cloth and water mixed with a couple of drops of mild dish soap (without bleach). Wipe dry with a towel.
Pros
Weighs just 28 pounds
Fairly easy to roll and stack
Super durable for use with or without shoes
Made from non-toxic materials
Perfect for use on tiles, cement, laminate, vinyl, hardwood, or carpet
Odorless
Nice cushioning
Cons
Traction on the surface is slow to improve.
Can be slippery without shoes.
Not suitable for heavy strength training.
This heavy-duty rugged gym mat measures 4 x 6 feet. It is one-half-inch thick and can withstand 75 lbs without any wear and tear. It is a perfect thick equipment mat on which you can perform bodyweight exercises, aerobics, cardio, and strength training exercises. It is made in the USA and has a non-slipped textured surface that not only protects the floor but also the heavy equipment.
Pros
Heavy-duty gym mat
Thick mat
Cons
Made of recycled rubber that may have imperfections
Smells like rubber
The IncStores Tatami Foam Tiles are extra thick mats suitable for martial arts, jiu-jitsu, MMA conditioning, lightweight home gyms, p90x, gymnastics, yoga, and cardio exercises. Each tile is made with a high-quality closed-cell EVA foam. One tile measures 24 inches x 24 inches x 19 mm. The tiles are non-toxic and durable.
This Tatami Foam tile is suitable for heavy equipment or racks that are of unequal sizes. The tiles are easy to detach from the corners, borders, or the center. They are also easy to wash.
Pros
Available in reversible colors
Easy to attach and detach
Withstand heavy-duty shock absorption
Non-toxic
Lightweight
Durable
Cons
This is a lightweight foldable designed mat that measures 4 feet x 8 feet. It has a 2-inch foam thickness and a soft, durable cushion designed to handle bodyweight exercises, like push-ups, lunges, planks, planks, squats, and more.
The crosslink PE (Polyethelene) Foam Mat Core is made with a tear-resistant heavy-duty vinyl fiber that meets all the CPSIA safety standards. It provides a cushion for your spine, wrists, elbows, hips, and joints.
This lightweight, easily foldable gym flooring mat comes with two hooks and a loop for easy portability. The vinyl surface is tear-resistant and easy to wash with water or soap.
Pros
Available in vibrant colors
Hassle-free assembly
Folds easily
Easy to store
Easy to carry
Easy to wash
Great for all ages and skill levels
Meets all CPSIA safety standards
Cons
This is an all-in-one floor tile mat that will protect your floor from damage while providing a comfortable workout area. It is perfect for a home gym, and one may perform aerobics, yoga, Pilates, and CrossFit exercises. It also can be used on swimming pool edges and serves as a sleeping pad while camping.
The 12 inch x 12 inch interlocking tiles are perfect for providing a safe workout space while they protect heavy equipment. These lightweight puzzle pieces are made with non-skid texture and shock-absorbing EVA foam that helps prevent injuries.
It also provides a soft cushion for the knees, ankles, wrists, shoulders, and the spine. It is easy to assemble and disassemble. Its water-resistant design makes the mat easy to clean.
Pros
Non-slip, textured surface
Easy 5-minute assembly
EVA foam with a comfortable cushion
Available in 2 colors
Reasonably priced
Easy to clean
Cons
This home gym flooring mat has six gray-speckled square tile pieces. Each tile measures 24 inches x 25 inches x ½ inch and is a high-density foam mat with interlocking tiles. It provides a cushion not only for gyms but also for play areas.
This durable and comfortable mat is perfect for hard surfaces. It allows one to practice bodyweight exercises, gymnastics, yoga, CrossFit, and MMA conditioning.
The large interlocking tiles withstand heavy gym equipment. The non-skid texture makes it a perfect fit for balancing yourself or practicing cardio or stretching. Cleaning the mat is easy. It is water-, mold-, and mildew-resistant can be cleaned easily with water or soap.
Pros
Made with premium quality EVA foam
Easy installation
Easy to detach from the corner or sides
Water-, mold-, and mildew resistant
Can withstand 500-600 lbs (exercise equipment)
Cons
Smells of rubber
Expensive
This rolling mat is made with eco-friendly recycled rubbers collected from the US tires. These heavy-duty rubber mats are available in different sizes. They are easy to roll out and are available in vibrant colors to fit the specific needs and purpose of the workout room flooring.
The mat is very durable and sustainable. Since this mat is made of unused discarded tires, it is resistant to heat, moisture, and heavy abrasions. The EPDM rubber offers UV protection, making it a perfect fit for outdoor gym as well.
The constant wear and tear of high foot traffic poses no problem to these durable floor mats. The rubber tiles will also protect the floor against the weight of heavy equipment.
Pros
UV-protected
Suitable for an outdoor arrangement
Easy installation
Excellent durability
Different color options
Cost-effective
Cons
This home gym floor mat is made with the best quality PVC material and measures 36 inches x 78 inches. The mat is smooth on one surface. The other side is made of non-skid material that increases grip and prevents slipping while exercising.
The fitness mat has a multi-functional application and fits almost all sorts of indoor and outdoor gym equipment. It is an ideal mat for heavy equipment like stationary bikes, steppers, treadmill, upright bikes, parallel bars or other cardio stationary equipment.
This treadmill mat reduces equipment movement and friction and prevents any scratches to the floor. It is noise- and shock-absorbent and reduces the noise produced by the equipment in the gym room. The PVC foam gym flooring and high-density rubber gym tiles are damp-proof and wear-resistant. They protect your flooring and are pretty easy to clean.
Pros
No harmful chemicals
Safe for children and pets
Tough PVC material
Noise-absorbent
Shock-absorbent
Non-skid material
Cons
Not suitable for tiles and hard floors.
This is a supreme quality home gym mat with interlocking tiles for your concrete basement floor. It is made with high-density EVA foam that is tough, durable, and non-toxic. These interlocking tiles measure about 24 inches x 24 inches x 3/8 inches and offer stability when exercising.
The dual quality floor mat is perfect for providing good traction. It also offers cushion for the joints. While the rubber top provides traction, the bottom cushion lessens the impact of bodyweight exercises, like push-ups, planks, sit-ups, squats, or yoga.
The mat's textured surface enhances stability. It also helps reduce exercise fatigue by providing a cushion for a home workout space. The interlocking system is easy to assemble, and the foam material is very easy to wash without any hassles.
Pros
Meets all CPSIA standards for safety
Available in multiple sizes
Easy to install
Thick shock-absorbent foam
High-stability grip
Cons
Foam soaks water.
Harsh chemical smell.
These are the top home gym flooring options available online. One may argue why they would even need one. Well, a home gym flooring has its own advantages. We will explore those in the following section.
Why You Should Install A Flooring Mat In Your Home Gym
Setting up a specific gym floor for your home gym is important as it protects the floor of your home. The gym floor also prevents slippage and potentially helps one avoid injuries.
Your flooring will also create an ergonomic environment for your workout and gym machines.
An interlocking flooring mat is easy to assemble and disassemble whenever you want to. Hence, choose the best quality home gym flooring and give your room a sophisticated and professional set-up.
In the following section we have discussed the factors you need to look for before going for a home gym flooring mat.
What To Look For In A Home Gym Flooring Mat
A solid gym flooring mat should be durable and strong enough to withstand the weight of heavy gym equipment.
Rubber mats, foam flooring, carpet, vinyl tiles, and turf are the most popular flooring options for home gyms.
Check if they are shock-absorbent and noise-resistant.
They should have good traction to hold the exercise equipment.
They should be easy to assemble and disassemble.
They should also offer protection to your body. Check the cushion quality.
Rubber floor tiles or foam flooring are better for cardio exercises. They absorb impact better than vinyl tiles or carpet flooring.
Conclusion
If you have a home gym and wouldn't want to miss a day of workout, then a home gym flooring mat could be very useful. It makes your workout more enjoyable and safe.
We have discussed the factors you must look for before taking a home gym flooring mat. Run through the options we have given, and pick the one that best suits your needs.
Recommended Articles
The following two tabs change content below.

Latest posts by Priyanka S (see all)