How To Get Rid Of Heat Bumps On The Legs – 10 Natural Ways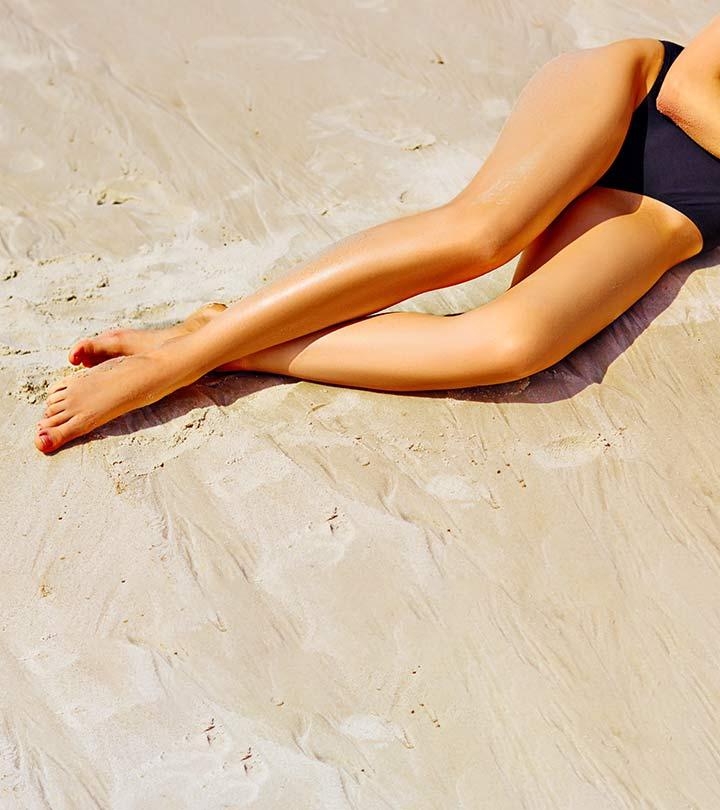 Heat bumps, also known as heat rashes or miliaria, can appear on your underarms, chest, back, and in between the legs. You would want to know how to get rid of heat bumps as quickly as possible, as these inflammatory bumps can get very itchy and red.
Heat bumps between the thighs result from summer and humidity. Germs often find entry into the body through the sweat glands in hot and humid weather. When these sweat glands become clogged, sweat accumulates beneath the skin, resulting in heat bumps. The follicles may become inflamed and infected as a result of this.
When temperatures are at their highest during the summer, heat bumps that form between the legs become persistent and are hard to keep at bay. It is not a circumstance you want to find yourself in; however, these rashes are sometimes unavoidable. Whatever the situation, you can get relief from the burning and itchy sensation with readily available ingredients at home.
You are already aware of how these heat bumps develop, so let's look at some of the most effective home cures for getting rid of heat bumps. Continue reading for more information.
How To Get Rid Of Heat Bumps Between The Legs
Natural Remedies For Heat Bumps Between The Legs
1. Cold Shower
You Will Need
Cold water
What You Have To Do
Shower as usual using cold water for not more than 30 seconds – 1 minute. You can also soak the affected areas in lathered cool water for a few minutes.
Why This Works
Cold showers minimize the occurrence of heat bumps as the cool temperature of the water soothes the inflamed skin. They also clean the skin of sweat and dirt.
2. Coconut Oil And Cucumber
You Will Need
2-3 tablespoons virgin coconut oil
Juice of half a cucumber
What You Have To Do
Grate the cucumber and squeeze out its juice.
Add this juice to the coconut oil and mix well.
Apply this in between your thighs and legs, and leave it on for 20-30 minutes.
Rinse with water.
How Often You Should Do This
Apply this once or twice every day until you get relief.
Why This Works
Coconut oil soothes inflamed and irritated skin. It contains essential fatty acids and other minerals that help to restore the skin's normal structure. This oil also cleanses the pores and unclogs them (1), (2). Cucumber acts as a coolant for the skin and gives instant relief from the itching and burning sensation (3).
3. Ice Pack
You Will Need
A ziploc bag
3-4 ice cubes
A small towel
What You Have To Do
Put the ice cubes into the plastic bag and seal it properly.
Now, wrap the towel (or any soft cloth) around the bag. Place it on the heat bumps between your legs for 8-10 minutes and then remove it.
How Often You Should Do This
Repeat this process at an interval of four hours till the redness goes away.
Why This Works
The coolness of the ice pack will soothe the burning sensation. Eventually, the redness and itching will also die down (4).
4. Aloe Vera Gel
You Will Need
Fresh aloe vera gel
What You Have To Do
Apply aloe vera gel between your legs and leave it on for as long as possible.
How Often You Should Do This
Repeat at least three or four times during the day to reduce redness and aid healing.
Why This Works
Aloe vera gel has healing properties that help reduce heat bumps. It not only relieves itching and swelling but also imparts a soothing and cooling effect (5).
Caution
It is not good to use tanning company aloe vera gels as they contain chemicals that clog the pores and aggravate the condition. Use organic aloe gel.
5. Oatmeal Bath
You Will Need
1 cup oatmeal
Warm water
Bathtub
What You Have To Do
Add the oatmeal to the warm bath water and stir till it dissolves.
Soak in this water for 10-15 minutes to relieve the condition.
How Often You Should Do This
Repeat this every day until you get relief.
Why This Works
The oatmeal bath helps in reducing heat bumps between legs as it has anti-inflammatory and skin soothing properties. Additionally, it also cleanses the skin, thus removing any impurities or dirt that may clog the pores (6).
6. Cornstarch Or Baking Soda
You Will Need
Cornstarch or baking soda
What You Have To Do
After taking a cold shower, pat the skin dry.
Apply cornstarch or baking soda powder between your legs.
Leave it on.
How Often You Should Do This
Do this every day after taking a shower.
Why This Works
Cornstarch or baking soda absorbs the excess water on the skin that intensifies heat bumps. This helps the rashes to heal sooner.
7. Calamine Lotion
You Will Need
Calamine lotion
What You Have To Do
Clean the affected area and apply calamine lotion to it.
Massage gently until it is absorbed into the skin.
How Often You Should Do This
Repeated use on a daily basis is recommended.
Why This Works
You might have to raid your mother's or grandmother's cabinet for this. Calamine lotion contains zinc that exerts a soothing effect on the bumps. This will reduce redness and heal the bumps completely (7).
8. Sandalwood Powder
You Will Need
2-3 tablespoons sandalwood powder
Rose water
What You Have To Do
Make a smooth paste of sandalwood powder and rose water and apply it directly on the bumps.
After it has dried, wash off with cold water.
How Often You Should Do This
Do this once or twice a day.
Why This Works
Sandalwood powder has a skin rejuvenating property that is effective in treating skin irritation and rashes, whereas rose water is a natural skin toner (8), (9). This remedy has a soothing effect and also reduces the itchy sensation.
9. Margosa Or Neem Paste
You Will Need
A few neem leaves
Rose water
What You Have To Do
Grind the neem (margosa) leaves and mix with rose water to form a thick paste.
Apply this paste to the affected area and leave it on for 30 minutes.
Wash off with water and pat the skin dry.
How Often You Should Do This
Apply this pack twice a day.
Why This Works
Margosa or neem is a natural herb commonly used to treat skin ailments. It has antiseptic and anti-inflammatory properties. It prevents the rashes from getting infected and alleviates the swelling and redness (10).
10. Cod Liver Oil And Vitamin E Cream
You Will Need
2-3 cod liver oil capsules
Vitamin E cream
What You Have To Do
Pierce the capsules and remove the cod liver oil present inside.
Add this oil to a pea-sized amount of vitamin E cream and mix well.
Apply this cream mixture on the heat bumps and massage it in.
How Often You Should Do This
Do this twice a day, once in the morning and once at night.
Why This Works
Cod liver oil contains healthy omega-3 fatty acids that have anti-inflammatory effects on the skin. It also contains vitamin A that keeps the skin healthy (11). Vitamin E has an antioxidant effect on the skin and is also an anti-inflammatory (12).
This list contains the best remedies one can use at home to treat heat bumps in between the legs.
Apart from using these remedies, follow these tips:
As excessive sweating is the main cause of these bumps, it is best to avoid the sun. Use umbrellas when stepping out during summers.
Wear loose-fitting cotton pants or bottoms. Natural or cotton fabrics can easily soak up excessive perspiration, and loose clothes will keep the body ventilated and dry.
Avoid wearing nylon or synthetic garments as they can cause your sweat to accumulate between the thighs and increase the chances of a heat rash.
Drinking plenty of liquids and keeping the body well hydrated is a natural way to reduce heat bumps on legs.
Limiting sugar intake and following a more anti-inflammatory diet that is rich in leafy greens, omega-3 fats from fish or walnuts, minimal refined grains, along with caffeine, alcohol, and dairy reduction can help.
You can try using Weleda diaper cream to obtain relief.
Heat bumps or heat rashes can be red, itchy, and extremely uncomfortable. Hot and humid weather is very conducive to these bumps which are a result of trapped sweat, bacterial invasion, and clogged pores. You can apply effective home remedies to treat heat rashes which include simple and easily available ingredients like cucumber, coconut oil, calamine lotion, aloe vera gel, baking soda, and icepacks. A cold shower or an oatmeal bath can also help reduce the discomfort associated with heat bumps. To further alleviate the discomfort or prevent these rashes, wear loose-fitting clothes, stay protected from the sun, hydrate yourself, and indulge in an anti-inflammatory diet.
Frequently Asked Questions
What do heat bumps on legs look like?
Heat bumps look like tiny red blisters or pimples and generally occur in clusters.
Why do I keep getting heat bumps?
Heat bumps are caused by excessive sweat that's trapped under the skin, aggravated by tight clothing that prevents the air from circulating and the skin from breathing.
Is Vaseline good for heat rash?
Vaseline may temporarily help to get rid of the discomfort caused by heat bumps, but it is best avoided, as the heavy greasiness of vaseline can further restrict airflow and aggravate the rash.
Sources
Articles on StyleCraze are backed by verified information from peer-reviewed and academic research papers, reputed organizations, research institutions, and medical associations to ensure accuracy and relevance. Read our editorial policy to learn more.
The following two tabs change content below.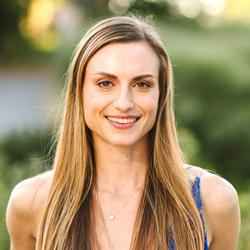 Dr. Elena's background as a competitive athlete introduced her to the world of sports medicine and how nutrition impacts performance....
more