13 Best Home Remedies For Menstrual Cramps & Preventive Tips
From hot water bags to nutrient-rich foods, there is a lot you can do to help reduce cramping.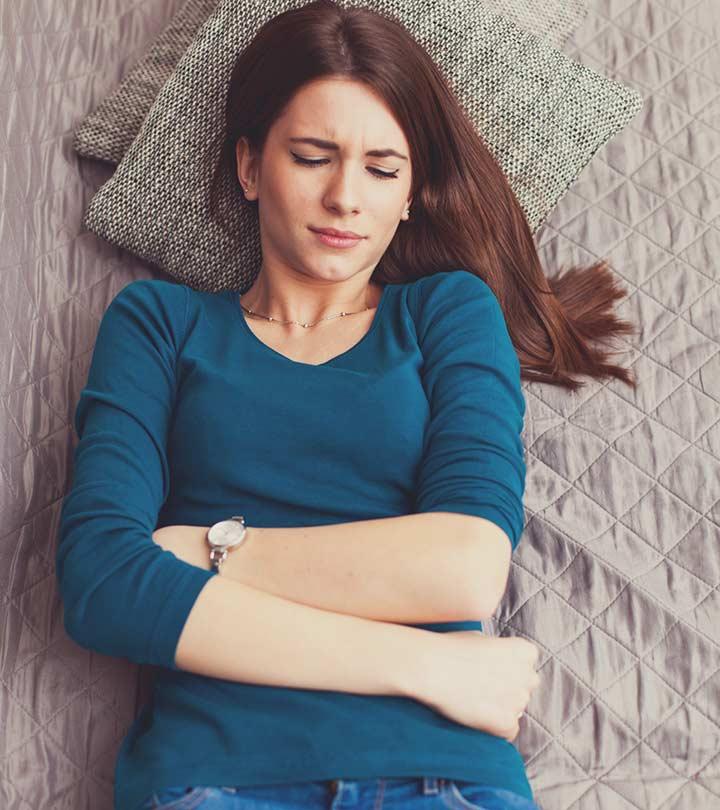 If you suffer from painful menstrual cramps and want to give your pain killers a skip, there are a couple of home remedies for menstrual cramps you can try. Medically known as dysmenorrhea, menstrual cramps occur when the uterus sheds its lining every month. Many women, during their menstrual cycle, experience severe pain in the abdomen, lower back, and thighs, sometimes accompanied by severe headaches and nausea. To help you out, in this article, we have listed a few home remedies you can use to alleviate the pain whenever your period comes knocking on the door.
Home Remedies For Menstrual Cramps
1. Heating Pads
Applying heat to your lower abdomen may relieve cramps (1). Studies have shown that it is almost as effective as taking pain relievers like ibuprofen for reducing menstrual cramps (dysmenorrhea) (2).
A recent survey conducted on 2000 US adults who have had or continue to have periods found around 40% of women opt for a heating pad and 14% opt for prescription medication for cramp relief during their periods.
You Will Need
A heating pad
What You Have To Do
Place a heating pad or water bottle filled with hot water
on your lower abdomen and lower back for about 10 minutes.
Alternatively, you can also soak a clean washcloth in hot water, wring it, and place it on your abdomen and back.
How Often You Should Do This
Do this multiple times daily.
2. Essential Oils
a. Lavender Oil
Lavender essential oil is quite effective in treating period cramps due to its anti-inflammatory and pain-relieving properties (3). Inhaling the oil relaxes you instantly (4).
You Will Need
3-4 drops of lavender oil
1-2 teaspoons of coconut or jojoba oil
What You Have To Do
Mix lavender oil with coconut or jojoba oil.
Apply the mixture to your lower abdomen and back.
You can also put a few drops of lavender oil in a diffuser and inhale its vapors.
How Often You Should Do This
Do this 1-2 times daily.
b. Peppermint Oil
Peppermint oil contains menthol, which is a popular decongestanti  XA type of medicine that provides short-term relief from blocked or stuffy nose and clears up congestion in the respiratory tract. and has pain and anxiety-relieving properties (5). The wonderful aroma of peppermint can also help in overcoming nausea and headache, which are symptoms of period cramps (6), (7).
You Will Need
What You Have To Do
Mix peppermint oil with coconut or jojoba oil.
Apply this mixture directly to your lower abdomen and back and massage gently.
How Often You Should Do This
Do this once daily
3. Chamomile Tea
Chamomile is popular for relieving period cramps. It contains flavonoids that exhibit anti-inflammatory properties, which can help reduce pain and inflammation. Chamomile is also a natural antispasmodic and can help in relaxing the uterine muscles (8).
You Will Need
1 chamomile tea bag
1 cup of hot water
Honey
What You Have To Do
Soak a chamomile tea bag in a cup of hot water for 10 minutes.
Allow it to cool down a bit and then add some honey.
Drink this tea daily.
How Often You Should Do This
Drink chamomile tea at least 2 times daily and a week before getting your periods.
4. Ginger
Ginger is a common ingredient used to relieve period cramps (9). The anti-inflammatory properties of ginger help in reducing the pain associated with menstrual cramps (10). It also helps cure nausea and calms an upset stomach (11).
You Will Need
1 inch of ginger
1 cup of hot water
Honey
What You Have To Do
Steep an inch of ginger in a cup of hot water for about 10 minutes.
Let it cool for a bit. Add honey to it.
Drink it up.
How Often You Should Do This
Drink ginger tea 2-3 times daily.
5. Vitamin D
A single large dose of vitamin D was found to offer noticeable relief from menstrual pain and cramps (12).
Vitamin D can reduce the production of prostaglandini  XA group of active compounds made of fats that have hormone-like effects, such as inducing labor. , which causes period cramps. However, since studies are limited, it is better to limit the dosage of vitamin D supplements for this purpose. But you can go ahead and increase your intake of vitamin D via your diet by consuming foods like fish, cheese, egg yolks, orange juice, and cereals.
6. Green Tea
Green tea contains flavonoids called catechins that give it its medicinal properties. Green tea is a natural antioxidant and also has analgesic and anti-inflammatory properties (13), (14). This can help relieve the pain and inflammation associated with period cramps.
You Will Need
1 teaspoon of green tea leaves
1 cup of water
Honey
What You Have To Do
Add the green tea leaves to a cup of water and bring it to a boil.
Simmer for 3 to 5 minutes and strain it.
Allow it to cool a bit and add some honey for flavor.
Consume it.
How Often You Should Do This
Drink green tea 3-4 times daily.
7. Pickle Juice
Pickle juice, with its high sodium content, is an effective remedy for period cramps. It is known to relieve muscle cramps post-exercise quickly (15). Hence, it may be effective for menstrual cramps as well.
You Will Need
1/2 cup of pickle juice
What You Have To Do
Drink half a cup of pickle juice.
How Often You Should Do This
Do this once daily, preferably right after you experience menstrual cramps.
Caution: Avoid taking pickle juice on an empty stomach.
8. Yogurt
Yogurt is a rich source of calcium and contains trace amounts of vitamin D. The intake of both calcium and vitamin D helps reduce the symptoms of PMS and relieves period cramps (16), (17).
You Will Need
1 cup of plain yogurt
What You Have To Do
Consume a bowl of plain yogurt.
How Often You Should Do This
Do this 3-4 times daily when you are on your period.
9. Epsom Salt
Epsom salt has anti-inflammatory and pain-relieving properties (18). Hence, it can help relieve period cramps and pain.
You Will Need
1-2 cups of Epsom salt
Bathwater
What You Have To Do
Add a cup or two of Epsom salt to a warm bath.
Soak in the bathwater for 15-20 minutes.
How Often You Should Do This
Do this 2-3 days before your periods begin.
10. Fenugreek
Fenugreek seeds contain compounds like lysine and tryptophan-rich proteins, which account for a majority of their therapeutic properties. Fenugreek also possesses analgesic and pain-relieving properties, which can help reduce period cramps (19).
You Will Need
2 teaspoons of fenugreek seeds
1 glass of water
What You Have To Do
Soak the fenugreek seeds in a glass of water overnight.
Consume it on an empty stomach in the morning.
How Often You Should Do This
Drink this mixture once every morning, a couple of days before your periods begin.
11. Foot Massage
Your feet have pressure points that can help in providing immediate relief from period cramps. These points are usually located about three finger widths above your ankle bones. Gently massaging these points with your thumbs and fingers may help relieve period cramps and their symptoms, like bloating, insomniai  XA common sleeping disorder in which people have trouble falling asleep or staying asleep, accompanied by daytime impairments. , and dizziness (20). This massage is known as reflexology or zone therapy. However, this alone won't help you get rid of period cramps. It can only provide temporary relief. Also, massaging certain acupressure points is said to provide immediate relief from period pain.
12. Aloe Vera Juice
Aloe vera has healing and anti-inflammatory properties and can help improve blood flow (21), (22). This can help in relieving painful period cramps.
You Will Need
1/4 cup of aloe vera juice
What You Have To Do
Consume aloe vera juice daily.
How Often You Should Do This
Start drinking aloe vera juice once a day, a few days before your period begins.
13. Lemon Juice
Lemon has anti-inflammatory properties (23). It is also rich in vitamin C, which helps with iron absorption (that is often lost during menstruation) and is good for your reproductive system (24), (25). Thus, lemon may help in providing relief from period cramps.
You Will Need
1/2 lemon
1 glass of water
Honey
What You Have To Do
Squeeze half a lemon into a glass of warm water and mix well.
Add some honey to it and drink.
How Often You Should Do This
Have lemon juice once every morning on an empty stomach.
Apart from using these home remedies for period cramps, you can also follow the tips mentioned below to address the symptoms.


Quick Tip
Most girls try sleeping (31%), walking (11.3%), and massaging (11%) as measures to deal with menstrual pain (
1
).
Preventive Tips
Have a healthy and balanced diet that consists of fresh fruits and vegetables.
Be very mindful of your health, wellness, and nutrition intake.
Limit your intake of caffeine and alcohol.
Consume less sweet and salty foods.
Exercise regularly.
Take less stress.
Refrain from smoking.
Practice meditation and yoga poses like Child's Pose, Savasana, and Knees-to-chest Pose.
Drink plenty of water and fresh juices to stay high on hydration.
You can also undergo

acupuncture

i

  X

An age-old alternative medicine in which thin needles are inserted into targeted areas of the body to relieve stress.

treatment to get relief from period cramps if necessary.
Despite using the home remedies for period cramps and following the tips, if you do not obtain relief, visit a doctor immediately.
Apart from these home remedies, vitamin B6 and omega-3 fatty acids may also help in management of menstrual cramps and provide much-needed relief (26) (27).
A few factors may also decide the severity of your muscle cramps, and they are discussed below.
What Causes Period Cramps?
Heavy blood flow.
Having your first baby.
Overproduction or sensitivity to a hormone called prostaglandin.
If you are younger than 20 or have just started your periods.
Period cramps are most often associated with a dull ache or pain in your lower abdomen or back. The symptoms are discussed below.
Symptoms Of Period Cramps
The common symptoms experienced during period cramps are:
A throbbing or cramping ache in your lower abdomen.
Dull or constant pain in your lower back.
Some women may also experience less common symptoms like
Headache
Nausea
Mild diarrhea
Fatigue and dizziness

Quick Tip
Ibuprofen, Ketoprofen, Acetaminophen, and Naproxen are common OTC drugs taken to relieve severe menstrual cramps.
Listed below are a few scenarios that require medical attention.
When To Visit A Doctor
You need to visit a doctor if
You are pregnant.
Your pain is worsening.
The menstrual cramps last longer than usual.
You develop a fever.
All your symptoms worsen and are more frequent.
Infographic: Types Of Period Pains With Health Conditions
Normal menstruation is a regular part of the reproductive system that involves the shedding of the uterine lining. But most women suffer from mild to excruciating cramps during this phase. While these cramps are usually normal, it is important to know if they are signs of an underlying medical condition. Check out the infographic below to learn more about the types of period pains and what they signify.



Dysmenorrhea or menstrual cramps can cause intense pain and discomfort in the lower abdomen and additional symptoms like bloating, nausea, dizziness, and lower back pain. It generally occurs as a result of sensitivity to prostaglandin or due to very heavy period flow. Home and herbal remedies for period cramps like fenugreek seed water, essential oils, pickle juice, foot massage, etc., can help bring relief and reduce the severity of the cramps. In addition, a healthy diet and regular exercise can help to lessen the severity of cramps. Contact your healthcare provider immediately for certain medications if your menstrual cramps cause severe pain or lead to a fever.
Frequently Asked Questions
What are the best medicines for period cramps?
If you have severe period cramps, your doctor may prescribe medicines like ibuprofen.
Why am I having cramps but no period?
Cramps usually begin a day or two before your period starts and last until the second day. However, in some cases, cramps can be a result of pregnancy, a ruptured cyst, or an underlying medical condition.
How to stop period cramps at school?
If you experience cramps at school or while you are out, you can reduce their intensity by doing the following:
Gently press at a pressure point below your abdomen that is usually about four finger widths below your navel.
Breathe deeply to increase the level of oxygen in your blood.
Gently massage your lower back and abdomen.
Why do I have cramps even though I am not pregnant or on my period?
Cramps can occur even if you do not have periods or aren't pregnant. As mentioned earlier, medical conditions like inflammatory bowel disease, a ruptured ovarian cyst, etc. might cause cramps (26).
Does chocolate help with period cramps?
Yes, you will be thrilled to know that chocolate can help with period cramps in many ways. While the magnesium in chocolate can relieve the cramps and increase your energy, the endorphins or 'happy hormones' can make your mood better. Also, dark chocolates are rich in antioxidants and are hence great for your overall health.
What is the difference between period cramps and pregnancy cramps?
While period cramps usually last for just 3 or 4 days, pregnancy cramps can begin early in the pregnancy and often last from weeks to months.
What are the best sleeping positions for period pain?
The best sleeping position for period cramps is the fetal position. Sleeping in the fetal position not only reduces the blood flow but also relaxes the muscles around your abdomen, which results in lesser pain and cramps.
Do periods get worse with age?
Yes. It is possible for women to have more painful periods as they age, particularly in their 30s and 40s.
What can make period cramps worse?
Period cramps can get worse if you eat the wrong foods, don't exercise, don't get enough sleep, drink coffee, or smoke cigarettes.
Key Takeaways
Foods like yogurt and aloe vera juice can help reduce period cramps.
Heat therapy with heating pads or warm baths may help reduce menstrual pain.
Teas like chamomile tea, green tea, and ginger tea can also provide relief from cramps.
A balanced diet, limited caffeine, and regular workout may improve body function and reduce cramps.
Don't let period cramps hold you back! Empower yourself with five tried-and-true methods to banish the pain. From lifestyle changes to herbal remedies, this video unveils the secrets to conquering those monthly struggles. Play this video now, and take control of your cycle!
Sources
Articles on StyleCraze are backed by verified information from peer-reviewed and academic research papers, reputed organizations, research institutions, and medical associations to ensure accuracy and relevance. Check out our
editorial policy
for further details.
The following two tabs change content below.