Home Remedies to Remove Uneven Patches of Skin Darkening
We all want a flawless skin and face, but various factors like pollution, ageing, hormonal changes and in some cases, genetic factors, lead to darkening on the face as well as on the skin. This form of skin darkening may be observed on the entire face, or in patches. Though getting cosmetic treatment for the same is a solution, it may not always be possible.
Below are some home remedies to get rid of dark patches on skin:
1. Vitamin-E Oil:
Massage the affected areas of the skin with vitamin-E oil. Vitamin E is known to be extremely beneficial for the skin. Massaging the skin helps in blood circulation, thus resulting in healthier and cleaner looking skin. The Vitamin E oils can be found easily at the local chemist shops as well as in the malls or other stores that stock up on beauty or cosmetic products. Check for the ingredient list and select oils that contain the same.
2. Lemon Juice:
Lemon juice is a natural bleaching agent. It is known to help lighten the skin naturally, without any side effects. To use lemon juice on your skin to help remove uneven dark patches, use the method given below:
Squeeze half a lemon in a glass bowl (not a metal bowl, as lemon juice tends to react with metals).
Dip a cotton ball into this juice, and apply the juice on the affected parts of the skin.
Let this stay on for some time
Now wash off with cold water
Using this regularly will help lighten the skin and gradually remove the uneven dark patches on skin
3. Aloe Vera Gel:
Fresh aloe vera gel is known to reduce skin patches and help treat darkening. It also reduces the intensity of any spots, when used overnight. Though it is not always possible to get an aloe vera plant and extract its gel at home, you can always get pure, unadulterated aloe vera gel from the chemist.
4. Milk:
The lactic acid content in milk is known to lighten skin pigmentation. Apply raw milk to the affected areas overnight, and you will slowly see a reduction in darkening and spots. Of course you cannot expect immediate results, so give it some time and do this over a regular span of a few weeks. Remember to use raw milk and not boiled milk, as that will not be of any help.
5. Citrus Fruits:
Citrus fruits such as oranges, limes, lemon, etc. are very useful when it comes to treating or trying to get rid of dark patches on the face or anywhere else on the skin. Use the juice of these fruits in the same way as lemon juice mentioned above. Also, you can simply cut the fruit in half and rub it over the affected area.
6. Turmeric Powder and Orange Juice:
This is a great mixture you can easily prepare at home with very common ingredients from your kitchen.
Mix a pinch of turmeric powder with 2 tablespoons of orange juice.
Apply this to the affected areas overnight.
This mixture will help lighten any pigmentation or dark skin patches and with regular use will remove the spots entirely.
7. Honey:
Apply warm honey to the face, and leave it on for 20 minutes. Wash off with water. Use this mask at least 4 times a week to see visible effects.
Home remedies take time to show results, so you will have to be regular with them and patient too. This article does not replace the need of consulting your dermatologist for the same. Also, if you are allergic to any ingredients mentioned above, please stop immediately and consult your dermatologist at the earliest.
Hope now you know how to remove dark patches from skin! Don't forget to share your experience with us in the comments section.
Recommended Articles:

The following two tabs change content below.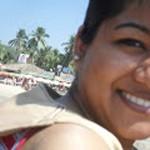 Latest posts by Ritu Rajput (see all)