10 Effective Home Remedies To Stop Peeling Of The Fingertips
A list of the best solutions to soothe, rejuvenate, and prevent painfully peeling skin.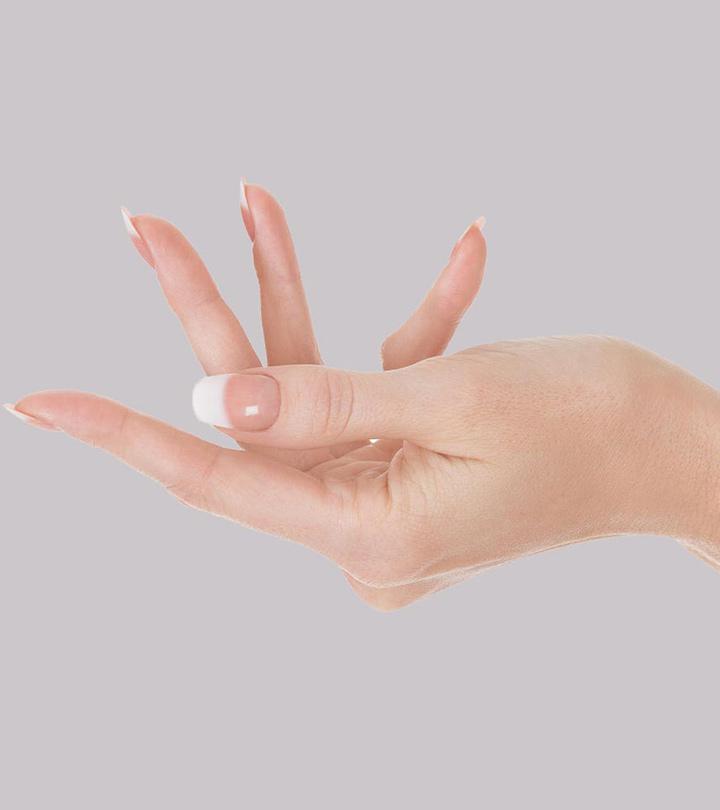 You use your fingers for pretty much everything while going about your daily chores, and all the grooming, cleaning, and washing may take its toll and leave you with peeling skin on your fingertips. Thankfully, there are some simple home remedies for peeling fingertips that you can apply to restore your fingers to their healthy state. These remedies focus on eliminating the burning or irritating sensation associated with peeling skin and effectively removing the dried flaky bits to speed up recovery. However, you must follow the guidelines to apply the remedies for effective and quick results. So, let's dive in to see what these home remedies are and how you can use them. Scroll down!
Home Remedies To Stop Peeling Fingertips
1. Cool Off With Aloe:
Peeling skin around the fingertips can cause burning and irritation, for which the application of fresh aloe gel is the best remedy (1). Simply take a stalk of aloe, scrape out some of its gel, and apply it to the affected area at least twice a day. Let it remain till it dries.
2. Soothe With Coconut Oil:
In times gone by, when we didn't have moisturizers and chemically-laden creams, coconut oil was the one-stop solution for all sorts of skin problems – dry skin, patchy skin, and also pimples (2). But not everyone is comfortable with the stickiness it brings, which is why it has been relegated to the back seat. Bring it back in action and use it to get rid of all that peeling, dry, flaky skin. Apply it and wear cotton gloves. Do this twice a day – once overnight – and watch how your hands come back to normal in a week. If you're not comfortable with coconut oil or don't have it, using almond oil or olive oil will also work.
3. Moisturize With Honey:
Honey is another great moisturizer for the skin (3). All you need to do is apply some to the affected areas and leave it on for half an hour. It goes without saying that you can't do much when you have this on, but it is a remedy worth
4. Don't Eat Them, Apply Milk And Oats:
Make a thick mixture of oats and milk and apply it to your fingertips. The milk moisturizes and the oats help scrub away the flaky bits of skin that may be causing trouble and irritation (4).
5. Sip Away All Day:
You may have heard this a million times, but it still has to be repeated: drink as much water as you can in a day. And by that, we mean at least 10 glasses. It keeps you hydrated and takes care of most skin problems, including dry skin and peeling skin on the fingertips (5).
6. Eat And Drink The Good Stuff:
Do you know that more than half of skin problems are caused due to poor nutrition? Consumption of nourishing foods and juices such as mixed vegetable juice, plain yogurt, and protein-rich foods such as beans, lean meats, etc. will help your skin and body return to their original healthy state (6).
7. Remember Petroleum Jelly:
If there's one thing after oil that can really help dry, flaky skin, it is petroleum jelly. Of course, it is sticky, but those sensitive fingertips need that deep moisturizing to get back to normal. Apply it at night, wear gloves, and notice the softness in the morning.

Quick Tip
Always apply petroleum jelly after moisturizing the fingers. Petroleum jelly is occlusive. It traps moisture and ensures the skin stays hydrated.
8. Pop Open A Vitamin E Pill:
The oil inside vitamin E capsules is a great remedy for dry skin (7). However, you may have to use more than one capsule to cover all your fingers. If that's too much, use natural vitamin E oil on the area. It naturally heals skin peeling on fingertips.
9. Go Bananas:
Do not throw away overripe bananas, simply mash one, mix a little honey and milk to it, and apply it on your dry fingertips. Do this regularly and watch your skin absorb all the lovely nutrients this very strong mixture has to offer (8).
10. Always, Always Cover Those Hands:
This is more of a preventive measure than a home remedy, but if you want all those aforementioned remedies to work, you must avoid exposing your hands to harsh chemicals. In fact, one of the biggest reasons you may be suffering from this problem in the first place is the constant exposure to these chemicals! So do your hands a favour, wear gloves!

Quick Tip
Stay away from drying chemicals like nail polish, removers, and detergents as the fingers heal. Chemicals can further irritate the skin.
Now remember: if you have blisters, deeply cracked skin, or don't see any difference with these remedies, please leave these remedies and visit your doctor. It could get infectious and cause trouble. Let us know: did any of these remedies for peeling fingertips worked for you? Do you have any recommendations?
Infographic: Tips To Manage Peeling Fingertips
Constant exposure to water, harsh chemicals, and the weather can leave your fingertips dry and peeling. The peeling skin can leave you with a burning or irritating sensation. While simple home remedies can speed up the recovery process, following a few tips can prevent your fingertips from peeling in the future.
Check out the infographic below to know more!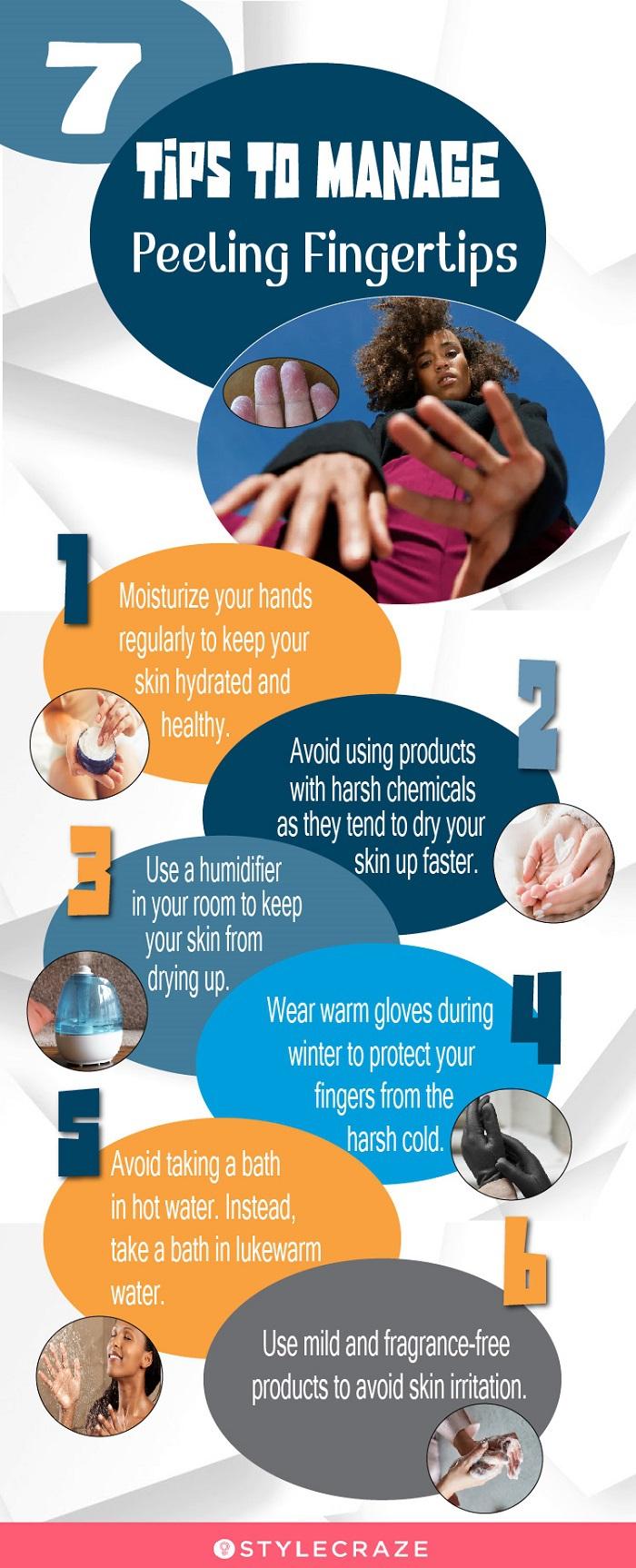 Peeling skin on fingertips may pose a challenge to daily tasks and are generally caused due to overexposure to harsh chemicals. To cool off the burning sensation and discomfort associated with peeling fingertips, you may use aloe vera gel, coconut oil, a mixture of oats and milk, topical vitamin E, petroleum jelly, or bananas with honey. It is also important to keep yourself hydrated and have a diet rich in nutrients. To protect your hands and fingertips, wear gloves daily when working with chemicals. If you have deep cracks or blisters on your fingertips, or these remedies don't seem to help, consult your healthcare provider.
Frequently Asked Questions
What causes your fingertips to start peeling?
Extreme weather changes, excessively dry skin, exposure to harsh chemicals, infections, psoriasis, stress, certain medications, and vitamin D deficiency are some possible causes of skin peeling off fingertips.
Is Vaseline good for dry hands?
Yes, Vaseline is good for dry hands as it acts as a moisturizer and helps seal moisture in the skin.
Key Takeaways
Exposure to harsh climatic conditions and chemicals is the leading cause of peeling and dry fingertips.
Using coconut oil and aloe vera gel may help soothe your irritated skin.
Using honey or Vitamin E capsule may also act as a good remedy for dry skin around your fingertips.
Consuming healthy foods and juices may help promote overall health.
Sources
Articles on StyleCraze are backed by verified information from peer-reviewed and academic research papers, reputed organizations, research institutions, and medical associations to ensure accuracy and relevance. Read our editorial policy to learn more.