7 Homemade Shampoo Recipes, How They Work, & Tips To Use
Pamper your tresses with the all-natural goodness of nature's finest ingredients.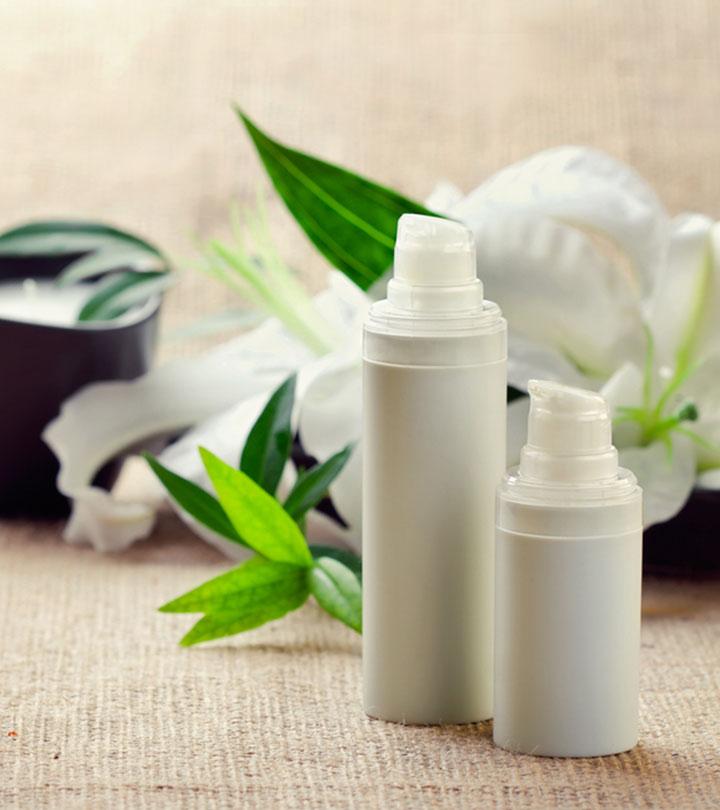 Homemade Shampoos have become a trend now. They are easy to make, natural, chemical-free, and cost-effective. Many women are switching to these shampoos as they can customize them according to their hair requirements, and they provide many benefits to hair. This article explains the advantages of shampoos made at home, constitutes a detailed guide on making them, and much more. So, check out the direction below and make your homemade shampoo. Keep scrolling!
Why Homemade Shampoo?
Homemade shampoos have certain advantages over commercially available products:
Natural Ingredients: Homemade shampoos contain ingredients straight from your pantry. These are natural, organic, preservative-free, and minus the harsh chemicals and toxins. This means fewer side effects. You may miss the lather and bubbles, but the detergents or

SLS

i

  X

A common surfactant found in soaps, commercial cleansers, and some food items that is used to lower the surface tension between compounds.

in the store-bought shampoos dry out the hair. Moreover, homemade shampoos will not contain artificial fragrances, colors, or

parabens

i

  X

Preservatives frequently found in pharmaceutical products and cosmetics that can potentially disrupt fertility and raise cancer risk.

that often cause allergic reactions.
Customizable: You can tweak the ingredients in the homemade shampoo to suit your hair's unique needs. It can address the hair concern better than generic store-bought shampoos.
Cheaper: The ingredients in the homemade shampoos are easily accessible and cheap.
Eco-friendly: Since the products used are from natural sources (organic), DIY shampoos also reduce environmental pollution. You can cut down plastic waste by switching to recyclable containers.
Excited to try homemade shampoos? Check out some easy recipes in the next section.
How To Make Homemade Shampoos
You Will Need
2 whole eggs
3 tablespoons of baking soda
2 teaspoons of olive oil
1 tablespoon of apple cider vinegar
1 tablespoon lemon juice
Process
Whip up two eggs until they are foamy.
Add baking soda and olive oil and mix well.
Add apple cider vinegar and lemon juice to the mixture.
Store it in a bottle.
Apply the mixture thoroughly to your hair. Wash and rinse as usual.
2. Avocado Shampoo Recipe For Dry, Damaged Hair
You Will Need
1 ripe avocado
2 teaspoons of baking soda
¼ cup of water
Process
Blend the avocado, baking soda, and water into a smooth paste.
Store it in a pump bottle.
Apply the DIY shampoo generously to your hair.
Rinse with lukewarm water.
3. Apple Cider Vinegar Shampoo Recipe For Itchy Scalp
You Will Need
¼ cup of liquid castile soap
2 tablespoons of apple cider vinegar
10-15 drops of tea tree essential oil
¼ cup of water
Process
Mix all the ingredients thoroughly and store it in a spray bottle.
Spritz this shampoo on your hair and massage your scalp.
Rinse with warm water.
4. Basic Homemade Shampoo Recipe For Sensitive Scalp
You Will Need
½ cup of castile soap
½ cup of water
½ teaspoon of vegetable oil or glycerin
Process
Combine all the ingredients.
Store in a bottle. Shake well to mix.
Massage your hair and scalp with a natural shampoo.
Wash off with lukewarm water.
5. Coconut Milk Shampoo Recipe For Thick, Long Hair
You Will Need
¼ cup of coconut milk (homemade or canned)
¼ cup of castile soap
20 drops of essential oils (peppermint, lavender, rosemary)
½ teaspoon of olive or almond oil
Process
Mix the ingredients.
Store the blend in a bottle.
Use it to cleanse the scalp and hair.
Wash off with lukewarm water.
6. Oats Shampoo Recipe For Dull, Lifeless Hair
You Will Need
½ cup of whole oats
2 teaspoons of baking soda
1 teaspoon of cornstarch
¼ cup of water
Process
Blend the whole oats, baking soda, cornstarch, and water into a smooth paste.
Apply generously to your hair and massage.
Rinse with lukewarm water.
7. Chickpea Shampoo Recipe For Strong, Shiny Hair
You Will Need
2 tablespoons of chickpea flour
1 teaspoon of aloe vera gel
1 teaspoon of honey
½ teaspoon of fenugreek powder
¼ cup of water
Process
Combine all the ingredients to make a thick paste.
Apply it to the hair and scalp.
Rinse thoroughly with lukewarm water.
8. Dry Shampoo Recipe
You Will Need
1 tablespoon of cornstarch
1 tablespoon of cocoa powder (optional)
Process
Mix the cornstarch and cocoa powder well.
Use a makeup brush to distribute this mixture on the scalp.
Brush your hair to remove the residue.
If you are wondering how these simple ingredients work for your hair, find out in the next section.
How Do The Ingredients In The Homemade Shampoos Work?
Baking Soda: Anecdotal evidence suggests that baking soda removes grime from the scalp. Studies have shown that it has a neutralizing effect and antifungal properties. However, its mechanism of action is yet unknown (1).

Quick Tip
The abrasive nature of baking soda can dry out your hair and scalp. Therefore, people with dry hair should use a conditioner to moisturize their scalp after using a homemade shampoo containing baking soda.
Apple Cider Vinegar: ACV has a pH range similar to the scalp. This acidic nature breaks down oil and removes product residue and scalp buildup from the hair. It also has antimicrobial properties and can soothe scalp infections (1).
Egg Yolk: Egg yolk contains lecithin, an

emulsifier

i

  X

An additive that helps mix two liquids, consisting of a hydrophilic end that binds with water and a hydrophobic end that binds with oil.

that can clean the oil and grease from the scalp. Eggs are rich in proteins and nutrients that make them a good hair conditioner (2).
Avocado: This rich in omega-3 fatty acids and essential amino acids (3).The natural oils in it may provide deep hydration to your hair. Thus, it can be a great conditioner for dry, dull, and damaged hair.
Castile Soap: This is a plant-based, non-toxic cleanser made of natural oils. It contains lye or sodium carbonate and is a common soap base for DIY soaps and shampoos. Castile soap breaks down excess oil, dirt, and grime from the scalp without drying it.

Did You Know?
Castile soap may strip off dye from your hair. Hence, people with colored hair or highlights should avoid using it on their hair.
Tea Tree Oil: This essential oil has antimicrobial properties (4). It can keep the scalp free of irritation and infections.
Coconut Milk: It is a natural and ultra-hydrating cleanser and commonly used in DIY shampoos and soaps to clean the scalp.
Chick Pea Powder: Traditionally, chickpea powder is to clean the scalp in India.
Aloe Vera: Aloe vera has antibacterial and moisturizing properties (5). It makes the homemade shampoo hydrating.
Honey: Honey has antimicrobial properties and can soothe inflamed skin (6). It also helps lock in moisture to keep the hair healthy and shiny.
Fenugreek: This is a popular ingredient used as a home remedy to combat various hair concerns like hair loss and dandruff. It also an effective herbal shampoo and conditioner (7).
Olive Oil: It has

emollients

i

  X

Moisturizing treatments that hydrate dry, cracked, and flaky skin and make it smoother by supplying lipids (fats).

, such as oleic acid, palmitic acid, and squalene (8). These ingredients soften the hair and keep it smooth and shiny.
Cornstarch: It absorbs excess oil and grime on the scalp.
Here are a few tips you can follow when using a DIY shampoo.
Tips To Use Your Homemade Shampoo
Always shake the bottle before using.
Use a palm-full of the shampoo. If the shampoo has a thinner consistency, use a spray bottle for application.
Apply the mixture directly onto the scalp and hair.
Gently massage into the scalp for a minute. There may be no suds as these homemade shampoos do not have sulfates.
Rinse well with lukewarm water.
Tips To Maintain Hair And Scalp Health
Cleansing the scalp may not be enough to maintain your hair's health. You must take care of your scalp, nourish your locks, and follow proper hair care practices to keep them healthy. Check out the infographic below to learn about hair care hacks and DIY tips you can follow at home.


Today, people are switching to homemade shampoos due to multiple reasons. They are made of natural ingredients and are accessible and cheaper. You can also customize them as per your hair needs and preferences. Ingredients such as eggs, avocados, coconut milk, or oats are good options for homemade shampoos. Studies suggest ingredients such as eggs and avocados cleanse your hair deeply and keep your hair hydrated and nourished. Following simple tips such as shaking the bottle before every use and rinsing your hair with lukewarm water may improve your hair health after a few washes.
Frequently Asked Questions
What is a natural shampoo?
Natural shampoos are shampoos made with only natural, organic ingredients as opposed to conventional shampoos that contain synthetic ingredients.
Can natural shampoo damage hair?
Natural shampoos are claimed to not damage the hair or alter its condition in any way. However, to avoid scalp irritation, be careful to check for any ingredients that you might be allergic to.
Key Takeaways
Homemade shampoos are made of organic ingredients, are eco-friendly, and you can customize them to suit your hair needs.
You can use simple ingredients such as avocado, eggs, coconut milk, apple cider vinegar, or oats from your pantry to make them.
They help stimulate hair growth, protect your hair from scalp infections, reduce dandruff and give you moisturized and smooth hair.
Always shake the bottle, gently massage the shampoo onto the scalp, and rinse well to see good results after a few washes.
Sources
Articles on StyleCraze are backed by verified information from peer-reviewed and academic research papers, reputed organizations, research institutions, and medical associations to ensure accuracy and relevance. Check out our
editorial policy
for further details.