Cayenne Pepper for Weight Loss
Exciting ways to spice up your dieting routine with this fat-burning ingredient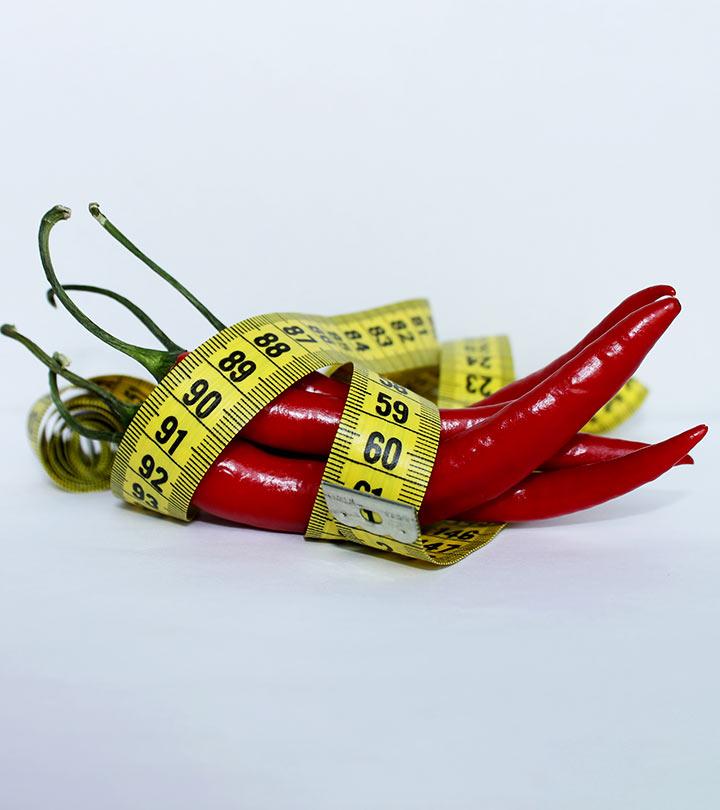 Cayenne pepper contains many nutrients for weight loss is an age-old secret. It is one of the ingredients of lemonade cleanse popularized by Beyonce and Yolanda Hadid. Cayenne pepper helps boost metabolism, reduces hunger, and burns fat. This post explains to you the science of cayenne pepper's weight loss properties, various way to incorporate it in your diet, benefits, and many more. Ready to cut down some flab and become fab?
Capsaicin, a phytochemicali  XNaturally occurring chemicals found in fruits, vegetables, grains that defend them from fungi, bacteria, and viruses. present in cayenne pepper, is responsible for its spiciness. And it is the same phytochemical that aids in weight loss and improves blood circulation. This ingredient binds to the neuroreceptorsi  XProtein-based structures built to receive, process, and distribute information from neurotransmitters to various parts of the body. that induce calcium influx, which, in turn, triggers many cellular responses. The antioxidanti  XA substance that neutralizes unstable molecules that can damage your cells called free radicals. enzyme levels go up, and inflammation goes down. As a result, the metabolic rate improves, toxins get flushed out, and plaques don't form on the arterial walls (1).
Scientists have found that adding cayenne pepper to foods helps increase fat-burning and thermogenesis (2). It helps with appetite suppression and makes you feel satiated after a meal that contains cayenne pepper. That is why you consume lesser calories and do not overeat (3). Cayenne pepper also contains another phytochemical similar to capsaicin known as dihydrocapsiate. It helps increase metabolism by about 50 cal/day (4).
So, clearly, cayenne pepper can aid weight loss and is backed by science. Read on to know how to include it in your diet for weight loss. Scroll down for more information.

Trivia
Cayenne pepper measures 30,000-50,000 units on the Scoville Scale. This scale, which runs from 0-1000000 and indicates the heat level of a pepper, was devised by William Scoville in 1912.
How To Use Cayenne Pepper For Weight Loss?
Master Cleanse – The Master Cleanse is a juice cleanse for weight loss. The main ingredients required to prepare this concoction are lemon juice, maple syrup, and cayenne pepper. Here's how you can prepare it.

Ingredients

2 tablespoons fresh lemon juice
2 tablespoons Grade B maple syrup
A pinch of cayenne pepper
1 cup water

How To Prepare

Add all the ingredients to a cup of water. Stir well before drinking.
Juices/Smoothies – You can also add ¼ – ½ teaspoon of cayenne pepper powder to your juice or smoothie to lose weight. The tangy taste of the fruits will nullify the strong flavor of the cayenne and add taste to it.
In Home-Cooked Meals – Cayenne pepper adds taste and flavor when added to home-cooked meals. You can add ½-1 teaspoon of cayenne pepper powder to your salad, soup, yogurt dip, and other food preparations without making its spiciness too overbearing.

Quick Tip
Add cayenne pepper directly to heated oil as a tempering before adding vegetables or protein of your choice. This helps impart a rich flavor and color to your dish and also makes the taste of the spice palatable instead of overbearing.
Cayenne Pepper Capsules – You can also consume cayenne pepper capsules for weight loss and other health benefits. You can buy them at your local pharmacy or order online.
Now that we know how to take cayenne pepper for weight loss, let me share a weight loss diet plan with you. It contains cayenne pepper as one of the ingredients, and it will help you lose weight in no time.
Cayenne Pepper Weight Loss Diet Chart
Meals
What To Eat
Early Morning (7:00 – 7:45 am)
Warm water with juice of a lime
Breakfast (8:30- 8:45 am)
Options:

Master Cleanse juice + oatmeal + 2 almonds
Master Cleanse juice + scrambled eggs + 4 almonds

Pre-Lunch Snack (11:00 am)
Green tea
Lunch (12:30 – 1:30 pm)
Options:

Chicken salad with a dash of lime juice and a pinch of cayenne pepper
Hummus with a pinch of cayenne pepper powder and 1 pita bread

Evening Snack (4:00 – 4:30 pm)
Options:

Buttermilk
Fresh coconut water
A small bowl of fruits

Dinner (7:00 – 7:30 pm)
Options:

Grilled fish with cayenne pepper and cumin powder and veggies
Lentil soup with garlic and cayenne pepper flambe and veggies
Why This Works
This diet chart includes foods that aid weight loss, and cayenne pepper is one of them. Starting your day with a cup of warm water and lime juice will aid proper bowel movement, relieve constipation, and boost your immune system. Include the Master Cleanse juice in your breakfast to increase your metabolic rate.
Oatmeal is high in fiber and prevents fat absorption. Scrambled eggs are a great source of protein and will help build lean muscle mass. You also need healthy fats to lose weight, and almonds will provide you with vitamin E, magnesium, and potassium. If you have a cup of green tea as a mid-morning snack, you will not feel famished till lunch.
Green tea is rich in antioxidants that help to flush out the toxins. Have a tasty, low-calorie, and protein-rich lunch. Adding cayenne pepper will give your lunch an extra zing and also increase satiety. Buttermilk has good gut bacteria that aid digestion. Coconut water is a source of natural electrolytes, and fruits are rich in dietary fiber, vitamins, and minerals.
Have a palatable dinner that is rich in protein and dietary fiber. Use minimum amounts of cayenne pepper to avoid irritating your stomach and mouth linings.
If you are allergic to any of the foods mentioned in the diet chart or are a picky eater, here is a food substitute list for you.
Substitutes
Lime juice – Apple cider vinegar
Almonds – Walnuts or macadamia nuts
Oatmeal – Quinoa
Eggs – 1 small bowl of papaya
Green Tea – Herbal tea or oolong tea
Chicken- Turkey/mushroom/tofu/fish
Hummus – Kidney bean chili
Pita bread – Wheat flat bread or sorghum chapati
Buttermilk – Fat-free yogurt
Fresh coconut water – Cucumber juice
Bowl of fruits – Baby carrots/celery
Fish – Tofu/chicken/turkey
Cumin – Fennel
Lentil soup – Chicken soup/mushroom soup
Garlic – Spring onions
Veggies – Fruit juice
So, will you lose weight by following this diet chart? Maybe. But what can give you the best and guaranteed results is exercise. Sounds funny, but the human body works on the law of thermodynamics. If the energy in is greater than the energy out, you will gain weight, and if the energy in is equal to the energy out, your body weight will be stagnant. So, utilize the calories as energy by working out regularly. Here's a workout plan for you.
Neck tilt – 1 set of 10 reps (right and left)
Neck rotations – 1 set of 10 reps (clockwise and anticlockwise)
Shoulder rotations – 1 set of 10 reps (clockwise and anticlockwise)
Arm rotations – 1 set of 10 reps (clockwise and anticlockwise)
Wrist rotation – 1 set of 10 reps (clockwise and anticlockwise)
Ankle rotation – 1 set of 10 reps (clockwise and anticlockwise)
Side lunges – 2 sets of 5 reps (right and left)
Side crunches – 1 set of 10 reps (right and left)
Spot jogging – 5-7 minutes
Jumping jacks – 2 sets of 20 reps
Forward lunges – 2 sets of 10 reps
Jumping lunges – 2 sets of 10 reps
Squats – 1 set of 10 reps
Crunches – 2 sets of 10 reps
Tricep dips – 2 sets of 5 reps
Push-ups – 2 sets of 5 reps
Mountain climbers – 2 sets of 10 reps
Forward plank – 2 sets of 15-second holds
Stretch
These exercises can be done at home or office and at your convenience. An important question that arises is – who should avoid consuming cayenne pepper for weight loss? Let's find out.
Who Should Not Consume Cayenne Pepper For Weight Loss?
Avoid consuming cayenne pepper if:
you suffer from irritable bowel syndrome or ulcers
you have recently undergone intestinal surgery
you are on medication for high blood pressure
you are a new mom or pregnant
you are on medication that slows down blood clotting
you take theophylline
If you do not fall into any of the above categories, you can go ahead and use cayenne pepper to lose weight. Here is the recommended dosage.
Cayenne Pepper Dosage For Weight Loss
Cayenne pepper capsule – 2 capsules a day
Cayenne pepper pods – 2-3 pods per day
Cayenne pepper powder – 1-2 teaspoons per day
Other Health Benefits Of Cayenne Pepper
It relieves pain, headache, and migraine
It supports digestion
Helps in detoxification
It has anti-inflammatory and anti-irritant properties
Helps fight flu and cold
It helps to treat psoriasis
Prevents blood clot formation
It has antimicrobial properties
It has anticancer properties
Caution
Talk to your doctor before taking cayenne pepper capsules or powder for weight loss.
Don't exceed the recommended dosage.
Stop using it if it causes any discomfort.
Cayenne pepper improves your metabolic rate, increases fat oxidation, and satiates hunger cravings. You can add cayenne pepper to a master cleanse, healthy juices or smoothies, or meals or ingest them in capsule form. To make the most of it, pair other weight loss-stimulating ingredients with cayenne pepper for weight loss, like oatmeal and scrambled eggs. Pair this healthy diet plan with a regular workout regimen to keep your body healthy and fit. Scroll up to check out how you can add cayenne pepper to your diet and the exercises you can practice every day.
Frequently Asked Questions
How much weight can you lose with cayenne pepper?
The amount of weight loss varies from person to person and depends on several factors like genetics and body type.
Is it okay to eat cayenne pepper every day?
Yes, consuming cayenne pepper in moderate amounts daily is generally considered safe.
Can you take cayenne pepper on an empty stomach?
No, cayenne pepper should not be consumed on an empty stomach. Ensure that you consume it along with some food.
Key Takeaways
Cayenne pepper can influence changes at the cellular level because of its active compound, capsaicin.
It boosts metabolism and burns up fat reserves in the body, thereby facilitating weight loss.
You can add it to your smoothies and meals, or have its supplements to reap its benefits.
Those with intestinal problems, and who are on certain medications should consult their doctor before introducing cayenne pepper for weight loss plans.

Click on this informative video below and discover the incredible potential of cayenne pepper in enhancing your metabolism and supporting weight loss. Unveil effective techniques for incorporating it into your daily routine. Play it now!

The following two tabs change content below.