Papaya Diet – How Papaya Aids Weight Loss
Looking for a magical weight loss program that will make you slim in just a day? Well, sorry to disappoint you, I don't have a spell for that neither do I have a wand! All I know is, you can lose weight by laser attacking the reasons of your weight gain. And one of the many reasons for weight gain is improper functioning of the digestive system. Eating unhealthy, irregular eating habits, not drinking enough water, excessive alcohol consumption, chain smoking, and not getting rid of toxins (waste) from the body lead to a weak and dysfunctional digestive system. And this, in turn, results in a slow metabolism and weight gain. This is where papaya comes into the picture. But, is papaya good for weight loss? We have done a thorough research to find out why and how papaya helps. Read on to learn about the results. Who knows, this article might change your life!
Facts—How Papaya Aids Weight Loss
Papaya improves digestion and promotes proper bowel movement. A study was conducted by Austrian scientists on volunteers battling indigestion and gastrointestinal tract dysfunction. They were given papaya. It was found that the typical symptoms of dysfunctional digestion such as bloating, constipation, and heartburn were reduced significantly (1).
Papaya contains papain, a digestive enzyme that helps to digest proteins and clean the intestinal walls. When your digestive system starts functioning better, the body's metabolic rate increases and helps to burn the fat.
Papaya is low in calories (43 calories in 100 grams of papaya) and is rich in nutrients such as vitamin C, vitamin A, folate, calcium, magnesium, and potassium (2). Besides, papaya contains a good amount of water and is loaded with fiber. Fiber helps to hold water in the intestine, softens the stool, thereby preventing constipation. It also binds to the fat molecules and prevents the absorption of fats.
Papaya is a good source of the antioxidant beta-carotene that helps to flush out the toxins in the body. By eliminating the toxins, it boosts metabolism and prevents heart disease (3).
Wondering how to eat papaya for weight loss? Worry not, here are the best ways to consume papaya and include it to your diet.
How To Consume Papaya For Weight Loss
Papaya can be eaten raw. You just need to slice it into small cubes. It is recommended to consume papaya along with some other food as it works best when taken with fat.
Your breakfast can become more delicious and at the same time nutritious if you prepare a papaya smoothie. Preparation of the smoothie is very easy and time-saving. Just mix the mashed papaya with milk, yogurt or juice. You can also add your favorite fruit to it. If you wish to thicken the smoothie, you can add a banana too.
You may try out something new by preparing a fruit salad with ripe papaya. Cut cubes of papaya and other preferred fruits of your choice along with some powdered spices.
Though papaya helps to lose weight, you don't want to eat just papaya! Here is an easy papaya diet chart that tells you the time and the quantity of papaya you should consume.
Papaya Diet Plan—The Right Way To Shed Fat
Follow this diet chart 3 days a week for 4 weeks. If you want to tweak this diet chart, make sure to have2 servings (1 serving = 1 cup = 140 g) of papayaper day, include nutritious veggies, fruits, natural drinks, and avoid junk food. Here is a sample papaya diet plan.
Meals
What To Consume
Early Morning (7:00 – 7:45 a.m)
Options:

1 cup green tea
1 cup warm water with ½ lime juice

Breakfast (8:00 – 8:43 a.m)
Options:

1 boiled egg + 1 cup papaya (140 g) smoothie with 100ml milk (if not lactose intolerant) and 50 g curd/yogurt along with water as per consistency
1 multigrain toast with peanut butter + ½ cup papaya

Mid Morning (10.30 -11.00 a.m)
1 cup green tea with ½ teaspoon honey and pinch of cinnamon powder.
Lunch (12:00 – 12:30 p.m)
Options:

1 Mushroom/chicken/tuna sandwich + ½ cup yogurt
½ cup kidney bean chilli + ½ cup cucumber and tomato salad + 1 cup buttermilk

Post Lunch (3:30 – 4:00 p.m)
1 cup papaya (140 g)
Dinner (7:00 – 7:30 p.m)
Options:

Grilled salmon / chicken with veggies
Cabbage/lentil soup + 1 multigrain toast
Why This Works
Green tea promotes weight loss by suppressing appetite and increasing the metabolic rate. You can also flush out the toxins by drinking warm water and lime juice in the morning. Include papaya in your breakfast along with a good source of protein and healthy fat. Have a healthy lunch containing protein, complex carbs, and healthy fats. Yogurt and buttermilk are loaded with good gut bacteria that ensure proper digestion. Have a cup of papaya post lunch; it will keep you full until dinner. Grilled chicken, salmon, and lentil soup are rich in protein, veggies and multigrain toast is loaded with complex carbs and dietary fiber.
If you are allergic or do not like to eat a certain food listed in the diet chart, take a look at the food substitutes section below.
Substitutes
Green tea – Herbal/ black tea
Lime juice – Apple cider vinegar
Boiled egg- Scrambled egg or 1 cup milk
Multigrain bread- Wheat bread
Peanut butter – Sunflower seed butter
Mushroom- Tofu
Chicken- Ground turkey
Tuna- Mackerel
Yogurt – Sour cream
Kidney bean – Garbanzo beans
Cucumber – Carrot
Tomato – Beetroot
Buttermilk – Coconut water
Salmon – Tuna
Cabbage soup – Tomato soup
Lentil soup – Mushroom clear soup
Apart from the above-listed foods, you can eat the foods mentioned below.
Foods To Eat
Veggies – Broccoli, cauliflower, asparagus, spinach, swiss chard, zucchini, bell pepper, Chinese cabbage, bok choy, green chili, bottle gourd, bitter gourd, snake gourd, okra, eggplant, radish, turnip, beetroot, carrot, sweet potato, radish greens, collard greens, and green beans.
Fruits – Papaya, apple, grapes, grapefruit, lime, lemon, orange, plum, pear, peach, pluot, figs, blueberry, strawberry, starfruit, green apple, watermelon, and muskmelon.
Fats & Oils – Olive oil, rice bran oil, hemp seed oil, and ghee (clarified butter).
Seeds & Nuts – Macadamia nuts, pistachios, almonds, walnuts, flax seeds, pumpkin seeds, sesame seeds, sunflower seeds, and hazelnuts. Control your portions ( not more than 30 g) if on a weight loss diet.
Beverages – Coconut water, buttermilk, fresh fruit juice, and vegetable juice.
Herbs & Spices – Cilantro, oregano, dill, rosemary, thyme, clove, cinnamon, cardamom, turmeric, nutmeg, black pepper, star anise, cayenne pepper, saffron, cumin powder, coriander powder, fennel seeds, and fenugreek seeds.
Steer clear from the foods mentioned below.
Foods To Avoid
Veggies – Potato and pumpkin
Fruits – Mango and jackfruit
Fats & Oils – Animal fat, butter, mayonnaise, ranch, canola oil, and vegetable oil
Seeds & Nuts – Cashew nuts
Beverages – Aerated drinks, artificially sweetened drinks, packaged fruit juices, and alcohol
Now, though you will make the right food choices and eat a substantial amount of papaya to improve your metabolism, you have to use the calories you consume as usable energy in order to lose weight. Therefore, exercising is highly recommended. Without this, your metabolism will stall again. So, here is a sample workout routine for you.
Exercise Plan
| | |
| --- | --- |
| Day | Workout |
| Monday (20 mins) | Warm up + spot-jogging / jogging + lunges+squats+jumping jacks+stretch |
| Tuesday (20 mins) | Warm up + jumping jacks+lunges+squat+crunches+pushups+jogging + stretch |
| Wednesday (30-45 mins) | Warm up + yoga for better digestion+ meditation |
| Thursday (60 mins) | Warm up + cardio + stretch |
| Friday (60 mins) | Warm up + strength training + stretch |
| Saturday (60 mins) | Warm up + yoga for better digestion+ meditation |
| Sunday | Rest |
This is a very simple exercise plan. If you don't get the time to workout daily, make sure you walk to and from office/school, take the stairs, and keep moving you burn a few calories.
How Will You Feel After Completing Papaya Diet
If you adhere to this diet and exercise plan for two weeks, you will lose water weight and mobilize the fat. You will feel less bloated and constipated. Your mood will improve, and you will be more active and productive. You will be more confident and love your new lifestyle.
Here are few more reasons for you to eat papaya.
Health Benefits Of Papaya
The antioxidant property of papaya helps to prevent oxidative damage caused by free radicals. The lycopene in papaya not only scavenges free radicals but also protects the heart from oxidative damage(4).
Enzymes present in papayas such as chymopapain and papain has anti-inflammatory properties and supports healing wounds and burns.
Vitamins A and C present in papaya helps in boosting the immune system.
Papaya also protects against macular degeneration.
Vitamin C rich papaya helps protect against rheumatoid arthritis.
Papaya reduces the risk of colon and prostate cancer.
This is all about papaya and weight loss! If you want to live a disease-free life and of course, lose the extra fat, you should start this papaya diet today. Papayas are not only easily available in the market, but they are also cheap, filling, and offer countless health benefits. Moreover, it works better than any fad diet, weight loss pill or surgery.
Hope this article was instigating enough for you to pay a visit to a fruit stall and get started right away with a papaya! Yes, Papaya benefits weight loss. So, what are you waiting for?
Sources
Articles on StyleCraze are backed by verified information from peer-reviewed and academic research papers, reputed organizations, research institutions, and medical associations to ensure accuracy and relevance. Check out our
editorial policy
for further details.
Recommended Articles
The following two tabs change content below.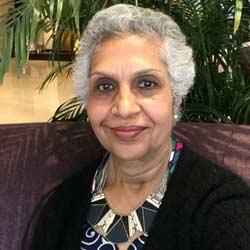 Madhu Sharma
(Registered Dietitian, RD)

Madhu Sharma is a member of the National Executive Committee of IDA. She has been associated for almost three decades...

more