How Long Do Lip Fillers Last? Their Benefits And Side Effects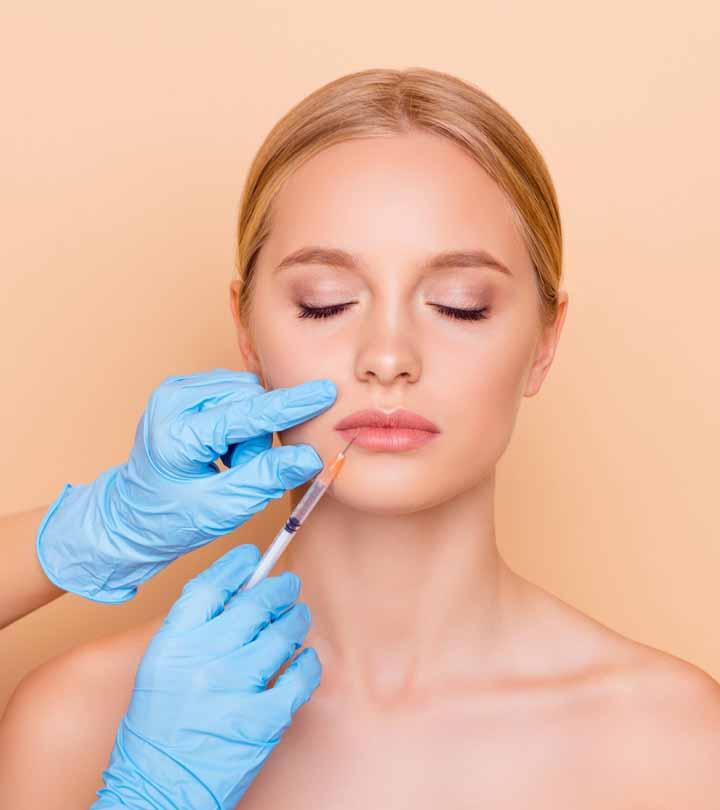 Have you thought of going for the lip augmentation process? Wondering how long do the lip fillers last? Well, this article can answer all your queries. If you wish to get fuller lips with the fillers, it is best to prepare yourself beforehand and be aware of the process and risks. Read on to understand all aspects of this minimally invasive process and what to expect from it.
What Are Lip Fillers And What Do They Do?
Lip filler is a cosmetic procedure to give you fuller, plumper, and voluminous lips. Most of the injectable fillers are made of hyaluronic acid, implants, or fats.
Hyaluronic acid is the most commonly used filler as it naturally occurs in the body.
Dermatologists use different types of lip fillers, depending on the look you want and the goal of the treatment, including adding fullness and balancing the lip shape or its structure. Depending on that, they choose brands. In the next section, we have elaborated on the longevity of the process and what you should expect.
 How Long Does The Lip Filler Last? What To Expect?
The dermatologist may use lip fillers like Volbella, Restylane Refyne, Juvederm Ultra, and other brands, depending on the look you want to go for. Here is a snapshot of how long each lip filler may last.
| Lip Fillers | Use And Goals | How Long The Results May Last |
| --- | --- | --- |
| HylaForm | Lip plumping | Up to 6 months |
| Juvederm Ultra XC | For fuller lips | Up to 1 year |
| Juvederm Volbella XC | Lip fullness and softening the appearance of smoker's line around the lips | Up to 1 year |
| Restylane | Lip plumping | Up to 1 year |
| Restylane Silk | Lip plumping and filling the lines around the mouth | Up to 6 months |
| Restylane Refyne | Add soft volume to the lips | Up to 12 months |
| Esthelis | Enhance lip contours | Up to 12 months |
If you have decided to go for lip fillers, consult a doctor and discuss your end goals – what you are expecting from the treatment. Depending on your answers, the doctor will choose the fillers.
Deciding Your Look And Choosing The Injections
Ask yourself what exactly you are looking for:
Do you want defined lip edges?
Do you want fuller lips?
Do you want your lips to appear large, plump, and voluminous?
It always helps to set realistic goals. Hyaluronic acid fillers are widely used to plump the lips.  The body naturally produces it, and when injected as a filler, it attaches itself to the water molecules to plump the lips. Whether you want to add soft volume to your lips or just define the edges to refine their shape and structure, the doctor will pick one as per your need.
This is a minimally invasive process and often comes with minor side effects.
Risks Of Lip Fillers
Immediately after lip injections, you may notice:
For a week after the procedure, your lips may appear lumpy and swollen. However, it is normal and subsides after a few days. If you notice irregularities in your lips, like bruises outside the lip line, consult a dermatologist immediately.
You may also notice asymmetrical lips.
In this case, one side of your lips might be plumper or larger than the other side. Fillers often make the asymmetry noticeable. In such cases, you may need Botox to soften the lip muscles and hide the asymmetry. This procedure is also known as a lip flip.
In rare cases, you may develop a lump called a granuloma, a type of inflamed tissue. However, it can be easily dissolved with hyaluronidase.
Another less common side effect is a blocked blood vessel that reduces the blood flow to your lips and eventually damages the lip tissues. However, this is easily reversible with the help of doctors.
Each patient's experience is unique to them, and they might experience varied post-procedure effects. Hence, it is best to follow up with your doctor. Lip fillers can give you natural-looking results without major side effects.
Benefits Of Lip Injections
Lip fillers:
Are compatible with future innovations.
Provide quick results within an hour of the procedure.
Are non-invasive.
Are quick and less painful.
Even out asymmetry.
Minimize the appearance of fine lines around the mouth.
Are customizable as per your needs.
Are temporary and can be reversed.  
Lip fillers need to be followed up every 6-12 months. They add to your confidence and help maintain your luscious lips. In the following sections, learn everything you want to know about lip fillers, procedure, aftercare, and cost.
Lip Fillers: The Procedure, Aftercare, And Cost
How To Prepare For The Procedure
Consult a dermatologist and discuss your needs and goals. This will help you set realistic expectations. Discuss the subtleties like expected size, size, and volume of the lips you want – how wide or full you want them to be.
The doctor will analyze your lips to check for irregularities and asymmetry and discuss where they might inject the filler and how they will cover the irregularities.
They may also enquire about:
Previous surgeries and treatments
Allergies
Medical history
Use of alcohol or tobacco
What To Expect During The Procedure
The treatment will take up to an hour or less, so get ready to relax and be comfortable.
The doctor applies a numbing cream around the mouth to minimize the pain.
They mark the strategic points around the lips after careful assessment. These are the injection sites for the filler.
The area is thoroughly cleansed with an antibacterial agent.
The filler is injected at the target site.
The markings are erased and an ice pack is applied to alleviate any discomfort or swelling.
Aftercare And Post-Treatment Recovery
Immediately after the procedure, you may notice redness and swelling. This subsides after a few days. Within a day or two, you will be able to return to your day-to-day activities.
Here are a few aftercare instructions that one must keep in mind for a steady recovery:
Apply an ice pack to the lips.
Do not use makeup products for at least 12 hours.
Sleep on an elevated pillow to decrease swelling.
Avoid alcohol and blood thinners for the next 24 hours.
Do not apply pressure or massage the lips for at least two weeks.
Follow the aftercare tips provided by your doctor.
Do Lip Fillers Last?
Lip fillers are semi-permanent and may last for 6-12 months. However, numerous factors affect their longevity, including metabolism, age, aftercare, and maintenance. Here are a few tips for maintaining your lip fillers:
Follow the aftercare advice diligently.
Wear SPF every day and refrain from going out in the sun at peak hours, from 11 AM to 3 PM.
Avoid biting your lips or massaging them too hard.
Do not miss your doctor's appointment.
How Much Do Lip Injections Cost?
Lip injection procedures may cost between $550 to $2000, depending on the type of filler, the area you live in, and the expertise of the doctor or clinic. Moreover, you have to go for multiple sessions depending on the longevity of the fillers.
Lately, lip flips have had their moments on Instagram and TikTok, but what exactly are they? How are they different from lip fillers? Let's find out.
The Difference Between Lip Injections And Lip Flips
Lip fillers are injected directly into the lips to define them and make them fuller and pouty.
Lip flips, on the contrary, do not involve fillers. Instead, the doctors inject a small quantity of neurotoxin (Botox or Dysport) to relax the orbicularis muscle, above the top lip.  As a result, the top lip 'flips' outward, creating an illusion of subtle pout.
This is how a lip flip may look:
Lip flip is good for those who have thinner lips or want to correct a gummy smile without injecting fillers.
Lip fillers help define your pout and give your lips a voluminous, plumper, and fuller appearance. And we hope that this article has helped you get the answer to the longevity of lip fillers. While standard lip fillers may last for six months, some may even last for a year, depending on the lip filler you are using. It also depends on how you care for your lips after the procedure. Therefore, it is best to consult a dermatologist to learn about the side effects and check for allergies before the procedure.
Articles on StyleCraze are backed by verified information from peer-reviewed and academic research papers, reputed organizations, research institutions, and medical associations to ensure accuracy and relevance. Check out our editorial policy for further details.
Key Takeaways
Lip fillers help plump lips, add soft volume, and enhance the contours.
After lip injections, you may notice swelling and bruising for a week.
These injections are quick, not too painful, temporary, and can be reversed.
The following two tabs change content below.