Collagen Supplements: How Long Do They Take To Work?
Get an insight into the timeline of these anti-aging and bone health promoting supplements.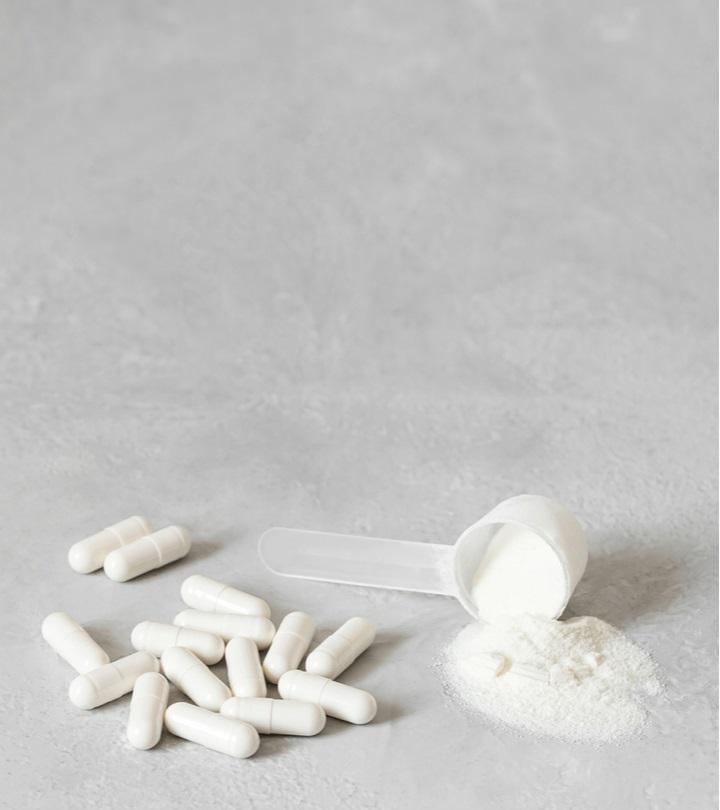 Collagen is a pivotal component of your body. It is present in your joints, allowing you to bend, stretch, flex, and move. However, with age, the body slows down collagen production, which may affect your mobility and skin. However, you may take supplements as collagen supplements work wonders for your skin, hair, and joints.
They are becoming popular because of the various health benefits. Collagen supplements may reduce the aging signs, improve hair texture, and promote joint and bone health.
But are they really effective? How long do you have to wait to see the results? This article discusses the answers to these queries and explains the benefits and side effects of collagen supplements. Keep reading.

Did You Know?
Medical professionals use collagen to treat wounds and burns in plastic surgery.
Why Should You Take Collagen?
Collagen is produced by the fibroblasti  XType of cell that forms the connective tissue and is responsible for the production of collagen in the body. cells in the body. However, this production reduces with age, leading to wrinkles, sagging skin, among other issues. This is where collagen supplements are recommended. These supplements help keep your skin young and glowing for a long time. These are broken down into digestible forms of collagen.
Collagen supplements are usually found in a powdered form and are referred to as hydrolyzed collagen, collagen hydrolysate, collagen peptides, or gelatin.
Taking collagen has quite a number of benefits. Let's discover them in the following section.
Health Benefits Of Taking Collagen
1. May Reduce Signs Of Premature Aging
Collagen density in the skin reduces with age. This leads to wrinkles, fine lines, sagging skin, and reduced skin elasticity. This is where collagen products may help. Studies show that short-term and long-term use of collagen supplements may help in wound healing, increase skin elasticity and hydration, and boost collagen density in the skin.
2. May Help Maintain Joint Flexibility
Joints may lose their elasticity with growing age and reducing collagen. This may also lead to a rigid feeling and pain, making one difficult to move and triggering joint inflammation. Taking oral collagen supplements may help alleviate these symptoms and improve mobility and flexibility in all the body's joints. A study conducted at Penn State University showed that taking collagen hydrolysate supplements may treat joint pain in those with osteoarthritisi  XA most common type of arthritis where joint cartilage and underlying bone degenerates due to wear and tear. .
3. May Heal A Leaky Gut
Individuals with inflammatory bowel disease were found to have lower levels of type IV collagen. Oral collagen supplements might help treat leaky gut. However, more information is warranted in this regard.
4. May Boost Muscle Strength
Taking collagen supplements daily, along with resistance training, was found to promote muscle strength in the elderly. The supplements may also help repair muscle tissue and aid wound healing.
5. May Strengthen Your Hair
Collagen is found in different tissues, including your hair. Some believe that taking collagen supplements may promote hair strength. However, more research is warranted in this regard.
How Long Does Collagen Take To Act?
Listed below are the time periods collagen takes to offer a specific benefit:
 Better skin health and appearance: 1 to 3 months
 Improved muscle mass and strength: 3 months
 Reduced soreness after physical training: Within a few days
 Better joint health: 4 to 6 months
 Better tendon support (combined with strength exercises): 3 to 6 months
 Better bone density: 12 months
 Stronger nails: 6 months
The time collagen takes to act on specific tissues in the body varies.
For instance, collagen may take around 12 weeks to show its effects on skin, but may take twelve weeks to six months to show any effects on joints.
Effects on a localized area of a bone or a joint may take about 12 weeks or 90 days to show.
Collagen supplements take about 48 hours to bring about muscle recovery.
They may take 24 weeks to boost nail strength and reduce brittleness.
Collagen supplements may take about six to twelve weeks to show positive changes on skin. In some cases, a significant increase in skin elasticity was observed as early as four weeks. The longer the use of collagen supplements, the better the skin benefits.
Collagen is available in several forms. Which one should you take?
What Is The Best Form Of Collagen To Take?
Collagen supplements are available in various forms.
The powdered form of collagen is the most popular and most accessible. It is known to get absorbed quickly into the body and also provides best results. Among these powders, hydrolyzed collagen powder hydrolyses easily into any food and drink. You can add it to your morning cup of tea or your workout smoothie.
Liquid collagen supplements are also easy to incorporate into your daily diet. However, measuring them could be a challenge. Nevertheless, they come in a variety of fun flavors and most people enjoy taking them.
Collagen supplements are also available as capsules or tablets that are pre-dosed or pre-measured. But their only downside is that one capsule is usually not enough for a day, and individuals may have to take at least two or more capsules. But the upside is they are convenient and easy to carry with you. Certain collagen capsules are meant for topical application.


Quick Tip
If you are not comfortable with collagen supplements derived from animal proteins, you can opt for vegan products. Check for plant-based amino acids like proline, lysine, or glycine.
Collagen is increasingly being used in skin care and beauty products. However, when applied to skin, collagen does not penetrate it. Topical application of collagen only gives short-term radiance, glow, and a youthful appearance. It is best to take collagen orally for long-term results. In addition, some ingredients like vitamin C that are found in anti-aging and anti-wrinkle creams stimulate collagen production in the skin.
Collagen injections contain bovine collageni  XNatural protein found in the connective tissue of cows used as a supplement and food additive. and equine collageni  XA protein found in the tendons of the horses used in the antibiotics to prevent post-surgical infections. as they resemble human collagen. These injections are commonly used as fillers under the eyes, lips, etc., to give them a fuller look. They also help reduce fine lines, wrinkles, and scars.
Taking the right dose of collagen supplements is crucial. One scoop of collagen powder is usually recommended for healthy skin and can be added to your smoothie or morning drink. You will start noticing effects after two weeks. Marine collagen is preferred for skin health.
You may take 15 gm of collagen daily for muscle strength, and 11 gm of collagen per day to maintain bone metabolism.
However, these dosage values are based on anecdotal evidence. Consult your doctor for more information regarding the same.
What Is The Best Time To Take Collagen Supplements?
You can take collagen supplements anytime during the day. However, following are certain guidelines you can keep in mind:
For skin healing and muscle repair: Take collagen in the evening as complete restoration and healing occur at night. Taking collagen in the evening can also supplement the body's natural healing and repair process.
For weight loss: The best time to take a collagen supplement for weight loss and management is in the morning, preferably before you workout. Collagen may boost metabolism and give you an energy boost throughout the day.
For treating body pain and inflammation: Consume 1-4 spoons of a collagen supplement spread throughout the day for relief and improvement.
Are There Any Side Effects And Risks Of Taking Collagen Supplements?
Collagen supplements are usually safe as collagen is already a part of the body. However, taking more than three scoops per day may result in certain side effects. These include:
 Discomfort in the body in the form of gas or bloating. These symptoms can occur when you take a high dose of collagen.
 Excess thirst may also. If you feel too thirsty, drink as much water as you can.
 Some people may experience headaches, dizziness, or sleeping problems.
 Other side effects people might experience include uneasiness in the stomach, diarrhea, and skin rashes.
Precautions To Take
Collagen supplements are popular, and many people consume them along with other plant-based and food-based protein powders. However, consult with your doctor before taking collagen in any form if you have kidney disease. This is particularly important if you have kidney stones.
The Takeaway
Infographic: All You Need To Know About Collagen Supplements
With collagen currently being touted as the biggest thing in anti-aging skin care, it is only fair that one makes a note of its merits and demerits before including it in their skin care routine. We have listed the benefits and side effects of collagen supplements in the infographic below. Check it out and make an informed decision.


Many people are unsure whether taking collagen supplements works for their skin and overall health. Collagen supplements are generally safe because collagen is a natural component of the human body. However, while they appear to have certain advantages, such as wound healing, increased skin elasticity and hydration, and increased collagen density, further research is needed to assess their long-term benefits and effectiveness. Taking more than the suggested dosage may cause unwanted side effects. As a result, always consult your healthcare practitioner to discover which supplement (including dosage instruction) is appropriate for you.
Frequently Asked Questions
What happens when I stop taking collagen?
While you will not experience any side effects, you may again start experiencing dry skin, brittle bones, joint discomfort, and visible signs of aging after a few weeks.
Are collagen supplements a waste of money?
Consuming collagen supplements daily comes with a bunch of benefits. This includes increased skin elasticity, hydration, and collagen density (2). Consult your doctor to understand the benefits and risks of collagen supplements before you decide to take them.
At what age should I start taking collagen?
Collagen supplements can be taken from 20 years of age. This can help cope with the natural depletion of collagen in the body that usually starts from around 20 to 25 years of age.
Does taking collagen affect your liver?
Although there is limited evidence on the direct effects of collagen on the liver, anecdotally it is said that glycine, an amino acid found in collagen can protect from liver damage, and it protects the liver from toxins. However, research is warranted in this regard.
Are there any collagen supplements that are not suitable for vegetarians or vegans?
Most collagen supplements are animal based. Hence, these supplements may not suit vegetarians or vegans. Instead they can rely on vegan collagen, which is commercially produced by genetically modified yeast.
Key Takeaways
Collagen is a protein that promotes skin elasticity. Its production decreases with age, leading to several skin issues.
Taking collagen supplements may reduce the signs of premature aging and improve skin appearance.
You can take collagen in powdered, liquid, and capsule form.
While collagen supplements are considered safe, they may cause some side effects like headache, nausea, bloating, extreme thirst, and skin rashes.

Uncover some amazing secret benefits of collagen use for health and beauty. Watch this video to learn how collagen can help improve your skin, hair, nails, and more. Check it out today!

References:
Articles on StyleCraze are backed by verified information from peer-reviewed and academic research papers, reputed organizations, research institutions, and medical associations to ensure accuracy and relevance. Read our editorial policy to learn more.
The following two tabs change content below.