How To Apply Black Eye Makeup?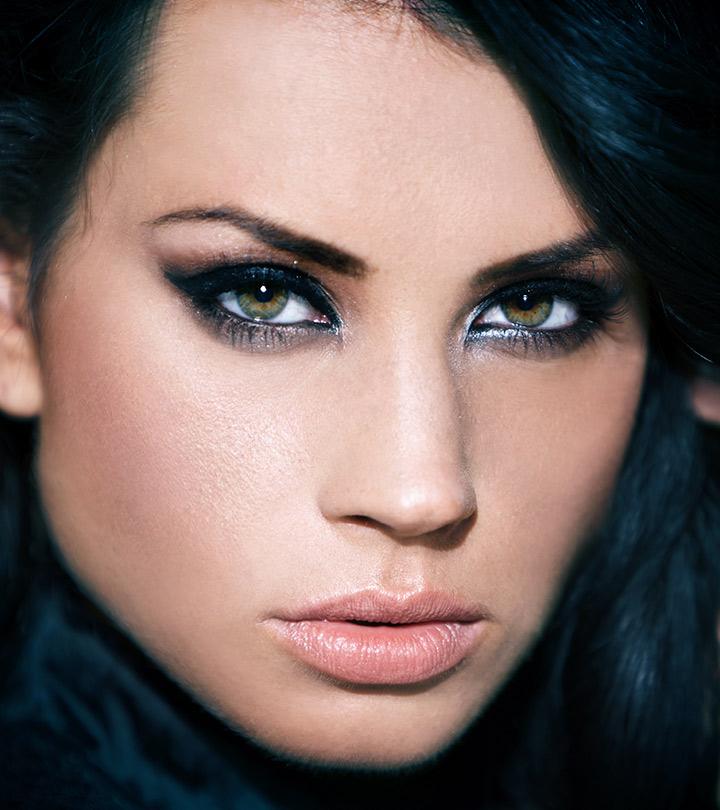 Black eye makeup with black eye shadows and a swipe of thick eye liner has become very popular these days. Previously even use of black eye shadow was a strict no for most girls. But these days' girls love sporting black eye shadows. Black eye makeup can be good for your evening parties and also for any special occasions with a twist such as Halloween party or a costume party.
While doing black eye makeup, no matter which form of black shadow you are choosing for your eye lid, always choose one with matte effect one or something which doesn't have glitters. Matte black eye makeup looks the best. If you want a party eye makeup look with black then you can add loose glitters later on but always make sure you avoid glitters on the base while applying it on the lids.
Here is a tutorial to show you how easily you can do a simple black eye makeup.
Things you will need:
1. Primer (optional) and Foundation
2. Black eye shadow of your choice along with sponge tip applicator or shadow applicator flat brush.
3. A shimmer contrasting colour of your choice –I have used a blue shadow from coloressence.
4. A shimmer silver eye shadow for highlighting.
5. Liquid Liner.
6. Kajal pencil or Kohl or black liner pencil.
7. Mascara
8. Lash Curler Optional
9. False Lashes Optional
10. Eye Brow pencil (preferably in brown) optional-This depends if you have sparse eye brows or if you want to darken your brows.
Black Eye Makeup – Tutorial:
Step 1:
The first step in this black eye makeup tutorial is an important step. On clean eye lids, use some primer if you want your makeup to last for more than 3-5 hours. If you are putting eye makeup for a shorter period of time then you don't need to use an eye primer. Next use foundation on to eyelids and to cover your dark circles under your eyes. Blend well.
Step 2:
Apply evenly your black eye shadow on to whole of the lid with the shadow applicator brush. You may also use your last finger. The last finger being the smallest of all fingers is perfect for blending well an eye shadow.
Step 3:
Now use a contrasting colour on to exactly the centre of the eye lid. This will enhance the effect of black shadow. You can also use dark green or beige or purple or dark peach.
Step 4:
Now re apply the black shadow all over the lid covering the contrasting colour.
Step 5:
Now that you have a ravishing shadow on the lid, cover the rest of the eye from the crease to the brow bones with a shimmer white shadow.
[ Read: Pretty Purple Eye Makeup Tutorials ]
Step 6:
Extend the shadow of the lid in the form of a tail upwards at the exterior for an added effect.
Step 7:
Use liner in moderate to thick form.
Step 8:
Use Kajal or liner pencil or kohl for the lower rim.
Step 9:
Finish off with mascara application.
Step 10:
Curl your lashes with an eye lash curler if you want. This is totally optional. If you are using false eye lashes, then use them before primer application. Eye brow pencil can be applied in a dotted fashion from the innermost area to the outer exterior.
And here is the final look.
Tip:  If you want a glitter finish, then buy a loose glitter powder preferably from Faces .Take it in a dry flat brush, pat off excess and use on to over the black portion of the shadow on the lid. Using brush for a glitter will make glitter stick on to eyes for longer.
Recommended Articles:
The following two tabs change content below.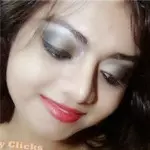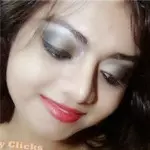 Zinnia
I love makeup,dance,dressing up,singing,writing ,acting (stage drama),eating and nail arts. I live life to the fullest and enjoy every moment as it comes.