How To Apply Cream Foundation?
Hacks to make the most of your cream foundation and get a smooth and even look.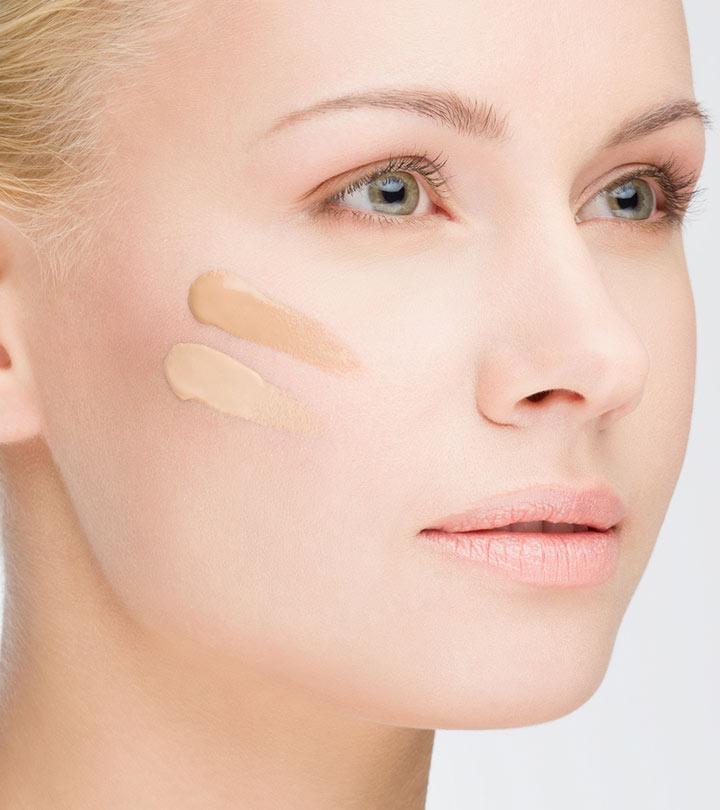 A cream foundation is one of the essential makeup products one should own if one loves makeup. You can apply it without much fuss. But do you know how to apply cream foundations properly to avoid creases or cakey feeling?
Cream foundations are non-messy, travel friendly, and provide better coverage. Out of the various types and textures of makeup essentials, a cream foundation can help you hide blemishes and correct uneven skin tone easily. Keep reading this post to know how to apply a cream foundation correctly. Scroll down!


Keep In Mind
Skin Type: Skin Type People with oily or acne-prone skin should avoid applying cream foundations, as they may clog pores and lead to breakouts.
Skin Tone: Skin Type Choose a foundation shade with pink or blue undertones for a cool undertone, yellow or golden undertones for a warm undertone, and a combination of both for neutral undertones.
Use Tools: Skin Type Applying foundation with fingertips melts the product into the skin, creating a natural finish, but it won't provide as much coverage and precision as of sponge and brush. Use the brush for uniform blending and even application, while the sponge will help you create a natural effect.
Caution: Skin Type Wearing a foundation for long hours can accumulate oil, clog the pores, and lead to breakouts. So, remove the foundation every night before bed with a gentle cleanser to let your skin breathe.
Things You  Need To Apply Cream Foundation
Cream Foundation
Foundation Brush/Makeup Sponge
Moisturizer
Primer
How To Apply Cream Foundation?
Follow this step by step process for applying cream foundation.
Step 1: Cleansing, Toning and Moisturizing
A clean and fresh skin ensures that you have a clean canvas to start with, and gives you an even base. Always follow the cleansing, toning, and moisturizing routine religiously. This is very important to maintain healthy and supple skin. Before you begin Step 2, ensure you give a gap of 3 to 4 minutes after this procedure for the moisturizer to get absorbed into the skin.
Step 2: Apply Face Primer
Apply a face primer, regardless of your skin type. The primer works as a base for your makeup. It bridges the gap between makeup and skin care. If you want your makeup to last longer, then do not skip this step. You can use your fingers or a brush, to apply the primer.

Quick Tip
Cream foundations are suitable for dry skin types. Unlike powder and liquid formulations that make dryness on the skin more visible, cream foundations spread and blend more easily.
Step 3: Apply Cream Foundation Using Sponge
You can use a makeup sponge or a brush to apply the cream foundation. If you are using a sponge, load the product onto the sponge, and apply it from the center of the face, blending it outwards. The strokes and techniques are very important for ultimate smoothness. So, either dab or pat the foundation into the skin. Ensure that you blend it really well to even out your complexion and do not overdo it. Less is always more, so apply layer by layer, depending on the desired coverage.
Step 4: Blending The Cream Foundation Using Brush
The best way to apply cream foundation is by using a brush. Start the application from the center of the face, blending it towards the cheekbones, and then on the forehead. The strokes can be in either a stippling motion or a circular motion. For cream foundation, a synthetic duo fibre brush works the best. Real Techniques and Sigma brushes are good choices.
Step 5: Apply Loose Powder
Apply a layer of loose powder or translucent powder to finish the look. You can also use a setting spray to set and extend the life of your makeup.

Quick Tip
Cream foundations have a scope for coverage control. You can use it for sheer coverage for natural looks and full coverage for bolder looks.
Best Choices For Foundation Cream For Face
Kryolan's Ultra HD cream foundation is one product you should invest in. It gives you full coverage, and leaves your skin feeling light.
Studio Tech by MAC is another cream base foundation that works brilliantly for oily skin. It gives you medium to full coverage, and provides a matte finish. It comes along with a foundation sponge.
Bobbi Brown's stick foundation provides a unique, transparent base, and skin tone correcting pigments for an impeccable, natural look. It is creamy and light that makes the application effortless and seamless, and helps you achieve fresh, smooth, and even skin. It is available in 24 shades.
Lakmé 9-5 flawless crème compact is a crème to powder finish formula. It blends effortlessly and blurs the imperfections, giving your skin an incredible matte finish all day long. It provides full coverage.
MAC Mineralize SPF 15 foundation gives you medium coverage and a satin finish. People who have dry and sensitive skin can rely on this.
A cream foundation is an ultimate necessity for your makeup pouch. So, once you have it, make sure to clean your face, tone, and moisturize it before beginning the makeup session. And always use a sponge to apply the foundation to get a flawless finish. After all, you do not want your makeup to appear cakey. So, the key is to blend, blend and blend! Apart from this, make sure you have adopted a healthy lifestyle too. Your skin health plays a major role in how you look. So a skincare routine is a must.
Infographic: A Simple Guide To Applying Cream Foundation
Non-greasy and light makeup is every girl's dream. A cream foundation will get you one step closer to this dream. It is not messy, hides your blemishes, and is easy to apply. However, you need to know how to do it properly to prevent creases and cakiness. Check out the infographic below for a simple guide to apply cream foundation like a pro.


Frequently Asked Questions
Can you mix cream foundation with liquid foundation?
Unless a beauty professional suggests, it is better to refrain from mixing different foundation textures.
Do you put foundation under your eyes?
You can apply foundation under your eyes to make the skin even and prepare it for further makeup application.
Can we apply foundation with cream?
Yes, a cream can help seamlessly blend the foundation into the skin and create a natural-looking finish.
How do you apply cream foundation to your fingers?
Start by thoroughly washing your hands to remove any dirt or oil. Then, use your fingertips to dot the foundation onto your face, starting in the center and blending outward. Use gentle tapping motions to evenly blend the foundation into your skin.
What is the difference between liquid and cream foundation?
The main difference between them is their consistency and coverage. Liquid foundation is thinner in texture and provides a light to medium coverage, while cream foundation has a thicker, creamier consistency that offers more coverage and is buildable. Additionally, cream foundation is better suited for those with dry skin, while liquid foundation may be a better choice for those with oily skin.
Key Takeaways
Cream foundations offer better coverage, and choosing the right shade for your skin tone is the key.
A gentle moisturizer can be used on the face before applying the foundation to ensure even application.
The use of a sponge or brush to apply the foundation makes the blending process easier. It should be applied from the center of the face towards the edges.
A translucent loose powder at the end of the process increases the longevity of the foundation.

Want to learn how to apply cream foundation like a pro? Watch the video below and follow the easy steps to get a flawless look.

The following two tabs change content below.