How To Apply Eyeshadow Like A Pro: Tutorial With Pictures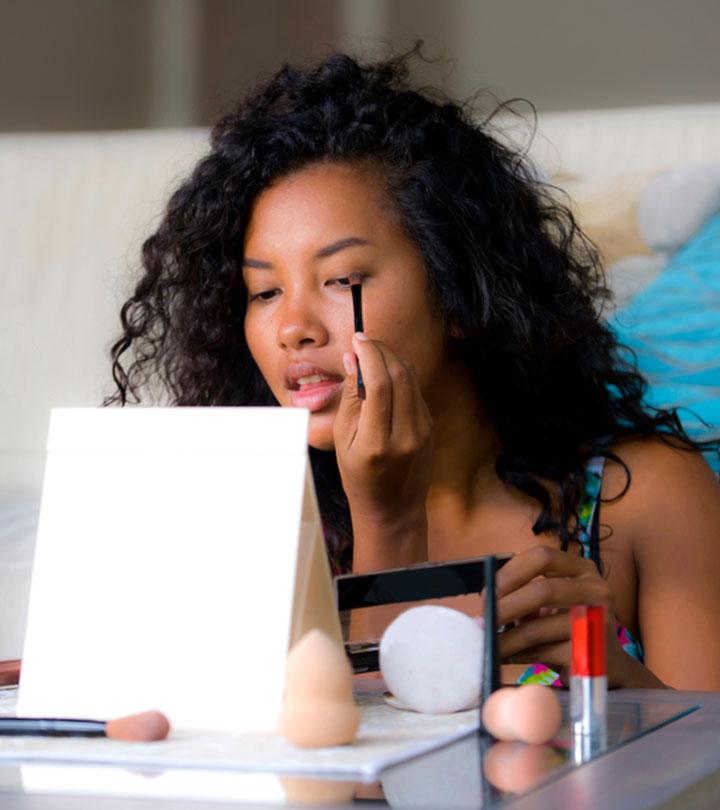 Eyeshadows can be a gamechanger when it comes to makeup. But you need to know how to apply it correctly to lift and define your eyes. You must trace the right shape, add crease color, highlight the inner eye corner, and blend it well. Check out the step-by-step illustrated tutorial in this article to amp up your eyeshadow game from novice to pro. Keep scrolling!
How To Apply Eyeshadow – Tutorial With Pictures
Eyeshadow can add a ton of depth and dimension to your eyes. The key to proper eyeshadow application lies in blending the colors well. Once you get the basics right, you can experiment with whatever look you fancy – be it smokey eye, cut crease, or glitter halo!
What You Need
Eyeshadow primer
A nude eyeshadow
Medium brown eyeshadow
Burgundy eyeshadow
Fluffy blending eyeshadow brush
Brown kohl liner
False eyelashes
Mascara
Step 1: Apply Eyeshadow Primer
To start off with a fresh and clean base, the first thing you need to do is apply an eyeshadow primer to your lids. Prepping your lids is a must if you want your eye makeup to stay in place and last through the day.
Pro Tip: If you don't own an eyeshadow primer, apply a concealer. Top that up with some translucent powder to create your own makeshift eye makeup primer.
Step 2: Apply A Nude Base
Using a fluffy blending eyeshadow brush, apply a nude shadow that complements your skin tone and blend it in thoroughly. This step helps maximize the longevity and intensity of the colors you use in just about any look.
Step 3: Enhance The Crease
Apply a medium brown-toned eyeshadow to your crease using a fluffy blending brush. Add some color to your lower lash line and blend it out well, especially towards the outer corners.
Pro Tip: To contour your eyes at the crease, always use a darker shade of eyeshadow.
Step 4: Add Some Color
Apply a dark burgundy eyeshadow, focusing the color just on the outer corners. Gently extend it past your crease for a smokey effect. Use the same color on your lower lash line as well. A fluffy brush is your best bet to smoke out the color while blending the shadow beautifully.
Step 5: Create A Gradient
Apply the nude eyeshadow that you used in the second step to your lids. Also, use the nude shadow to blend out the edges of the burgundy eyeshadow for a softer effect.
Pro Tip: Using a nude shadow is the easiest way to make your eyeshadow look super blended and clean.
Step 6: Define Your Lower Lashline
Apply brown kohl to your waterline. Make sure to really smudge it in to achieve that gorgeous smokey effect.
Step 7: Amp Up Your Lashes
You can add a pair of falsies for a more glamorous effect. Apply a heavy coat of mascara on your lower lashes to balance the top and the bottom.
Now, finish the rest of your makeup! Do your base, add some bronzer, highlighter, and nude lip color to complete the look.
The Final Look
Stunning, right? This simple eyeshadow application technique works for all kinds of looks – a fun and bold look, a party glitter eyeshadow look, or an everyday muted look. The only difference in the application of light and dark eyeshadows depends on your eye shape, crease, and whether you have low or high eyebrows.
If you have hooded eyes (the eyelids get hidden when you open your eyes), you may need to create an illusion of a larger eyelid with a higher crease. Here's a video on how to apply eyeshadow if you have hooded eyes. Take a look!
How To Apply Eyeshadow For Hooded Eyes (Video)
The best way to apply eyeshadow for hooded eyes is the famous "cut crease" technique. It helps create an illusion of a higher crease and a larger eyelid area. Check out this video for a fun, party glitter eyeshadow look with pro tips on creating a cut crease.
No matter your eye shape, the right eyeshadow plays a significant role in achieving the look you desire. Scroll down to know how to choose the right eyeshadow.
How To Choose The Right Eyeshadow
Choosing the right eyeshadow can be confusing, especially when several textures and shades like powder, creme, liquid, putty, jelly, and pastel colors are available on the market. Before you buy any of these on a whim, ask yourself the following questions:
Is your eyelid oily? If yes, it is best to avoid cream and jelly eyeshadows.
Do you have sensitive skin around the eyes? If your eyes tend to itch, become red, or water quickly, do not apply chunky glitter and neon eyeshadows.
Do you have a few basic shades? It is a good idea to start with a few basic shades. Black, brown, burgundy, base shade (matte pink and yellow, camel-toned colors), and a highlighter color (gold, champagne, and pearl) can help achieve various looks like smokey eyes, cut crease, and party pop.
Do pastel shades look chalky? Like it or not, pastel shades do not look flattering on all skin tones. They can appear chalky, and the color may not be visible at all. The trick is going from mid-range to higher-end pastel eyeshadows. You consult a makeup advisor to find the pastel shades that best suit your skin tone.
Cool or warm tones – what looks better? What's your undertone – cool, warm, or neutral? If you have a warm undertone, go for warm eyeshadows with yellow, orange, warm-toned pink, green, and brown hues. For a cool undertone, eyeshadows with blue undertones are ideal. Neutral undertone eyeshadows can be worn by everybody.
What's the occasion? For parties, choose glitter or bold/neon colors. For work or school, pastels and muted neutral shades look better.
Quick Tips to Apply Eyeshadow Perfectly
To define the crease area, use a pencil brush and blend it with a fluffy brush.
You can use cream eyeshadows as a base for powder eyeshadows.
Apply eyeliner to your eyelids to create a base for green, blue, and gold eyeshadows to pop more.
Use a setting spray to wet your eyeshadow brush if you are working with metallic eyeshadows.
Apply glitter eyeshadows with your fingers for a better payoff.
If you have trouble drawing the 'V' on the outer corner of your eyes, draw a '#' with an eye pencil instead and blend it immediately to avoid stark edges.
To avoid eyeshadow fall out, powder the area under your eyes with a transparent or translucent powder before beginning the eye makeup. Once you are done, simply sweep off the powder.
You can also conceal your under-eyes after doing your eye makeup.
Use clean brushes to blend two colors for the best transition effect.
It is always good to finish your eye makeup first and then move on to your base makeup. That way, if there is any eyeshadow fallout under or around your eyes, you can quickly clean it up without spoiling your base makeup.
Eyeshadows are an essential part of eye makeup. They tell a lot about your personality and moods. No matter the shape, size, and type of your lids, as you keep experimenting with the art of shading your lids, you will learn to recognize which techniques work best for your eyes. So, why delay any further? Go! Get yourself a palette, some eyeshadow brushes, and get down to business. Flaunt your skills and stunning eyes the next time you and your gang meet up.
Frequently Asked Questions
What color eyeshadow should be used for blue eyes?
It is better to use soft, neutral tones like coral and champagne for blue eyes. Avoid anything too dark, like black.
What color eyeshadow should be used for brown eyes?
Neutral shades like copper and bronze accentuate the brown color of your eyes. Try adding a bit of a dark shade in the crease to deepen the look and add intensity.
What color eyeshadow should be used for hazel eyes?
Opt for metallics, pastels, and dusty pinks.
What are the best eyeshadows for mature eyes?
For mature eyes, it is best to use shades that make your eyes look brighter. Using too many dark colors will make you look tired. Opt for light shimmer shades.
Key Takeaways
An eyeshadow can turn up the heat in your makeup game.
To achieve the desired results, you will need some primer, different eyeshadow colors, a brush, a liner, false eyelashes, and mascara.
You can also learn to apply eyeshadow on hooded eyes using the cut crease technique.
You need to consider a few factors when choosing an eyeshadow, like your eyeshadow consistency, finish, colors, and skin tone and type.
The following two tabs change content below.