How To Make Your Lipstick Last Longer – Procedure To Follow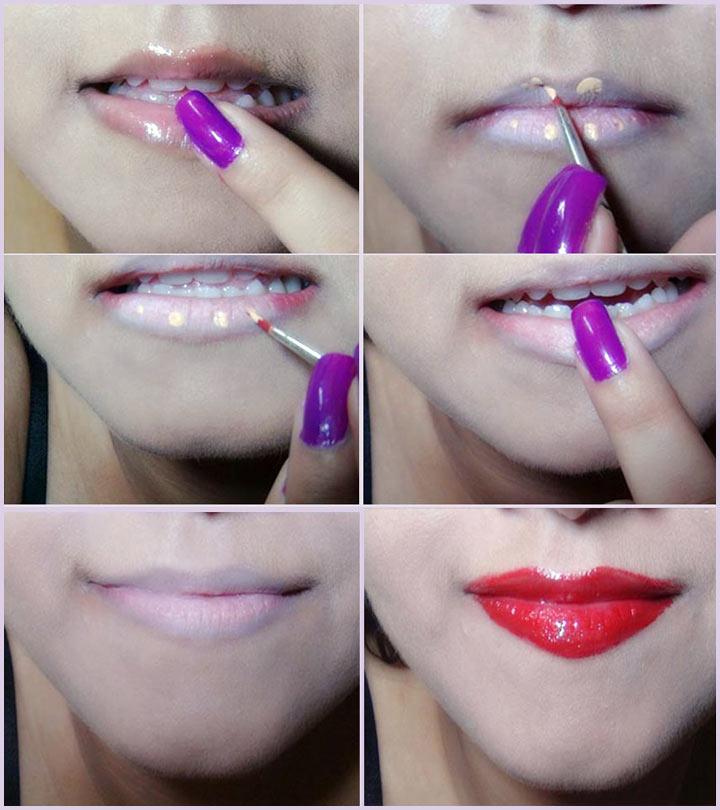 If you are tired of your fading lip shades and wondering how to make your lipstick last longer, we have some foolproof tips for you to try.
A single stroke of lipstick is not enough. A little prep and moisturization before application, knowing how to draw a good lip liner, and setting a firm base are equally important to ensure your fave shade remains smooth and fresh. Take a look below for helpful tips!
Why to use a foundation for your lipstick:
Applying a foundation on the lips will help your lip colour stay in place and not smudge easily.
Alternatively, if you are using a concealer on your skin, use it on your lips too.
Using a foundation or concealer on your lips will ensure that the colour stays put for long and does not transfer. It will also give more colour payoff to your lipstick.
Some issues while applying foundation on your lips:
There can, however, be a little makeup glitches while you are applying a foundation on your lips. Here are the most common ones that you may face:
The foundation can start to look blotchy on your lips
Those with cracked or very dry lips can face a lot of problem while applying foundation on the lips as this will make your cracks prominent.
A proper application of the foundation will ensure you do not face the above problems. The end result will be professional and your makeup will last much longer.
Things you will need for applying a foundation on the lips:
An old toothbrush or you regular tooth brush
A bowl of warm water
Lip Balm
Your Concealer
Your Foundation
Your regular lip liner, lipstick and gloss
Procedure:
Step 1: Removing the dead skin from the lips
Dip your used toothbrush into warm water for 2 minutes to make it softer.
Use only a used tooth brush, preferably the toothbrush that you are using on a daily basis.
You must not use a hard or a new toothbrush because it will only erode the skin surface much more. A hard toothbrush will make your lip's skin even more dry and painful later on.
Use the tooth brush on your lips gently in circular motions to get rid of all the dry skin flakes.
Step 2: Hydrating your lips
Apply a lip balm generously and massage well.
Let it sit for some time before applying any other product
A great way to keep your lips nourished is by regularly applying a good lip balm each night before going to bed.
Step 3: Concealing and blending
Step 4: Applying foundation on the lower lips
Use your foundation with the help of your lip brush
Apply it in small dots on the lower lips. This will give you more precision in applying foundation. It will also make sure that you do not go overboard, which usually happens when you apply foundation on the lips with your fingers.
Step 5: Applying foundation on the upper lips
Follow the same procedure for your upper lips.
Step 6: Blending
Very carefully blend in the foundation so that it covers the entire area on your lips.
Blending should be done with gentle hands and not harshly using circular motions.
Pat it in lightly.
Do the same as you move from one corner of the lips to the other
Step 7: Concentrate on the cupid's arrow
Carefully blend well with the cupid's arrow or the "V" of the lips.
Do not go overboard.
Make sure your movements are light so that the product does not get wiped off.
Step 8: Lip Liner
Follow this with your normal lip liner application.
Now fill in your lips using your lip colour.
How this helps
This procedure will help your lip colour stay on longer and smudge less as the base of the foundation and concealer will hold in the product better.
Life would be easier if applying lipstick was as straightforward as running a layer of lip balm over your lips. But if you want your lipstick to be consistent throughout the day, you must do a couple of things before applying it. This article tells you how to make your lipstick last longer by following some easy steps before applying your lipstick. All you need is an additional concealer and a foundation. This hack has a magically long-lasting effect, and you will be grateful for it. Try it out today!
The following two tabs change content below.