How To Apply Lipstick On Slimmer Lips Perfectly?
Follow these steps to accentuate your lips to give them an alluring, plump look.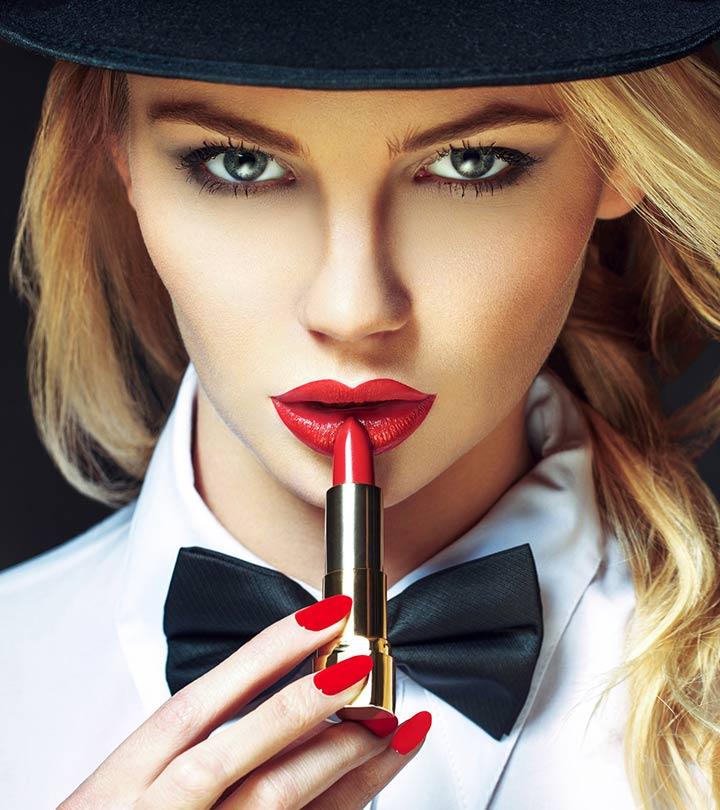 Not everyone is blessed with juicy plump pouts. But if you know how to apply lipstick on slimmer lips, you can accentuate your natural features too. The right shade of your lip stain and texture of lipstick can take your appearance from drab to fab instantly. And trust us, you do not need naturally fuller lips to create an appealing look. Just a smooth glide of your lip shade will do the trick to make your lip plumper. With the help of this simple lip treatment, you can always be pout ready. Scroll down for the deets.

Trivia
Hollywood celebrities like Emma Watson, Kirsten Dunst, Michelle Pfeiffer, Blake Lively, Diane Krueger, and Heidi Klum have thin lips and refuse to use cosmetic procedures to make them appear any different.
Things You Need To Apply Lipstick for Slimmer Lips
Lipstick
Lip Liner
Lip Brush
Lip Gloss (optional)
How To Apply Lipstick On Slimmer Lips?
Follow this step by step tutorial to apply lipstick to slimmer lips perfectly.
Step 1
Examine your lip shape before you start applying the lipstick. Check if your bottom lip is slimmer than your upper lip, or vice versa.
Once you have analyzed your lip shape, prep your lips with a lip conditioner or a lip primer. This provides a smooth and even base, and facilitates effortless application.
Start by using a lip pencil as it gives you perfect control and enhances the lip shape. Ensure that you have sharpened your lip pencil.
Step 2
Start the application by lining the cupid's bow. Gently draw a line across the peak of the lip and contour the lip till the corners.
In this tutorial, I am overdrawing the lip of the model, staying close to her natural lip line.
Create soft lines instead of crisp lines so that your lips look naturally full.

Step 3
After you are done with the upper lip, start with the lower lip.
Starting from the corners, gradually draw the line till the center of the lips. Use short strokes to draw the line.
Since I have overdrawn the upper lip slightly, I am going to retain the lower lip shape to maintain the balance.
Now, fill the entire lip with the same lip pencil.
Filling the lips with a lip liner makes your lipstick last longer.
Step 4
The best way to apply lipstick is by using a lip brush as it facilitates precise application. Fill the lips using short strokes with the brush, and blend the lipstick evenly everywhere.
The last step is to dab a concealer on the corners and edges of the lips with a brush. This technique adds definition to your lips and makes them look neat.

The Final Look
Finish the look with a swipe of lip gloss. Layer it up for a fuller look.


Quick Tip
Dab a little lip color with some glow or shine in it right on your cupid's bow to highlight it. The shiny color reflects light and makes the lips appear more plump.
Important Tips To Apply Lipstick On Slimmer Lips
Take a soft bristle toothbrush or a warm wet cloth and gently rub over your lips. This DIY lip scrub will remove dead cells, exfoliate, and reduce the occurrence of chapped lips.
For healthy lips, you need to moisturize them. Rub a hydrating lip balm or petroleum-based moisturizer like vaseline or aquaphor on your lips before you go to bed.
Dab a cream-based highlighter on the cupid's bow with your fingers to create the illusion of thicker lips.
Best lipstick shades for slimmer lips – Use shades like pinks, reds, and nudes as they tend to make the lips look fuller.
Avoid using lip colors in metallic or shimmery textures as they don't make the lips look naturally full. Instead, use matte or satin finish lipsticks and lip liners as they help to disguise the fact that you have overdrawn the lips.
You can be sure that applying lipstick on slimmer lips is not that difficult. All you need is precision and a little bit of patience. You may not get it right initially, and it is okay because makeup is an art, and it requires time to perfect. After a couple of trials, you will be good to go; trust us on this! So know the shape of your lips, apply the lip conditioner or primer, and get ready to create magic with the help of our tips and tricks.
Frequently Asked Questions
What color lipstick makes lips look bigger?
You can use light or nude colors to make your lips look bigger.
Can thin lips wear dark lipstick?
Wearing dark lipstick may make thin lips look slimmer and stand out in an unflattering way.
Key Takeaways
Choosing the right shade of lipstick can make all the difference and give your lips a fuller look.
You can experiment with different lip shades and use a lip liner that matches your lipstick to outline the lips.
A lip brush offers precise application and is used to apply lip hue evenly.
A concealer or highlighter helps enhance the lips as well as soothes them.