How To Apply Mascara Like A Pro (Best Beginner's Tutorial)
Volumize and flaunt your fluttering lashes with a good mascara and a few simple steps.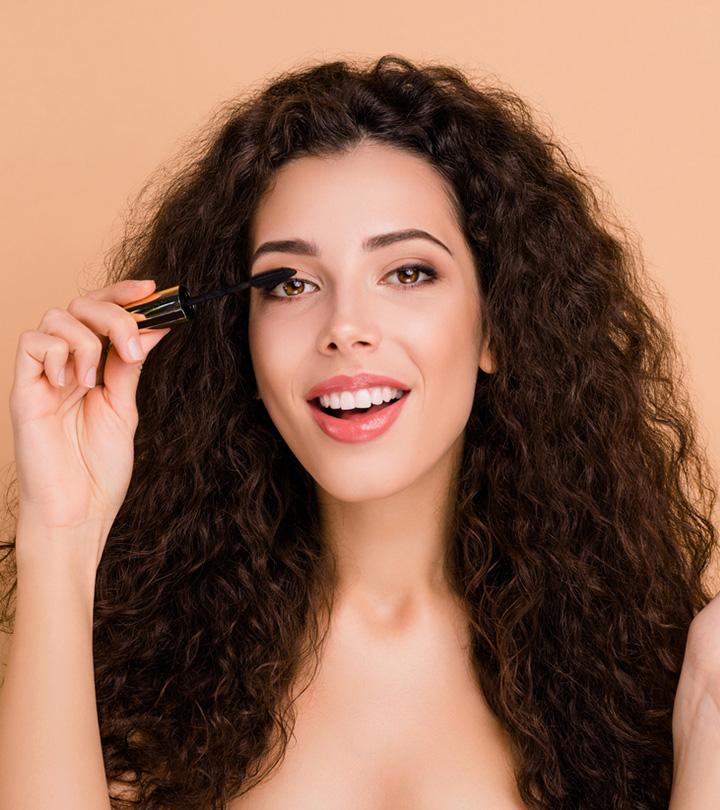 Thick eyelashes add drama and intensity to your eyes. If you know how to apply mascara, you can achieve that look effortlessly. Makeup enthusiasts and experts know that a swipe or two of the mascara can remarkably affect the length and volume of eyelashes and help you achieve a stunning appearance. But beginners need guidance with the application process, and we are here to help. Swipe up to know more!


Keep In Mind
Formula/Technique: Formula/Technique There are different types of mascaras available in the market, such as volumizing, lengthening, and curling mascara.
Use Mascara Primer: Formula/Technique Apply a mascara primer to clean eyelashes. It will open the eyes by adding length and volume to the lashes and provide a smooth and silky base for the mascara application.
Expiry Date: Formula/Technique Mascaras have a shelf life of three to six months. Check for the mascara's expiry date before applying it to the lashes to avoid infections.
How To Apply Mascara – Tutorial With Pictures
Applying mascara can be a little intimidating, especially with the weird-looking applicators. But the tapered top and the stiff bristles of the mascara wand is the formula to help you reach every eyelash to give them a fuller appearance and make your eyes look big. However, the wrong application techniques can smudge the mascara and clump your eyelashes if it is not waterproof or smudge-proof. The solution? Scroll through the following tutorial, and you will become a mascara pro in no time!
What You Need
Step 1: Start With Clean Eyes And Lashes
Ensure the lashes do not have any trace of makeup. A clean base is always good to prevent clumping.
Step 2: Curl Your Lashes
Look straight and hold the lash curler at the base of your eyelashes (but not too close). Now, look down and gently press the eyelashes. Do it thrice as you move up towards the tip of your lashes. You may choose black or brown for application, depending on your need.
Tips: Another way to curl your lashes is to place your index finger at the base of your lashes, look down, and hold them for 6 seconds. Do this if you are uncomfortable using eyelash curlers.
Step 3: Start From The Middle
Open the mascara tube and wipe off the excess product on the applicator. Look straight at the mirror and place the applicator at the base of your lashes. Move the applicator upwards to coat your eyelashes from the base to the tip. You can "wiggle" the applicator to ensure it coats the eyelashes uniformly.  


Quick Tip
Always twist the mascara applicator out of the tube to ensure even coating on the tool. Also, avoid pumping the applicator in and out of the tube multiple times as it may quickly dry out the mascara in the tube.
Step 4: Move To The Corners
Now, the tricky part – coating the corners of your eyes. Use the applicator tip to cover the corner eyelashes. Coat them evenly from base to tip. This way, you will prevent smudging or transferring mascara.
Step 5: Use A Clean Spoolie Brush To Prevent Clumping
Comb your lashes down and then up with a spoolie brush or a lash comb to prevent clumping. Do it before the first coat of mascara dries completely. 
Step 6: Apply A Second Coat
Follow the same technique to apply a second coat of mascara.
The Final Look
Enjoy the long and full lashes that give an illusion of false eyelashes!
This mascara application technique works well for the upper lashes. But what about the lower lashes? Well, we have you covered! Here's a quick tutorial on applying mascara to the lower lashes perfectly. Scroll down. 
How To Apply Mascara On The Lower Lashes (With Pictures)
The lower lashes tend to be shorter, finer, and sparser than the upper lashes. It is difficult to follow the same mascara application technique without smudging or transferring the product. Here's an easy tutorial on how to apply mascara to the lower lashes like a pro.
Step 1: Place A Tissue
Tilt your head down and look straight in the mirror. Place a tissue under your lower lashes to protect the under-eye area.
Step 2: Start From The Middle
Wipe off the excess mascara and apply it to the middle portion of your lower lashes.
Step 3: Coat The Corner Lashes
Coating the corner lashes can be tricky. Hold the wand vertically and use the tip to coat each lash in the inner and outer corners of your eyes. This technique works best for shorter or finer lashes on the lower eyelid.
The Final Look
Don't your eyes look bigger and more open? In fact, your eyes also get an illusion of "lift" without using any other beauty cosmetics on them.

Did You Know?
The first mascara ever used were designed by Victorian women at home using lampblack or ash and elderberry juice. However, it was in the 19th century that the first commercially viable mascara was invented by the chemist Eugène Rimmel using petroleum jelly as a primary ingredient.
For beginners, these two tutorials are a great way to practice and quickly master the mascara application technique. It works for all eye shapes and lashes. But most Asian eyelashes are harder to curl, even with mascara. So, what should you do if you have a monolid? Here's a video with a life-changing mascara tip for beautiful Asian eyes. 
How To Apply Mascara On Monolids (Video)
Asian eyelashes are mostly straight and do not remain curled for long. But those days are going to end for you now! Here's a foolproof way to curl your lashes, apply mascara, and keep them curled all day long – without any clumps or transfer. Check out the following video:
A little change in your mascara routine can keep your lashes curled. Here are the top 15 lash primers you can check out. You are not a mascara pro unless you know the common mistakes to avoid. 
Mistakes To Avoid
Curling Your Lashes After Applying Mascara: If you love your lashes and don't want them to fall off, do not curl your lashes after applying mascara.
Applying A Second Coat After The First Coat Has Dried: It will only make a mess and clump the lashes.
Using Expired Mascara: You don't want a pink eye, do you?
Using Someone Else's Mascara: It is unhygienic and may transfer bacteria from the mascara to your eyes.
Talking Or Checking The Phone While Applying Mascara: If you are not looking forward to poking your eye, do not talk or get distracted while applying mascara.
Applying Mascara In A Moving Vehicle: It will help you avoid poking your eyes and ruining your entire makeup.
Not Wiping The Excess Mascara On The Applicator: Excess product on the applicator and your lashes can cause clumping.
Not Removing Mascara At The End Of The Day: Going to bed with mascara on is the easiest way to shed eyelashes quickly. If you don't want that, use an oil-based makeup remover to wipe off any trace of mascara from your eyelashes. 
Infographics: 6 Easy Steps To Apply Mascara Like A Pro
Applying mascara might turn out to be a bit of a disaster for a beginner, ending in a clumpy, sticky mess. We are here to assist you with a step-by-step guide to master mascara application. Check out the infographic below.


Know that precision is the key to apply makeup the right way. Makeup is an art and it requires patience and skills to ace the art. So, do not get disheartened by the initial failed attempts. Practice till you succeed. Learn how to apply mascara from this article and rock your gorgeous eyelashes like never before. Do not forget to clean your eyelashes before applying your mascara. Also, once you are done for the day, remove the product gently before going to bed. Remember: aftercare is extremely important.
Frequently Asked Questions
Is it okay to wear mascara every day?
Wearing mascara daily increases the risk of damaging the eyelashes or clogging the oil glands that line the eyelids. However, if you need to wear mascara every day, you must carefully remove all of the product to prevent buildup. You must also moisturize your eyelashes when you are not wearing mascara to keep them healthy.
Are you supposed to let mascara dry in between coats?
Yes, you need to let the first coat of mascara slightly dry before applying a second coat. However, the timing has to be correct, with the ideal wait time between two coats of mascara being 30-45 seconds. If the first coat dries too much, the second coat may appear clumpy.
What are the disadvantages of mascara?
Using a mascara may increase the risk of getting an eye infection and of eyelashes falling out and having dry and weak eyelashes.
How do I choose the right mascara for my lashes?
Opt for a mascara with a skinny or comb brush that aids in even application and features lash-thickening, waterproof formula for a long-lasting look.
How do I remove mascara without damaging my lashes?
Ensure to soak your lashes in a makeup remover solution properly to help dissolve the mascara minimal tugging. You can also use olive, jojoba, or coconut oil to remove the excess mascara and hydrate the lashes as well.
Key Takeaways
It is advisable to clean the eyes and lashes before applying mascara to remove all traces of makeup and avoid clumpy eyelashes.
A curler can be used to curl your lashes. Mascara should be applied from the center, gradually moving towards the corners of the eye.
You can fix clumping mascara by combing your lashes with a lash comb and separating them with a spoolie.
To apply mascara precisely to your lower lashes, place tissue paper against your lower eye area.
Learn how to apply mascara like a pro with this easy-to-follow tutorial! Get the perfect look with tips and tricks from experts.
The following two tabs change content below.