How To Ask A Girl To Be Your Girlfriend – Cute & Easy Ways
Smart ways to pop the girlfriend question without coming across as clueless and nervous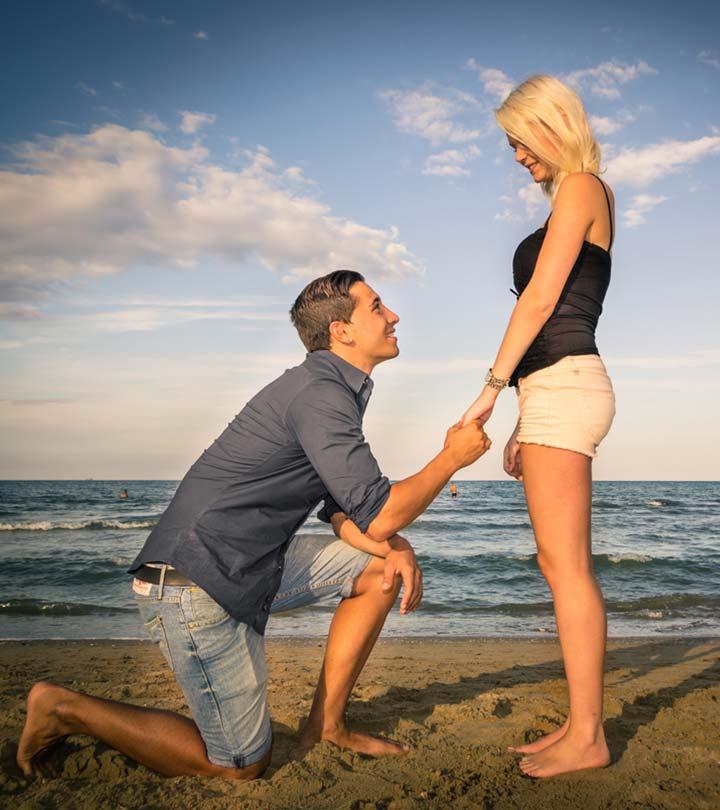 If you want to know how to ask a girl to be your girlfriend, you have landed on the right page. Be it a good friend or a girl you have had a crush on for a while, proposals are no cakewalk. It can be quite tricky to find out whether the girl likes you back. And even in a positive situation, putting together the right words to ask her to be your partner can be daunting. The entire dynamics with this girl will change once the question is asked. Therefore, you need to be as careful as you possibly can be. So, if you are nervous, scared, and excited at the same time, we get you. The thought about whether she will be accepting of the courtship is pretty nerve-wracking, but we suggest not traveling to the panic station. It is an intimidating situation, but that does not make it less adorable. There are a number of ways to ask a girl to be your girlfriend and we have put together a list of tips and ideas to help deal with this proposal in a calculated and sensitive way. This article will provide you with the necessary information and inspiration to finally ask your girl to take the relationship to the next level. Swipe up!
Three Cute Ways On How To Ask A Girl To Be Your Girlfriend
So, keeping all that pressure and nervousness aside, you must know that the more genuine efforts you put, the better chances of you getting an answer from her in the affirmative. Right? Hmm. What does it mean, then? It means you can never go wrong when you drop that question like an adorable soul. This also means, apart from using cute phrases and all that, you got to infuse cuteness into gestures as well. So let's get started and find out some cute ways to ask someone to be your girlfriend:
 Surprise With A Song: Do you sing well or play the guitar? A ukulele works wonders, too, since it is massively trending these days. And if you are into writing, you are already good to go. Sing any song that's relatable to your situation, or write one for the girl you want to have as your girlfriend. Add charm to the process by playing a soothing musical instrument and end the song with the question. She's probably already on cloud nine and waiting to say "yes." Yayy!
And those who couldn't tick the aforementioned requirements, you do not have to feel left out. Whether or not you are a singer or a writer or can play any musical instrument, this tip works for all because it is the thought that counts. Maybe you could learn the basics beforehand and strum those six strings and hum a song that makes you see your feelings crystal clear. Trust me; even if you don't perform like that pop star she's crushing on these days, she'll blush as red as a cherry and feel lucky to experience the sweetest proposal that you just offered her.
 Balloons For The Win: When they say that diamonds are a girls' best friend, they probably forget about balloons. Yes, mate, you heard me. Balloons are girls' best pal, period. Okay, now that you know this, go get some cute balloons and listen to us carefully, for we are here to plan out some cute ways to utilize them for your big day. One, you can blow the balloons, hold them outside facing her balcony, and flash at her a beautiful card that carries the question in bold for her to see it from her room. Doing this right after she wakes up from her beauty sleep is a better option, so she sees it first thing in the morning. Oh, and don't forget to ring her to come to the balcony, though. Else, you might end up standing there aimlessly till dawn if she doesn't come out.
Second, you can make your partner pop the question herself. Yes, literally, you can. Write the question, maybe on a sticky note or any colorful piece of paper, shove it carefully into a balloon, and ask her to find out the surprise by popping all the balloons one by one. This will build up the suspense for her, and once she pops the right balloon and reads the message, she'll love it more than anything.


Quick Tip
Take her by surprise after a romantic date. It is a fantastic opportunity to ask her to be your girlfriend since you will both be in a happy and romantic mood. Look her in the eyes and express your feelings to her in as much detail, honesty, and vulnerability as possible.
 With A Customized T-Shirt: Now, this is a simple yet smart move to add romance to your cute proposal. Fetch a nice and clean t-shirt and get it printed with the big question on it. You might want to print it yourself too. She'll love the effort. Once done, put it on, and make sure to cover it up with a shrug or a jacket because when you go meet her wearing it, she doesn't get to see it first thing. Upon having her by her side, take the shrug or jacket off and stand right there facing her, allowing her to read the message clearly. And that's it. She HAS to say "yes" to this adorable gesture.

Quick Tip
Make a thrilling treasure hunt. You may leave clues at places where you've been while dating. Then ask her the question on a card or poster for her to see. Meet her at the designated location with roses to hear her answer.
How To Ask A Girl To Be Your Girlfriend Over Text Creatively
Well, what can we say! Thanks to technology for making so many unimaginable but important things achievable. One of them is answering your "How to ask a girl to be your girlfriend online" question. Text message proposals come in handy when you sometimes cannot make it to the place you dreamt of proposing in or the girl you want as your girlfriend lives oceans apart from you. Also, if you feel really uncomfortable making that approach in person, well, you can always text your way out. What is more, if you're someone wondering how to properly ask a girl to be your girlfriend during the pandemic now when meeting up is risky, text away.
Okay, now that we have established that asking someone to be your girlfriend over text has its own beauty, you can as well put an end to your trouble regarding how to ask a girl to be your girlfriend through text, that too with a bit of creativity in it, a little more reading ahead will help.
 Create Suspense: You can always create a treasure hunt for her via messages and pique her interest. Send images and ask her to find any objects in all of those images. In the second last image, make her find an envelope. Once found, send her the final image of a vintage letter (you can sketch it) and where your "girlfriend" question will be written.
 Humor: Work your way up through humor. For this, you can slide into her dm and send quirky relationship memes at first, wooing her with your romantic side. Again, nothing offensive should be sent. Congrats! You have made the girl giggle already. Now connect those memes for her and then slowly turn your efforts to pursue her and let her know the way you're thinking about her.
 Question Strings: How do you ask a girl to be your girlfriend via questionnaires? Let's see how. Prepare a string of questions and ask her to reply in "yes" or "no". Let's say you know that she loves sushi, so you can go, "Do you love sushi?" To which she'll say "yes". After a couple of questions are asked, drop that most awaited question and get her answer instantly. It sure is going to be "yes" given the fun game you creatively designed for her.
Above all, make sure you're confident when you put your feet into wondering how to ask a girl to be your girlfriend. Give your feelings a final check and be extremely certain that you are willing to get into this new commitment and adventure with the girl. Because your lack of confidence gives out that "don't date me" vibe to people around you.
And then, keep in mind that the place where you want to pop this question is quiet and peaceful. You do not want to stand in a crowded and dusty place which can spoil your attempt big time. Also, an unfavorable location will make the girl uncomfortable too, and you don't want that. If you wanna go extra, then a place with scented candles or other aromatic products lit on it will add extra charm to the event.
Also, whatever you say, choose your words wisely. Make sure that you do not sound offensive while trying to crack a joke. Understand her likes and dislikes and build the conversation accordingly. When it comes to gestures also, follow the same. Your actions shouldn't scream, "it is forced." Keep it sweet and natural. She should be able to witness your true affections. Anything forced and made up will only complicate things for the both of you. And this is extremely important, especially when you're wondering how to ask a girl to be your girlfriend in high school. In a setup like this, the girl will most likely be surrounded by her army of girlfriends. These friends will make sure their girl is not in any trouble, so they will keep their eyes on you. Try to be nice to them as well by building trust with them. This will help you to pass their test too. And a teenager in high school will hold that, "if you wanna be my lover, you gotta get with my friends," verse from the Wannabe song by Spice Girls with utmost regards. So, if you're her girls' favorite boy, she will feel much more confident while making you happy with a sweet "yes". Oh, and this also applies to your "how to ask a girl to be your girlfriend in middle school" dilemma!
Infographic: 3 Ways To Ask A Girl Out Over Text
Whether you have fallen for a long-distance friend or met her online, the thought of asking her out can seem intimidating. Worry not, because you can do it over text. Check out the infographic below to explore three fun ways to ask the girl of your dreams to be your girlfriend.


It is quite common to get nervous while asking a girl to be your girlfriend. Although you cannot completely avoid this nervousness, you can certainly handle it better if you have planned the process well. The key is to be genuine and make sure the proposal has a touch of humor and creativity. Always pick a calm and peaceful place to put across your feelings aptly. It could be helpful to role-play with a friend or family member to cope with nerves. If you are unsure of doing it face to face, taking the text route can be a great idea. Follow the above-listed tips to ask them, and you are most likely to impress your crush.
Frequently Asked Questions
How long before you ask a girl to be your girlfriend?
This is a difficult question because it depends on how well you know the person you like. While there is no hard and fast rule here, the goal is to get to know her well before asking her to be your girlfriend. It all depends on how your interactions with her and your relationship have gone thus far. The longer you have known her, the sooner you can ask her out.
How do you know if she wants to be your girlfriend?
Paying attention to verbal and nonverbal cues is important in determining if she is interested and how to proceed. The best way to find out if she wants to be your girlfriend is to ask her directly. But if you are shy and would rather figure out if she has feelings for you first, here are a few signs you can look out for:
• She is curious about you.
• She is eager to meet your family and friends.
• You frequently catch her stealing glances at you.
• She remembers what you say to her.
• She constantly texts you.
• She tells you about her friends.
• She talks about her personal life with you.
• She mentions the potential for a future together.
What are some common mistakes to avoid when asking a girl to be your girlfriend, such as being too pushy or coming on too strong?
Take it slow and look for small cues to know if they interest you. Do not be too pushy or clingy. Respect their boundaries and treat them with kindness and consideration.
How do you handle rejection if a girl says no to being your girlfriend, and what are some tips for moving on and staying positive?
Rejection is painful, but you should understand that it can be natural for someone not to like you back. Letting it go and not dwelling on the emotion is the way to move forward. Remember that rejection does not reflect your worth as a person.
Should you have a conversation about exclusivity before asking a girl to be your girlfriend, and if so, how do you bring it up?
You can talk about your idea of exclusivity in a relationship while making conversation. If the girl is interested in you, she will ask more about it and try to understand your thoughts. Try to openly listen to the other person's perspective and know if it differs from yours.
How do you know if a girl is interested in being your girlfriend before you ask her, and what are some signs to look for?
Knowing whether the girl is interested in you can be challenging, yet picking up on some signs can help you understand her interest in the relationship. This may include increased interest in spending time with you, attention to you, eagerness to introduce you to her friends and family, and trying to keep in touch via messages or calls.
How can you build a strong foundation of friendship and trust with a girl before asking her to be your girlfriend, and why is this important?
It helps you understand her better and allows her to understand you in return. Be respectful, attentive, communicative, reliable, consistent, empathetic, and supportive. This will help build a strong emotional connection.
What are some key things to consider before asking a girl to be your girlfriend, such as compatibility, communication, and shared values?
The first thing to check for is compatibility to ensure you have the foundation for a healthy relationship. Healthy communication is important to learn about your shared values, emotional maturity, and overall chemistry.
How do you maintain a healthy and fulfilling relationship after asking a girl to be your girlfriend, and what are some tips for keeping the romance alive?
A relationship involves effort and commitment. Small romantic gestures, surprises, supporting each other, spending quality time together, and proper communication can help keep the romance alive.
Key Takeaways
You need to be confident and creative when you ask a girl to be your girlfriend.
You can sing her a song or ask her out with the help of balloons.
You can also send her relationship memes to ask her to be your girlfriend over text.
Escape the friend zone with confidence! Learn valuable tips and tricks from the informative video below to increase your chances of a positive response when asking your special friend to be your girlfriend.
The following two tabs change content below.