How To Be A Good Dad – 5 Great Qualities Of A Father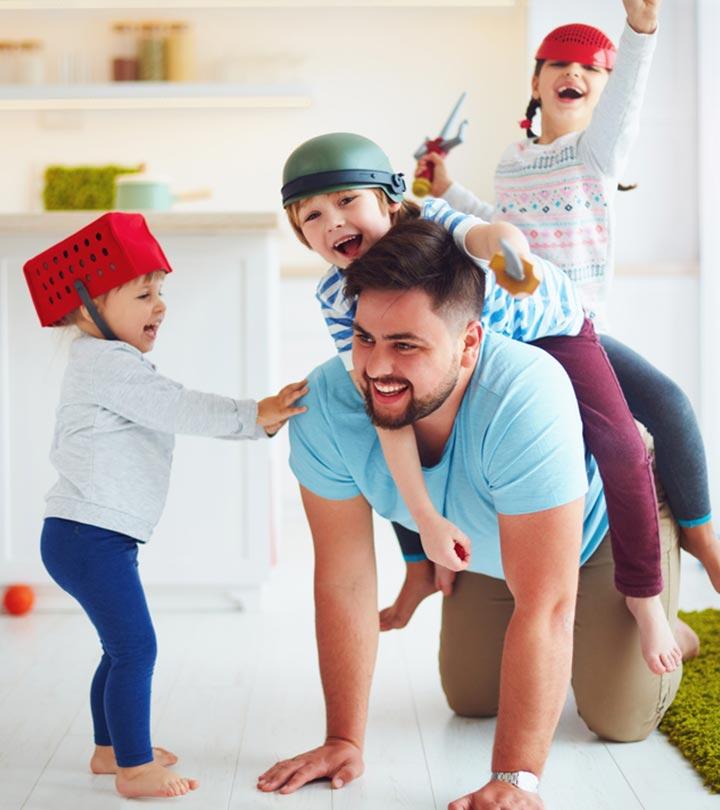 Welcoming a newborn is a life-turning moment for parents. While most people believe that raising kids is the responsibility of the mother, this notion is fast changing in our society. Ever wondered how to be a good dad for your children? You may have worried about parenting and felt unprepared for it. The father plays a key role in his kid's life and can be a role model for them in many ways. He can help them build confidence and self-esteem.
If you want to be a good dad, you have to be present, understand their needs, reward them, teach them good manners, and love them in a way they want and deserve. You also must teach them discipline and inculcate in them the right habits. But if you are not sure about what to do or how to be a good father, fret not. You may follow these tips. These can help you in your participation in your kid's upbringing, especially when you are new to the parenting world. This article explores some practical fatherhood tips that answer all your questions. Keep reading to know more.
Shower Them With Positive Affirmations:
Your child comes to the earth with a "tabula rasa," or a clean slate. They wouldn't understand their worth and identity unless people enable them to. As a father, let them know how extremely special they are to you. Be their guiding light and instill strong beliefs in them in terms of their importance in your life. This can emerge to be the first and effective method of bonding with the little one. The positive affirmations that you shower them with from the very initial phase of their lives will play a crucial role going forward; they will know that their fathers will always acknowledge them come what may.
Take A Break And Play:
Haven't we all come across kids' growing dependence on gadgets? It is dangerous, right? But it is time we realized why smartphones and Playstations became essential for these kids, especially in the 21st century. It is the lack of quality time their parents spent with them. So do not be that "absent dad" anymore. Get your indoor and outdoor sports equipment and play with your kids. They need this more than those latest play gadgets. Let them know that there is more than gaming laptops, that there is more life in playing with a parent. Share these pastimes with them, and you will be a few more steps closer to being the best dad ever! Also, kids can always learn better and faster through quality playtime.
Spend Reading Time:
Reading to your kids can never go wrong. Yes, indeed, your schedule can be super hectic, but you can always read at least bedtime stories to them regularly and take them to dreamland through those stories for a good night's sleep. Being a supremely important habit, reading to them will provide your kids with a fun learning experience, and the kids will inculcate the same habit while growing. Moreover, you can always have special bonding time with your child through the medium of reading. So without any further delay, grab those children's bedtime books and read to the kids before you kiss them goodnight!
Work? Bring Them Along:
As established before, your child is born with a clean slate. They are not aware of livelihood or the hard work you do every day to offer them a happy and comfortable life. As a result, they may not understand your absence in certain aspects of their lives sometimes and may hold a grudge against you for not being present at that special Annual Day celebration. To avoid the same, tag them along to your work sometimes and give them a glance at your work life and the reasons behind staying up all night with the laptop, attending important conferences, or meeting deadlines. This will allow them to acknowledge your hard work and become more and more loving towards you.
Share Parenting Duties With The Baby Mama:
Avoid the idea of "mom duties". Being a better dad means sharing responsibilities with your partner and being that dad who does not perceive parenting as something the mothers should solely undertake. Give your child that playful bath, change their diapers without hesitation, dress them up for that fun birthday party, feed them and tuck them to sleep often. With these being done, children will also acknowledge the idea of equality, which eventually they can practice outside too. Also, as the saying goes, "Sharing is Caring," your child will witness your caring self when parenting responsibilities are being shared equally.
Qualities Necessary To Follow To Be A Good Dad
While no two fathers are alike, there are certain basic qualities that every dad can embrace while parenting. Listed below are some of them that would answer your, "How to be a good dad" query precisely:
Patience Is The Key:
Your hectic schedule and children's repeated mistakes can frustrate you sometimes, pushing you to be angry with them frequently. Although it is not a sin to be so because you are, after all, a human, you do not want to be that "angry dad" to whom kids no longer feel safe sharing their good and bad experiences either, right? An angry father will only scare them away, making the father-child relationship fragile over time. In this scenario, a little bit of patience from your end will go a long way and do wonders to strengthen your bond with the kids. Your kids are still growing; they are innocent souls. Be patient with them and cut them some slack at times. Practice yoga, or take a stroll outside to calm yourself. You will be a good father to your kids this way.
Practice What You Preach:
Children watch and learn. When you tell them to act a certain way, be honest and truthful, they will not register it well until they see you doing the same. Hence, setting the right example for them is of utmost importance. Avoid inconsiderate behaviors and manners, greed and laziness, negative approach towards life, and even excessive intake of alcohol or too much smoking. Fill their lives with as much positivity as you can to help them be a better person instead.
Acknowledge Mistakes And Apologize:
You are a father and also a living being. So, you will definitely make mistakes too. But when you do, make sure you own the mistakes and apologize. This will give your kids a close view of the growth journey where errors are not always avoidable. To this end, they will also understand the value of apologies and the peace that forgiveness brings.
How To Be A Good Dad For Daughters
Dads are believed to be their daughter's first love. But as a result of the difference in their sexes, fathers often find it challenging to bring up the daughters the right way, especially when the girls grow up and attain puberty. But let us put a full stop to those worries, for we have curated a list of tips that can assist the fathers in raising their daughters just the way they should. Read through the below-mentioned secrets to being that perfect dad every daughter deserves:
Love, Love, And Love!
Spoiling your daughters with toys and fancy dresses is one thing, but loving them unconditionally is a whole different activity. Make sure your daughter knows that her father loves her. In a world where women are often burdened with insecurities and fears, offer them love and support in abundance.
No More Of That "Damsel In Distress" Idea:
It is a harsh truth that the world tends to be a scary place, especially for females. Consequently, girls are always made to feel that they should be protected 24/7. But do not install in her brain the idea that she is a fragile princess who needs saving. She does not. She only needs to be brought up well to fight her own battles. Make her aware of her strengths, but also teach her to combat her weaknesses. Being treated with the utmost respect as a strong personality by you, your daughter will recognize what she deserves from the rest of the world.
Be Her Rock As She Grows:
Beyond the shadow of a doubt, fathers often come across a sense of awkwardness while discussing periods, bodily changes, or boyfriends with their daughters. However, letting that awkward feeling guide your actions will only distance you from your girl. Make sure you take an active part in discussing puberty with her and are emotionally engaged with her, especially when she grows up, as she will encounter frequent insecurities. Additionally, be the friend she needs the most to talk about all of her crushes in high school or her love interest in college, so you can help her navigate through the complex passage that leads to companionship.
How To Be A Good Dad To Your Sons
While the father-son relationship is often fun and games during the initial stages, the bond begins to diminish with time for several reasons; one being societal conditioning and pressures. But you do not worry about how to be a great dad to the boys anymore, because we are here to help. The right way to merge the gaps between this duo is to build a strong relationship foundation right after the son is born. Therefore, to assist the fathers in retaining the strength of their relationship with sons, the following tips on how to be the best father to sons will always come in handy:
Say "No" To Toxic Masculinity:
Boys are often expected to be strong, and the sole bread-earner, and devoid of excessive emotions. They are told to be the protective shield for their families as they grow up. This is toxic masculinity, and it needs to be immediately eliminated. Be sensitive to the boys and allow them to express their emotions whenever they feel the need to. Do not mock them for shedding both happy and sad tears and also stand up for them when others make fun of them for crying. This will enable your sons to get rid of all the age-old burdens related to masculinity that always barricade them from being who they are. Especially when they see this support coming from a father, the man, they will no longer adhere to the norms that eventually make them indifferent.
Be Emotionally Available:
Being a good father means being the support to the children throughout. Your emotional presence in the sons' lives means the world to them. They may not express it because they are yet learning to be expressive, but you should know that they want you. Take some time out from your busy day-to-day life, sit with them and chat. You can have a fun conversation with them and allow them to feel safe while sharing their emotions of all kinds too. As a result, you will bring up emotionally stable sons who can be an asset to the world. Thanks to you!
Show The Significance Of Love And Respect:
The best way to raise your boys into being good men is by treating your spouse with utmost love and respect. Your affection towards your wife plays a crucial role in molding your sons into caring and loving men as they grow. Organize with your sons a surprise birthday party for their mother, take her on a date, and your sons will see how special she is to their father.
Steps To Be A Good Single Father
While parenting duties can be shared between the two partners, bringing up children as a single father is entirely different. If you are a single father striving to be the best parent to your kid, we have your back. Following is a list of methods that can be employed to be a good single father:
A Robust Support Team Will Go A Long Way:
No matter how strong and capable a single father you are, as a human being, you will undoubtedly feel low at times and have setbacks, too, that will compel you to feel lonely while parenting. But instead of feeling unsettled, do ask for help. Seek a strong support system from the neighborhood or your parents, and plan get-togethers with them to discuss parenting ideas. With a little bit of help from the people around, you can be a great single father to your kids.
Share Your Experiences, But At The Right Time:
Make sure you let the kids know why and how you are a single parent to them. Either it is a separation from your spouse that led you to be a single dad or because you had your kids through surrogacy or adoption; when the right time strikes, explain to them the reason. This way, there will remain no confusion among your kids as they see other children with two parents, and they will learn to accept the family the way it is.
Becoming a parent is a life-changing moment in a person's life and comes with its own shares of responsibility. If you are worried about how to become a good dad, don't be. This article provides you with tips and tricks to learn while parenting your child. Being patient with them and acknowledging your mistakes are essential to shaping your children's identities. Showering your children with love and being emotionally available to their needs will deepen your relationship with them and teach them to become emotionally healthy people in this world.
Key Takeaways
A father plays as much of an important role in a child's life as the mother does. It is their responsibility to be a good role model and teach them the right manners and skills that will prepare them for the world.
When you are a father to a daughter, it is important to show them your love while teaching them the skills to tackle the world head on as they grow up.
Being a good father to your son means taking time out from your busy schedule and listening to what they have to say. Allowing them to express their emotions openly and respecting your spouse plays an important aspect in raising them to be good human beings.
Being a single father is defintiel not easy, but telling your children why you are raising them alone at the right time can make them understand you and accept their family.
The following two tabs change content below.