How To Bleach Hair At Home – Step By Step Guide With Pictures
Fortunately, bleaching your hair at home is easy with the right products and tools.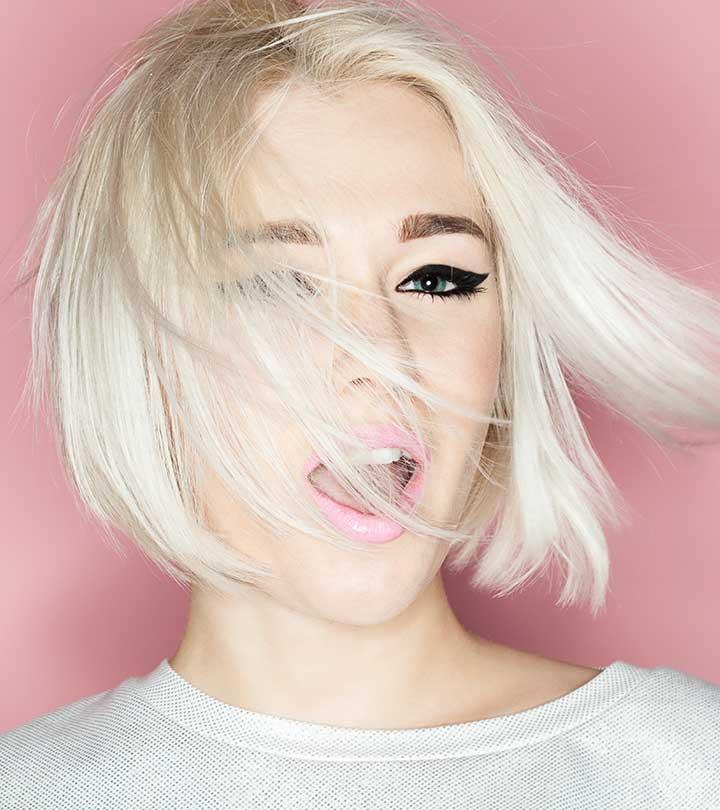 If you want to learn how to bleach your hair at home, you have come to the right place. Bleaching, unlike hair dyeing where you add a different color to your hair, involves a hair lightening process where you essentially strip off the hair color.
If you wish to go blonde, embrace the red hair craze, or experiment with a bright pastel hair color, you will need to lighten your hair color with bleach. If you want to color your hair at home instead of visiting the beauty parlor or your hair colorist, you will have to learn how to bleach your hair properly to achieve the results you want. Fortunately, bleaching your hair at home is easy with the correct at-home bleach equipment. We have discussed how to bleach your hair at home in this article. Keep reading!

Did You Know?
Hair bleaching and hair decolorizing are rather old techniques. It is believed that the Egyptians first used natural colors and henna to cover their grays.
Prepare Your Hair
Bleach works by breaking through your hair shaft and oxidizing the melanin granules that give your hair its color (1). This process causes hair damage, and for the same reason, your hair needs to be in a healthy condition to be bleached (1).
If your hair is dry or damaged, try waiting a month or two before you bleach it. In the meantime, you can prepare your hair by nursing it back to health. You can start preparing your hair at least two weeks before bleaching it.
To prepare your hair
1. Work With Virgin (Or Almost Virgin) Hair
Hair gets damaged due to chemicals. Bleaching your hair can lead to more damage, as it makes the hair more penetrable (2).
DDo not process your hair for at least three months prior to the bleaching treatment. If you have processed or colored hair, wait for three months before you decide to bleach it. Bleach works best on virgin and unprocessed hair. Your hair is also more susceptible to damage if you reprocess it too soon.
2. Take A Hiatus From Styling
Stop heat styling your hair and refrain from using shampoos and products that contain sulfates and alcohol (2). This can help prevent moisture loss from your hair.
3. Condition Like Your Life Depends On It
You need to start conditioning your hair two weeks prior to bleaching it. Instead of using store-bought conditioners, opt for deep conditioning masks at least twice a week (2).
You can make homemade masks using ingredients like coconut oil, egg, olive oil, bananas, and avocados. Ensure you never wash your hair before oiling it first. This can prevent the shampoo from drying your hair out and keep your hair texture intact.
4. Coconut Oil Is Your Best Friend
Soaking your hair in oil a night before you bleach it can make a world of difference. Coconut oil forms a protective barrier over your hair shafts and prevents moisture loss. The oil achieves this without hindering the bleaching process (3).
Though bleaching can help improve appearance, the process does have certain side effects.
Side Effects Of Bleaching: When Should You Consult Your Doctor?
Bleach contains an alkaline agent (ammonium hydroxide) and an oxidizing agent (hydrogen peroxide). Both these elements permeate the hair shaft to decrease your natural hair color and break the melanin in your cuticle (4). This not only results in the loss of hair color but also causes significant hair damage that includes scalp burns, easy permeability of hair strands, significant protein loss, heavy hair damage due to decrease hair porosity, and skin irritation (2), (5), (6), (7), (8).
Persulfate salts in bleaching powders may cause occupational skin disorders like hand eczema in hairdressers. A study indicated that among 565 hairdressers, HE had a prevalence of 20.3% within one year and a prevalence of 38.2% within the course of their lifetimes.
Get Your Supplies
Selecting a high-quality hair bleach powder specifically designed for your hair type is very essential. Choose the right bleach for hair from a good brand like Wella, Blondor, Matrix, or Salon Care. Compromising on this and using a skin bleach is most likely going to lead to disastrous hair. Opt for a bleach that is blue or purple to help reduce brassiness.
This is the peroxide hair bleach liquid that activates your bleach so that it can lighten your hair. It comes in different volumes: 10, 20, 30, and 40. This is indicative of the strength of the peroxide. With the information given below, pick the ideal volume for your needs.
There are 10 hair levels, with 1 being the darkest – black, and 10 being the lightest – pale blonde. Depending on how much lift you desire, choose the ideal peroxide from the list below.
Vol 10 – This volume will not work for dark hair. It is ideal for subtly fading dyed hair or lifting 1-2 levels of color on hair that is already light.
Vol 20 – If you have hair that is light brown and do not want to lift a lot of colors, a 20 volume developer should do the trick. This lifts about 2-3 levels of color.
Vol 30 – A volume 30 developer will help lift 3-4 levels of hair color, but it should not be left on your scalp for too long as it can cause irritation. If you have sensitive skin, it is best not to let the bleach come in contact with your skin or scalp when using this volume. If you want to bleach your hair to the lightest blonde, it is ideal to use this developer over 2-3 sessions.
Vol 40 – Volume 40 can provide a high lift, but it can also be really damaging to your hair. If you do use it, make sure it does not stay on your hair for longer than 10-15 minutes to minimize damage.
You also need the following tools:
Tinting brush
Clips for sectioning
Plastic/Latex gloves
Plastic/Glass mixing bowl
Shower cap/ Plastic bag
Balancing hair shampoo
Protein-balancing  hair conditioner
Old towel and clothes
Toner (optional)
Bleaching Your Hair At Home
For better results, ensure you don't wash your hair at least 2-3 days prior to the bleach. Set up in a well-ventilated area with good lighting, a mirror, and a table to place all your tools on.
Step 1: Wear Some Old Clothes, And Put Your Gloves On
Make sure you put on some old clothes that you wouldn't mind getting the bleach on. Put your gloves on.
Step 2: Section Your Hair
Divide your hair so that the crown section is secured away. This way, you can freely work with the back of your hair first. The crown section is hard to reach, so it is best reserved for the last.
Step 3: Mix The Bleach Powder And Developer
Mix the bleach hair dye and developer. You will have to add two parts of the developer for one part of bleach. Ensure there are no lumps, and the mixture is consistent.
Step 4: Apply The Bleach
Once you are done with the bottom sections, undo the section you secured away and start applying. As soon as all of your hair is covered in the bleach, cover your hair with a shower cap or a plastic bag.
Tip: Apply the color first to the tips and mid-lengths of your hair as they take longer to lighten than your roots. Let the bleach sit for at least 20 minutes before you apply the color to the roots. This can ensure even color (and not lighter roots and dark tips).
Step 5: Bleach The Higher Sections
Once you are done with the bottom sections, undo the section you secured away and start applying. As soon as all of your hair is covered in the bleach, cover it with a shower cap or a plastic bag.
Step 6: Sit Back And Wait For The Magic
It is time to sit back and wait for the magic to happen! Do not leave the bleach hair color on for more than 30-45 minutes. Keep checking on the hair periodically to see if the color is lifting to the levels you want. Don't worry if your hair is turning orange. It is normal for dark hair to turn orange when lightened.
Note: Keep an eye on your hair and the surrounding skin. If you notice redness, itching, or burning after you have kept the bleach on your hair for a while, please wash the bleach off and visit a doctor.
Step 7: Wash Your Hair And Let It Dry
After 45 minutes, jump into the shower and rinse the bleach out thoroughly. Wash your hair with a balancing shampoo to balance the pH levels of your scalp. Follow with a protein balancing conditioner. Let your hair air dry.
Step 8: Toner (Optional)
If you do not want warm tones in your hair, you can bleach it with a toner. Replace the bleach with the toner and follow all of the steps listed above. Alternatively, you can use a toning shampoo to remove the warm tones from your hair. Read on to know how to avoid hair damage after bleaching.


Trivia
You can use a blend of cinnamon powder, honey, and water to lighten your hair. The mask adds a warm, brownish tint to the hair.
Post-Bleaching Hair Care
Minimize Conditioner Usage: Most conditioners have concentrated amounts of hair chemicals to make your hair better (2). But once you have bleached your hair, it can be more susceptible to damage from chemicals. Cut down the amount of conditioner you use, and don't apply any conditioner to the scalp. Also, limit your conditioner usage to once per week until your hair regains its strength.
Use Natural/Organic Products: Chemicals cause damage to your hair, and more so after you have bleached it (2). Since your bleached hair is very vulnerable, opt for only natural hair care products. You can either get them at the store or try homemade recipes.
Don't Use Styling Tools: Styling tools use heat that can damage your hair. This damage could be more aggressive after a bleaching session (2). After you have bleached your hair, stay away from styling tools for at least two weeks.
Oil Your Hair: Research shows that oils (like coconut oil) can permeate the hair shaft and strengthen hair from within (9). Your hair needs this deep nourishment after bleaching. Oil your hair and leave it on for at least an hour. Repeat this twice a week.
Dilute Your Shampoo: Your shampoo contains chemicals that can damage bleached hair. Instead of using it as is, add a little water to it.
Following these tips and hair care practices may help prevent hair damage and improve the strength of the strands after bleaching.

Watch this video to execute a safe hair-bleaching process at home! Follow the procedure as the guide transforms dark brown hair into ash blonde for an exciting and daring new look.

Note: Bleaching works best on virgin hair and the results of bleaching hair can vary depending on the person's hair type, color, and condition. If you have really dark or color-processed hair and want some heavy lift, it might take a couple of sessions before you achieve the color you desire. It is best to space these sessions out every couple of weeks or a month apart. This way, you will not be overprocessing your hair.
If your hair is extremely dark, long, heavily processed, fine, very thick, curly/kinky, colored, permed, or damaged, do not bleach at home. Instead, get it done professionally to achieve the results you are expecting.
Infographic: Natural Ways To Bleach Your Hair At Home
In addition to the method mentioned in the article, you can choose some far-safer natural bleaching methods. See the infographic below to learn a few techniques for making your own hair bleach at home.



Bleaching your hair before coloring it allows the hair color to penetrate deeper into the strands, resulting in a more accurate color and a longer-lasting result. However, if you want to color your hair at home instead of going to the salon, you will need to choose the right bleach for hair. Then you need to learn how to bleach it properly to get the results you want. Fortunately, bleaching your hair at home is easy with the right at-home bleaching equipment.
Bleaching curly hair, very dark, long, chemically treated, thin, very thick, kinky, dyed, permed, or brittle hair is not recommended at home. Instead, get someone to handle it professionally so you can get the results you want. Inflammation, redness, and a stinging feeling on the scalp are all indicators of an adverse reaction, so practice caution.
Frequently Asked Questions
What hair color is most attractive?
It depends on your skin undertone and eye color shade. For warmer shades like light brown eyes, warmer colors like auburn or golden blonde hair look great. For cooler shades like darker brown eyes, cooler tones like platinum blonde hair, ash blonde hair, ombre hair color or burgundy look amazing. Depending on which tone your eyes lean towards, you can pick either warm or cool tones for medium brown and hazel eyes.
Does light hair or dark hair make you look younger?
Darker hair colors tend to make harsh face shapes and face lines like wrinkles stand out, especially if you have mature skin. As you grow older, opting for bright colors like electric shock shades harshen your face lines. Light brown shades and cooler blonde tones make you look younger if you have brown eyes. You can opt for subtle pastel shades or lean into gray shades to make your brown eyes pop.
Are brown eyes warm or cool?
Dark brown eyes are cool-toned, and light brown eyes are warm-toned. Hazel eyes with golden flecks look warmer, while hazel eyes with gray or green flecks look cool-toned.
Are light brown eyes rare?
Brown eyes are one of the most common eye colors in the world. African and Asian people are mostly born with brown eyes. Hazel and amber eyes are rarer to see.
Key Takeaways
Bleaching your hair lightens your hair color by removing pigments. To get the desired hair hue, selecting the right bleach for your hair type is important.
Mixing the bleach according to the instructions and removing it within the recommended time is essential to avoid side effects.
It is important to rinse your hair thoroughly with a conditioner to restore the moisture content of the hair.
In addition, avoid using heat-based styling tools and dilute your shampoo before using it to avoid hair damage.
Sources
Articles on StyleCraze are backed by verified information from peer-reviewed and academic research papers, reputed organizations, research institutions, and medical associations to ensure accuracy and relevance. Check out our
editorial policy
for further details.
The following two tabs change content below.