How To Bleach Hair At Home – Step By Step Guide With Pictures
Women often feel the need to transform themselves. They crave change that usually begins with their hair, and at these points, dark hair can start feeling extremely confining. Especially when you are someone who loves experimenting, dark hair sets a lot of limitations on what you can try. This is why going blonde will never cease to be the trend to try. And guess what?
You can totally achieve these looks, by yourself, at home. Given, bleaching your hair at home is not for the faint-hearted, and the idea might leave most stylists letting out gasps of horror, but these aren't reasons enough to keep some of us from rebelling and, consequently, slaying.
Following, I've put together all the information you need to be your own hair colorist.
Prepare Your Hair
Bleach works by breaking through your hair shaft and oxidizing the natural pigment that gives your hair its color. This process is, essentially, hair damage and for the same reason, your hair needs to be in healthy condition to be bleached. If your hair is dry or damaged, I would recommend waiting a month or two before you bleach it. In the meanwhile, you can prepare your hair by nursing it back to health. If you have healthy hair, it is best to start preparing your hair two weeks before when you are to bleach it.
To prepare your hair-
1. Work With Virgin (Or Almost Virgin) Hair
Do not process your hair for at least 3 months before you are meant to bleach it. If you have processed or colored hair, I would recommend waiting at least three months before you decide to bleach. This is because bleach works best on virgin and unprocessed hair. Your hair is also more susceptible to damage if you re-process it too soon.
2. Take A Hiatus From Styling
Stop heat styling your hair and refrain from using shampoos and products that contain sulfates and alcohol. This will help prevent moisture loss and, trust me; you need all the moisture you can get.
3. Condition Like Your Life Depends On It
You need to start conditioning your hair 2 weeks prior to bleaching it. And by this, I don't mean that you should use a lot of store-bought conditioners. Instead, use deep conditioning masks at least twice a week. You can make your own homemade masks using ingredients like coconut oil, egg, olive oil, bananas, and avocados. Ensure that you never wash your hair before oiling it first. This will keep the shampoo from drying your hair out.
4. Coconut Oil Is Your Best Friend
One thing I've realized after bleaching my hair a dozen times is that coconut oil can prevent a whole lot of unnecessary damage! Soaking your hair in the oil a night before you bleach it can make a world of difference. The oil forms a protective barrier over your hair shafts, which keeps it from losing too much moisture, without hindering the bleaching process.
Get Your Supplies
Bleach Powder
Get bleach powder from a good brand like Wella, Blondor, Matrix, or Salon Care. Compromising on this and using a skin bleach is most likely going to lead to disastrous hair. I would also recommend getting a bleach that is blue or purple in color as this helps reduce brassiness.
Developer/Peroxide
This is the peroxide liquid that activates your bleach so that it can get to lighten your hair. It comes in different volumes like 10, 20, 30, and 40. This is indicative of the strength of the peroxide. With the information given below pick the ideal volume for your needs.
There are 10 hair levels, with 1 being the darkest—black, and 10 being the lightest—pale blonde. Depending on how much lift you desire, choose the ideal peroxide from below.
Vol 10- This volume will not work for dark hair. It is ideal for subtly fading dyed hair or lifting one or two levels of color on hair that is already light.
Vol 20- If you have hair that is light brown and you do not want to lift a lot of color, a 20 volume developer should do the trick. This lifts about 2-3 levels of color.
Vol 30-  A volume 30 developer will help lift 3-4 levels of hair color, but it should not be left on your scalp for too long as it cause irritation. If you have sensitive skin, it is best not to let the bleach come in contact with your skin or scalp when using this volume. If you want to bleach your hair to the lightest blonde, it is ideal to use this developer over 2-3 sessions.
Vol 40-  Volume 40 can provide high-lift but it can also be really damaging to your hair, and I do not recommend it. If you do use it, make sure that it does not stay on your hair for longer than 10-15 minutes to minimize damage.
Tinting Brush
Clips For Sectioning
Plastic/Latex Gloves
Plastic/Glass Mixing Bowl
Shower Cap/ Plastic Bag
Balancing Shampoo
Protein Balancing Conditioner
Old Towel And Clothes
Toner (Optional)
Bleaching Your Hair At Home
Don't wash your hair for 2-3 days before you decide to bleach your hair for better results. Set up in a well-ventilated area with good lighting, a mirror, and a table to place all your tools on.
Step 1: Wear Some Old Clothes And Put Your Gloves On
Make sure you put on some old clothes that you wouldn't mind getting the bleach on and put on your gloves.
Step 2: Section Your Hair
Divide your hair so that the crown section is secured away. This way you can freely work with the back of your hair first. It's best to get this section out of the way first because they're hard to reach.
Step 3: Mix The Bleach Powder And Developer
Mix the bleach and developer. You will have to add two parts of developer for one part of bleach. Ensure that there are no lumps and that the mixture is consistent.
Step 4: Apply The Bleach
Once you're done with the bottom sections, undo the section you secured away and start applying. As soon as all of your hair is covered in the bleach, cover your hair with a shower cap or a plastic bag.
TIP: Apply the color first to the tips and mid-lengths of your hair, as they take longer to lighten than your roots. Let the bleach sit for at least 20 minutes and then apply the color to the roots. This way you can ensure even color, rather than lighter roots and dark tips!
 Step 4: Bleach The Higher Sections
Once you're done with the bottom sections, undo the section you secured away and start applying. As soon as all of your hair is covered in the bleach, cover your hair with a shower cap or a plastic bag.
Step 5: Sit Back And Wait For The Magic
Now, it is time to sit back and wait for the magic to happen! Do not leave the bleach on for more than 30-45 minutes. Keep checking on the hair periodically to see if the color is lifting to the levels you want. Don't worry if your hair is turning orange. It is normal for dark hair to turn orange when lightened.
Step 6: Wash Your Hair And Let It Dry
Once 45 minutes have passed, jump into the shower and rinse the bleach out thoroughly. Wash your hair with a balancing shampoo to balance the pH levels of your scalp. Follow this up by conditioning with a protein balancing conditioner. Let your hair air dry.
Step 7: Toner (Optional)
If you do not want warm tones in your hair, you can bleach it with a toner. Simply replace the bleach with toner and follow all of the steps listed above. Alternatively, you can use a toning shampoo to remove the warm tones from your hair.
Here's a link to a video tutorial to help with bleaching your hair at home:
Note
Bleaching works best on virgin hair. If you have really dark or color processed hair and you want some heavy lift, it might take a couple of sessions before you achieve the color you desire. And it's best to space these sessions a couple of weeks, or a month, apart so that you don't end up overprocessing your hair.
If your hair is extremely dark, long, heavily processed, fine, very thick, curly/kinky, colored, permed, or damaged, I would recommend that you hold off bleaching your hair at home and get it done professionally instead as you might not get the results that you're expecting.
Are you planning on bleaching your hair at home? Tell us what you have in store for your hair in the comments section below.
The following two tabs change content below.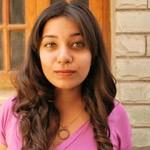 Latest posts by Meenal Rajapet (see all)