18 Sure-Shot Ways To Cheer Someone Up When someone close to you feels low, you are ready to do anything to lift their spirit. Comforting family and friends in distress may be your specialty, or maybe you are not very good with words even though your heart is in the right place. Well, we have got a list of 18 ways to show them you care and turn their frown upside down. These are not one-size-fits-all ideas, but there are plenty to go around for every situation and personality. Ready to learn how to spread the cheer? Let's get started!
How To Cheer Someone Up When They Are Stressed
Stressful times call for a practical and empathetic friend. Here are a few ways to cheer someone up:
1. Listen To Them
One thing that a stressed-out and hurt person detests the most is sympathy. Compassion and empathy come from understanding how they feel and allowing them the room to process their feelings safely. So, all you need to do to make them feel better is give them some space to talk about what is bothering them.
If you feel tempted to offer some advice, remind yourself that a listener is only a medium for the other person to transmute suppressed emotions. Don't interrupt or start recounting an occasion where you had a similar experience; stay in the present and offer them your undivided attention.
2. Go For A Leisurely Walk
Walking is a form of meditation. Just take your friend on a long stroll in the closest park, where nature offers peace and tranquility. You do not even have to initiate conversation during the walk. If they do not wish to discuss what is stressing them out, simply plug in some good music. Your loved one will have some time to process their feelings and ground themselves. If they are willing to talk, walking is a great way to brainstorm how to solve an issue and cheer them up.
3. Book A Spa Session
Booking a spa day will help you and your friend destress together while relaxing. Getting a pampering massage will help your loved one unclench their jaw and relax their muscles. The feeling of physical calm will soon lead to a sense of mental well-being.
4. Share A Laugh
Laughter is the best medicine, and the adage holds true during times of sadness and distress. Having a good chuckle can rewire your brain to boost feelings of positivity and optimism. Put on a funny movie and watch it with your dear one. Go to a stand-up comedy show or listen to a funny podcast together. Also, you can use the millennial way and share funny memes to create lighthearted moments and cheer someone up throughout the day.
5. Take The Day Off For A Picnic
Take the day off to help distance your loved one from their problem. It will help them gain some perspective and grace. Pack a mini lunch and head over to the park, beach, or any other picnic spot. You can also explore a neighboring city or take a short road trip to help clear their head.
6. Indulge In Some Gardening Therapy
One of the best ways to ground scattered energy and frayed nerves is to get your hands muddy. Gardening is an excellent stressbuster, where one can connect to the earth and bring their mind to the present. Working with plants and nurturing them may seem like a simple task, but focusing on repotting, trimming, and weeding their garden will help your friend find peace within themselves.
7. Brainstorm Together
If your loved one is open to it, you can sit down and discuss all the factors involved in their situation. A person looking from the outside can offer a fresh perspective on the matter. Our advice would be to take it a step further and write down everything to form an intelligent plan. The benefits of journaling and written planning are unparalleled!
8. Just Be Their Friend
Sometimes, we care so much about solving the problem for our friends in distress that we go all out and whip out our book of advice and remedies. However, it can often happen that your loved one only needs you to be their friend, not a motivational speaker or a therapist. A great friend holds space for their hurting pal and gives them time. Offering your support and a shoulder for comfort is all you need to do to cheer up a friend.
9. The Old-Fashioned Cry
Failure and disappointment can push a person into an overwhelming state, and the best way to release such pent-up feelings is a good cry. It can work miracles and make one feel tons lighter. As pressure and stress mount up, let your friend know they can let out these feelings without being consumed by them. Let them cry it out and watch how their stress levels simmer down into relief.
10. Goal Setting
When the list of high-priority tasks starts mounting, it is only a matter of time when it all explodes into a person's face. Help your loved one out by getting them a piece of paper. Sit with them and prioritize long-term goals in bite-sized chunks that are achievable. Set realistic timelines and help them segregate things that can wait from things that need immediate attention. They will thank you after their anxiety levels drop.
11. Attack The Root Of Stress
Tackling the bull by its horns is the best approach when there is no alternative but to face the music. Help your friend realize that the only way is through, and cheer them on while they do it. Most people are competent and only need some positive reinforcement to work towards solving their problems. Soon, your friend will emerge victorious, feeling like a million bucks!
When a person you care about has had a long day, problem-solving takes the backseat while empathy takes the spotlight. Head to the next section to know how you can provide a happy and stress buster culmination to their troubled day.
How To Cheer Someone Up After A Bad Day
Here are ways in which you can cheer a friend up to either process or get over their blues:
1. Make A Gratitude List
It is a human tendency to fixate on problems rather than counting blessings. When the sadness of a lousy day seeps in, it is essential and cathartic to be grateful for even the smallest of good things in your life. Helping your loved one create a gratitude list can include something as basic as being grateful to be alive or as elaborate as recounting a specific memory that brings them joy. It will also help them see the grander scheme of life and how even the worst day comes to an end, bringing hope for a better tomorrow.
2. Distract Them For A While
While this is a temporary fix, taking them away from the problem is something your friend will appreciate. Who knows, maybe the distraction will help them come up with a solution! Take them for a leisurely walk, go shopping, or grab a quick bite — the choices are endless.
3. Deep Clean
Never underestimate the power of a deep cleaning session. Arranging, reorganizing, and tidying are closely linked to our cognitive functions. Mary Kondo and many other experts have talked about the benefits of having an organized and clean living space. If your loved one is sad, help them clean their room and organize things. Feng Shui also believes in the principle of moving 27 items (which cover your entire home) to change stagnant energy and get good vibes flowing!
4. Meditate Or Pray With Them
If your loved one is religious, praying with them for whatever they wish for the most — leaning on a higher power for support — can do wonders. You could also accompany them to practice some breathwork to center their emotions and release hurtful feelings and memories of the day to feel better.
5. Prep A Meal
Food – the way to everyone's heart – tops the list of how to cheer someone up. We all know the undeniable power of a comforting meal brought to us by someone we love; it acts as an instant mood booster and keeps worry at bay. If you want to cheer a friend who is going through exams or a difficult phase, bring them a homecooked meal to put a smile on their face.
6. Bear Hugs
Hugging may be a simple gesture, but it works wonders in making someone feel better instantly. Giving a giant hug to a friend or family member is an excellent stress buster and extremely helpful when words fail. While we hug, our brain releases oxytocin, a stress-relieving hormone. Also, if your beloved struggles with anxiety, a hug will help them take a deep breath and feel safe.
7. Write A Handwritten Note Or Card
Even if you are away from your distressed friend, dropping a well-thought-out note can help lift their spirit in an instant. It also is a way to show them that you are with them in whatever they are going through. Keep the note short and heartfelt; talk about how special they are and that you're proud of them.
Being a good friend is not very difficult; all that is required is patience, kindness, and unconditional love. As your friend or loved one goes through a trying period, offering non-judgmental emotional support will work miracles to help them face all challenges. Understand their personality to provide the kind of support — listening to them patiently or actively providing solutions and guidance — they need. We hope these tips help bring a smile to your beloved's face!
Recommended Articles
The following two tabs change content below.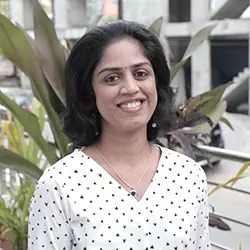 As Chief Editor, Harini sets the tone and editorial direction for StyleCraze to deliver engaging, interesting, and authentic content revolving around women's health, wellness, and beauty. She has over 14 years of experience in content writing and editing for online media. She specializes in the areas of Beauty, Lifestyle, and Health & Wellness and is proficient in Medical Sciences (Biology, Human Anatomy and Physiology, and Biochemistry). Her background in Biomedical Engineering helps her decode and interpret the finer nuances of scientific research for her team. Harini is a certified bibliophile and a closet poet. She also loves dancing and traveling to offbeat destinations.