How To Measure Your Bra Size At Home: 3 Simple Steps
All you need is a measuring tape and a couple of minutes to figure it out!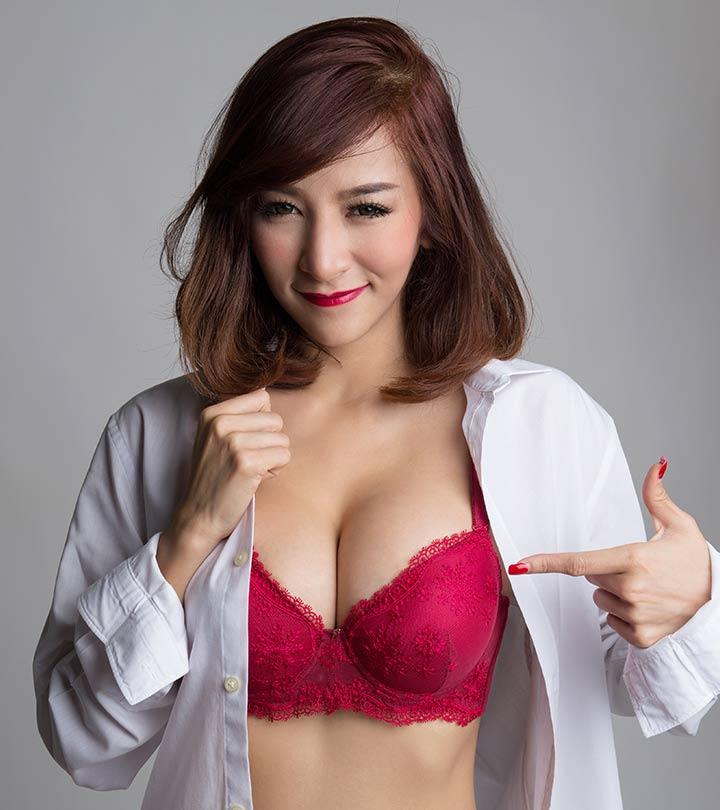 Most women are still wearing the wrong bra size, which makes negative impacts both on their looks and health. Therefore, it is of utmost importance to learn how to measure bra size before going bra shopping. It is not rocket science, though. We are going to assist you with this. So scroll down and check out how to do it. It is time for you to stop causing harm to yourself by wearing the wrong size. Once you have it all figured out through this article, you are not going to feel exhausted wearing a bra anymore. So, go ahead and read this article.
How To Measure A Bra Size
There is not one hard and fast rule that says one size fits all – not all bra types, I mean. It is worth mentioning that you must try a bra of every type before you are sure of the size. There would not be a radical difference in the sizes for every type/brand, but there would, most definitely, be some. Research shows that 80% women are oblivious to their true bra size. And for all you know, you might be wearing an incorrect one as we speak. The most obvious aspect we all go wrong with is the band size, amongst several others. So, here's what determines your size.
Step 1 – Measure Your Band Size
Wrap the tape around your chest, where your band sits, and ensure that it is snug, but not too tight or loose.
Round it off to the next even number if it's an odd measurement or in fractions. For example, if the measurement is 33 or 33.5 inches, the size will be 34. Or, for 35, try both 34 and 36, again depending on your cup size.
Make a note of this final number.
Step 2 – Measure Your Cup Size
Wrap the tape loosely around the fullest part of your breast.
A simple option is to measure it at the nipple level – this invariably gives an accurate number.
Round it off to the nearest or next whole number.
Make a note of this final number.
Step 3 – Calculator
Subtract the cup size from the band size. The difference in the inches will correspond to your cup size.
Did You Know?
Caresse Crosby, a New York publisher and activist, is credited with making the first modern bra out of two handkerchiefs and some ribbons in 1910.
Things To Remember
The numerical part of the size is your band size, and the alphabetical part is the cup size. So, for example, if your size is a 34D – '34' is your band size, and 'D' is the cup size.
Opt for a seamless bra or wear a non-padded bra while you get your measurements done. Or, wear something light like a T-shirt and avoid sweaters, hoodies, jackets or anything that is thick.
Be vigilant while getting your measurements, especially if you having sagging or larger breasts. I would say, go one step further and get a second opinion if you want to be extra cautious. There have been instances where the difference of the sizes was rather alarming the second time around.
Get a one-time professional fitting done, and they will help you go through everything we just discussed. Plus, the experts say that the measurements are generally more accurate when you let someone else do your fitting.
How To Find The Right Bra
Choosing the right bra is nothing but knowing your exact bra size for every type. However, we can't just magically arrive at this number. We need to work backward and connect a few dots to get there. So, before we deep dive into learning how to measure and understand other aspects, let's go over a few pointers.
Straps
Move your arms around like a windmill to see if your breasts are falling out or hanging from the bottom, your bra is riding up, etc. In that case, try adjusting the straps first. Otherwise, you will need to go with a smaller cup size.
If your bra straps are pinching or digging into your shoulders, or there is spillage of breasts, making the two of them look like four, you need a bigger size.
Cups
Bend forward and wear your bra so that everything goes into the cup, and nothing hangs under the wire.
Make sure the cup is comfortably taut, and there is no extra room.
Band
Always hook your bra at the closest (first) eye and run your two fingers along the breadth. Your fingers should slide comfortably. The bra will loosen up with time, and you can hook it on the next eye then.
If your bra is riding up your back and you're always pulling it down, you need a smaller size (band).
Center
The center part of the bra should just sit perfectly, it should not stick out, neither should it poke your skin.
Things To Remember
As a rule of thumb, your bra should fit snugly around your body. It should neither be too tight nor too loose.
When you go up or down your bra size, the cup size also differs. For example, if your size is 34B, a bigger size for you would be 36A. Or, if you want a smaller size, then you choose 32C and vice versa.
It is easier to determine your band size first, and then map it to your cup size.
Remember that your breasts should be approximately midway between your elbows and shoulders.
The cups will do the heavy lifting and the straps will support them, so do not forget to adjust them the first time around.
Quick Tip
In case you have noticeable asymmetrical breasts, opt for a bra that snuggly fits the larger one and then add pads to the cup of the smaller one.
Somewhere, we all are pretty aware that we often end up wearing the wrong bra size. We also know that doing so can lead to severe health issues. Unfortunately, not always do we feel like we know how to measure bra size. But as you have read this article, your days of worries can finally be over. Do pay attention to your unique needs to prevent yourself from inviting trouble later. Use this article as your guide, and always buy a bra made exclusively for you.
Frequently Asked Questions
Is 36B small or medium?
36B is a medium bra size, where you measure 36 inches under your bust and have a B cup size.
What happens if you wear a loose bra?
A loose bra can lack the support your bust needs. This may cause you to overwork the muscles in your upper body, resulting in aches and pain.
Key Takeaways
To correctly measure your band size, you need to wrap the measuring tape around your chest, where your bra band usually sits, and make sure it is snug.
To properly measure your cup size, you need to wrap the measuring tape lightly around the fullest part of your breast.
It is better that you determine your band size first and then your cup size.
Wear a seamless bra or a non-padded bra when getting your measurements done. Moreover, avoid wearing sweaters, jackets, hoodies, or any thick item of clothing..