How To Do The Low Bun Hairstyle – A Step-By-Step Tutorial
Pick your vibe and sport your low bun in a relaxed look or a classy, sleek style.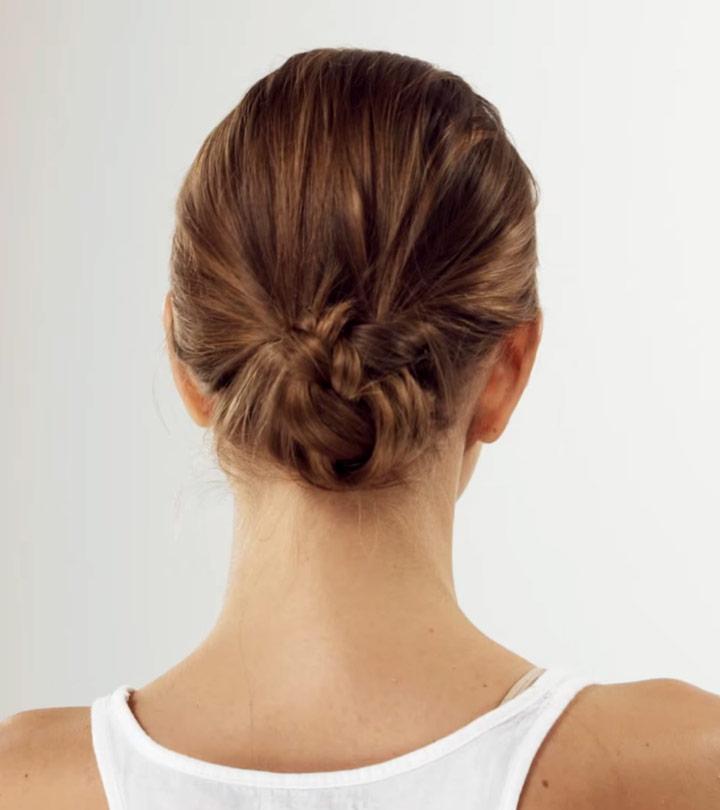 Okay, you have perused through several fashion magazines, blogs and maybe videos and have chosen your attire for your best friend's wedding, picked the right makeup shades and selected the best pair of heels. But with just two days to go, you realize you have forgotten all about your hair. No worries! The low bun hairstyle is your saving grace and transcends every occasion. Regardless of time, place, or event we will show you how to create them effortlessly.
Some events and occasions call for elegant hairstyles. You can get lost between the intricate updos and deeply woven braid styles. If you want some classy and natural hairstyle, look no further than the low bun. There is a low bun hairdo for every occasion and personality! You want to go for a business meeting, opt for a sleek and sophisticated, neat low bun. Want to look full of elegance and grace at a formal party? Try a loose low bun with some strategically free hair strands to frame your face. Want something a tad intricate? Opt for a braided low bun. The possibilities are never-ending with this hairstyle. And low buns are not at all high maintenance! Also, they suit any attire while keeping your hair off your face and neck.
If you think the low bun only works for long hair, think again, my friend! You can have short, medium, or long hair and still try this hairstyle. The best part is that it takes less than five minutes to complete the look! And if you have hair that gets greasy fast or simply forgot to wash your hair, the low bun instantly ups your beauty game to chic status.
To know how to achieve this simple low bun wedding hair, scroll down and read more!

Before You Get Started
Low buns look good on everyone. Leave some face-framing pieces out to soften the look if you have a wide face shape.
Jazz up your messy low bun with side fishtails, french braids, or side bangs to nail the casual chic look.
If you have short or medium-length hair, extensions or pre-formed clip-in buns are your new best friends for these buns.
Low buns hold perfectly on one-day unwashed hair. Use a texturizing spray or hair gel for grip if you are working on freshly washed hair.
Use styling balms, hair wax, or hair serum to smooth flyaways and hairsprays to minimize frizz and keep the bun in its place.
What You Need
U-pins: U-pins work best with this updo as they do not require being pulled apart and pushed in the way bobby hairpins do which can be uncomfortable or break your hair. All you need to do is pinch the U-pin together, slide it in and then release it. The U-pin stays in place once the ends spread again.
Hair elastic: Try using snag-free hair elastics or hairbands (pictured). Also, for the love of all that is holy, never use those office stationery rubber bands because they will ruin your hair by causing breakage.
Paddle or comb out brush: You gotta get rid of those knots and tangles in your hair.
Light hold hair spray: Just a spritz or two of a light hold hair spray should help keep your bun in place.

Trivia
Adding in braids, donut/ratte forms, jewels or flowers can upmarket your low bun.
How To Do A Low Bun Hairstyle?
Follow these steps carefully to make a low-hair bun:
Brush all your hair back neatly towards the nape of your neck. If you want to go for a textured look, just comb your hair back with your fingers or use a wide-toothed hair comb.
Secure a ponytail with a hair tie at the nape to form the foundation of your bun. You can position the ponytail either at the very nape of your neck or a couple of inches above it, depending on how low you want your bun to sit.
If you want to have a little volume to your hair add some texture powder to the top of your hair, then gently pinch and massage your roots for texture and volume.
Add volume to your hair to add a more relaxed vibe to your style: Tighten your ponytail by pulling it apart so that the hair elastic pushes up to create volume at the top of your head. Another good option for you is to tease down the hair at the crown of your head to add even more volume to your hairstyle. This added step could especially work well for someone who has fine textured hair.
Create a pocket to flip your ponytail into. Add a gap above your ponytail and gently push your fingers into the hair above your elastic and slowly pull it apart. Make sure that your gap is at least a couple of inches wide. But, do not make it so big that the ponytail under it loosens completely.
Topsy tail your ponytail to add a bit of a twist to your hairdo. Flip your ponytail over and into this gap. This is called 'topsy tailing'. Honestly, you could even stop your hairstyle here because a topsy-tail ponytail looks quite cute all by itself as well.
It's time to braid. Divide your topsy-tailed ponytail into 3 sections. You could divide them equally or vary their sizes, depending on how textured you want your bun to look.
A braid will add that bit of oomph that you are looking for. Simply braid these 3 sections of hair right till the end and secure with a hair elastic. This braid will add a bit of daintiness and femininity to your otherwise simple hairstyle. Another alternative here is to go for a fishtail braid if you want to create a more intricate look.If you have fine hair, pancake your braid for volume.
Start rolling up the braid, flip it over, and tuck it into the pocket you previously created to topsy tail your braid. If your braid is too long, make sure you fold it and then flip it into the pocket so that it does not hang down from the other side.
Secure your hairstyle in place. Insert a couple of U-pins into the gap to secure the braid in place. A pro tip here is to spritz some hair spray onto the bobby pins before inserting them into your hair so that they stick in place and do not slip out.
Add some finishing touches. Finish off with a few spritzes of light hold hair spray to set the updo in place.Pull out a few wisps of hair from around your face to give your updo a softer look.
Voila! You are done! And that took you just 5 minutes to perfect, didn't it? The simplicity of the low bun keeps it in trend always. Now, you can spend more time on your makeup (or trying out some Snapchat filters) before heading out to the wedding. Enjoy!

Quick Tip
Spritz some hair spray onto your bobby pins before inserting them into your hair so they have more grip.
Infographic: DIY Steps To Enhance Your Low Bun Look
Low buns are easily achievable at home to enhance the OOTD/OOTN look for any event. You do not have to visit a salon to create an elegant yet chic bun. Even if you do not have a mirror in front of you, you can still rock this hairdo in 5 minutes. And the best part is that in a few very simple steps you can personalize the low bun, even with damp hair.
Check out the infographic below to know the easy DIY steps to enhance a low bun hairdo right at home.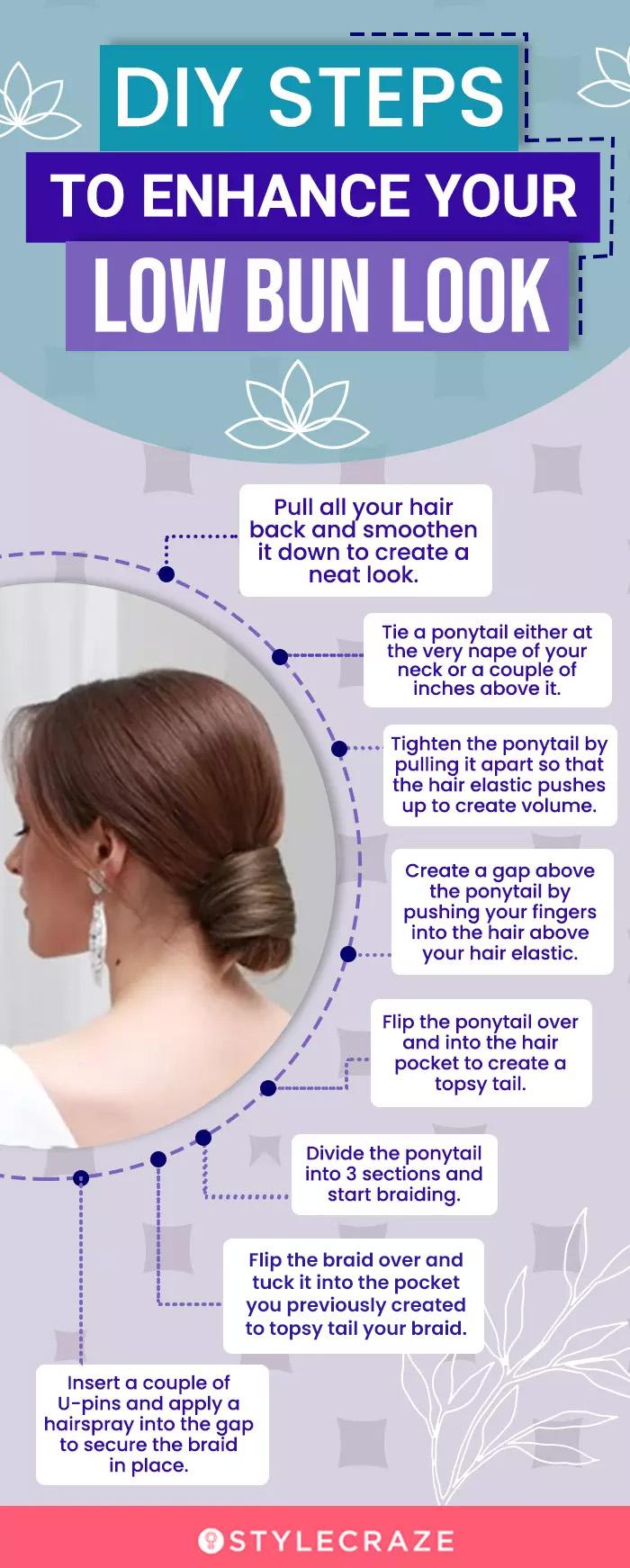 There is something very elegant and beautiful about low bun hairstyles, whether textured or sleek. No matter the occasion, when in doubt, always choose a low bun hairdo. They are very easy to achieve, and you can always pair them with other styles like braids, or hair accessories like headbands, and delicate hair clips. The best part about these hairstyles is that you can try them irrespective of your hair length. Even if you have short or medium-length hair, curly, or wavy hair, you can try and successfully achieve these low bun styles. So, scroll up and practice how to perfect a low bun. Soon you will be teaching and styling others.
Frequently Asked Questions
Do low buns look good on round faces?
Yes, low buns look good on everyone. Try adding long peek-a-boo bangs or face-framing wisps to complement a round face shape.
How do you do a low bun with a middle part?
Instead of brushing your hair straight back, part your hair down the middle. Then brush back the sides from the parting, and wrap it into a low bun.
How do you do a neat low bun with short hair?
Brush your hair back into a ponytail just above the nape of the neck. Tuck the ends of the hair under the bun and secure them with pins.
How do you make a chignon bun with short hair?
A chignon bun may not be achievable with hair shorter than shoulder length. You may use extensions to add length and follow our tutorial. For lengths longer than the shoulders, you can simply tie a ponytail at the nape, wrap the tail around the base of the pony and pin it in place.
How To Do Low Bun Hairstyle This Wedding Season

Learn how to create easy and stylish low-bun hairstyles in 30 seconds in the following video! Perfect for any occasion, these looks will have you looking fabulous in no time!

The following two tabs change content below.