How To Do A Messy Bun With Long Hair: Ideas And Tutorials
Glam up your long locks with these steps, for there is no time to settle for the basic hairstyles.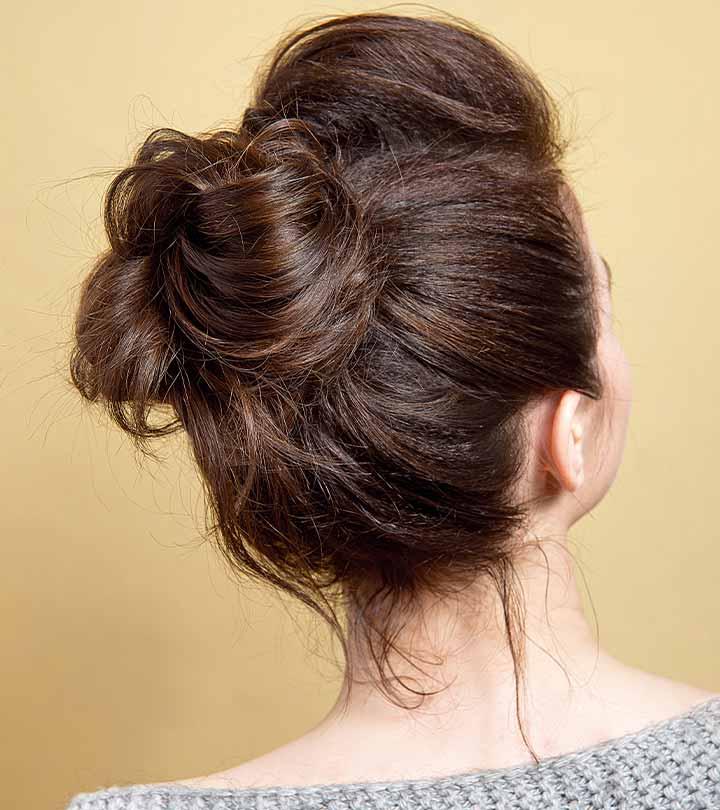 Messy buns are simple, effortless, and stylish. They are your savior for days you are running late for work or haven't washed your hair. However, pulling off this look with long locks needs a bit of practice. But once you have it down, you are not going to want to do anything else with your hair!
Award-winning hairstylist Alicia Igess Jones says, "Long hair is the most versatile when you pin it up. It doesn't matter if it's thick or thin. You can pull your hair up in sections if it is too thick or too much for you to handle at once when attempting to pull it up." If you are wondering how to do a messy bun with long hair, we can help. We have shared a collection of 12 messy bun looks with step-by-step tutorials to help you master this low-maintenance hairstyle with ease. Scroll down to check them out.

Before You Get Started
Gently curling the parts of your hair to form little tendrils can easily transform this hairstyle into a romantic one.
Keep in mind that a messy bun isn't meant to be flawless. It's acceptable if it appears a little casual and messy.
Braid your hair at night to help create beautiful and flowing waves in the morning
What Is A Messy Bun?
Messy buns are casual top knot hairstyles that require less time and look effortlessly chic. These buns add volume and texture to your hair and are perfect for every event. They have a dreamy look, perfect for summers, and require only rubber bands, bobby pins, and a few embellishments here and there!
Jones adds, "Messy buns can be worn on top of your head or towards the nape of your neck. They require less time because they don't have to be perfect. These buns definitely fit the effortlessly chic look. They create texture and work perfectly for any event. They have a dreamy look, perfect for summer, and require only rubber bands, hair pins, and bobby pins."
Messy buns are easy to do with short hair. However, you can pull off the look with long hair too. Check out the messy bun tutorials below to know more.
How To Do A Messy Bun With Long Hair – 12 Cute Styles
1. Messy Bun With A Semi Crown Braid
This is a fantastic option for anything whimsical, romantic, or bohemian! Everything—an engagement party, a girls' day out, a date—works with it. This style will surely enhance your look, whether you choose to French braid it or wear it naturally.
Divide your hair from the front of one ear to the front of the other ear to form two sections of hair – a top and a bottom. The bottom section of your hair should be larger.
Begin weaving a lace braid from one ear along the front hairline. A lace braid is like a French braid but you only keep adding hair from the front hairline to the corner section closest to it.
Keep weaving the braid so it follows your front hairline. Once you reach the other ear weave the rest of the hair in a regular braid and secure it with a hair tie.
Curl the bottom section of your hair, below the nape, using a curling iron. Make sure the curls are not tight.
Make a low side bun with the bottom section of hair and secure it with hair-colored bobby pins.
Take the braid and tuck it underneath the bun.
Spritz a good amount of hairspray on the hairstyle to keep the hairdo in place for a long time.
2. The Double Messy Bun
Double messy buns, or "space buns," are fashionable, fun, and ideal for relaxed movie nights, friend dates, or even if you're attending a music festival! Your appearance will be greatly enhanced by this hairstyle. This hairstyle will definitely make you look great.
Brush your hair and part it down the middle.
Create 2 ponytails on either side and secure them with elastics.
Wrap the ponytail around the base of your ponytail to create the buns.
Let some strands loose and give it a natural carefree messy look.
3. The High Messy Bun
This look is perfect for everyday styling and could be your go-to hairstyle! It works perfectly for both shampooed as well as unwashed hair.
Steps:
Gather all your hair and pull it up into an unfastened ponytail. You can skip using a comb and let the short strands drop loosely.
Twist the length of your hair, spin it around the base of your ponytail, wrap it beneath the bun, and secure it tightly.
Use a hair tie or a few bobby pins to secure the ends of your hair.

Quick Tip
You may personalize it by adding a funky hair scrunchie, a flirty ribbon, or a patterned hair elastic that fits your outfit.
4. Half-Up, Half-Down Bun
This trendy half-updo messy bun looks sophisticated, chic, and perfect for days when you are in a hurry.
Steps:
 Take the top section of the hair and pull it back to tie a ponytail. Leave the bang area as it helps to frame the face.
 Tug the secured hair to loosen it a bit and create volume.
 Twist the ponytail around its base and secure the bun with a few bobby pins.
 Tug the bun to loosen it a little to create a messy look.
 You can curl the loose locks in the front to create a chic look.

Quick Tip
If you want a sleeker style, part your hair at an angle with your thumbs, gathering all of your hair from ear to ear. Then, before leaving the house, remember to spritz your roots with a finishing spray.
5. Messy Hair Bun With Bangs
Girls with bangs can also try the messy hair bun.
Steps:
 Leave out your bangs and gather your hair into a ponytail. Secure with a rubber band.
 Twist the ponytail around its base to form a bun and secure it with another rubber band and a few bobby pins.
 Gently pull the bun to loosen it, giving it a puffy look.
 Style the bangs with a flat iron to give a sleek finish.
6. Low Messy Bun With Long Hair
This low messy bun is perfect for straight, wavy, and thick long hair. You can sport this look to work and formal events.
Steps:
 Tie a low ponytail closer to the nape.
 Wrap the hair halfway through to create a loop, as shown in the image.
 Wrap the tail around the rubber band and pin it.
 You may use hairspray to ensure the style lasts throughout the day.
7. Messy Side Bun With Long Hair
The messy side bun is one of the classic and most elegant hairstyles. And there are various ways to try your hand at this hairstyle. However, this one is the easiest way to nail this bun style.
Steps:
Comb, tease, and style your hair to add volume to it.
Gather your hair to one side of your head and tie it into a ponytail.
Separate your hair just above the rubber band and loop the ponytail halfway through it.
First, secure the loop with bobby pins, and then secure the loose ends around the loop with bobby pins.
8. Bouffant Bun
Just as the name suggests, the bouffant bun has volume and roundness to it.
Steps:
Comb your hair with a wide-toothed comb and remove all knots.
Section out a vertical line from one ear to the other and separate this frontal section of the hair. Clip it separately so that you can work on the remaining hair.
Create a classic and basic messy bun with the remaining section of hair. Secure it properly with bobby pins and a rubber band.
Divide the hair at the front into four equal parts.
Backcomb the bottom section closer to the ear and pull it to the back of your bun.
Wrap it around the bun's base and secure it with a bobby pin. Repeat the process with the other bottom section.
Create a pouf with the remaining two frontal sections and secure it at the bun's base for a voluminous look.
9. Braided Messy Bun
Braided messy buns are stylish and look charming!
Steps:
Gather the hair from the nape and weave it into an upside-down French braid.
Gather all your hair (including the braid's end) and tie it with a rubber band.
Pull the hair halfway through the rubber band to create a loop.
Wrap the rest of the hair around the bun's base.
10. Messy Bun With A Donut
This hairstyle is best for beginners and those who have long straight hair.
Steps:
Gather your hair and tie a high ponytail.
Pull the ponytail through the donut and put it at the base of the ponytail.
Wrap the hair around the donut and secure the ends with bobby pins.
11. Messy Bun With Long Curly Hair
Messy buns look equally good in curly and kinky hair. The curls can make the bun appear voluminous.
Steps:
Gather your curls into a high ponytail.
Twist the ponytail gently and wrap it around its base.
Secure with bobby pins.
12. Messy Bun Without Bobby Pins
This is best for emergencies. Try this cute messy bun hairstyle if you do not have bobby pins and your hair is a mess.
Steps:
Gather your hair into a high ponytail.
Take a rubber band, and twist it once, as shown in the image.
Create a donut with the hair around the center of the ponytail.
Tie the hair with the rubber band, as shown in the image. Pull the tied hair section to give it a donut-like shape.
Gather the remaining hair to the front.
Pull the rubber band in the front and stick the hair ends back into it.
In A Nutshell
Infographic: 6 Cute Messy Bun Styles For Long Hair
Long hair offers endless possibilities for styling, and one popular and versatile option is the messy bun. Whether you are going for a bohemian vibe, a casual look, or an elegant style, there are various ways to rock a cute messy bun with long hair. Get ready to elevate your messy bun game! Check out the infographic below for the best styles you can sport.


We all go through the bad hair days and understand the struggle they bring to us, especially when the hair is long. But if you know how to do a messy bun with long hair, managing bad hair days becomes easier. We hope the tutorials shared in the article will help you style your long hair effortlessly.
Frequently Asked Questions
Do messy buns damage your hair?
Yes, but only if you tie your hair in a bun too often. Tying your hair tightly in a bun frequently can lead to hair breakage and gradual hair loss due to excessive pulling at the roots.
What is messy hair called?
Messy hair may be called tousled, disheveled, or ruffled hair.
Is a messy bun professional?
No. A messy bun is not considered a professional hairstyle as it looks careless and unkempt.
Key Takeaways
 Messy buns work well on both clean and unwashed hair. In fact, they look best in two-day-old hair.
 You can try easy messy bun hairstyles like high buns, half updos, and low messy buns.
 You don't need a comb for doing messy buns. All you need is a rubber band and a few bobby pins.
 Messy buns are perfect for all hair types, including long curly hair.
Discover the effortless and trendy messy bun hairstyle with this tutorial! Perfect for any occasion, this easy-to-follow guide will help you achieve the chic and undone look you've been craving!
The following two tabs change content below.