How To Draw Rangoli – 2 Simple Methods With Illustrations
Master the art of quadrant and grid rangoli designs with a little guidance and a lot of practice.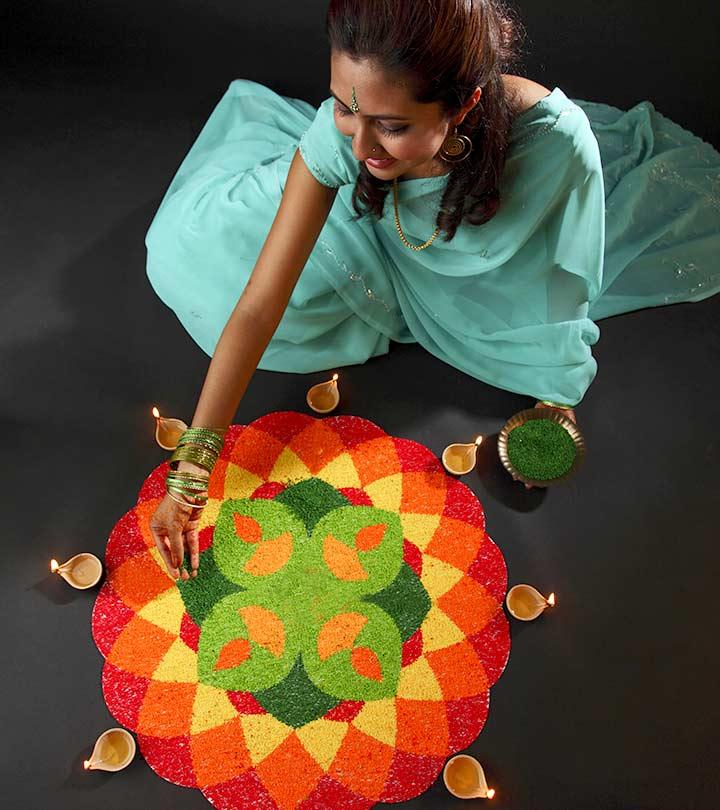 Rangolis can transform you from monotony to a festive mood almost instantly.
They are vibrant, gorgeous and bring your house to life. In this article, we will teach you how to draw a rangoli in this article. We understand that people often get confused about how to begin.
So, to get you started, we have provided a guide with some steps that you can follow. We have also included two styles, the Grid, and the Four quadrants methods. So, go ahead and try them out.
How to draw rangoli:
A. The Four Quadrants Rangoli Drawing Method:
If this is your first time, use a white paper to practice. You will also need:
Coloured chart paper/ Normal white paper (We are using Black Chart Paper here)
Rangoli pattern
Pencil and Eraser
White chalk for the borders (use coloured/black marker on white paper)
Some coloured chalk/coloured sawdust/Coloured semolina/Powder colour (available at local stationary stores usually)
So, ladies let's get started:
Step 1:
Place the paper on a table or on the ground, where you will find it easy to draw and work.
Step 2:
Now choose an easy and small rangoli design from the internet. Start the design by drawing a cross on the paper like a plus/cross sign keeping it symmetrical. This will give you four equal quadrants, basically draw something like this.
Step 3:
Always start from the centre and draw on to one half/side of the paper. Now repeat the same pattern on the other half. The plus sign helps to keep your pattern symmetrical. Using the pencil, make light strokes so that you can easily erase it if necessary. Try to keep the design small & simple for the first few times before attempting the complex ones.
Step 4:
Once you finish the pattern using pencil, use white chalk to draw over it.
Step 5:
Now fill in with crayons/coloured chalk/coloured sawdust or any other material you feel comfortable with.
You can try our next method once you are a bit more confident about show your drawing skills.
B. The Grid Rangoli Drawing Method:
Here you will be using a grid of dots as your reference as you guide to how to make rangoli designs step by step. You will first draw a big grid of small dots. Then use chalk or any other material to draw your selected shape and pattern using the dots.
For this technique you will need:
A paper or clear space on the floor to make Rangoli
Chalk /White Rangoli powder/Semolina/White colored Sawdust
Sawdust in different colours to fill in
Step 1:
Choose your design and try to practice it on a paper. This will make drawing on the floor easier.
Step 2:
Draw the grid using small dots at equal distances like this:
You can put the dots in any shape you want like square, rectangle, etc. Here we are using the hexagon shape, a very popular grid choice with Rangoli makers.
Step 3:
Join the dots using a chalk and then go over it with the semolina/White sawdust/Rangoli colour.
Step 4:
Now comes the best part, adding colour to our design. Using coloured sawdust, fill in the designs liberally. You may also use dried leaves, flower petals or even mix them with colour chalk powder to give a creative touch.
Step 5:
After you are done filling in colour, add some finishing touches like another coat of white powder on the border. You can write wishes, add diyas or candles to make it even more beautiful.
Some pointers for all Rangoli enthusiasts:
No one did a fabulous Rangoli in one day or on their first attempt. So, girls take it slow and with patience, you will be ready and all geared up in no time.
At times while using chalk in powder form, the lines may appear thick or thin or uneven. Try the following tricks:
Trick 1: The Cone method
Take a small piece of paper and roll it into a conical shape like a mehndi tube. You can secure the narrow end with some glue or even cellophane tape. As per your design, cut the tip open to the desired thickness. Now hold your finger sealing the narrow opening and fill the cone with white chalk powder/semolina/sawdust.
Your cone is ready. Try doing the lines again. We are sure this time you will get them perfect. Use your fingers to control the flow of chalk powder.
Trick 2: Pinch out method
Take some colour/semolina/sawdust in your hand/fist and position your fingers like you would to sprinkle salt. Using your fingers, gently let small amounts of the powder fall out as you move your hand around the lines.
This method needs a bit of practice but making thick or thin lines will be very easy.
Rangolis are a great way to begin a festive or special occasion. Those colorful geometric patterns can instantly shift your mood from blah to wow in a few minutes. Sometimes, rangolis can seem difficult and may leave you scratching your head. This article gives you simple tips on how to draw a rangoli with two methods. If you are new to rangoli drawing, go for the four quadrants method. For those who are more confident with their drawing skills, go for the grid method. Remember, with patience and practice, you will ace rangoli drawing like a star. What are you waiting for? Get those creative juices flowing!
Frequently Asked Questions
How do you stick rangoli?
If you are making a rangoli design where you want the rangoli powder to stick to the surface, outline the design with a coat of PVA glue and cover it with a layer of rangoli color. Let it dry and dust the excess. Apply PVA glue over the first coat of color and repeat the process if you want a second coat.
Is rangoli an art?
Yes. Rangoli is a Hindu folk art used as decorations during festive events and as part of religious activities.
How many colors are there in rangoli?
There is no limitation to the number of colors you can use to make a rangoli design.
What is the connection between rangoli and Diwali?
Rangolis are usually made right at the house entrance to greet and welcome visitors. During Diwali, Hindus perform pujas to welcome the Goddess Lakshmi into their houses. To this effect, Diwali rangolis have grand and intricate patterns, vibrant colors, glitters, flowers, and diyas.

The following two tabs change content below.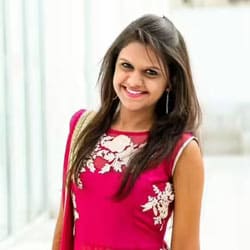 Nisha is a contributor to StyleCraze. She is a makeup aficionado and combines her love for makeup and writing to...
more