How To Dress If You Are Overweight
Time to get confident and flaunt your God-given curves like the queen you know you are!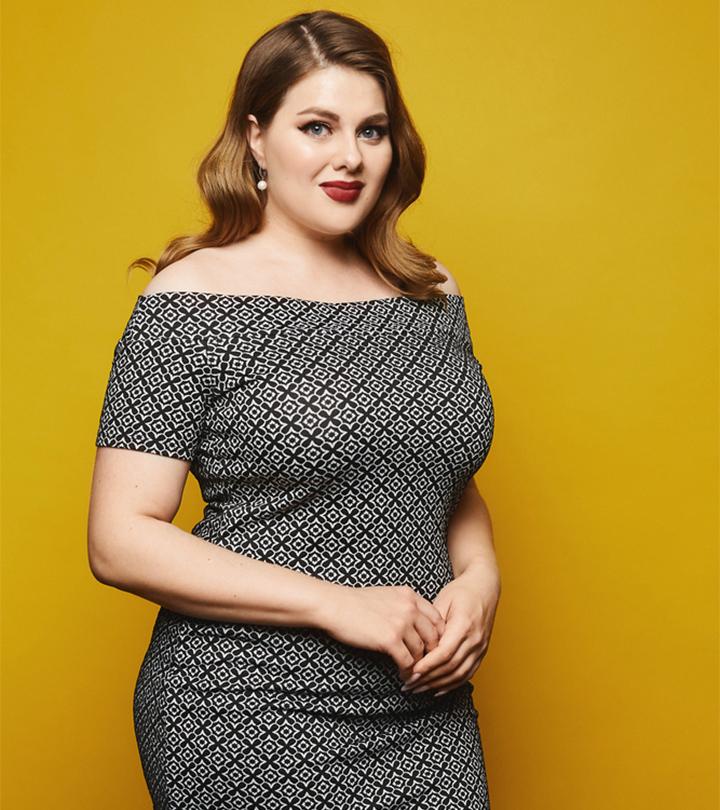 Embrace your curves and flaunt them with confidence! We are here to tell you how to accentuate your curves and bring your A-game always. After all, you should feel proud of your body!
Models like Chloe Marshall and Ashley Graham started normalizing plus-size model figures in 2019. God bless them for teaching others to embrace their bodies as they are! And since all bodies are different, you need to dress differently to accentuate your curves and feel confident.
We have curated the best plus-size fashion trends and ideas to help you dress. From fun and cool outfits to classy ones, we share fashion for curvy women ideas that will help you style your clothes to perfection. These style tips will not only make you look good but also help you feel super-confident in your skin. Scroll down to get all the details!

Ace The Look
 Layers: Use thin and sleek fabrics like viscose and polyester when layering to avoid bulking up.
Bag: Go for medium-sized bags with wide straps as they go well with a plus-sized figure. Avoid very small, large, or round bags as they may make your figure look bulky.
Accessories: Avoid wearing tiny and dainty jewelry. Instead, opt for long neck pieces to make your neck appear longer and slimmer.
Dress Style: Opt for dark A-line dresses instead of big and flowy tent dresses to help create a slimming look.
Understand Your Body Shape
It is essential you understand how your body works and what you feel most comfortable wearing. Here, comfort and confidence are key. You have more curves than the regular woman, and it is completely okay that you do. You just have to work at it and come up with fun and stylish outfits that complement your figure and body image.
There are plenty of options out there, and you can make one of the most regular or basic outfits work to your advantage. Figure out what you like and use it to create your personal sense of style.
If you are on the busty short side, balance out the outfits that complement you.
Outfits like flowy floral blouses or plaid checked shirts paired with pants or trousers could work effortlessly in your favor. You could draw more attention to your neckline by opting for turtlenecks or scoop necks or even simple V-necks.
Understanding what works and what doesn't takes you a long way in your fashion journey. While it is important to pick the right outfits if you are overweight, picking the right kind of undergarments is of prime importance.


Quick Tip
The most common body shapes are rectangle (or straight), apple (or round), pear (or triangle), hourglass, and athletic (or inverted triangle). You can find your body shape by comparing the measurements of your shoulders, bust, waist, and hip.
Find The Right Undergarments
What you wear beneath your clothes makes you feel comfortable, confident, and truly saves (or ruins) your outfit.
The first key to getting your undergarments right is to know what your size is. Always measure yourself to be accurate. Well-fitting lingerie will not only make you feel comfortable in your skin but also accentuate your curves.
Since overweight women are on the bustier side and have large bottoms, sports bras and supportive underwear are great picks as they offer tremendous support.
Your undergarments should not be too loose or too tight. Plenty of lingerie brands have come up with new styles and patterns for plus size women. Go out there and figure out what you like and feel comfortable in the most.


Quick Tip
Also consider the shape of your breasts while shopping for bras, as different bra types are best suited for different breast shapes.
Shopping Tips And Color Combinations
Firstly, go for quality over quantity. The quality of the fabric you purchase is important. Buy fabric that would last for quite some time.
Do not neglect your comfort. If you like an outfit that's somewhat risky or something that you wouldn't normally wear, buy it. When you step out of your comfort zone, you do it in ways that make you feel confident and body positive.
Pick colors that complement your skin tone and physique. During the day, colors like reds and shades of blue and yellow can be quite appealing. For the night, opt for more subtle colors like gray, black, shades of nudes, and pastel colors. These give out a classy, stylish, and mature vibe.
If you are opting for something more on the playful side, pick colors like green and shades of pink or white. Investing in floral or printed scarves could be a good idea. They are quite handy and can glam up even the simplest of outfits.
Choose The Right Patterns
Playing with patterns can be super fun. Figuring out how to work with stripes, floral prints, vertical prints, and boxed prints can be quite enjoyable. If you are on the heavier side, we suggest you always opt for vertical prints over the horizontal variant as they make you look less bulky and more toned.
Dark colors at night and pastel colors during the day can work in your favor. If you are busty and have a slim waist, wear jeans that enhance your curves. Play with the patterns you like. Black and white printed designs can never go wrong and will forever remain a classic.
Step out of your box and work with different patterns and figure out what works for your physique. Don't hold yourself back. It is important to experiment with your plus-size clothing. Only then, you'll know what you genuinely like and can discover your sense of style.
Pick Form-Fitted Clothes
Well-fitted clothes add tons of confidence to your personality and boost your self-esteem. The idea of putting yourself out there and showing your physique, especially when you are overweight, is remarkable.
The most important thing to remember when opting for well-fitted clothes is to make sure you are wearing the right lingerie. If you are wearing tight pants, a thong is highly recommended.
Dresses that are tight on the waist and flowy from the bottom can look super pretty. Jeans with a well-fitted blouse can look smart and elegant. You can jazz up your look by adding a pretty floral scarf to this outfit. You can also pair a crop top with a floor-length skirt.
There are plenty of ways to style your outfits, but make sure you work in the right direction. Well-fitted clothes have an aura of their own and can make you look downright stunning.
Get Your Clothes Tailored If You Are Overweight
Getting your clothes tailored if you are overweight is one of the best ideas ever. Your tailor will take your measurements accurately and stitch them according to your suggestions. Tailored outfits are well-fitted and look super neat. However, they could be a tad bit expensive when compared to readymade garments.
The biggest advantage of tailoring your clothes is that everything is your choice. From the fabric you pick to the style of stitching, you get to choose it all. You could get pretty floral blouses or maxi dresses or even skirts stitched. Have fun embracing your inner stylist!
Accessorize Your Outfits
Accessorizing can be so much fun once you get the hang of it. You need to keep it balanced, depending on your outfit. If it's a simple, basic outfit, accessorizing can give some life to it. Hoop earrings, a classy watch, or even a floral scarf can do the trick.
If your outfit is loud, we suggest you keep it minimalistic by wearing just a watch or a charm bracelet or a neckpiece. It adds character and charisma to your sense of style. Balance it out and trust your intuition with accessories. Play with them and opt for something quirky at times to up your attire game.
Layer Your Outfits
It's never the wrong time to layer clothes. When you are overweight, layering can be used to your full advantage. Pick out a classic white T-shirt, pair it with well-fitted blue jeans, and throw on an overcoat. This outfit is basic but never fails to impress.
If you are wearing a pretty mini dress, put on a denim jacket. It will complete your attire to perfection. Layering is cool when you know how to do it right. It is one of the easiest ways to revamp your wardrobe.
Wear Flattering Shoes
You cannot ignore your feet. The footwear you wear can contribute more to your outfit than you'll know. Plus-size women can opt for platform sneakers, mules, ballerinas, and even solid pumps. These not only complement any attire but also elevate your sense of style by several notches.
Mules have a more laid-back and casual feel. Sneakers are sporty and trendy, and you can never go wrong with them. On a date night or a night-out, pumps are your go-to.
Clothes To Avoid
To be honest, there aren't any clothes you should avoid. But you must be smart and know what works for your body type and what doesn't. Avoid wearing clothes that cling to parts of your body you feel conscious about. Make sure you avoid the wrong kind of undergarments. Be all up for dressing for your body type and exploring new outfit ideas, but not at the cost of your style and comfort.
Confidence Is Key
Being overweight could be hard to embrace at times. Slowly, but surely, you will come around and love your body more than ever. It is essential you believe in body positivity, no matter what your size. Confidence comes from within. Wearing outfits that make you look good is a huge step in boosting your confidence. Be comfortable in your skin, and embrace it with grace. You can achieve any look once you accept who you truly are and love it with all your heart!
Infographic: Pro Dressing Tips For Plus Size Body Types
It might seem like such a nightmare to dress for the smallest events when you do not have a toned body that can pull off almost anything. However, with a few key factors in mind, you can just turn the tide. After all, fashion is for all!
Check out the infographic below on the key dressing tips that will help you be a fashionista no matter what size you are!



We would still emphasize loving yourself the way you are and embracing body positivity. Just make sure you are in good health, and the rest will fall into place. Plus, these tips and tricks on how to dress if you are overweight will always save your day no matter what. You have to try out the ideas and learn to execute them till you achieve your desired results. You will look no less than a showstopper once you know your shape and give your frame the proper undergarments, colors, prints, and motifs.
Frequently Asked Questions
Does sleeveless make you look fat?
Regular sleeveless tops cut your arms at a sharp angle, which makes them look larger. So choose outfits with a deeper cut or thin straps to show a little more of your shoulder!
How can I hide my bloated stomach?
To hide a bloated tummy, use smart styling techniques and pay attention to your undergarments. Wear shapewear, such as slimming undies with belly control or a control top girdle, hip-hugging pants or stretchy jeans, and a feminine-looking top that flows over the waist.
What are some common mistakes to avoid when dressing if you are overweight?
It is important to avoid clothes that cling to the parts of your body you feel conscious about. Make sure to wear the right kind of undergarments. Remember to dress in a way that makes you feel comfortable and confident.
Are there any specific clothing styles or cuts that are more flattering for people who are overweight?
Pick form-fitted clothes, tailored outfits, and dresses that are tight on the waist and flowy from there to the bottom. Don't restrict yourself to any particular style. Figure out what works for your physique and experiment until you know what you genuinely like.
What are some types of fabrics or materials to look for when shopping for clothing if you are overweight?
If you want to avoid looking bulky, it is best to stick with light-weight fabrics. Go for materials like cotton, linen, and other natural fabrics. These fabrics help you feel comfortable and look great at the same time.
How can someone feel confident and comfortable in their clothing even if they are overweight?
To feel confident and comfortable if you are overweight, try wearing clothes that fit your physique well. It is advised to use accessories, wear flattering shoes, work with different patterns, and figure out what works for your body type. Be smart, know your body, be body positive, and embrace yourself gracefully. Confidence and self-love come from within.
How can someone update their wardrobe to include more flattering and stylish pieces?
To update your wardrobe with flattering and stylish pieces, try experimenting with different fabrics and patterns to see what works for your physique. Try tailored clothes for a well-fitted and neat look. Also, pick form-fitting garments that accentuate your best features and accessorize your outfits appropriately.
What are some resources or sources of inspiration for fashion tips for people who are overweight?
Instagram influencers like Natalie Craig and Kellie Brown, and celebs like Jen Ponton, Rebel Wilson, and Nicole Byer are great sources of inspiration for fashion tips and body positivity. Blogs like The Curvy Fashionista and Stylish Curves can also give you regular updates on changing fashion trends.
Key Takeaways
Dressing according to your body type can help you accentuate your curves and feel confident.
Figure out what you like and what makes you feel confident to create your personal sense of style.
Always pick colors that complement your skin tone and physique.
Wearing well-fitting undergarments and getting your clothes tailored are also great ways to look put together when you are overweight.

Check out this video for plus-size fashion tips to help you look and feel your best! Learn how to dress for your body type and find the perfect outfit.

The following two tabs change content below.