How To Dry Curly Hair At Home – 6 Easy Ways To Try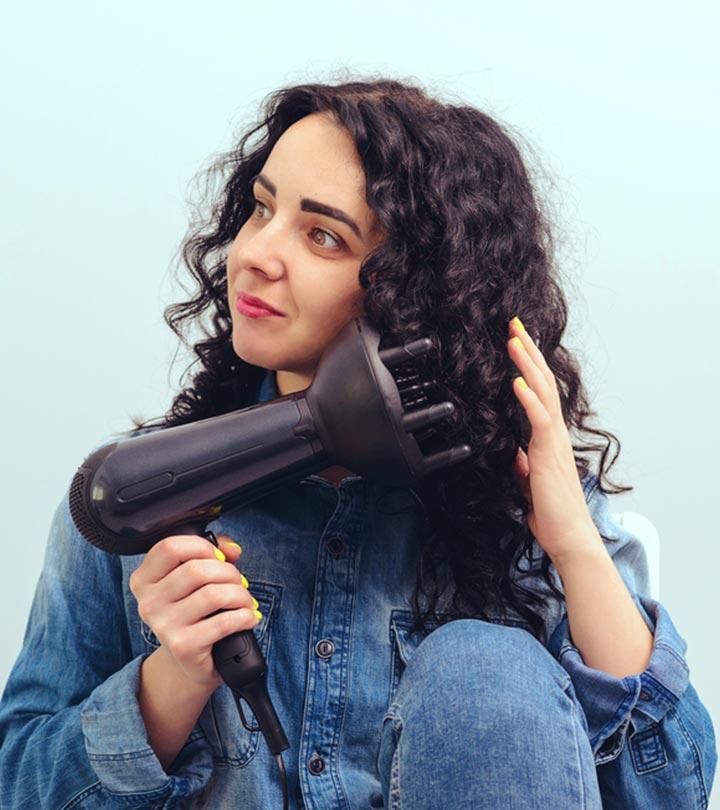 Curly hair has a temperament like no other hair type! While it is well-defined and beautiful at times, it is a wild frizzy mess on other days. The key is to dry curly hair following the right hair care protocol. It is guaranteed to give your hair maximum life and volume and even enhance curl definition. Conversely, incorrect drying steps can increase frizz and cause damage to your hair structure and health.
Peruse through this article to learn how you should be drying your curly locks to avoid frizz and damage. Keep reading.
How To Dry Curly Hair At Home
There are various ways to dry curly hair at home. These include:
1. Air-Dry
The simplest way to dry your curly hair is to air-dry it. As your hair dries, it forms curls naturally. You can use a T-shirt to absorb the excess moisture. Apply a mousse or a hair gel to your damp hair to get curl definition. Remember to use alcohol-free products to avoid making your curls crunchy. Although a little time-consuming, it is the easiest way to get natural curls. It is advisable not to touch your hair when it is air-drying to avoid frizz and tangles.
Pro: Best curl definition
Con: Time-consuming
2. Hair Diffuser
Use a hair diffuser to blow-dry your hair, especially if you are pressed for time. This attachment offers controlled air-flow, which helps in drying your hair with minimum frizz and adds amazing volume. You can also use the same attachment to scrunch curls your curls as your blow-dry them to add definition. Apply a leave-in conditioner to hydrate your hair. If you notice that your hair is losing its curls due to the heat, give a break of a week or two between blow-drying sessions.
Pro: Time-saving
Con: Your hair can get frizzy if you don't use the right technique
3. Microfiber Towel
Use a microfiber towel to squeeze out the excess moisture. You can wrap your damp hair in the microfiber towel and wait for your tresses to dry. This fabric reduces friction and static, thus reducing frizz and dryness. So, do not rub your hair with this towel. Instead, scrunch it gently with the towel to get frizz-free curls.
4. Hooded Dryer
Go old school with a hooded dryer! This is a fast and effective way to dry your curly hair. Simply twist your hair in rollers and sit under a hooded dryer for those gorgeous curls. Remember to condition your hair and use a detangler or your fingers to remove any knots before putting it in rollers. This helps in retaining the natural texture of your hair.
Pros: No heat damage
Cons: Expensive
5. Clip The Roots
If you want to avoid flat hair, you can clip up your hair at the roots while drying it. This adds some much-needed volume and bounce to your hair. Inverting your head and blow-drying it can also help. Remember not to keep your head inverted for more than 2 minutes when drying your hair as it can make you feel dizzy and light-headed.
Pros: Adds volume
Cons: Requires time and effort
6. Stretch Your Hair
You can braid or twist your hair to get natural curls, depending on your hair texture. Don't forget to deep condition your hair to avoid damaging it. You can use this technique to revive second-day curls.
Pros: Heatless method
Cons: Can add kinks to your hair
To recap, there is a routine you should follow to dry your curly hair properly. Allow your hair to air-dry instead of blasting it with a blowdryer when it is wet. And wrap your damp hair in a microfiber towel. Clip up your hair roots when drying hair to add more volume to your curls. Also, remember to use a diffuser when using a blowdryer as it dries your curls evenly. You can also stretch your hair with braids or twists. Drying your curls the wrong way can lead to many hair issues like frizz, dryness, and dullness, so make sure you give them the TLC they deserve.
Frequently Asked Questions
How often should you wash curly hair?
Curly hair tends to have oily roots and dry ends. You should wash your scalp at least thrice a week if it gets too oily. Otherwise, wash it twice a week. After washing curly hair apply a hydrating serum or mousse over your strands to prevent them from drying out.
How can I make my curly hair soft and silky?
You can use natural ingredients like oils and butters to make curly hair soft. You can also use hair care products specially formulated for curly hair. Avoid heat styling or chemically processing your hair.
Key Takeaways
Drying curly hair the right way can decrease frizz and increase volume and overall hair health.
You can always go for air-drying your hair and using a microfiber towel to drain the excess water out to reduce dryness and get smooth, natural curls.
To give your curls more volume, you can clip the roots of your hair and use a hooded dryer to give you beautiful curls.
The following two tabs change content below.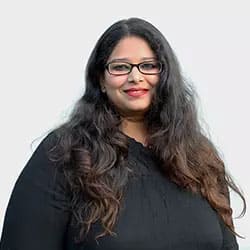 Annie Jangam is a researcher-turned-content writer. She enjoys dissecting complex clinical studies and shuffling through the scientific jargon to make...
more