How To Dye Your Hair With Lemon Juice?
Do you want to dye your hair but are afraid of the chemicals and the damage they can cause? Well, there are a few other ways you can dye your hair – or rather, lighten or highlight it; and lemon juice is one of the most effective ways to do that.
This post tells you how to dye your hair with lemon juice. To know more, keep reading!
1. Prepare The Dye
To start making your 'dye', you need lemons. Take as many lemons you need to achieve full coverage (or partial coverage, in case you are doing just the highlights). Take the lemons, and applying pressure with the heel of your hand, roll them on a hard surface. This is a good trick to extract more juice out of any citrus fruit.
2. Apply
Cut the lemons in quarters. Boil a cup of water. With this hot water, mix the freshly squeezed lemon juice. Make sure that the juice and water are equal in volume. If your hair dries out quickly, this may make it even frizzier. So mix equal parts of orange juice (since it has some acidic content, though less than that of a lemon). If you have dry hair, you can also add a squeeze of conditioner to the lemon mixture and whisk well.
[ Read: Benefits Of Vegetable Hair Dye ]
3. Soak In The Sun
Bottle the mixture in a spray bottle and cover your entire hair by spritzing. Once your whole hair is covered, run a sparse bristled brush across your hair. You may also want to get highlights instead of full coverage. For this, soak a strip of gauze in the lemon mixture and holding the section of hair in your hand, wipe it with the strip of gauze. You may need to do a few coats in order to get the desirable contrast. Also, keep some clips handy. Once you are done with the strips, attach a clip to easily pick them up every time.
4. Finish
You need to sit in direct sunlight for at least one hour or more for the color change to become visible. So, pick a spot and sit facing away from the sun so that your hair gets most of the exposure. Also, since you are going to sit in the harsh sun for long, it is advised to wear sunscreen. Wear one with SPF 15 by applying it thickly all over your face, neck and any exposed part of your skin. After an hour in the sun, reapply the juice and soak for another thirty minutes.
[ Read: Ways To Make Herbal Hair Colour At Home ]
5. Natural Additives
To complete the whole hair lightening process, wash your hair once the color is set and give your mane deep conditioning. This is necessary because lemon juice drastically lowers your hair's pH level, which makes it dry out quickly. If you want your new highlighted locks to look smooth and silky, deep conditioning is absolutely necessary.
There are various additives that you can incorporate into your natural hair lightener to enhance the effect of the lightener or make your hair softer and smoother.
Cassia
This looks like cinnamon, but has a different taste and a slightly golden color. Crush into powder and mix with the lemon juice to give your hair a golden glow.
Chamomile Tea
Steep the tea in the hot water before adding lemon juice. This helps in giving you nice golden highlights.
[ Read: How To Use Henna And Indigo To Colour Your Hair Black? ]
Cinnamon
Cinnamon also helps in imparting a brown, golden tinge to your hair. It works well on darker hair.
Honey

It helps in conditioning your hair and cuts down the frizz.
Now that you know how to dye your hair with lemon juice, what are you waiting for? Lemon juice will condition, soften and make your hair look more healthy and voluminous while also giving you those parlour-like streaks at home. Hence lightening your hair with lemon juice is no more a tedious task, try it today!
How did you like this post? Tell us by commenting in the box below.
Recommended Articles

The following two tabs change content below.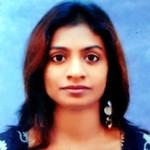 Latest posts by Maanasi Radhakrishnan (see all)