How To Flat Iron Natural Hair In Just 3 Simple Steps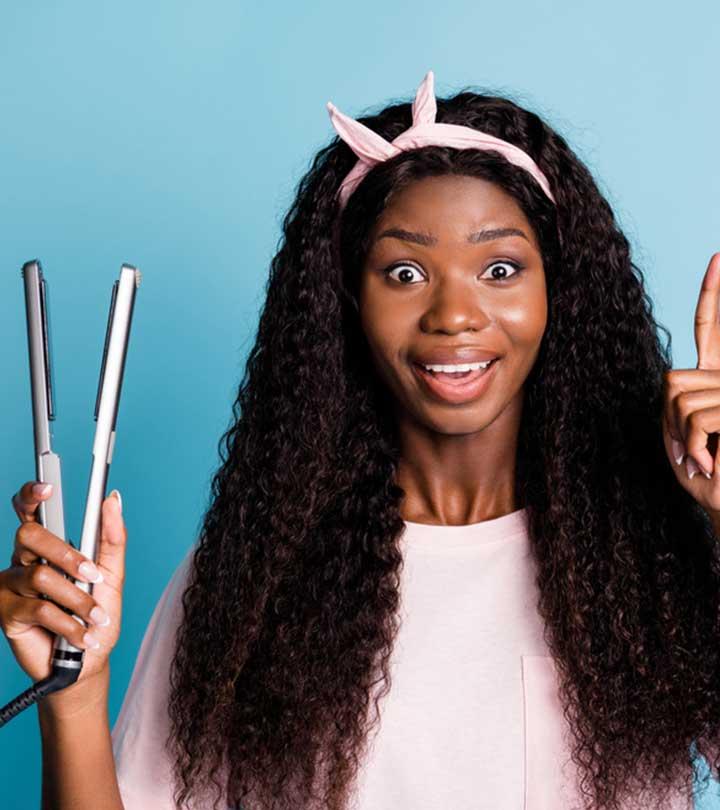 If you are a Black woman with naturally curly hair, you must have toyed with the idea of straightening it! However, you might be a little apprehensive about it since there are many misconceptions about straightening natural hair. Brush those thoughts aside as we have come up with a comprehensive yet simple guide to flat iron natural hair in three simple steps without damaging it. Scroll down to find out more! 
How To Flat Iron Natural Hair Without Causing Heat Damage
Step 1: Prepare To Heat Up Your Natural Hair
The first step before you flat iron your hair is to prep it. This step protects your hair from damage.
Wash Your Hair: It is a good idea to wash your hair before you straighten it. This ensures that your hair is clean and free of leftover products, scalp build-up, and dirt.
Condition Your Hair: It is important to use a conditioner after you wash your hair. Apply it throughout the length of your hair, avoiding the roots. It replenishes moisture and strengthens your hair.
Use A Heat Protectant: Apply a heat protectant (serum or spray) before you blow-dry and straighten your hair. These products usually contain silicones that form a protective coating on the hair strands. Thus, they protect the hair from high temperatures, which can damage the hair. It is recommended to use a heat protectant on damp hair to lock in the moisture.
Dry Your Hair Properly: It is good to air-dry your hair as this minimizes the exposure to the damaging effects of heat from the blowdryer and flat iron. If your hair is on the thicker side or you are in a hurry, you can partially blow-dry your hair at low or medium settings. But, try to limit the use of blowdryer as much as possible.
Step 2: Straightening Your Hair
Divide Your Hair Into Sections: Before you start straightening your hair with a flat iron, divide it into small sections (not more than an inch thick). This helps in getting smooth, sleek locks as working in smaller sections is more effective, especially if you have thick hair. You can use clips to secure the hair in place.
Brush Each Section Before Straightening: Brush the hair with a wide-toothed comb or paddle brush before straightening it. You can use a detangling brush to remove knots without breaking or damaging the hair.
Choose The Right Temperature Settings: Adjust the heat setting of the flat iron based on the thickness and texture of your hair – lower settings if you have fine hair, and higher temperatures settings for thick, coarse hair.
Technique: The most important aspect that helps in effectively straightening your natural hair is the technique.
a. Once you have divided the hair into smaller sections and decided on the temperature setting, you must ensure that you run the hair between the flat iron plates at a uniform speed. This comes with practice and is dependent on your hair.
b. Start at the root of your hair and gently run the flat iron down to its tips.
c. Press the plates for 3-5 seconds as you slowly move along the length of your hair for even and uniform hair straightening. Maintain consistent pressure the entire time.
d. Repeat the process until you get sleek, pin-straight hair. Make sure you don't pass the straightener more than 3 times through the same section of hair to prevent heat damage.
e. Keep in mind that it is a time-consuming process, so take short breaks to prevent arm fatigue.
Step 3: How To Protect Natural Hair From Damage?
Use a good-quality flat iron. Use a 100% ceramic flat iron. The ceramic coating helps in even heat distribution without damaging your hair.
Apply a serum, smoothening balm, or hairspray to keep the hair straight for longer.
Limit the number of times you straighten your hair. Overexposure to heat can damage your hair, leaving it looking dull, dry, and lifeless. In the long run, you might even lose your natural curl pattern.
Do not flat-iron damp hair to avoid bubble hair.
Conclusion
Flat ironing natural hair requires time and patience. However, if you follow some simple precautions and the right technique, you can get the desired results easily. The key is to use minimum heat on your hair to protect it from damage. It is essential to take care of your hair before and after straightening it. Try out our simple step-by-step guide to get perfect results every time!
Recommended Articles
The following two tabs change content below.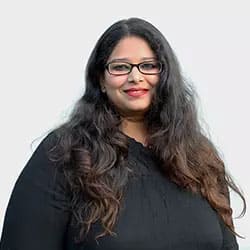 Annie Jangam is a Molecular Biologist with 7 years of research experience in Rice Functional Genomics and Nutrient Signalling with International Publications in Abiotic stress, Nitrogen, and G-protein signaling. She specializes in writing on Health and Wellness. She has been an avid reader since childhood and is passionate about stories that help decipher life and its meaning. She believes in Human Rights for all and that one should "love others like we love ourselves."