How To Get Eyelash Glue Off With Out Any Damage
Removing falsies glues has never been easier than with these easy tips!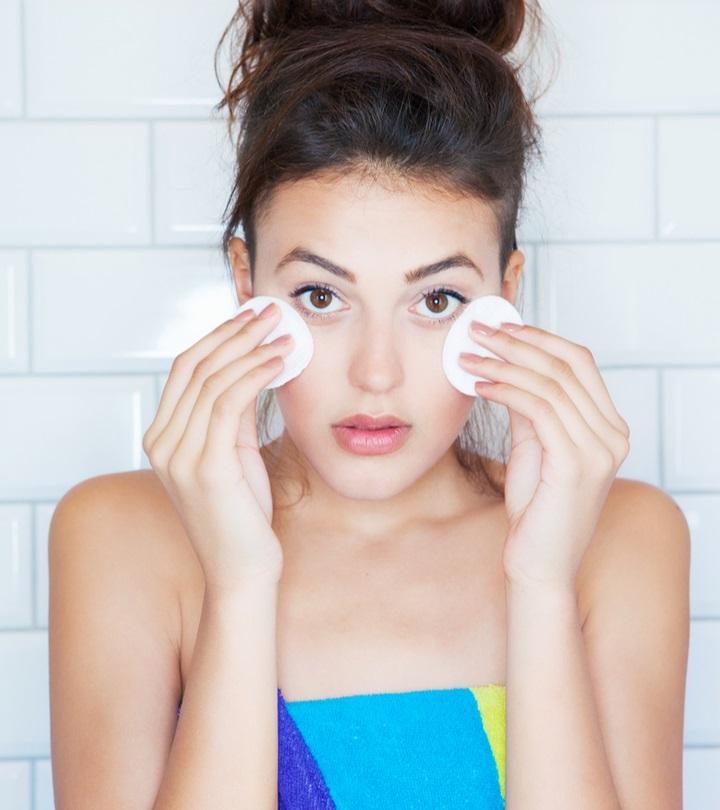 False eyelashes or falsies are the best way to make your eyes appear dramatic and bigger. While applying falsies is an art, taking them off can be cumbersome, especially when you do not know how to take eyelash glue off your lids. In addition, the glue residue often sticks to the lash line after the clean-up.
Applying too much eyelash glue is a common mistake. It is one reason the glue becomes clumpy and tough to clean off, and the lashes appear fake. Also, rubbing hard may damage the lashes or scratch the eyelids. Do not worry. We have easy tricks and hacks to help you avoid such situations and take the eyelash glue off easily and without any damage. Keep reading to learn more.

Fun Fact
In 1911, Canadian inventor Anna Taylor received a US patent for glue-on lashes made from human hair.
12 Best Ways To Remove Eyelash Glue
Not all these methods are ideal for everyone, so try them out once before practicing regularly. How you get your eyelash glue off depends on whether the glue is stuck to your skin or lashes. Let's take a look at the easy and simple methods to remove eyelash glue.
1. Baby Oil
Baby oil is an excellent option to remove eyelash glue as it will not hurt or damage your skin.
Method
Dab a cotton ball with some baby oil.
Wipe the area around your eyes where the glue was applied.
Rub the swab gently along your lashes and the lash band.
Allow the oil to sit for two to three minutes on the eyelid. However, make sure you do not use excess oil, or it will just transfer the glue from your eyes to the cotton ball.
Pull the eyelashes off from the outer corner.
Reapply some baby oil with your fingers along your lashes to remove any residue glue.
Wipe away the excess oil from your eyelids and skin and wash your face.
2. Olive Oil
Olive oil has several benefits, and using it on your eyelids to remove glue is one of them.
Method
Put a few drops of olive oil on a cotton swab.
Dab the product onto your eyelid, especially along the lash line.
Grab the false lash extension by the outer corner and peel the strip away from your natural lash.
Wipe off any excess oil and wash the area with cool water.
3. Rubbing Alcohol
Rubbing alcohol is a great choice for removing eyelash glue quickly and easily. It is also easily available at any grocery store.
Soak the tip of a cotton swab in rubbing alcohol.
Rub it onto your eyelashes until the glue comes off.
Wash the area with cool water.
4. Eyelash Glue Remover
Eyelash glue removers are exactly what they sound like – products that help you get rid of eyelash glue. They are affordable and found at any drugstore.
Method
Dab a cotton ball with glue remover.
Gently press the cotton on your eyelashes and lash line. Let it sit for a few minutes.
Grip the false lashes with your fingers and gently peel them away from the brow.
Dip another cotton ball in eyelash glue remover and rub it along your eyelid to loosen any remaining glue.
Use a makeup wipe to remove the excess product and clean your skin.
5. Nail Polish Remover
Nail polish removers effectively remove eyelash glue, and they work almost as quickly as the rubbing alcohol method.
Method
Soak a cotton swab in nail polish remover.
Apply it gently and carefully to your lashes. Do not put it directly on your skin to avoid irritation and sensitivity.
Peel away the glue and false eyelashes without rubbing.
Rinse your eyes immediately with normal water.
6. Hairspray
You can soften the eyelash adhesive with a hairspray. However, be careful not to overuse the product as it may sting your eyes or cause irritation.
Method
Get a cotton swab wet with some hairspray.
Hold the swab on your lashes for 20-30 seconds.
Wait until the glue loosens and comes off on the cotton swab.
7. Eye Makeup Remover Wipes
Rubbing your eyelashes with good makeup remover wipes for several minutes can help bring down all traces of glue. However, remember to go soft and use as little pressure as possible.
8. Apply Eye Cream Or An Oil-Based Moisturizer
The application of eye cream or an oil-based moisturizer on the targeted area can help loosen the adhesive. Pull on your eyelids or lash line gently while rubbing the moisturizer on the glue. This will provide more slack and make it easier to dissolve the glue. Rinse your eye area with water to get rid of any leftover glue on your lashes.
9. Oil-Based Makeup Remover
Oil-based makeup removers are ideal for dissolving glue from false eyelashes. Pour some oil-based remover on a cotton swab or pad and gently rub on the glue until it peels off.
10. Eye Drops
Removing false eyelashes can get frustrating, but eye drops can make the process simple and hassle-free. Apply eye drops on the lashes and massage until the glue comes off. Rinse your eyes with cold water.
11. Steam Your Face
Steam can melt the glue and loosen it. Wet a clean wash towel with hot water and place it on your eyelids. The steam will help soften your lashes. Gently wipe away the glue without pulling your natural lashes.

Quick Tip
You can use a solution of warm soapy water to dissolve eyelash glue gently.
12. Manual Removal
If everything else fails, just let the glue dry and peel it off yourself. This method is great when your glue accidentally gets on your under-eye area.
Allow the lash glue to dry and harden completely. If it has gotten on your under-eye area, make sure it has dried completely before peeling.
Soak a cotton ball or Q-tip in baby oil or coconut or olive oil and gently apply to the dried glue until it starts coming off.
Wash your face with soap and water.
Follow up with a lightweight moisturizer.
Applying false eyelashes will help make your eyes bigger and more attractive. Though they are easy to apply, removing the falsies is often cumbersome. Eyelash glue is made of chemicals and solvents that can cause infections, rashes, scabbing, or inflammation if not removed on time. Baby oil, eyelash glue remover, hairspray, oil-based moisturizer, eye drops, nail polish remover, alcohol, etc., may help you get eyelashes off without causing any damage. Follow these tips to ensure your skin is safe and there is no glue residue after clean-up.
Some methods mentioned above may seem counterintuitive because they involve the use of other chemicals. However, you must remember that these substances are less harmful to your eyes than the glue itself. So, follow the steps with precautions and get rid of your stubborn eyelash glue with care and patience.
Frequently Asked Questions
Does micellar water remove eyelash glue?
Yes. anecdotal evidence suggests that using micellar water with oil can be used to remove eyelash glue.
Will Vaseline remove eyelash glue?
Yes. Vaseline contains molecules that will help break down the lash adhesive and keep your lashes moisturized.
Does castor oil remove eyelash glue?
Yes. Castor oil is effective in removing eyelash glue. Unlike coconut oil or other ingredients, castor oil takes time to break down the adhesive. Take a piece of cotton and apply castor oil. Dab the oil on your eyelashes and go to sleep. Castor oil will loosen the adhesive over time. Repeat this process for a few days until the extensions come off.
Key Takeaways
Eyelash glue can cause damage and lead to rashes, inflammation, scabbing, or infections if left for too long.
Pulling at eyelash glue that is stuck can damage your eyelashes or the skin around the eyes.
You can use baby oil, olive oil, eyelash glue remover, eye drops, oil-based makeup remover, or steam to gently remove eyelash glue.
The following two tabs change content below.