How To Get Rid Of Saddlebags – A Complete Guide
Tone down your outer thighs by making some healthy changes in your lifestyle.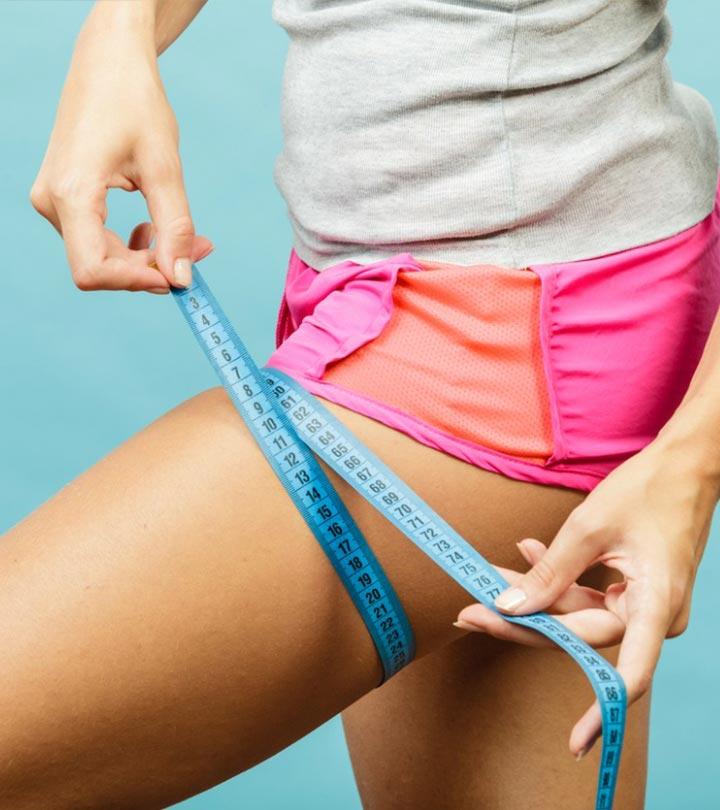 Have you noticed the fat that has taken up residence on your outer thighs just below your buttocks? That is what you call saddlebags. Saddlebags, just like belly fat, are stubborn and refuse to go away quickly. A variety of factors, such as stress and a sedentary lifestyle, may contribute to the development of saddlebags on your thighs. In this article, we will look at how to get rid of saddlebags through different exercises and dietary changes.
What Are Saddlebags?
Saddlebags are pockets of fat that accumulate on the outer thighs, just under your buttocks. The space under the buttocks is an underdeveloped area where fat accumulates, giving the appearance of saddlebags that hang off a horse's back. What belly fat is to men, saddlebags are to women –difficult to get rid of.
Understanding their causes can give you the best insight on how to get rid of those saddlebags. So, keep reading!
What Are The Causes Of Saddlebags?
Saddlebags may develop due to a host of factors. Genetics may play a role in lower body fat distribution (1). If your mother or grandmother had saddlebags, chances are you may have them too. Lack of movement, stress, and poor eating habits also lead to weight gain and accumulation of fat in different parts of your body (2), (3), (4).
Research also indicates that advancing age in women has been associated with higher levels of fat in the buttocks, hips, and thighs (5). So, don't be surprised if you gain weight around your buttocks and thighs as you age.
Pregnancy may be another factor that can contribute to saddlebags. As your body goes through multiple changes, you may gain weight in the hip and thigh areas (6).
Saddlebags may be stubborn, but don't worry. There are many different ways to get rid of them. Let's learn all about them in the next section.
How To Get Rid Of Saddlebags
Making changes in your lifestyle and engaging in physical activities can help reduce the appearance of saddlebags over time. Regular exercise and a healthy diet are the most important steps to reduce excess fat anywhere in your body, including saddlebags.
1. Change Your Diet Plan
Making changes in your diet can go a long way in reducing saddlebags and improving your overall health. You can follow these simple tips:
Stylecraze Says
Drink more water. This increases your metabolism and decreases water retention, which occurs when your body does not receive enough water and causes your saddlebags to appear heavier.
2. Get More Active
Along with a healthy diet, keeping yourself physically active can help reduce those saddlebags. If a trip to the gym is not your idea of exercise, there are plenty of other options out there. Swimming, dancing, jogging, yoga, or walking can help burn those calories and strengthen the muscles in your thighs and legs.
3. Targeted Exercises
If you work out regularly, try the following exercises to target your saddlebags:
Squats are one of those exercises that don't require any equipment and are easy to do. When done right, they work on multiple muscle areas and can help you lose fat.
 Stand with your feet shoulder-width apart and your arms resting at your sides.
 As you brace your core and keep your chest high, begin to push your hips back and bend your knees. Make sure your knees do not cave in.
 When your thighs are parallel to the floor, pause for 2 to 3 seconds.
 Return to the starting position.
 Repeat 3 sets of 20 reps of this exercise every day for amazing results!
This exercise targets your hamstrings and strengthens your hips, glutes, and abs.
 Lie down on your back, with your right knee bent and your right foot flat on the floor.
 Raise your left leg to be in line with your right thigh.
 Push your hips up and keep your left leg elevated.
 Pause and slowly return to the starting position.
 Switch to the right leg and repeat.
 Do 12 reps with each leg.
These are considered one of the best cardio workouts that can help you stay in shape.
 Put both hands and knees on the floor.
 Place your right foot near your right hand and extend your left leg behind you.
 In one swift motion, switch your legs, keeping your arms in the same position.
 You can repeat the exercise 10 times.
Burpees are a grueling yet effective workout for all those looking to lose saddlebags.
 Stand with your feet shoulder-width apart.
 Squat down with your back straight and your hands on the floor between your feet.
 With your weight on your hands, kick your feet back so you are on your hands and toes, and in a pushup position.
 Do one push-up before jumping to your feet and back to the starting position.
 Push up strongly from this position and jump, reaching your arms over your head.
 Repeat 3-4 sets of 10 burpees every day.
This is an excellent exercise for toning your glutes and outer thighs and improving your hip stability.
 Start by getting on all fours on your exercise mat. Your wrists should be directly under your shoulders while your hips are above your knees.
 Keeping your knee bent, raise your right leg out to the side, until your thigh is parallel to the floor. Stop once your thigh gets to hip level. Keep your pelvis stable.
 Hold the position for 2 seconds before slowly lowering your leg back to the starting position.
 Do 15 reps on your right side before switching to your left leg.
Stylecraze Says
You may reduce your saddlebags in 6–12 weeks by exercising and modifying your diet to lose fat healthily.
Infographic Excerpt: Dressing Tips And Styles To Cover Saddlebags
While changes in lifestyle and diet along with an active lifestyle can gradually help you get rid of saddlebags, it should not be a reason that keeps you away from dressing up. Knowing your body shape and how to correctly style your outfit to flatter your curves is important too. This not only helps you look your best but boosts your confidence as well. Take a look at the infographic to get a better idea.
Who wouldn't want to know how to get rid of saddlebags? They are quite bothersome for women. The action plan is clear: all you have to do is tweak your diet to include more vegetables, fruits, lean protein, and complex carbohydrates while avoiding refined carbs, processed foods, and alcohol. But that's not all. Sweat it out every day by engaging in physical activities like gymming, dancing, swimming, and jogging. Also, it is important to focus on targeted exercises like squats and mountain climbers to burn the fat under your buttocks.
Frequently Asked Questions
Is elliptical good for saddlebags?
The elliptical helps you lose fat throughout your body. This, in turn, would help reduce saddlebags as well. However, it doesn't work to target saddlebags as a spot fat-reducing treatment.
Does skipping reduce saddlebags?
Cardio exercises like skipping can help lose body fat, eventually reducing the outer thigh fat or saddlebags.
Key Takeaways
Saddlebags are deposits of accumulated fat on your outer thigh under your buttocks, looking like the saddlebags on a horse's back.
Age, genetics, and poor lifestyle are some factors that lead to the development of saddlebags.
Eating a balanced diet and practicing exercises such as squats, mountain climbers, and burpees can reduce the appearance of saddlebags.
Sources
Articles on StyleCraze are backed by verified information from peer-reviewed and academic research papers, reputed organizations, research institutions, and medical associations to ensure accuracy and relevance. Read our editorial policy to learn more.