Shoulder Acne: Causes And Treatment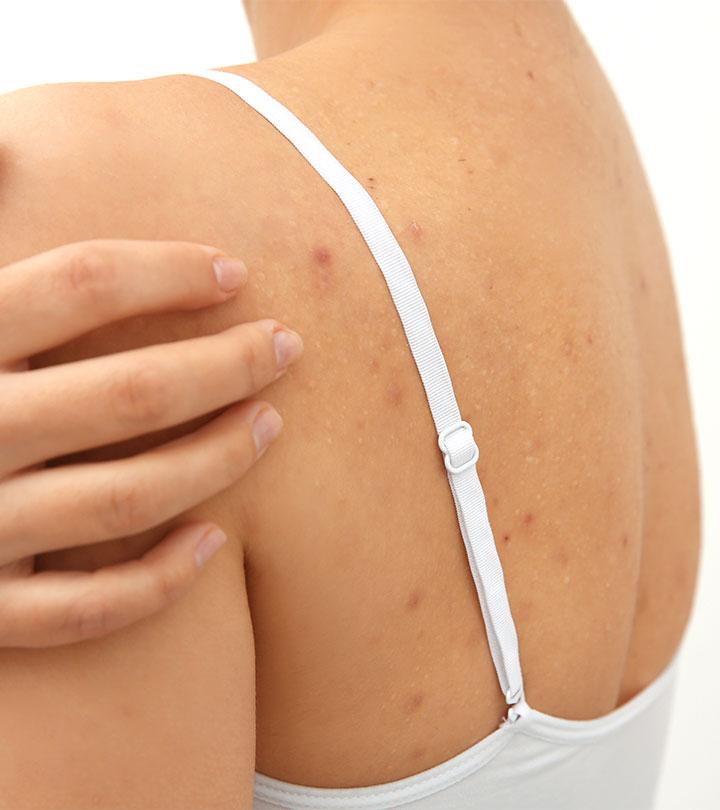 Acne is a common skin condition that happens due to clogging of the pores of our skin. The pores of our skin containing hair follicles are connected to the sebaceous (sebum/oil-producing) glands underneath. These glands, when triggered by certain hormones, tend to produce excess oils clogging the pores thereby. This leads to acne and pimples (1).
Shoulders being often exposed to dust, pollution, and sweat often result in shoulder acne. Also, the pores being larger, tend to get clogged sooner with sweat, oil, and build-up. Here, in this article, we shall have a look at the types and causes of shoulder acne along with the effective ways to get rid of the same.
Types Of Acne On The Shoulders
Acne is most commonly found on the face but can happen anywhere on the body, including the pimples on back and shoulders. Usually, the acne found on the shoulders is one of the two types— acne vulgaris and acne mechanica. These are generally classified and identified as per the cause.
Acne vulgaris is the most common type of acne that we come across. It is usually caused by clogging of pores with oil and debris build-up. It is usually aggravated by a hormonal imbalance or at times, by the bacteria cutibacterium acnes (2).
Acne mechanica usually develops due to physical factors such as tight clothing, heat, and friction (3). Regularly wearing tight bra straps or even a heavy backpack can result in this acne on your shoulders. Tight gym clothes harboring sweat is another common culprit.
In either of these cases, there are a few symptoms and appearances that are common to both.
Blackheads, also known as open comedones, show up when a clogged follicle opens up (4). The black-point appearance of blackheads is due to a reaction that happens between sebum and air, and not because of dirt in the follicle. These usually look like minute black spots.
Also known as closed comedones, whiteheads are clogged pores as well, that remain closed and covered by a thin layer of skin, forming a white bump.
Papules are acne lesions on the skin that appear as pink bumps on the skin and are often tender to touch. These usually get formed when a hair follicle gets inflamed.
Pustules, also known as pimples, are raised areas of skin with pus inside. It's usually white or yellow with a reddened base and a buildup of white blood cells resulting in pus. These are also often caused due to the accumulation of dirt, oil, and impurities.
Many pustules sometimes combine to form a nodule. Nodules and cysts are usually formed when bacteria also gets trapped in a hair follicle. These lesions form deep underneath the skin and are usually hard and painful.
These are large breakouts that form underneath the skin and appear red, swollen, and painful to touch as well.
Now that you know how to identify the different types of shoulder acne, let's have a look at the ways you can get rid of acne on your shoulders effectively.
How To Get Rid Of Acne On Shoulders
To avoid clogged pores, it's important to cleanse your skin regularly. Warm water and the gentle scrub of a mild cleanser with a loofah help wash out the sweat and build-up from the body.
Along with the daily cleansing, a weekly ritual of exfoliation would help get rid of the dead cells and build-up in the skin. Regular exfoliation not only cleanses out the pores but also makes the skin soft and smooth (5).
Applying a warm compress on or around the shoulder acne helps improve blood circulation thereby accelerating the healing process. This should however be avoided if the acne is red, swollen, and tender to touch.
A dab of cold compress helps reduce the pain and soothe the acne, offering some amount of relief thereof.
Keeping the skin moisturized with non-comedogenic natural oils or moisturizers helps heal the acne faster (6).
Honey has antibacterial and anti-inflammatory properties that help reduce the soreness of acne and diminish the acne scars as well if any (7).
Tea tree is a common acne treatment that is found to be effective given its natural antibacterial and anti-inflammatory properties (8). It is usually found as an essential oil but it should not be used directly just on its own. It should be diluted with water before use as it might cause potential reactions just on its own. Also, face washes and skincare products with tea-tree oil as the main ingredient can help calm the acne gradually.
Topical treatments are also effective in curing shoulder acne (9). Below are a few of them.
A well-known ingredient for most over-the-counter medicines, benzoyl peroxide is found to be most effective on pus-filled pimples on shoulders. It works by killing the bacteria that causes acne and preventing further infection of the same. It is usually more drying than salicylic acid and you should always do a patch test before using it for the first time. Though it is usually found in various acne-treating creams and washes, it is always better to start with a low concentration (10). Also, if you have sensitive skin, you might find any other shoulder acne treatments more suitable.
Salicylic acid penetrates and cleanses the pores from within. It gently exfoliates the skin and prevents further buildup and clogging of pores. Salicylic acid has been found effective for mild and moderate acne, especially in getting rid of blackheads and whiteheads (11) (12).
Retinoids are chemical compounds derived from vitamin A that increase skin cell turnover by keeping dead cells, oil, and bacteria out of pores. It is usually not a spot treatment and needs to be used regularly before seeing any visible results (13).
Naturally found in grains, such as wheat, barley, and rye, azelaic acid, when applied topically, helps decrease the redness and swelling of acne on the skin (14).
When the shoulder acne is red, swollen, and tender to touch, it is mostly infected with bacteria. In such cases, the health practitioner might prescribe a course of antibiotics to control and heal the acne effectively.
Certain oral contraceptives have been found effective in controlling acne (15). These should always be taken after proper investigation and only when prescribed by the doctor.
Sometimes, if the cause is found to be hormonal, the doctor might recommend hormonal therapy. This usually involves certain medications to reduce the particular hormone level and get it back in balance (16).
While it helps to know how to treat your acne, knowing the cause would make it easier to decide what treatment works best.
What Causes Shoulder Acne
Being aware of the causes above, you can take relative preventive measures to help reduce the frequency and severity of your shoulder acne.
Prevention Tips
Keeping your body clean and well moisturized may help reduce the frequency and severity of acne. Even though shoulder acne might be hard to reach and take care of, a cleansing body wash or a warm bath can help accelerate the healing process.
While you might be cleansing your face and body every day, it is also important to exfoliate the skin at least once a week. A gentle scrub helps remove dead cells and oil build-up, cleaning out the pores and making the skin smooth and even. Be careful not to overdo it though, especially if you already have some tender acne on your shoulders.
Maintain Personal Hygiene
To keep any sort of acne at bay, personal hygiene plays an important role. It can be as simple as a timely change of clothes and linen or regular trimming of hair and nails. It ultimately adds up to work in your favor and against the frequent occurrence of acne on your shoulders or anywhere on the body for that matter.
What you eat tends to show up on your skin. Eating a well-balanced, nutritious diet helps maintain the internal balance of hormones and nutrients, ultimately helping to keep the acne away.
Stress in your daily life affects your mind and body as well. Stress has been known to aggravate episodes of acne and other skin conditions. It thus helps to keep your mind and body as relaxed and stress-free as possible (23).
Acne on shoulders tends to flare up if the skin isn't able to breathe properly. It is always better to wear clean and organic clothing made up of natural fabrics like cotton and linen instead of any synthetic materials.
Most episodes of acne are known to resolve on their own. Maintaining personal hygiene and keeping your skin clean and clear helps to manage your acne well. But in certain cases, you may need to get a professional opinion.
When To See A Doctor
When the acne seems persistent or reappears frequently, it is better to get it checked by a dermatologist. You might be prescribed topical ointments or oral antibiotics to heal your shoulder acne effectively (24).
In response to over-the-counter medicine, if you suspect allergic reactions like breathlessness, skin inflammation, or swelling of eyes, lips, tongue, or face, then you should seek immediate medical help (25). Also, if you have any prior health issues, it is always advisable to consult your doctor before starting any medication for the first time.
Summary
Shoulder acne is a common and harmless skin condition, like any other acne on the body. Usually, it clears out on its own with the help of the above home remedies. If the acne seems to be persistent or there is any sign of infection, you should consult your health practitioner to ascertain the cause and prescribe the appropriate line of treatment accordingly.
Most often than not, maintaining personal hygiene, reducing stress, eating a well-balanced diet, and keeping your skin clean and healthy helps in keeping the acne minimal and manageable.
Sources
Articles on StyleCraze are backed by verified information from peer-reviewed and academic research papers, reputed organizations, research institutions, and medical associations to ensure accuracy and relevance. Read our editorial policy to learn more.
The following two tabs change content below.