How To Get Thicker Lashes With Mascara
Easy and clever hacks that will help you master the art of thick lashes with mascara. Are you searching for the perfect way to curl your eyelashes so that you can enhance them and make them appear longer? The secret is you can get thicker lashes with mascara. A tiny bit of mascara can help attract attention to your eyes and make them pop! So, you just need to be armed with good mascara and know certain simple tricks. Read below to know more on how to get thicker eyelashes with mascara.
First, you need to get mascara that has a wand specifically meant to give thicker lashes!

Keep In Mind
Regular Replacement: Regular Replacement A mascara wand needs replacement after every three months to get thicker lashes and better results.
Ingredients: Regular Replacement Phyto-keratin and panthenol present in mascara can help improve the thickness of the lashes.
Mixing Hack: Regular Replacement Mix a lengthening mascara with a thickening mascara to get the best volume. Ensure they blend well to avoid clumping.
There has been an evolution in the world of mascara wands. Some of them are specifically meant to give you longer and thicker lashes without putting in much effort. So the first step to getting thicker lashes with mascara is to get mascara with a wand that will work to add volume to your lashes.  Look for Precision tip, expandable brush, curved spheres or corkscrew bristle wand.
Always make sure you curl your lashes before you apply mascara. This one basic step instantly boosts the length and volume of your lash line. It helps you to apply your mascara better and better application means better results. Just clamp your eyelashes with your favorite eyelash curler and hold it for two seconds.
Application Of Mascara:
Now that we prepped our lashes properly and we have a mascara that has a volumizing wand, we look at how to apply the mascara.
Take an old visiting card and place it over your eyelashes.
Now apply mascara on your eyelashes starting from the roots moving towards the tips.
To separate out the lashes, wiggle the wand as you move towards the end of your lashes. This will keep your mascara from clumping and make your lashes look longer and thicker. When you're applying your mascara by wiggling the wand, blink. This ensures that even the smallest of lashes get coated with mascara.
Another trick of application that helps your lashes appear fuller and thick is by applying mascara to the lower lash line too. It helps in drawing out the lashes and thus, they appear longer and fuller.

StyleCraze says
The outer corners of the eyes are what give you a perfect doe-eyed look. So, do not forget applying mascara to those areas by turning your wand vertically.
Layering Mascara For Improving Thickness:
This simple step helps your lashes look thicker. You can add layers of mascara depending on how thick you want your lashes to look. The trick here is to let the first layer of mascara dry before you apply another layer on top of it. It is important to let your mascara dry for a minute between layers so that there is no clumping of the mascara.
You can also achieve those flirty looking lashes by using a translucent powder. After you have applied one or two layers of mascara apply a little bit of powder using a makeup brush. Then apply some more mascara on top of the powder. This gives a plumped up look to your lashes.

StyleCraze says
For getting fuller eyelashes you also can use mascara primer before putting on the mascara.
Minking:
This technique uses two different colored mascaras (say black and brown) to make your lashes appear thicker and fuller.  Apply the brown mascaras first and let it dry. After the brown mascara has dried, apply the black mascara on the tip of the lashes. This creates an illusion of longer and thicker lashes.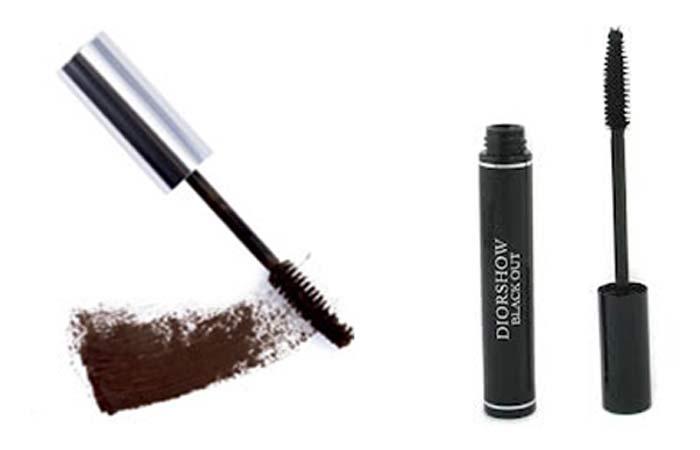 You can also try and highlight your eyelashes. This will give them a fuller look.
What do we need?
Jet black eyeliner which has good pigmentation. I used Kryolan Ikonic Gel eyeliner in black.
An eye shadow which suits your eyes the best, preferably in a metallic finish. I have used L'oreal Color Infallible in
Midnight Blue as darker shades of blues suit my eyes the most.
A long staying black kohl. Lakme absolute kohl is the one I have used; it gives excellent pigmentation even on the waterline and does not smudge at all.
A mascara helps to volumize, lengthen, and darken your lashes. You may even use false eyelashes. I have used L'oreal Paris million lashes mascara.
What do we need to do to highlight lashes?
Step 1:
Start with moisturizing your eyes. Conceal the dark circles if required.
Step 2:
Step 3:
Pick up your black eyeliner and apply thick eyeliner in a dome shape. Try to fill the entire gap in between the lashes so that your skin does not peep in when you open your eyes.
Step 4:
You need not worry about precision because we are going to smudge it anyway in the next step!
Step 5:
Take your smudger brush and smudge the eyeliner especially towards the crease. We do not need any sharp lines.
Step 6:
That is how we want it to be- soft smokey black eyeliner look as of now.
Step 7:
Now take your favorite metallic eye shadow, dip your shader or pencil brush into it and pat over the black eyeliner.
Step 8:
Pat only on the area where we have applied the black eyeliner previously and not beyond that.
Step 9:
This gives an instant pop to your eyes. It is already looking very appealing, isn't it? Not that I normally rave about my eye makeup but this time I couldn't resist.
Step 10:
Look for any voids where the black eyeliner is peeping through the blue shadow; fill in the gap by packing some more eye shadow.
Step 11:
Tight line the water line with a dark black, richly pigmented kohl.
Step 12:
Curl your eyelashes and try to give relatively more curve to your lashes for this look.
Step 13:
Apply the most lengthening and volumizing mascara in your stash. Still better, opt for false eyelashes to beautify and intensify your eyes.
Mascara does not boost the growth of your lashes, but it could create quite a convincing illusion. Multiple layers of this magical make-up product can amplify your eyes and give you the much-coveted, seductive look that gets you noticed and earns you admiring glances. Practice these tips regularly to perfect the art of applying the mascara in ways that will complement your overall eye make-up. Once you are an expert at it, remember to make confident eye contact to form a lasting impression on people around you. Good luck!
Frequently Asked Questions
Can I make my eyelashes thicker naturally?
Yes. Applying castor oil to the eyelashes every day will make them thicker naturally.
What does wearing mascara every day do to your eyelashes?
If not removed properly, wearing mascara every day may damage your lashes. However, using some ingredients like coconut oil, castor oil, or petroleum jelly may help protect your lashes from the daily use of mascara.
How can I remove mascara without damaging my lashes?
To remove mascara without damaging your lashes, you can use an oil-based cleanser, makeup remover, or micellar water and be gentle when wiping away the product. Do not rub or pull your lashes. On the other hand, you can use coconut or olive oil to remove it.
Key Takeaways
Using mascara with a wand that gives thicker eyelashes can add volume to your lashes.
Curling your eyelashes before applying mascara may make them appear longer and thicker.
Apply multiple layers of mascara on your lashes by starting from the roots and moving towards the tips.
Remember to coat your lower lashes for a fuller look.
Apply the second layer after the first layer of mascara dries to avoid clumping of the mascara.

Ready to take your lashes to the next level? Watch this video to learn the top tips and tricks on how to apply mascara for long, full lashes!

The following two tabs change content below.