How To Get Wood Stain Off Your Skin
Easy-to-try and effective remedies to help you erase those stubborn stains from your skin.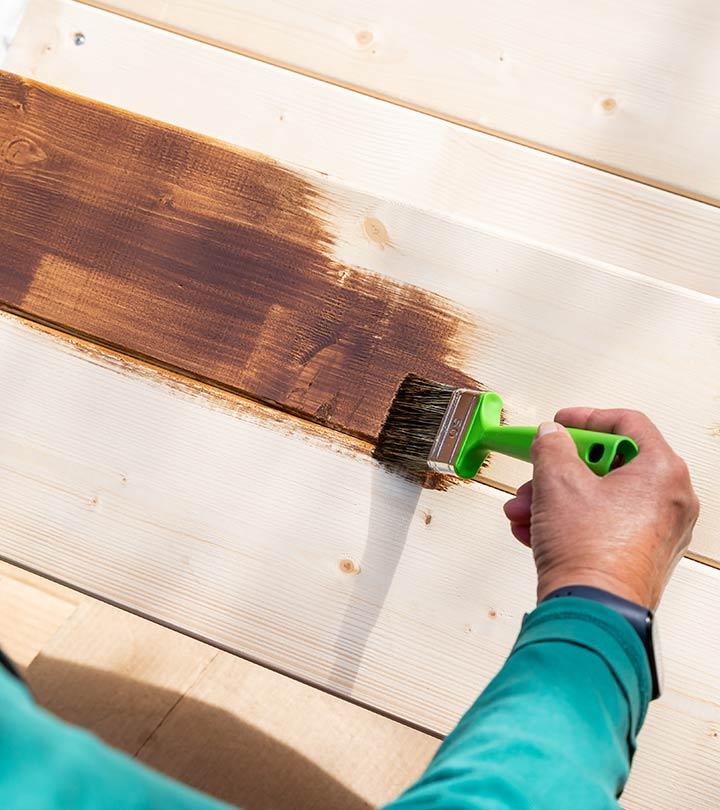 Giving dull wooden furniture a fresh coat of paint is one of life's great pleasures. But it is a messy process, and you may end up with wood stain on your hands, even if you are careful with your work. So, how do you safely remove wood stain off your skin? This article discusses the best techniques to get the wood stain off your hands. Check them out below!
8 Best Methods To Get Wood Stain Off Skin
You can remove wood stain from your hand with the help of various products, including makeup remover and white vinegar. Let's look at a few products and tips that can be used to remove wood stain off the skin.
1. Natural Oils
Natural oils like canola oil, coconut oil, vegetable oil, and olive oil can break down the pigments in wood stains. This makes them ideal for eliminating oil stains from your skin. In addition, these natural oils are non-toxic, chemical-free, and do not irritate your skin.
What You Need
Coconut oil, olive oil, or vegetable oil
Cotton balls
Towel
Dish soap
How To Use
Apply the oil to the stains on your hands and leave it on for 10 to 15 minutes.
Wipe off the oil with a clean towel.
Scrub the affected area with dish soap and water for at least 10 minutes.
Wash and moisturize your hands with a gentle lotion.
2. Makeup Remover
Makeup remover is one of the safest chemical solvents to use on your skin. It is said to be more efficient than natural oil in removing stains. Makeup removal wipes are also an easier option that you can try out for cleaning the stains.
What You Need
Makeup remover (solution or wipes)
Cotton pads
Soap
How to use
Apply the makeup remover to the afflicted area with the help of a cotton pad or use a makeup remover wipe. Scrub the area gently in circular motions.
Rinse the cleaned area with water and soap once the stain has been faded.
As a precaution, apply skin moisturizer to prevent any irritation caused by the scrubbing motion.
3. White Vinegar
Vinegar is said to work well on wood stains. However, avoid vinegar if you have dry skin as its high level of acidity may dry out your skin even more.
What You Need
White vinegar
Hand towel
Salt
How To Use
Apply a few drops of vinegar to the stains and let it sit for a few minutes.
Use a damp towel to rub the stain.
Use salt as an additional scrubbing powder.
After most of the stain has faded, wash the area with soap and water.

Quick Tip
It is best to use a rough cloth to scrub away the stain from the skin. It will improve the abrasion effect and help remove it easily.
4. Citric Acid
Citric acid is said to be a potent cleanser and stain remover. It is extracted naturally from citrus fruits. It looks like a white crystalline powder and is found in baking supply stores and hardware stores. Despite being natural and produced from fruits, it is harsh on the skin in its pure form. Use it with caution.
What You Need
Citric acid powder
Water
Soap
How To Use
Mix a teaspoon of citric acid powder with half a teaspoon of water to make a paste.
Apply the paste to the affected area.
Gently scrub the area for 2-3 minutes.
Wash off the paste with warm soapy water.
5. Turpentine
Turpentine is made from tree resin. It does not irritate your skin much. It is a powerful solvent for removing wood stain and varnish from your hands.
What You Need
Turpentine
A soft cloth
Soap
How To Use
Dip a clean cloth into turpentine and rub it on the stained area from left to right in sweeping motions.
Wash off the turpentine using water and soap.
Follow up with a moisturizer.
6. Peanut Butter
Peanut butter works well on stains on the skin. Certain components in peanut butter break down the stain and disintegrate it.
What You Need
How To Use
Apply peanut butter to the stain on your skin.
Leave it on for 10 minutes.
Then, scrub the area thoroughly using soap and water until the stain disappears.
7. Washing Soda
Washing soda is widely used to remove wood stain from the skin. It is easy to use and does not require much effort.
What You Need
Washing soda
Water
A soft cloth
How To Use
Combine three parts of water with one part of washing soda. Stir it thoroughly to avoid lumps and get a smooth mixture.
Submerge a piece of cloth in the solution for a few minutes and let it soak.
Scrub the stain away with the soaked cloth.
8. Mineral Spirit
Mineral spirits are some of the most effective cleansers for oil-based stains on your skin. But they are also the most dangerous. These potent, highly processed petroleum products can cause skin inflammation and irritation.
What You Need
Mineral spirit
A soft cloth
How To Use
Apply mineral spirit to a dry clean cloth and wipe the affected area.
To prevent skin irritation, wash the affected area with soap and warm water and apply a moisturizer to your skin.

Quick Tip
Oil-based stains like vegetable oil, turpentine, and mineral spirits need more potent acidic remedies.
Infographic: 5 Effective Ways To Get A Wood Stain Off Your Skin
Removing wood stains from your skin can be challenging sometimes. While they can fade out naturally with time, there are some methods you can use if you want to remove them right away. Check out the infographic below to read through the most effective ways you can get wood stains off your skin.


The Final Takeaway
Wood stain can sometimes be hard to remove from the skin. However, remember that your skin will naturally exfoliate and fade the stain over time. So even if you cannot get it off right away, the stain won't remain on your skin permanently. But if you do want to remove it right away, you can use the methods listed above.
Frequently Asked Questions
Is wood stain toxic?
Yes. Wood stains contain various chemicals that can be harmful to your skin and health.
How long should the wood stain sit before wiping off?
Ensure that you remove the wood stain immediately with coconut oil or makeup remover to avoid any adverse effects.
Is it okay to get a wood stain when pregnant?
It is okay to get a wood stain while you are pregnant. Make sure that you remove the stain immediately after getting it. Follow simple steps such as wearing gloves and masks while handling wood paint in a well-ventilated room to avoid any issues.
How long does it take wood stains to dry?
Wood stains may take up to a few hours to 24 hours to dry. It is essential to remove the stain immediately.
How to avoid wood stains?
Taking safety precautions like wearing protective gear or applying lotion to your hands can create a protective barrier between your skin and stains. This can help in the prevention of skin stains.
Key Takeaways
Natural oils are the ideal home remedy for eliminating oil stains from your skin.
Turpentine is a powerful solvent for removing wood stain and varnish from your hands.
Washing soda is also widely used to remove wood stain from the skin.
Discover effective techniques to remove stubborn wood stain from your skin. From simple household remedies to professional tips, this video will help you restore your skin's natural beauty. Watch now!
The following two tabs change content below.